Loretta Lynn Ranch
Hurricane Mills

,

TN
RedBull AMA Amateur National Motocross Championship (Loretta Lynn's)
Amateur National Motocross Championship
The circle of life was on display today at the Red Bull AMA Amateur National Motocross Championships presented by Amsoil. It was a day dotted by appearances of second generation names, old favorites and new kids. We even had the circle of life on the nature front, as the same mud that was being pushed off the track yesterday was being pushed back on as racing concluded today. We had perfect weather on Thursday, and so a track that was nearly underwater on Wednesday turned out to be dry and hard by the later motos.
Second gens? Ryan Surratt, carrying the last name of Willie Surratt, who was a champion down here at the Ranch in 1983 and 1984, has a shot at two class titles in the Schoolboy 2 (250F) and School 1 (125) classes.
Brian Deegan is here watching his son Haiden race, and Haiden went out and won his 51cc moto today! Max Vohland, son of Tallon and trained by his uncle Tyson—both Loretta's champs in their day—scored second in his 65 (7-9) Limited moto. Of course Tim Ferry is back racing here because his son Evan is racing, and Brian told us that someday he'll be back on the starting gate here himself.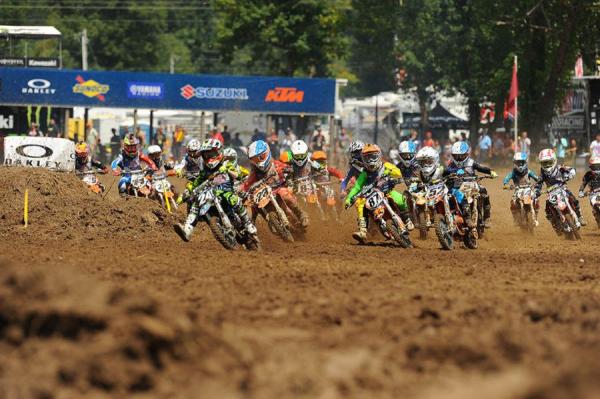 This is the 65 (10-11) class. Aiden Tierjo (87) went on to take the moto win.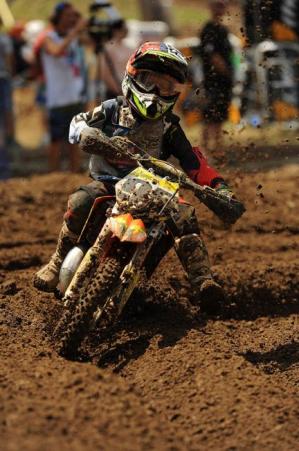 Ty Masterpool is looking to bring another title back to the Masterpool facility down in Texas.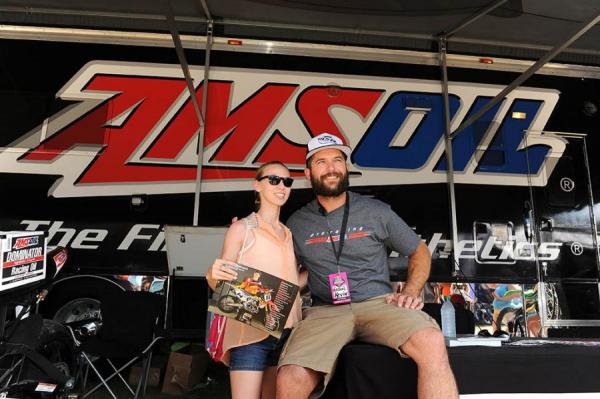 That's actually Kevin Windham under that beard.

Next gen K-Dub? Could be Jordon Smith, who rides for the same team K-Dub did. He's been crazy fast in the B class.
Even the younger kids who should be new at this know what they're doing. The Loretta's formula has been around for awhile and you won't find a successful kid down here that isn't training hard under some experienced supervision. That's just the way it works these days. Who are some fast young guns? Jett Reynolds is part of the Bakersfield Bunch from California. He won both a 50cc and 65cc moto today, which is almost unheard of. In the older 65 (10-11) division, it appeared a battle was shaping up between Jace Kessler and Ty Masterpool after a close finish in their first moto, but in the second one, Aiden Tierjo lit the afternburners and took off. Now it's Tierjo and Masterpool battling for the title heading into the third moto.
KTM rider Jalek Swoll is looking good in the 85 (9-11) classes, taking a first and a second today to go with his pair of seconds in his first motos. He'll be battling Kawasaki's Garrett Marchbanks for both of those titles. On the other end of the scale, Supermini 1 is shaping up as a battle between Suzuki rider Mitchell Harrison and Kawaski's Austin Forkner.
Star Yamaha's Aaron Plessinger has been the surprise of the week, now locking in three-straight moto wins to start his week in the B classes. He's a second-gen racer, too, as his dad Scott has a bunch of Grand National Cross Country titles and has also raced this event as a motocrosser. Aaron's 450 B second moto win was dominant, just like it was in his first moto.
Jordan Smith was the B class favorite, but a blown engine in his first 250 B moto eliminates him from contention there (Plessinger is leading that class, too). Smith is undefeated in his two 250 B Limited motos. His Factory Connection/Amsoil Honda program keeps rolling, as teammate Matt Bisceglia is undefeated in all three of his motos so far—250 A and Open Pro Sport.
And some notes from the Women's and Girls classes. Rock River Yamaha's Mackenzie Tricker keeps rolling in the Women's class with two moto wins, while Hannah Hodges and Jazzmyn Canfield are undefeated in their Girls (12-16) and (9-11) classes.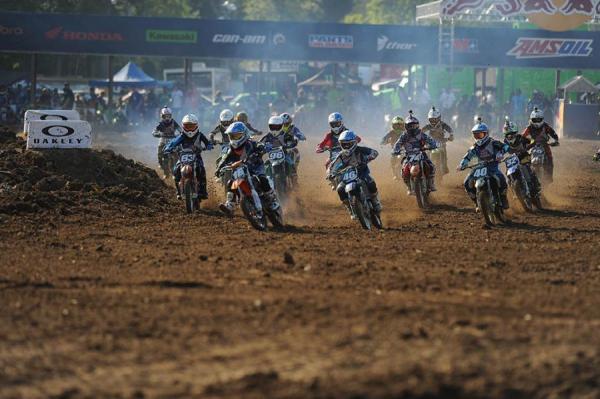 Jazzmyn Canfield (in the center, #46) has won every single moto she has ever raced here in the Girls (9-11) class. That's eight-straight motos, including sweeps in 2011 and 2012, and two more so far this year.
Kenny Hill photo
Best moto of the day? The old guys, Trampas Parker and John Grewe in 45 +. Parker holeshot, Grewe made the pass, and Parker kept the heat on all the way to the end. On a frantic last lap, Parker repassed Grewe to snag the win. These guys both raced here when they were kids, Grewe at the very first edition of this race back in 1982, and Parker starting back in 1983. Now they're back, just like nothing has changed.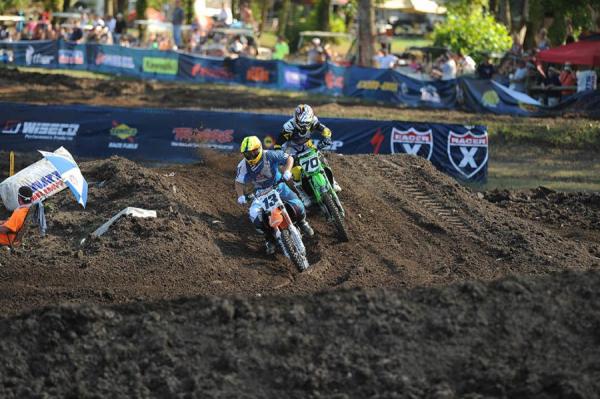 Parker and Grewe.
Kenny Hill photo