Millville, MN
Spring Creek (Millville)
Lucas Oil AMA Pro Motocross Championship
Round nine of the 2013 Lucas Oil Pro Motocross Championship took place at Millville over the weekend. Or did it? I've been racing and watching at Millville almost continuously since 1989, and this was no doubt one of the weirdest Millville races I've seen in a while. It's a fantastic track and facility and every time I'm there the memories come rushing back. But this year, it felt like I was in some sort of bizarre version of Millville.
First, the weather. Millville is hot. Always has been and I thought that it always would be. This year it was so weird, as it was cloudy, windy and sometimes rainy. Rain I get, the chill I do not. The high this past Saturday was 61. 61! This was clearly something very weird, as opposed to EVERY OTHER YEAR of Millville. Sometimes we've seen rain but it's always been pretty humid outside. But this year, some weird stuff.
And the track was very strangely prepped also. Generally it's ripped pretty deep and watered to the max. This year it looked to have been left alone and had a pretty hard base. Alex Martin, who's the son of track owner John Martin (Can-Am fans, he is your god) and lives on the property, told me one time that every day of the year, excluding the National, the track is tough to ride. It's a bit dusty, hard packed and not that much fun, but I never believed him. Well, now I do. All day long the riders were commenting on the prep and how strange it was.
Ryan Villopoto and Ryan Dungey didn't have the best of days at Millville and I'm not going to talk much about them. And I'm okay with this. We had some fantastic racing going, so my secret plan to help American motocross out is to give both Ryans the wrong schedule and hope they go to the wrong cities each week. Then we'll have some awesome racing!
It's no secret that I'm a fan of James Stewart. I've been watching motocross for a long time and just in general I'm a fan of athletes that are amazingly talented. I hated Wayne Gretzky because he torched my team every time he played them, but I still loved watching him play hockey. Magic Johnson (even though I was a Larry Bird guy) was amazing as was, of course, Michael Jordan. The point I'm making is that people who make their particular sports look easy fascinate me. And I believe that James Stewart is the most talented rider to ever race dirt bikes.
In 2013 however, Ryan Villopoto and Ryan Dungey (and maybe some other dudes) are clearly better than Stewart. As we all know, there's more than talent needed to win races, otherwise Travis Pastrana would be the best rider of all time. A knee injury and age have affected Stewart; he's still as talented as ever and able to go as fast as anyone out there for a lap or so, but his days of being dominant are over. But every now and then there are some flashes and at Millville, it was on. Stewart won the first moto in a terrific battle with Trey Canard, and in the second moto he brought it home in third after another great race with Canard. It was enough to get the overall win on the day and marks just the second win in 2013 for Stewart (Atlanta SX being the other).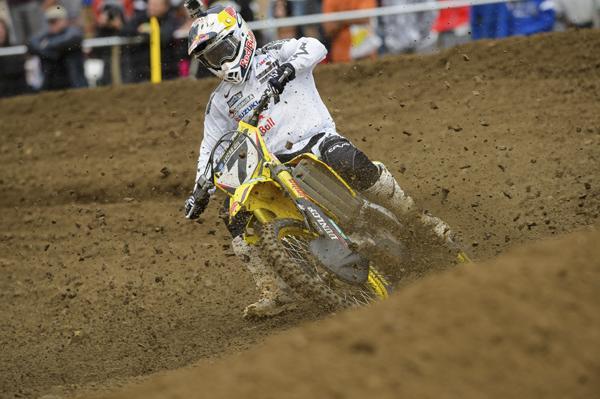 James Stewart stood on the top of the box for the first time all season at Millville.
Simon Cudby photo
I walked over to the dreaded sand whoops for the second 450 moto, which is something I recommend everyone do at some point, and by far Stewart was the fastest rider through them lap to lap. He would come in and pre-jump the very first big-ass whoop, land on the downside and then have more momentum than anyone else the rest of the way. Sometimes he switched it up and headed to the outside but he found a lot of success (and a sweet pass on Dungey in the second moto at the end of them) wherever he went in the whoops.
Speaking of the sand whoops, I'll never forget being the biggest RJ fan in 1989. He was back from his wrist injury and we all figured he would dominate. Well, he grabbed the holeshot, came around to the sand whoops and although I thought he would just motor on and show everyone what was up, he actually grabbed the brakes and Jeff Stanton,  Jeff Ward and Ron Lechien just blew by him. Poor RJ, his wrist just couldn't handle the whoops.
Stewart's been a bit of a changed man this year. He's stopping to smell the roses and realizing that when he was on top, it wasn't something he took the time to do. He's still as popular as ever with fans (and conversely, as is always the case, has a lot of people that aren't fans) and seems to be enjoying the ride along the way. There was a time when I had no doubt that Stewart would own every record there was, but it's not going to happen now. But that doesn't mean that he's done, or that you can write him off. As we saw in Millville, when things break right, the guy's still very, very dangerous.
Holy crap balls, Eli Tomac is on a roll right now. The #17 GEICO Honda kid is just absolutely killing it. He's got pretty good starts now, he's moving through the pack and he's firing on all cylinders. Another 1-1 day for Tomac and combined with Kenny Roczen's DNF in the first moto, Tomac's now in the points lead by twenty-seven points. He's won eight out of the last ten motos (taking second in the other two) and much like Dean Wilson in 2011, he's heating up right at the perfect time. The one thing I've been taking away from Tomac's wins lately is how he's a bigger guy, which hurts him on a 250 in some ways, but helps him in others. He seems to be able to put the bike anywhere he wants to. He just leans one way or another, hangs off the back, muscles it around and is in complete control of the machine.
Roczen deserves a lot of credit for answering the bell for the second moto after ringing it in the first moto. The crash was nasty; he was going pretty fast right there. Roczen's lead the championship from the first race until now so it's going to be weird to not see the red plate on the KTM at Unadilla. Another thing I thought was cool was Kenny hanging out in his truck after the race giving interviews and talking about the MXoN with Weege and I. He wasn't too bummed or angry to talk to the press and I admire a guy that can be professional and leave it on the track, despite the millions of dollars involved. Hey, anything can happen still. All we have to do is look back at the Christophe Pourcel and Trey Canard year to realize that.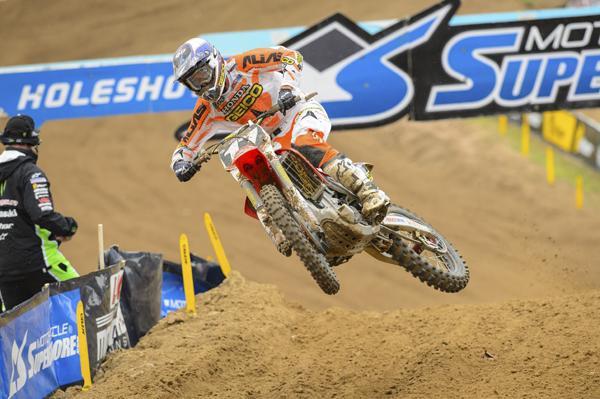 Your new 250MX points leader, Eli Tomac.
Simon Cudby photo
Jason Anderson got his first ever career MX podium at Millville in a couple of great rides. Afterward he asked me if that was just a solid ride or not, which is a jab at me (jab jab) for saying that all I had to say about him last week was that he rode solidly. Anderson's taken a weird path to get to where he's at now. He won the Horizon Award at Loretta's for most promising amateur and went right into the Rockstar Energy Racing team. His first year in supercross was okay but he was terrible in the Nationals. He was out of shape, not that fast and at one point the team sent him home to basically regroup. And good for Anderson for doing just that. He came back from the exile (and on that note, how many teams would have just started crap talking the rider about being lazy while meanwhile just continuing to run him out there every week to suck and then basically give up on him? Yeah, a lot. Anyways…) and put in a strong final race of the year at Pala.
Last year was pretty good and he turned down a ride at Monster Energy/Pro Circuit Kawasaki to stay with the Rockstar Energy Racing squad (no doubt so that he can continue to be mentored under Ross "Rollerball" Pederson's old mechanic, Dave Gowland, who is now the Rockstar team manager) and won a 250SX race this year. And now he's started off the Nationals in the front of the "second pack" of riders, but with three races left he's caught up to the Osborne/Baggett pack of riders and keeps getting confidence and speed each week. As I've said many times before, 2014 is going to be Jason Anderson's breakout season.
Take a listen HERE to Anderson and I having a chat after the race and him cracking on me.
Let's take a look at the results shall we?
250MX RESULTS
1 17 Eli Tomac Cortez, CO Honda CRF250R 1 1- I was joking around saying that because Eli's dad John crashed on a mountain bike that maybe he wasn't gnarly. Then I spoke to John about his crash, about how his triceps came detached, blood was pouring out, his other hand had a thumb injury and he had to bike one handed for an hour. Then I realized that I'm an idiot. He's still gnarly.
2 25 Marvin Musquin France KTM 250 SX-F 4 4- A 4-4 for second overall? Nice!
3 21 Jason Anderson Edgewood, NM Suzuki RMZ 250 3 5- Yes Jason Weigandt was on the bandwagon before me. But no matter, I'm now on it and I'm getting ready to push him off and grab the wheel myself.
4 77 Jeremy Martin Millville, MN Yamaha YZ 250F 2 7- Jer Bear (stolen from Jeremy Medaglia) had a great Millville. He led the first moto for a long time in a fantastic ride before getting eaten up by the Tomac Train. And there's no shame in getting caught and passed by the Tomac Train. I think the Tomac Train is pretty much unstoppable at this point. Second moto wasn't as good for Martin but hey, pass for the lead, be first for a long time in front of your buddies and family and finish second in a moto? Pretty good day I'd say.
5 1 Blake Baggett Grand Terrace, CA Kawasaki KX 250F 6 3- Good second moto for Baggett, as El Chupacabra was back, even though he slipped back to third. This has been an odd title defense. We haven't seen the number one plate in this class for a while due to injuries (Wilson) and guys graduating to big bikes (just about everyone else), and Baggett's got to be having the worst title defense (and I know it's his wrist but just saying) since Mike Brown in 2002.
6 34 Justin Bogle Cushing, OK Honda CRF250R 5 6- Bogle was good at Millville and he's been good lately with his good starts. That's been key for him and he's been getting better since the start of the year. I've always thought that Justin was faster indoors than out so I'm interested in seeing him try to keep this going in 2014.
7 19 Will Hahn Decatur, TX Honda CRF250R 8 8- Two holeshots for Hahn, who's got the starts on lockdown. You may think that double holeshots to 8-8 isn't a good day, but I think you'd be wrong. Hahn led a significant number of laps on the day (six in two motos) and it's just baby steps from here to figure out the speed needed. After the day was over one of the owners of GEICO Honda asked me to award Hahn the opposite of the RC Hard Charger Award. Ouch! Pretty funny though.
8 317 Justin Hill Yoncalla, OR Kawasaki KX 250F 7 11- I wasn't that excited for Hill's great ride at Washougal because, well, it's his home track and a tricky one to ride. But now this ride was something that Hill can build on. It's no secret that Pro Circuit has been expecting more out of Hill, and they've gotten it the last two races.
9 94 Ken Roczen Germany KTM 250 SX-F 35 2- Like I said, props to Kenny for making it out for the second moto. That was a hard crash in the first moto.
10 338 Zach Osborne Chesterfield, SC Honda CRF250R 11 9- Zach wasn't very good at Millville for whatever reason. He had bike problems in the second practice and missed all of it. He said in the second moto his bike was acting up again. Tough day for Zachy-poo. I expect a big-time rebound at Unadilla because it's so GP-ish.
11 292 Adam Cianciarulo Port Orange, FL Kawasaki KX 250F 9 12- Adam was okay at Millville. Going off the cooler weather, as well as his great first moto finish in Washougal, I thought he'd be better at Millville. But for whatever reason, he was just okay.
12 44 Darryn Durham Butler, PA Kawasaki KX 250F 10 15- Durham was way back in the second moto. Not sure what happened. His fifteenth in moto two was a good ride.
13 43 Cole Seely Newbury Park, CA Honda CRF250R 12 14- A quiet day for Seely at Millville.
14 40 Martin Davalos Ecuador Kawasaki KX 250F 14 13- In the second moto Martin crashed and came from thirty-fourth to thirteenth in a good ride.
15 37 Alex Martin Millville, MN Yamaha YZ 250 13 16- Too bad Alex wasn't 100 percent for his hometown race. He knocked himself out the week before Washougal and hasn't been on the bike much so this finish would've/could've been better. Want to know how weird the track was? Alex told me that he didn't like it either!
16 175 Cooper Webb Newport, NC Yamaha YZ 250F 37 10- I have no idea what happened to Webb in the first moto, and no one I asked had any idea either. I bet you if you went up to Cooper and said, "Hey, this pro racing stuff- it's a long season, huh?" he would just start sobbing. I think he's hitting a bit of a wall here recently but no big deal, he'll be better for it.
17 50 Kyle Peters Greensboro, NC Honda CRF250R 16 17- Kyle Peters puts it in the points in both motos and wins the "Guy who did the most with the least" award for this week.
18 613 James Decotis Peabody, MA Honda CRF250R 17 18- JIMMMYYYY DEEEEEEEEEEEEE!!!!
19 38 Kyle Cunningham Aledo, TX Yamaha YZ 250F 15 37- Cunningham was eighth in the first moto and looking good before, I think, crashing back to fifteenth.  Second moto he crashed again (or bike broke) early on and that was it; Kyle's day went to complete crap.
20 533 Gannon Audette Cairo, GA Kawasaki KX 250F 18 36- Audette's a good dude who's had a run of bad injuries the last couple of years. At Millville, the Minnesotan came back from another one of those injuries and put it in the points.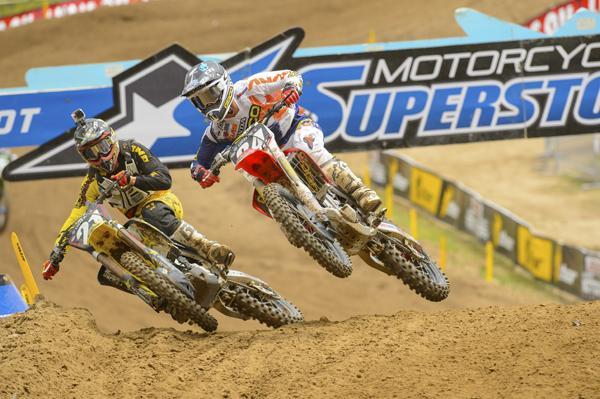 Jason Anderson (21) had a career day at Millville. Meanwhile, Justin Bogle (34) had another solid weekend.
Simon Cudby photo
450MX RESULTS
1 7 James Stewart Jr. Haines City, FL Suzuki RMZ 450 1 3- I stopped by to interview JS after the race but he was on his way out, so I spoke to the team for a bit and you could tell that they were very happy with the win. It's been a tough season for these guys, behind the scenes too, and it's good to see them with something they can be pumped on.
2 41 Trey Canard Shawnee, OK Honda CRF450R 2 2- Nice to see Fly and Alpinestars get together to coordinate gear colors in the first moto for teammates Canard and Barcia.
3 1 Ryan Dungey Waconia, MN KTM 450 SX-F FE 5 1- A weird day for Dungey. He had to go 1-1 on the day and he couldn't make it happen in the first moto. Despite the chain coming off and him having him put it on (seriously, has anyone had more weird shit happen to them than Ryan Dungey? Maybe Filthy Phil but that's about it), he didn't look all-world in that first moto. Dungey flies at Millville, his home track, but he was off just a bit on Saturday. Like I said, it was a weird day. Still, he won the second moto.
4 51 Justin Barcia Monroe, NY Honda CRF450R 3 5- Barcia led some laps, holeshot and looked great all day. Some small mistakes here and there (including a crash) cost him, but like Canard, he was much better at Millville than he's been.
5 2 Ryan Villopoto Poulsbo, WA Kawasaki KX 450F 6 4- Scary looking crash for RV in the first moto, and he got a bit lucky with the dismount. Second moto he rode good but it was weird to see him unable to move up and challenge Dungey. I have no doubt that the weather, track conditions and crash all added up to a tough day for RV.
6 29 Andrew Short Colorado Springs, CO KTM 450 SX-F FE 7 8- Short had a good day. At this point he's not going to run top three without something happening to the top two dudes, but he can still run the pace for some laps. Also in the department of weird, there was a couple on the fence by the sand whoops and the guy had no shirt on (and it was cold!) and the girl had huge boobs. They would cheer their asses off for Short each and every lap. It just seemed weird for them to be Andrew Short fans, but he did have that going for him. In other news, looks like Short's inked up with the BTO Sports KTM team for next year and beyond, which is a good move for both Short and the team. There aren't going to be many open spots for 2014 in the 450 Class.
7 800 Mike Alessi Hilliard, FL Suzuki RMZ 450 11 6- With all that was going on around him, Mike rode hard in the second moto for a good finish. In the absence of MCR team manager (and Mike's dad) Tony Alessi, Clark Jones from Noleen is filling in for the last four races. We cannot confirm rumors that he was trying to sign Larry Ward and Kyle Lewis as fill-in riders.
8 22 Chad Reed Australia Honda CRF450R 10 7- Good day for Reed at Millville. Yeah, that's where we're at with the 22. A couple of top ten motos and we're all happy with that. Want to bet that Reed is going to really be prepping this off-season? Last year he said that his off-season was a lot like the Kawasaki off-season, where he wasn't motivated for whatever reason and I think (he didn't say it) that he thought he could come in and be the old Chad Reed instead of an old Chad Reed. Want to bet he's better in 2014?
9 12 Jake Weimer Twin Falls, ID Kawasaki KX 450F 9 9- Weimer couldn't back up his great ride from last week and as he told me after the race, it was sort of a lonely day for him as for the most part, he finished where he started.
10 20 Broc Tickle Holly, MI Suzuki RMZ 450 8 10- Tickle started eighth in the first moto and finished there. He was higher but fell on the last lap to lose a spot. In the second moto he moved up a bit with a steady ride.
11 33 Josh Grant Riverside, CA Yamaha YZ 450F 4 35- Grant was fast at Millville, no doubt about it. Remember, it wasn't that long ago that Josh won a moto outright in the 450 Class. He was going for the lead in moto two when he crashed hard in the sand whoops after a great ride in the first moto. He rode a few more laps in last place but pulled off from the blow. With Brayton also crashing, there was a point where the JGR Toyota Yamaha team was thirty-ninth and fortieth. And just for the record, owner Coy Gibbs was at the race after skipping the last couple. I don't think this is a coincidence folks. Also for the record, Coy wanted everyone to know that if there was a fight in the pits last weekend with me involved that he would not have stopped me from getting beat down.
12 28 Tyla Rattray South Africa Kawasaki KX 450F 13 13- Rattray was fast in practice and Millville is definitely his kind of track, but he had horrible luck there. In the first moto he was around tenth and crashed. He came from thirtieth to thirteenth. In the second moto he had a goggle malfunction on the first lap and had to pull in to get new ones. From there he came from last to another thirteenth. I've hear rumors of Tyla going back to Europe for next year but in talking to him there's no deal yet, and he may end up staying here if he can get a good ride.
13 32 Malcolm Stewart Haines City, FL Honda CRF450R 12 15- Poor Mookie. He was twelfth in the second moto and on the very last lap he swapped hard in the sand whoops and got carted off. The bad news: getting carted off by Asterisk. The good news: only losing three spots because you were half a lap from the end.
14 57 Ben LaMay Wasilla, AK Yamaha YZ 450F 16 14- The best day of the series for LaMay. Maybe, like last year, he's heating up a bit. Then again, I don't care what David Vuillemin says, the field is deeper this year.
15 71 Zackery Freeberg Riverview, FL Honda CRF450R 19 12- Zach "Like a" Freeberg jumped to the 450s and had a good day. In the first moto he came from thirty-sixth to nineteenth (I think he was down in the first turn with Filthy) and in the second moto was a strong twelfth. He's a bigger guy and a privateer, which equals out to being a good move to move to a 450.
16 23 Jake Canada Sun City, CA Yamaha YZ 450F 15 16- Jake Canada returned from injury as a privateer (he was let go from SmarTop/MotoConcepts) and did pretty well for his first race out. He's on a Yamaha and getting help from Dubach Racing Development. Jake's got a nice riding style.
17 49 Phil Nicoletti Cohocton, NY Yamaha YZ 450F 32 11 Filthy continued his one-good-moto-one-crap-moto when he ate poop in the first turn of the first moto in a crash he says he caused. We were arguing about the sand whoops and whether they were that tough and I said they weren't like in past years. He said they were and in my hopes of proving him wrong I texted James Stewart to ask him what he thought of the whoops. "I thought they were harder because they were hard packed," was the reply from James. There you go. Once again, I'm clueless.
18 10 Justin Brayton Fort Dodge, IA Yamaha YZ 450F 14 18- Millville is Brayton's closest track so it's a bit of a hometown National for the #10. He was up there on the first lap of the first moto but crashed. And again in the second moto at the end of the whoops he went down early. As I said, at one point in the second moto JGR Toyota Yamaha riders were thirty-ninth and fortieth. Ahhhh, I don't miss those days working for a team.
19 548 Broc Schmelyun Westminster, MD Kawasaki KX 450F 27 17- Broc had gotten points in five out six motos earlier this summer and was for sure the guy who was the least-known dude in the top twenty. Since then he's missed a race and hasn't been able to get the mojo back. Well one moto at Millville, he did.
20 26 Michael Byrne Australia KTM 450 SX-F FE 18 20- Not a good day for Byrner, but I suppose if you're looking at the bright side he got points in both motos, and that's something that he's only done two other times this year. Think about how delicate of a balance our sport has. Byrne was ten minutes away from winning a moto in the 450 Class last season before he got hurt. Now he's struggling to stay in the top twenty less than a year later. This sport can be cruel sometimes.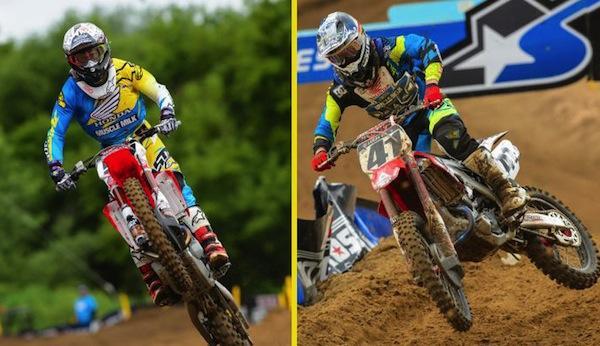 On the same page!
Simon Cudby photo
Some other news and notes from the day:
-The Honda boys of Canard and Barcia have switched from a hydraulic clutch to the cable clutch once again. There's been a few times that the Honda riders have done that from time to time. I can't argue with the switch, as both Honda guys were up there on the start. I went into detail on Honda's great ability to pull holeshots at Lakewood after that race, but again with the long starts, they were both right there. This follows a Honda guy telling me in supercross that whenever they have a long start they will be right there.
- I haven't always liked the Alpinestars gear that Barcia's been wearing but the new 2014 stuff has been much improved, and Bam-Bam looked good out there at Millville. The Fly Racing crew has stepped up big-time for 2014 too and have some really sharp stuff going on. I like how Fly has two different types of orange to choose from. If you ride a KTM and want to run that orange, they have you covered. If you want to look like David Bailey in 1986 and go flo-orange, they have your back there also.
- Whatever happened to the Whoop Monster? Last I heard was a few years ago contract talks turned ugly and the guy's never been back. Can we get an arbitrator to make this happen?
Thanks for reading. I have to go and watch Tim Ferry dominate back at the Ranch. Email me at matthes@racerxonline.com and we can chat.