Spring Creek MX Park
Millville

,

MN
Spring Creek (Millville)
Lucas Oil AMA Pro Motocross Championship
Seems strange to say that Yoshimura Suzuki's James Stewart got his first win of the series at round nine of the Lucas Oil Pro Motocross Championship. Back in the day, Stewart carried the win-or-crash mentality—but here he is getting stronger each week deep into the series, instead. At Millville, his 1-3 scores were enough to get the overall, and he talked about that and more in the post-race press conference.
Racer X: Take us through your afternoon here.

James Stewart:
The afternoon was obviously good; anytime you have a chance to win. I won the first moto, and to have a chance to win the overall is pretty special, especially how my season's been going. Certainly getting better and better as the year's been going, so I'm happy with that. Things just came together. It was probably the hardest two motos I've had since last year when I raced [Ryan] Dungey. With Trey [Canard] riding with me both motos and then that second moto got pretty sketchy but it was fun. I was able to hold onto third place and get the overall. It's definitely nice.
Moto number one you picked up your first moto win of the season. Is that kind of a rejuvenation moment?
Obviously, yeah. At this point I'm just trying to build for next year. I was a little disappointed last week how I rode, but still just being consistent and obviously getting third, then coming here and being able to win the first moto. I saw Ryan [Villopoto] go down the first lap and then I saw Dungey slide out. I've been on that side of the stick way too many times. Like I said, we're just building for next year so any little bit definitely helps. I felt like we made the right calls on the bike today for the second practice, and then we really didn't change anything from then on.
Comment on the weather. It was cold today! What did you think of the weather conditions and how did it affect the way you rode today?
I knew it would keep the field tight. Me, personally, I like the heat. I really do. I thought the track was really choppy this year. It wasn't as deep as normal. It got rough but it wasn't the Millville, super deep… and I kind of like [it when it's that way], especially coming from Florida. You train all week in the heat and you come here and I've got three layers of shirts on! It's the first time I've ever been here when it's cold. The rain held off so a good cold race is better than a hot wet one, so I'm all right with that.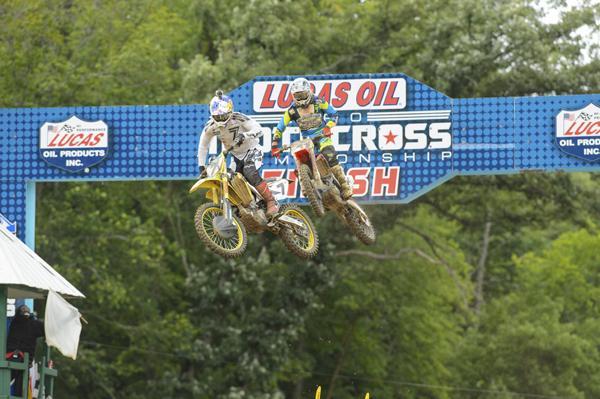 A close fought moto 1 win over Trey Canard (41) propelled James Stewart (7) to his first overall on the season.
Simon Cudby photo
Talk about the end of that second moto. There was a lot of back and forth in there. A lot of really close racing.
All day from the first moto I was able to catch those guys pretty quick. Obviously passing them was a different story but it was just easier to be in second place or right on somebody. I don't know why; maybe because the track was slippery. It was just easier to be there. Obviously I got the holeshot in the second moto. Dungey got around me. I got back around him. He got back around me. We just kind of settled in, I made a mistake. Then at that time I was just kind of seeing how the race would play out. Not really trying to take any chances, just trying to hit my marks. I wasn't sure if it was [Justin] Barcia or Canard, and when Trey passed me I passed him back and it seemed like I lit a firework off between both of us! It was probably the fastest I've been around an outdoor track in a long time, as sketchy as it was. Going into the whoops I had a close call a few laps. After the finish line I had a couple calls. But it was fun. Riding with Trey, I always know that he's an aggressive rider. He's not a dirty rider, and I respect that. Some guys are dirty. I knew he wasn't going to let off, and I wasn't going to let off, so it was just both of us hitting each other, who stayed on the track. Fortunately I ended up getting the overall. It was perfect because when we did that, I think we ended up pulling away from Villopoto again. So I looked back the last lap and saw I had third secure so I just took third place and got it. It was some hard racing but it was clean.
In that battle jumping down the hill and stuff over there, how safe did you feel over-jumping down the hill and stuff to try and keep speed? Was there a safe spot to land in or were you just kind of taking your chances that you wouldn't land in a hole or something?
To be honest for about a quarter of each lap I reverted back to my old style, Bubba, and it was just whatever. I jumped down that hill and in the air I'm like, 'What are you doing?' And then like I said, coming down to the start straight when he ended up going off the racetrack, it was the same thing. I knew he wasn't going to let off. I was on the outside and I didn't let off. But it was fun. I feel like now to be able to know that I still have that extra level, even in the motos when I got a good lap going I was able to pull away or catch Ryan a little bit. So I'm starting to feel confidence and I'm looking forward to, as much as I hate the track, I'm looking forward to Unadilla, actually.
You were really pulling guys through the whoops. What were you doing different?
This track, the only thing I really like is the whoop section. It's fun. To be honest I was pretty much hopping that first jump and just had really good momentum going through it. I got my momentum going pretty quick; kind of like I run whoops through supercross. I got it going so I was able to stay on top. And I was even surprised on how quickly I was able to catch up to some of the guys. I was able to get Ryan back through there. Even the first moto I was railing the outside, getting a good drive going down there. It's kind of hard to say what it was. I just felt pretty comfortable, even though I had some really sketchy moments going in there. I think a bunch of guys went down in there. I think my brother went down the second moto on the last lap. Luckily he's all right. It was sketchy but I think I just felt pretty confident where I was just able to send it.
I know you haven't had the wins this year that you probably want, but it seems like you're having a good time at the races hanging out with your family. Your brother's racing you, too, so you have a friendly rivalry there. Has this been actually a pretty fun summer even though the results aren't surely what you want?
Yeah. To be honest, even in the supercross season, as crappy as it was going, I actually had fun. The outdoors, it's been some weird times. At Budds Creek, leading Southwick. I think people always get me confused, because I come off and I'm smiling and really enjoying it and they take that as I don't care about racing or I'm okay with getting third place. I'm not. I've just learned in life that I need to enjoy what I'm doing. One day I'm going to be 40 years old, 50 years old and looking back on this and thinking to myself, why didn't I enjoy all those times? I won those races in 125s, or when I went to undefeated. I'm having more fun now racing getting third place than I was back then. I think it's just growing up and learning that I got a great supportive cast around me. To learn that I got a lot of fans, even though I get a lot of haters, but I've got a lot of fan, too. My team's stuck with me. I think that's one of the biggest things, to not really have guys swaying and stuff, they just keep sticking with me. To be honest I'm furious after the races. I still watch races every night. I study like no other. But I'm able to really just also enjoy it and say I walked out of here safe and I'll be able to come back next week. When I smile on the podium I really do mean it, but I go back and I go to work and try to get it. And I think that's why this season I've gotten slowly better and better. Not as quick as I wanted to but we've gotten better and I'm still here. I want to finish this thing. I want to try to get a couple more wins and carry that momentum into next year.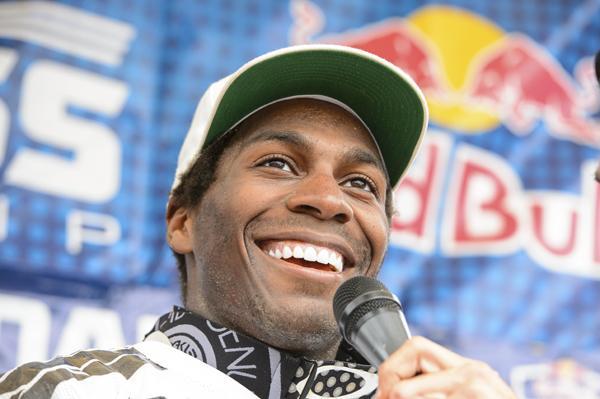 All smiles for Stewart at Millville.
Simon Cudby photo
Would you have still brought Ryan Dungey to your house and showed him your bag of tricks back in the day?
Yeah, because I learned a lot from Ryan, too. At that time I knew he was good. I didn't know how good he was going to be. He was a tall kid; I knew he'd be great on the 450. To be honest I would [still] have let him come. I think it helped me that year to keep moving forward. We trained together. Ryan was going to be a champion no matter what, whether he came down to my house or not. I was still going to have a hard time trying to beat him. I don't really look at it as I showed him too many things. Maybe I helped him a lot, but he's a smart kid and he's a great champion and a great competitor to race against.
How many years does James Stewart continue to race championship motocross?
As long as I'm competitive I'll continue to race. I don't feel like I lost a step. I feel like these guys have gotten better. I don't really feel like I've gotten worse. I feel like as the season's been going on I've gotten faster and faster, so I'm happy with that. The second part is as long as I'm having fun. If I'm winning and not having fun, I'll quit. I think that's what makes me want to take the chances and what makes me really enjoy this. As long as I'm having fun I'll be here and if I'm not I'll quit in the middle of the season. When it's not fun to race anymore I won't do it. Just because it's too dangerous. I've been down that road in my life. I want to enjoy what I'm doing, whether it's playing golf or racing these guys on the weekend, or watching movies, I want to enjoy my life. If I'm coming from somewhere where it's a dangerous sport and I'm not even having fun doing it, I'll find something else to do.