Spring Creek MX Park
Millville

,

MN
Spring Creek (Millville)
Lucas Oil AMA Pro Motocross Championship
Team Honda Muscle Milk team manager Dan Betley has certainly seen a lot of things in our sport. Betley first came to recognition on the scene as Jeff Stanton's mechanic for his title run in the late 80s, early 90s. After that Dan left Honda for a bit. He later returned to run the teams motor program and has been there ever since. Betley has a wealth of knowledge on how the motorcycle works on the track and this year he was promoted to team manager with Trey Canard and Justin Barcia under his watch. With only four races left in this season, we caught up to Dan at Washougal to get his take on the year and his new gig.
Racer X: Dan, how's the year been for you in terms of both supercross and motocross?
Dan Betley: As a whole, I had better expectations but we've had some wins. Trey continues to keep making improvements throughout the year and I can see that he's going to keep going upwards. And I think that's for the remaining part of this year and next year. With Justin, as a team we're coming together better and our team and bikes are improving. I see things getting better but I'd like it to happen at a faster pace but that's just me.
Just when you're ready to say that Barcia's having a better season than Canard, Trey comes on and shows that he's a bit better. Than Barcia flips the table, Canard responds and so on and so on. It's got to be tough with riders that are so equally matched keeping everything together.
They're both do feed off each other and there's a competition between both of them which is good. That brings out the best in both of them and as far as talent level, both guys have incredible talent and they're capable of doing great things. Them being consistent each weekend and bringing that talent level to the races is what we've got to get out of them as a team.
They are rivals and do want to beat each other but it's nothing like the Stanton/Bayle stuff that you were involved with back in the day, right?
Oh no, it's nothing like that. They don't hate each other at all but as racers they're competitors and they both want to win and want to beat the other guy. Other than that, they get along fine.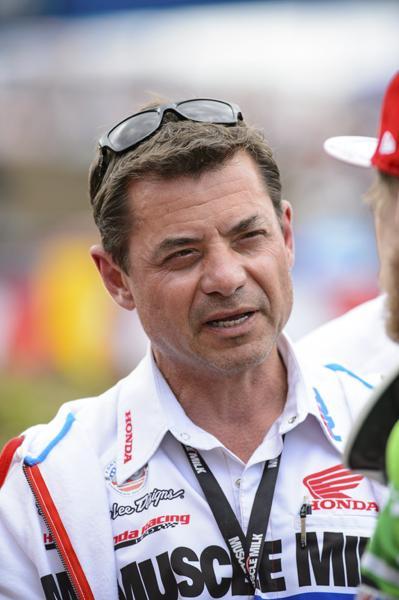 Dan Betley is in his first season as Team Honda Muscle Milk team manager.
Simon Cudby photo
The 2009 CRF was all-new and some riders had difficulty adjusting to it but you guys learned a lot at the end of the year and the bike was much improved after that. This year with a new bike are you in the same spot or are you closer with this bike?
I think we're better off with this bike than we were in 2009 and I think we have more room for adjustment. I think the riders like this bike better and our data shows that it's better. You just have to keep marching forward with your testing. If you're not moving ahead in racing you're moving backwards. We're continually trying to make things better and this year is no different than any other year.
You yourself have a new job this year and you've always been sort of a hands-on guy and this job probably involves more deskwork than you're used to but how do you like being the team manager?
Ah yeah, a little too much for my liking but Trevor Wiler has kind of taken over my old position and he's stepped up and does a great job. I'm still trying to adjust to the position actually but I'll always be more hands on and technical than team managers in the past. I think what Erik (Kehoe) used to bring to the table as an ex-rider, I'm lacking in and I'm trying to get better at that but then again I bring more to the table on the technical side than he did. Whatever side you're looking at and whatever shortcomings you want to pick from I suppose.
Can you talk about Erik Kehoe's departure? What happened and how big of a surprise was it to you?
Well that's something between management and Erik really and not my business to get into. I was sad to see Erik go, I consider him a friend and yes I was surprised. But he's left a big footprint here for me to try and fill and I hope I can do as good of a job as he did for Honda.
Be honest Dan, when's the last time you got on a dyno?
Probably the beginning of the year.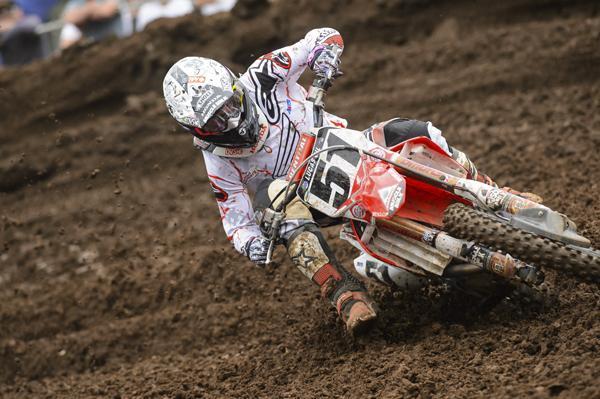 Justin Barcia and Trey Canard are both under the wing of Betley in 2013.
Simon Cudby photo
What's the biggest thing you've learned as a manager that you didn't realize would take up a lot of your time? Has anything been surprising?
Nothing surprising really, it's more dealing with upper management and the day-to-day paper shuffle than I thought. That's one aspect of the job I don't care for but I do like the challenge of trying to make things happen and bring out the best in everyone. We have a lot of depth in our team technically and that's good because when I got moved up we were able to fill that spot perfectly.
Yeah, but you still have that Shane Drew guy dragging everyone down…
(Laughs) Yeah, exactly. No Shane does the chassis stuff and he's stepped it up better than ever before the last couple of years. I can't throw him under the bus just yet, he's been great.
2014 is coming up, any plans by Honda to add a rider to the two you already have?
No, our two guys for right now are fine. Factory Connection has been able to keep the services of Eli Tomac, which is great for us. We just have to keep everyone happy, moving forward and getting podiums.
Ok Dan, there's a burning house and you can only rescue Jean-Michel Bayle or Damon Bradshaw two of Jeff Stanton's big rivals back in the day, who do you help out?
(Laughs for a long time) Is there a dog in there I can get? I'm kidding.