Washougal MX Park
Washougal

,

WA
Washougal
Lucas Oil AMA Pro Motocross Championship
Monster Energy Kawasaki's Ryan Villopoto finally broke through at his home race to capture his first career overall at Washougal. Villopoto talked about the race at the post-race press conference.
Racer X: You would think that with your career and your amount of wins that we'd be talking about your third, fourth, fifth win possibly here but it's your first. Take us through what this finally means to you.
Ryan Villopoto: It definitely feels good. A lot of moto wins here and traded moto wins and ended up on the short end of the stick a lot of times, but today we did another trade but ended up with the long stick. So it feels good to finally get that out of the way, to finally get a win here. I've raced here ever since I turned pro and this is my first overall. It feels good.
Take us through your motos.
Motos went good. Struggled a little bit on the start in the first moto. Ended up wheeling not out of the gate but way out front. Kind of put myself back a little bit there and had to work my way up and finally got into second, was able to get around James. It took a while; James was riding well. Tried to make up some time but it just seemed like the track goes wide and it kind of comes down to a twisty part and single-file and it opens back up. That made it tough but I was able to get around him and put a charge onto Ryan, but time was up. He was riding well.
You were talking about getting that first win. Is that something that bugs you?
As an amateur, I'm three and a half hours up the road. I've never been very great at this place. I always struggled here just a little bit. Raced Josh Hill a lot here and he beat me probably more times than I beat him. It feels good to get it done, even though it's a 2-1. But we'll take it.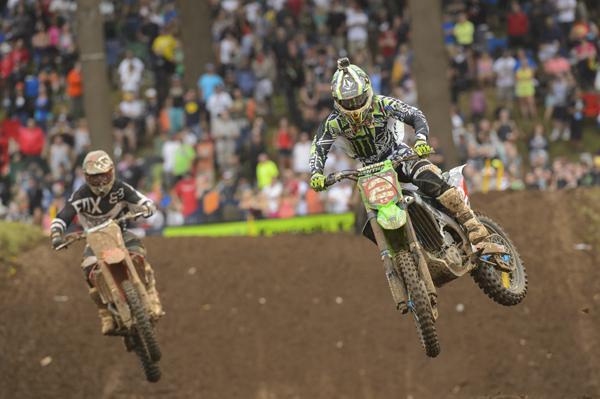 Ryan Villopoto struck back in moto 2 to take his first overall at Washougal.
Simon Cudby photo
Talk a little bit more about the first part of that second moto where you were chasing Dungey.
It was good. We got off to a good start and Ryan kind of opened up just a little bit in the first ten minutes or so. And then I was able to pick up some decent lines and we actually made a good shop change before the second moto. Was able to get the bike better for me out there and that definitely helped. Just had some good lines and was able to close in on him and make a pass on him. And then after I made the pass I was just trying to do clean, consistent, smooth laps and just try to inch away from him.
We had a report on TV that you use the same tire almost every track even though this track is totally different than some of the other dirt. Is that true? You just stick with the same thing even though this one's really slippery?
Yeah, it's pretty close to the same tire. Dunlop actually just introduced a new tire to us, but it's basically the same tire that I had run previously last year. But it's just a little bit different. But we pretty much run the same tire every weekend. I ran this new tire last weekend at RedBud and obviously this weekend.
What was it like leading the second moto? I would think it'd get pretty loud?
I will have to say it was no RedBud. The Northwest needs to definitely step up on that side. But it was good. They were definitely cheering me on. It feels good to have that crowd behind you. Obviously the tables are going to be flipped upside-down next weekend. We'll be back east again and we'll be in Ryan's home turf. It's good to get a win here and now we'll try to go get a win in his hometown.
I noticed you and James Stewart hooked up again. You went to pass him in the sand section. He kind of moved over on you. You mentioned in the press conference that nobody passes him on the outside. I noticed in the first moto that you not only passed him on the outside, it was at a spot where you were really carrying a lot of speed. Was that more of a here's how it's done?
That's the risk of putting himself on the outside. Sometimes it works, sometimes it doesn't. I didn't end up on the bad end of the stick. Really at RedBud just got pushed off the track. Just made that outside line work and made it stick. So feels good to get around him on the outside.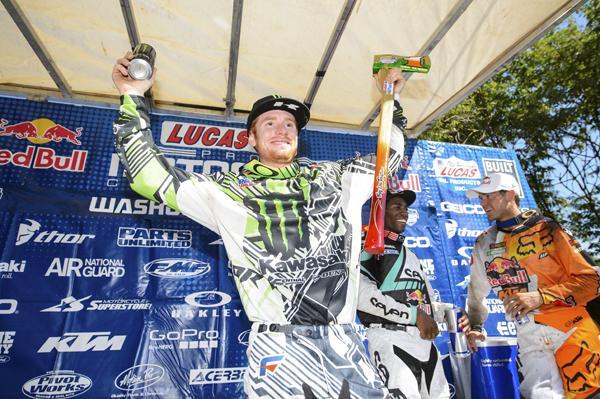 The overall winless streak at Washougal has been broken.
Simon Cudby photo
I think it was on Horsepower Hill when you passed Dungey and got a huge burst of energy from the crowd. How did that feel and what did you want to do to keep building off of them?
They actually changed it this year. It had some rollers in it and that kind of brought it back to how it was years and years, way before I ever raced it. It was good. It's good to have the crowd behind you and especially these guys because I'm from here and they all got to watch me grow up and race. It feels good to get a win for them.
The points obviously have changed quite a bit after what happened at RedBud. Does that cross your mind at all? Does that change anything? Do you guys even talk about that?
No. We had a good weekend here. We swapped out, like I said. We need to have a good weekend next weekend. And we'll just go with it. I think at this point it's way too early to start thinking of points. I want to make a statement, win motos and win overalls and carry this momentum that I have and we'll finish out the season strong.
What are your plans for the final four Nationals? Play it a little safe or are you going to go out there and just try to knock down overalls?
I think we'll have a good weekend next weekend. To get that overall would be ideal. And then with two to go obviously try to start to just put your head up and kind of see the light at the end of the tunnel. But like I said, we're going to keep moving forward and keep charging and keep trying to get these moto wins and focus on sealing out a great outdoor season.