Washougal MX Park
Washougal

,

WA
Washougal
Lucas Oil AMA Pro Motocross Championship
By Jason Weigandt and Davey Coombs
Jeffrey Herlings is hurling toward some history in the World Motocross GPs, and of course he's not shy about it. With twelve straight GP wins, he has tied the legendary Stefan Everts for the longest Grand Prix win streak ever.
"This [records] is what we are working for," Herlings told our Adam Wheeler. "I'm equal with Stefan now, and I'd like to break as many records as I can. I am still very young and we are working hard. The next step is to hopefully overtake Stefan with that one and then get my second world title in Loket [Czech Republic]. I have really dominated this year.... It's nice."
In fairness, Everts' streak came in the MX1 class, while Herlings is racing MX2. But all this talk got us thinking about some other famous streaks in the sport—some of which ended at thirteen, the number Herlings is going for next....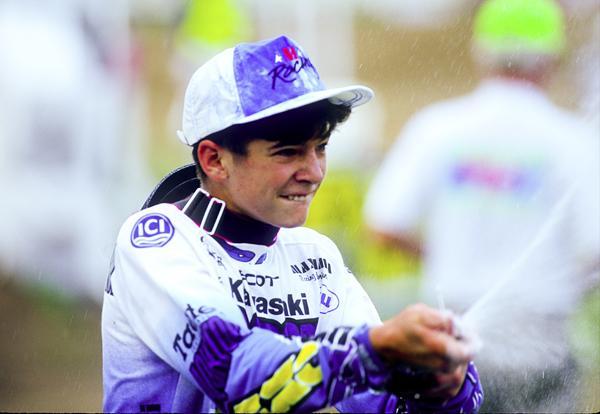 Kevin Windham had a legendary record at Loretta Lynn's. But James Stewart topped his streak.
Fran Kuhn photo
10.) Longest Loretta's Moto Wins Streak (23): A young Kevin Windham won eighteen straight motos NO! This was long held as the all-time win streak at Loretta's when Windham set the bar at 18 in 1994. James Stewart also won 18-straight by, like Windham, sweeping all of his motos in both of his classes every year in his last three years at the Ranch (1999, 2000, 2001). But we've just found out Stewart also won his final five motos in 1998 (a DNF in his first moto that week cost him a title but the moto win streak began in his second moto). Total it up and Stewart ended his Loretta's career with 23 straight, and that's the record.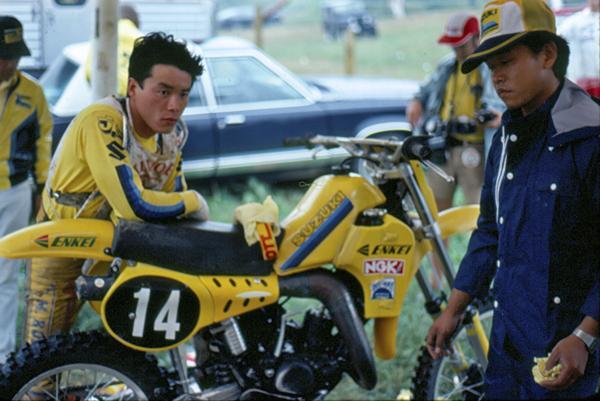 Suzuki, with riders like Akira Watanabe (pictured above) won a record 10 straight 125 GP class titles.
Moto Verte photo
8.) Longest AMA Supercross Championship Brand Streak (9): Honda, between 1988 and '96. The streak included Rick Johnson, Jeff Stanton, Jean-Michel Bayle, and Jeremy McGrath, whose four straight titles from '93 to '96 is also an individual record. Those streaks were stopped in 1997 by Team Kawasaki's Jeff Emig, the same man who stopped Jeremy's thirteen-race winning streak in 1996. You'll see "Streak Breaker" Emig mentioned quite a bit in this List.
9.) Suzuki's 125 World Championship Streak (10): The 125 GP class of the FIM World Championship began in 1975, and Suzuki won every single title from 1975 to 1984. The riders? Gaston Rahier, Akira Watanabe, Harry Everts, Eric Geboers, and Michele Rinaldi. The streak was finally stopped by Pekka Vehkonnen on a Cagiva.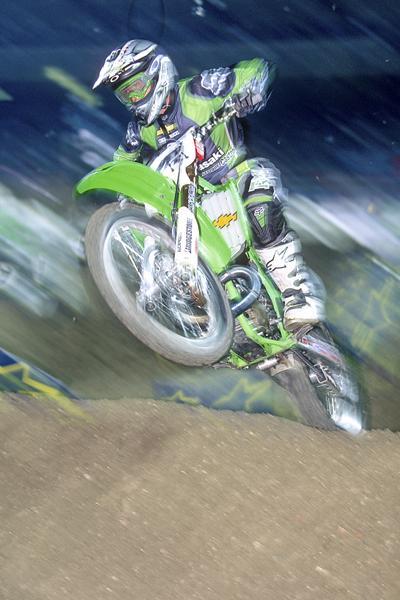 There are not many records that RC is not a part of.
Simon Cudby photo
7.) Longest 125 SX Win Streak (9): You're going to see Ricky Carmichael's name on this list quite often too. RC won all eight 125 East races in 1998 and then took the East-West Shootout for nine straight. RC never raced another 125 SX event.
6.) Longest 125 National Win Streak (11): In 2003, James Stewart won the final seven 125 Nationals, after missing the first four rounds of the series with an injury. He then won the first four races of 2004 before a first-turn crash at RedBud knocked him out of overall contention. The winner that day? Yamaha of Troy's Mike Brown.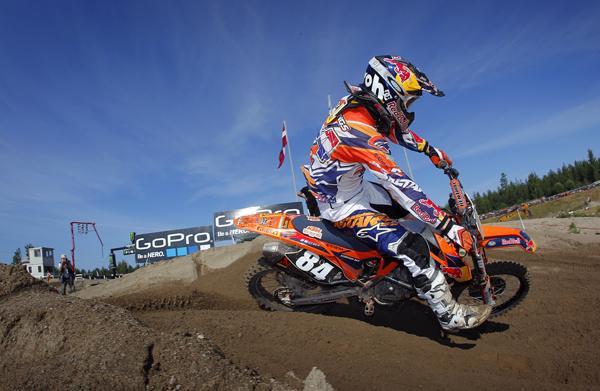 Herlings looks to break Stefan Everts' record at the Grand Prix of Germany July 28.
Sarah Gutierrez photo
5.) All-Time Individual Trophee des Nations Streak (10):
Belgium won the Trophee des Nations (for 250cc riders) every year from 1969 through 1978 before the USSR finally beat them. And the one rider who was on Team Belgium all ten times? Roger DeCoster!
4.) All-Time GP Win Streak (12): You didn't skip the intro to this one, did you? Everts and Herlings are tied atop the all-time GP win-streak list with twelve straight. Now for some trivia: Everts won fourteen of fifteen GPs during the 2006 season (his last), including that streak. Who was the one rider to take a win from him that season and prevent a fifteen-race streak? (Hint: Think desert animal.)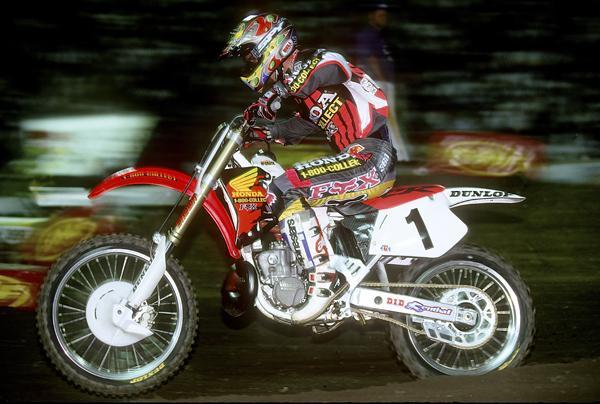 MC is tied with RC with the most SX wins in a row. That darned Emig guy prevented MC's streaks from running even longer.
Fran Kuhn photo
3.) All-Time SX Win Streak (13): Jeremy McGrath and Ricky Carmichael are tied here, with MC winning thirteen straight in 1996 and RC winning thirteen straight in 2001. MC's streak ended at the fourteenth round of the '96 season at the hands of "Streak Breaker" Emig. Honorable mention, again, to McGrath for his title four-peat in 1996 (broken by Emig, of course). As for RC, he won the final thirteen rounds of 2001 but crashed out of the 2002 opener.
2.) All Time MXdN Win Streak (13): Team USA from 1981-1993. As the years went on, the pressure attached to this one ratcheted up, and no one wanted to be on the team that finally lost it. It got so bad that in 1992, stars like Jeff Stanton, Mike Kiedrowski, Jeff Ward, and Damon Bradshaw said they didn't even want to go! Mike LaRocco, Billy Liles, and Jeff Emig got it done in '92 anyway, and a Kiedrowski/Emig/McGrath team won again in 1993. Then came 1994, when the Brits (Herring, Malin, Nicoll) logged the race of their life and Team USA—LaRocco, Kiedrowski, and Emig—finally came up short.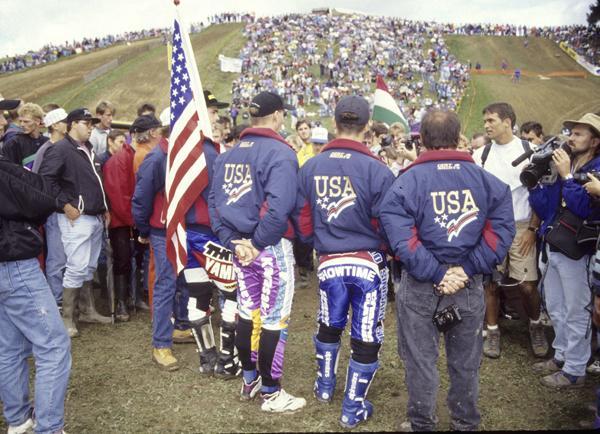 Team USA was a dominant force at the MXdN for thirteen-straight years. This '93 team ran the streak to its peak.
DC photo
1.) Longest Motocross Streak (27): The gold standard of motocross streaks is Ricky Carmichael's twenty-seven straight AMA Motocross wins from the end of 2003 (three races) through two straight undefeated seasons (twenty-four), only to end when he crashed off the start at Hangtown in 2006, tripping over the holeshot line while leading. RC also has the all-time MX title streak at an absolutely ridiculous seven straight in the 450 class from 2000-2006. Go and add his three straight 125 titles and you've got ten straight class championships. We don't think that one's getting broken!