RedBud MX
Buchanan

,

MI
RedBud
Lucas Oil AMA Pro Motocross Championship
Rain at Southwick is not strange. The last two years, the race has dodged hurricanes and tornados, and the New England faithful are hearty types that do not let some rain dampen their spirits.
But this rain was weird. This time, the weather was perfect all day long on race day, and then, suddenly, right after the final 250 moto was complete, it started to dump. It was raining hard, and wouldn't you know it, the poor WMX class was about to go out in it, embarking on their final moto of the year.
It seemed all too fitting. Losing Southwick from the National schedule is going to be a big blow, and while this weekend's race certainly served as a celebration of all that had been great here since 1976, the reality that it was all about to go away, for good, was just driven home by the rain.
Fitting, too, for the WMX class. The girls have been through a lot, and this rain just added to it. The reality for both the Southwick race and the WMX class is that change can be good, and change can be bad, but change is always a constant. Supporters of WMX racing will say that series hasn't gotten a break, but, the reality is that it has had its chances. The WMX class was bumped up to the full pro schedule in 2009, with motos mixed right in with the guys. WMX even got its own TV show back in 2009. Teams signed riders and the moto media did its best to cover it as a full-on third class. Scoff at that, but as editor of this website, I made sure to always add rider interviews into our post-race stuff, and add some WMX bench racing to our weekly pre-race preview stories. Every week, one of our Ten Things to Watch always included WMX talk. The teams, the press, the sponsors, the TV crews, everyone was ready to pull in the direction of WMX.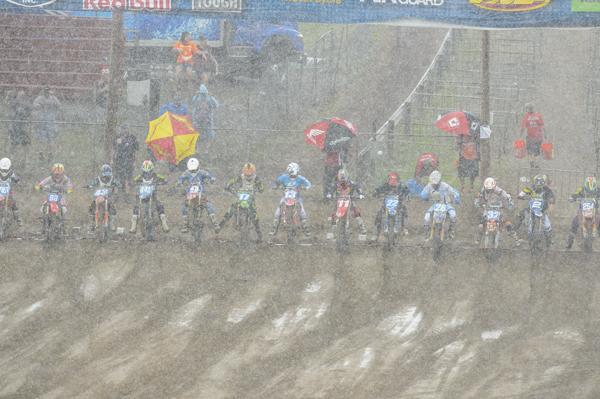 Only the WMX class would have to deal with inclement weather at Southwick.
Simon Cudby photo
I know a lot of the riders in the WMX division, and I like them. They're great racers, and I've interviewed a ton of them, both for WMX stuff, at Loretta's, and even during the two seasons I worked in the research department at ESPN for the X Games. The competitive drive and will of the women racers is no different than the guys, and in fact, it might even exceed it. You want to talk riding through injuries? It's crazy how many girls have suited up while beat up from the previous week. Just this weekend, Mackenzie Tricker was out there riding three weeks after totally blowing out her knee at High Point. The amount of, "I'm riding with a torn shoulder/knee/wrist/ankle" stories I've heard from the women's class is staggering. But they press on.
And if you've ever seen the Women's class do battle at Loretta's, you will never question a female racer's will to win. I've seen a decade plus of great racing at the Ranch, but nothing can match the third moto death duels between the likes of Jessica Patterson, Sarah Whitmore and Tarah Gieger. Nothing else even comes close. Hell hath no fury like a woman scorn? You should have seen these girls battle until they could barely hang on in the final lap of the final moto of the day. And there's a legacy that goes well beyond, reaching back to the Mercedes Gonzales/Lisa Akin-Wagner battles that many say are the best ever in the 30 plus years of racing at Loretta's.
WMX got the full bump to the pro race day in 2009. The Nationals had undergone huge changes, the most impactful being a one-day-only Saturday format [full disclosure, MX Sports, which runs the series, is a sister company of us here at Racer X]. The one-day format was a hit, as teams and riders were thrilled to cut their travel time in half. But now if Women's racing were to survive, it would have to do so on the same day as the men. WMX could no longer get in practice and a moto on Saturday and then a final moto on Sunday like the old days. The schedule was such where the full WMX schedule had to be bumped to the main race day, and time is at a huge premium on those days.
It was risk/reward and sink/swim. The one-day format meant they would race in front of the big crowd every time. But it also meant the attraction had to match up to the rest of the day. The Lucas Oil TV crew gave them their own show that first year, and teams picked up female riders to factory deals. Now the WMX was going to have to provide a show fans wanted to watch.
You know what? I hate to say this. I personally don't want to have to write it, because I like women's racing, I've enjoyed the battles, and the racers that I've come to know are first-race people. But I can't deny what I saw, and that is that fans just weren't as interested as they needed to be.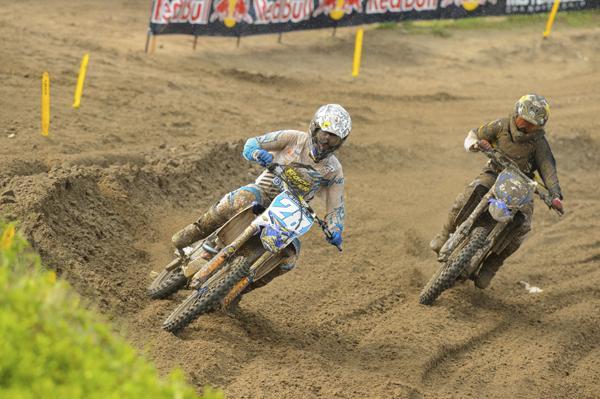 Tricker (28) has emerged as a new young threat. But she would surely like to have more professional races to compete in.
Simon Cudby photo

Did you watch any of those WMX TV shows in 2009? Few did. By the next year, sponsors weren't interested in the TV show, and without monetary support, it wasn't coming back. TV is very, very expensive, and even the shows with the Ryans, Reed, Stewart et al are hard pressed to draw a big enough rating and enough sponsor attention to pay for themselves. Meanwhile, on the fences, fans waited for the battles, but, unfortunately, the next generation of riders never quite got into the fray. The Patterson/Fiolek battles were first rate, and Tarah Gieger was always in the mix, but the next group, riders like Vickie Golden and Sara Price, who I fully expected to get in the fight, ran through injuries and just couldn't get there. Each year, the girls hoped to see deeper fields where five or seven or ten riders could win, but it didn't happen. And throwing the women out on the track on the same day as the guys only made the problem look worse. At a local track, you'd be blown away by the speed of the top WMX riders. But when mirrored against the best men in the world, they didn't look so fast, and that tended to drain some of the excitement. On paper, the points battles were exciting, but in actual action, fans just weren't riveted by it. I hate to say it, but they weren't.
I know what it's like to fight this fight. My first 10 years in this industry were spent doing PR for the Grand National Cross Country Series, and I spent every day trying to get more people to realize how tough and fast and talented and dedicated and cool the athletes in that series are. I made some headway, maybe, but I also realized you can't make people like something they don't. Some people just don't like to watch woods racing. There's a small group of actual GNCC fans, and you can grow that pie a bit, but not massively no matter what you do. Sometimes, you get the "Yeah, we know all about it, we're just not interested" vibe. And it hurts to feel that when you like the series so much. And don't even get me going on the ATV Motocross Series. I like the riders in that series, too, and I don't discount their effort or desire one bit. I've battled with media folks trying to get them to cover this stuff. But, again, you can't make fans like something, and if the media doesn't hear fans begging for more, it doesn't make sense for them to ramp up more coverage. Last year's WMX title came down to the wire in a strange set of circumstances, with both Patterson and Fiolek battling injury and each other through the final moto of the year. But we didn't have many requests for all the dirt and gossip from that title battle. People still wanted to hear about Dungey, and he had already wrapped the 450 title.
People watch what they want to watch and buy what they want to buy. Consequently, for GNCC and ATV Motocross to work, it has to tap into the participant angle. Those series feature amateur races built right into the pro schedule, and there are enough amateur racers to support those series. They just can't survive on spectating alone. In a perfect world this wouldn't be so, and the racers in WMX, GNCC, ATV Motocross, heck, WORCS, EnduroCross, whatever you pick, they'd all be rich a famous millionaires. They're not.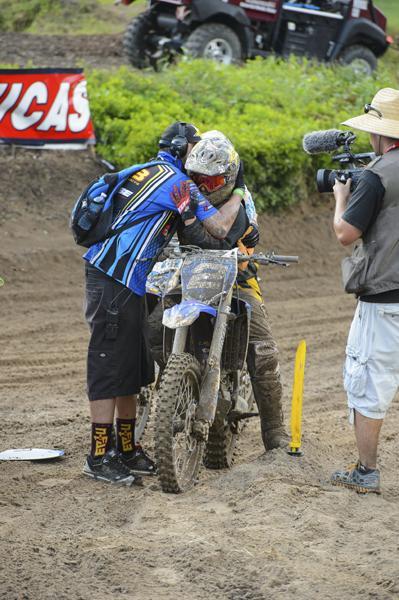 The WMX series is not what it once was, and Patterson is moving on.
Simon Cudby photo
Right now, I've seen a petition going around to force more WMX races and get additional media coverage. That's great, but I tend to wonder how many people on that list are true, unconnected, straight-up fans? It's very easy for someone deeply involved in the series—maybe a sponsor, or a relative of a rider, or a racer themself—to think they're getting the short shaft. And maybe they are. But are there enough pure spectators, people who don't personally know any of the riders, who don't have a vested interest in the WMX series beyond pure entertainment, to really make it work? It doesn't seem like there is.
I've been to just about every pro National held in the last dozen years. I've talked to a lot of people. I didn't hear people bench racing about the WMX class, or getting all hyped up about it. Even in the great moments, like a Geiger/Patterson near fight at Washougal, or a spectacular moto at Thunder Valley, or the classic Fiolek/Patterson duels. These were spectacular moments all there, right in front of us. But fans and sponsors and the whole industry just weren't as interested as they needed to be.
Now WMX is down to a Triple Crown, and the 2013 season is complete. It was up to an eight race series at one point. I honestly hope things get better, and the series grows, because I like the racers in it, and I know there's good young talent on the horizon, and they deserve a place to race. Maybe the solution is a separate deal, the same way the likes of GNCC or ATV MX have forged a path of their own. I don't know the answer. But as for going back to eight full races on eight National weekends, someone has to ask the obvious question: how many fans are really interested in watching?