Southwick, MA
Southwick
Lucas Oil AMA Pro Motocross Championship
"I knew what had happened, you kind of deny it as long as possible, but I had a feeling it was bad," says Wil Hahn. It was merely the parade lap before the second Southwick moto, but his bike was already done. He would know—because his bike also broke in the first moto.
"You're like, hey, there's just no way," he continues. "So you could see, I just kept kicking for a long time. And it was the exact same spot it happened in the first moto! I got to see the exact same fans I saw in the first moto, and they welcomed me with open arms again!"
Hahn's bike wasn't going to start, and his moto wasn't going to begin. So he began the long push back to the pits. That's when some fans jumped in to help him push. It became quite a sight to see, a factory rider getting a hand from some random fans. "I gave my goggles to a kid in the first moto, and I gave some goggles to his friend the second time around," says Hahn. "You want to get mad, but there's nothing you can do about it. So I just tried to high five as many fans as I could. Dude, it was getting crazy, everyone is yelling about how awesome I am, and I haven't even finished a moto today! Also had a couple hecklers telling me to get that bike to run, but it was funny. It was so cool to be welcomed like that, I wanted to be mad but, for them to come and help me, it was one of a kind feeling."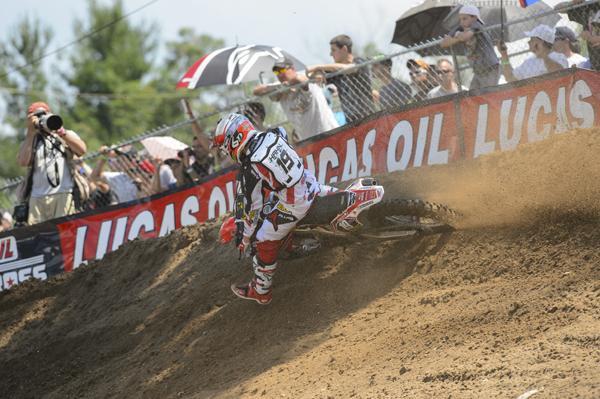 The fans lining the fence would help Hahn push his bike to the starting line after it failed on the parade lap.
Simon Cudby photo
Once Hahn finally got back toward the starting line area, his team checked the bike to make sure it couldn't be fixed in time. Soon, the gate had dropped and Hahn's race was over, so he headed to the infield to watch and cheer his teammates. "I was wondering, what are the rules? Could I get disqualified for cheering my teammates from the infield? But I already had a DNF/DNS, so I kind of figured, what else can they do to me?"
Hahn was smart to run away once he got back to the starting line area. Between the gate and the pits at Southwick sits a steep hill, and there's no way a rider is going to push a bike up it. "First moto, I think Davey [Coombs] or someone at MX Sports arranged a ride up the hill," Hahn explains. "Second moto, K-Dub's mechanic got on the bike and held onto the roof of a golf cart using his arms as tow ropes. It was pretty good."
All kidding aside, Hahn has ridden well in his return to racing following hand surgery. "I think I've done well for being off, but I think I carried my confidence from supercross over," he says. "I knew my bike let go [in moto one], but until then I felt I was riding good. Eli [Tomac] was on another level, but Blake [Baggett] and I had a decent gap behind us. It's all good."

Hahn's starts have been extraordinary since his return from injury.
Simon Cudby photo
For now, Hahn's focus is on two things. First, he'd like to nail more holeshots and win the $15,000 Motorcycle-Superstore.com Holeshot Award at the end of the season. Second, he's like to advance up to the podium one of these weekends. "And if I keep getting the starts, that will help me do that," he says.
As for the bike troubles, Hahn is not worried going forward. "Just one of those things. We'll move onto RedBud. Since I've been on the team I haven't had a failure. This team takes pride in building the best bikes, and the most reliable ones. They've done an evaluation and it shouldn't happen again. The whole weekend was a strange one. I had flight delays and didn't even get in until 1:30 a.m. Friday night. I told the team, 'It just seems like I'm not meant to race dirt bikes today, guys.'"