The Wick 338
Southwick

,

MA
Southwick
Lucas Oil AMA Pro Motocross Championship
The rain was coming down hard, but it often rains at Southwick, too. The fierce storm only made this sand track a better replica of the one they'll have to race on this weekend. So the boys pulled out from under the cover of a tree, let themselves get soaked, and then turned up the heat. They were going to do motos, rain or shine.
The two riders who went out first in the driving rain only know one way. They grind away. They dig. They work. They are Phil Nicoletti and Alex Martin, and they've been through the ups and downs as professionals, always with potential, but never with the breaks required for a permanent breakthrough. But each next weekend presents their best chance to finally turn heads their direction, especially at Southwick, where each have shown great speed before. Nicoletti, a New Yorker, is no stranger to this NESC staple facility. He was darned fast there last year on a 450. Martin grew up (literally) at Millville, Minnesota, so he knows sand. A-Mart also scored his one and only career moto podium at the New England track two years ago.
We're hanging out at the Club MX facility in Chesterfield, South Carolina. My wife was out of town for a few days this week, so I finally had free reign to take the 90-minute drive back there and hang for the day. I could do the rest of my work once I got home that night.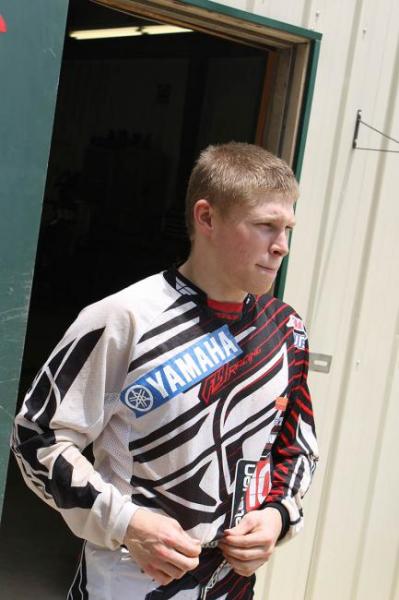 Alex Martin getting prepared for a training session on Tuesday at Club MX.
Weege photo
Rain all week has made Club's regular clay motocross track unrideable, but the back sand track can hold up to almost anything. Plus, this is sand riding week, anyway. The sand track is big and fast and looks fun, but surely isn't so much fun when you're logging lap after exhausting lap. Especially when the weather ranges from driving rain to sauna-like humidity as soon as it stops. Filthy Phil indeed is filthy, wet sand soon covering his N-Fab TiLUBE Yamaha. He runs roll offs, but even they can only do so much in this rain. Phil just keeps churning laps in the sand, though, relying as much on instinct and perseverance as anything else. That's what has kept his career going so far.
Martin, meanwhile, eventually goes goggleless. It's raining hard but he's got to finish his moto. Hey, A-Mart is happy to even have a 250F practice bike. For most of the year, he's had to ride a 450, because the barely-surviving Eleven10 Mods team he rode for couldn't get him a practice bike. Now he has an old YZ250F courtesy of his brother, Jeremy, who rides for the MyPlash/Star Racing team. A-Mart has moved over to Rock River Yamaha for the races. Right now, Jeremy is the star (no pun intended), getting the Star/Yamaha factory deal while still an amateur, and taking the big plunge to ride and train at Ricky Carmichael's place. Alex, meanwhile, grinds it out at Club.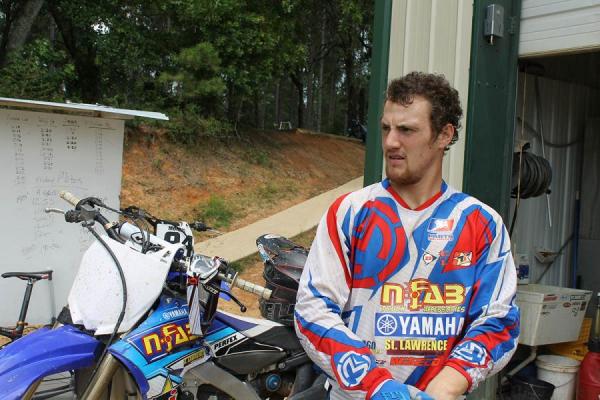 Nicoletti also trains down at Club MX.
Weege photo
That's the difference between this place and some others. Down at RC's, stars like Ryan Dungey and Broc Tickle have done time this year, and the list of those who have laid tracks at RC's house in previous years reads like a factory practice session roster. Down further south, Ryan Villopoto's place (which used to be Grant Langston's) also houses the big names, like RV himself, Weimer, Rattray and Cianciarulo. You also have Chad Reed' and James Stewart's compounds, soil that's no stranger to stars. Today at Club MX, though, it's all blue-collar guys.
Club MX is relatively new. It's fashioned much more as a home for amateur talent, just like Millsaps Training Facility or the many others around the nation. Loretta's is the real key for most of the riders there. It has tracks, but also spots for motorhomes and campers to hook up, as well as a gym and shop built in. This is home away from home for kids, a big difference from the men who own and patrol Reed, Stewart and Villopoto's land.
But there is a tie that binds, because Club MX is actually owned by a current pro racer. Zach Osborne invested in the place as a straight financial move a few years ago. At the time, Osborne was a GP racer living in Europe, so he couldn't even ride at the place he owned. This summer is the first one in which he can train on his own land, and now he's a bit of a hot shot himself, armed with the GEICO Honda ride and a few podiums this season.
Wasn't always that way, though. A short time ago Osborne's career had reached the cross roads, the bright light of his strong amateur career had dimmed, and he was out of options in the U.S. Plus, his rep had taken on considerable damage due to his "snack pack" days, illustrated when he led a moto at Budds Creek only to pull one of the greatest fades of all time.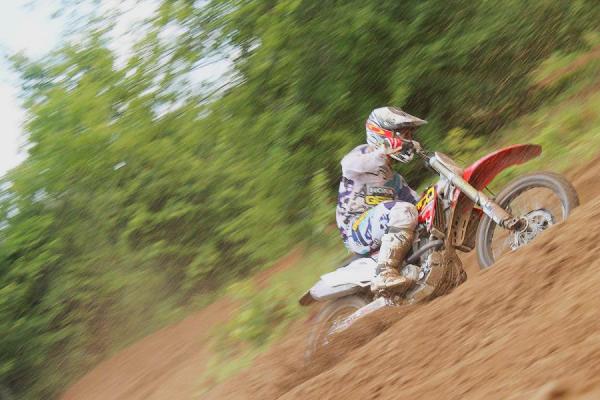 Zach Osborne putting down some motos in the driving rain.
Weege photo
Today, he's back and totally transformed. Osborne has gone from too-much-too-soon prospect to a workhorse and a journeyman. He knows there are no guarantees in this sport, and he takes nothing for granted. He likes this gritty work so much that he raced some GNCCs this year, and he's spending his own money—nearly 15 grand worth—to compete in the ISDE for Team USA this fall. And while Osborne has a good ride now and made good money in Europe, he's not living high on the hog. There's nothing happening in Chesterfield, South Carolina besides motoing down with other riders. There's nothing else to do! It's pure work, pure training, pure motocross down there. The rest of life can wait—until after retirement.
After Nicoletti and Martin had started their moto, Osborne rolled out a few laps later. Rain was still coming down hard, but these dudes made sure to get in their 30 plus two. Hey, there's always a chance of rain at Southwick, so wet sand practice is quite applicable. Then it was off to the shop, and the gym.
And if you think a muddy, rainy, sandy moto was a big deal, the ultimate workhorse was just about to run his second moto of the day.
Justin Brayton lives for this kind of work. He trains as hard as a rider can possibly train, and he takes no short cuts, ever. This week, he had Buddy Antunez fly into North Carolina to act as riding coach for a few days. On Monday, they went to the JGR moto track and worked on momentum drills. Bud Man says the real goal was using the clutch just right to get maximum drive—no excess slipping and no excess loss of momentum. Tuesday was sand day down at Club MX, and they put in the darned work.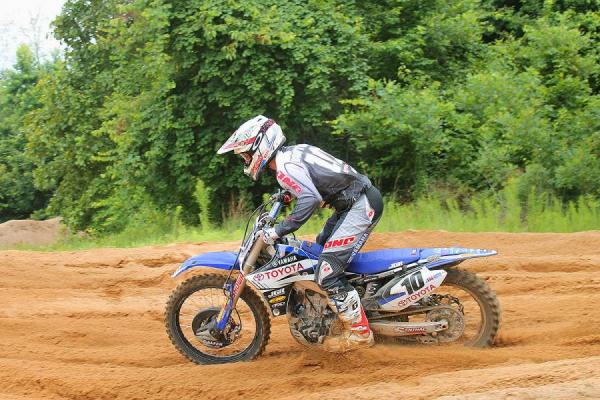 Brayton had Buddy Antunez come down to Club MX this week to help him train.
Weege photo
First came an hour of drills at 10:30 a.m. Then came a brief rest and a full-on moto, followed by another hour of drills. The whole day was spent working on braking, specifically how to use the rear brake more precisely to carry more corner speed. Also, Antunez stressed foot position during the transition from the brake pedal and back to the peg. Small details? Yes, but at this level, that's all that's left to develop.
Most of Brayton's drills came in the rain, but that didn't stop him from loading up for another long moto when the coaching session was complete. Antunez stayed on the stop watch and noted what the drills had done to Brayton's speed (it had gone up quite a bit) and now the goal was to repeat those techniques, and the lap times they create, over and over again. So Brayton kept riding and riding. With all the laps and all the rain, the track grew more and more brutal. The whoops seemed to double in depth, the ruts were totally blown out. At one point, the rain was so bad that his vision was getting wasted, and then Kyle Peters, also riding for the day, roosted Brayton completely in a puddle. Brayton stopped, wiped the lens, and then went back out, making sure to complete every darned scheduled minute of his riding for the day.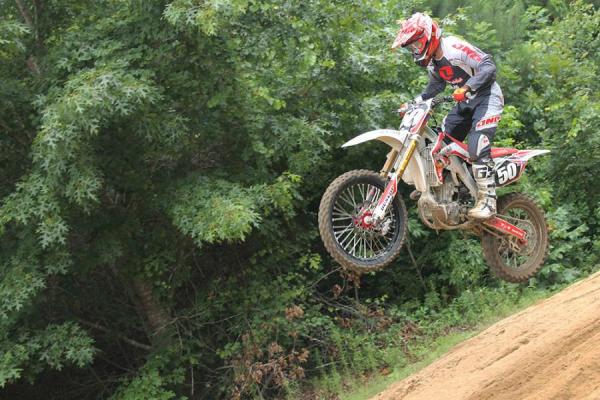 North Carolina native Kyle Peters was also training down at Club MX.
Weege photo
Then came more drills as a wrap up. Total riding time? Had to be over two hours. In the sand, in the rain, in the humidity, at race pace. Finally, after all that riding, the clutch on his YZ450F was starting to go. There's a reason team swap clutches between motos at Southwick.
"That's cool that you got to see all that goes into it," said Brayton. "But I'll tell you, that was the least fun day I've had in awhile."
For me, it was darned fun. This is the stuff so far removed from the spotlight and atmosphere at the races that you really get to see these guys for who they are. There's zero glory to sand laps in the rain on a Tuesday afternoon here. No polish, all grit. It's just pure work, but Brayton, Osborne, Nicoletti, Martin and Peters didn't seem to mind it one bit.