It's time for the DC Shoes Mini racing here at Mammoth. Lots of heavy hitters were on hand to lay it down and the racing action didn't stop from moto one all the way until the checkered flag waved for the 85cc (12-13) final.
In the 50cc class, there would be some familiar names up front—and it's pretty cool to say we already have familiar names in the 50cc classes! Putting it down on this big track were Jett Reynolds and Ryder DiFrancesco, who both rocketed out to a strong start. Reynolds would continue charging and gap the rest of the field while behind him Brett Bennett and Hunter Yoder battled it out to the finish for second and third, respectively. DiFrancesco would have his troubles sending him back to seventh. The second moto we would see the same super fast Jett Reynolds taking another easy win, leaving the rest of these little guys battling it out behind him. Reynolds would be your 50cc shootout winner for today.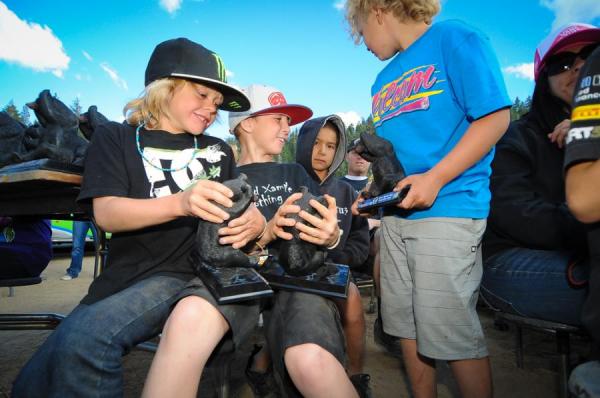 DiFrancesco and crew checking out the cool trophies.
Mike Emery photo
In the 65cc open final it would be an all out battle between Max Miller and Ty Masterpool. They exchanged the lead multiple times throughout the moto. These two were riding like veteran pros setting each other up for the pass and riding smart. It would come down to the last lap for Max Miller to finally make the pass stick and take the win. Following them to round out the podium would be Aiden Tijero, who put in some great rides today aboard his Orange Brigade KTM.
The Supermini class was absolutely stacked, and would unfortunately end in a red flag when Gage Schehr had a hard get-off and was in harms way in a corner. The beginning laps would be an all out brawl, with Tristan Miller leading the race, followed by Jon Ames and Robbie Wageman all close behind. Michael Mosiman was fighting his way through the pack after having a terrible start, and would still manage a fifth. The red flag flew on the lap 5 and it was ended there. That left Tristan Miller as your Supermini winner of the day!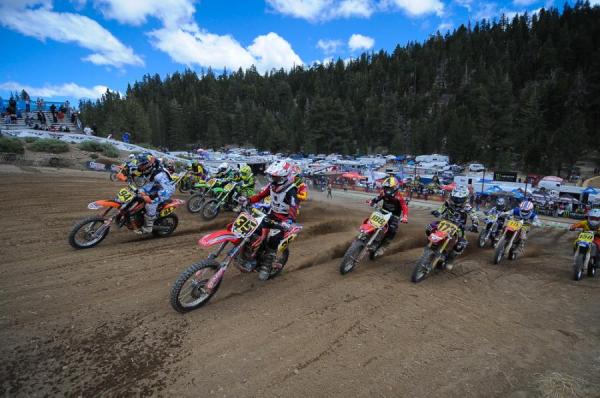 Action from Mammoth continues today.
Mike Emery photo
The 85cc (Open -16) class would see Michael Mosiman pulling an early lead, only to fall letting Mitchell Falk into the position. This would put Mosiman back a few positions and left Joey Crown (who was riding very impressive today) in second. Joey would push his Honda forward and within a couple laps and put heavy pressure on Falk. It looked to be a last lap pass in the making, but Crown washed out in a corner and left Falk to take the win. Mosiman would end up charging all the way to the checkers to regain second place. Big credit goes to Falk for riding a solid race without mistakes.
Day two of the mini's starts tomorrow so look here for more action!
Go here for Mammoth MX Results.