Budds Creek Motocross Park
Mechanicsville

,

MD
Budds Creek
Lucas Oil AMA Pro Motocross Championship
Adam Cianciarulo was supposed to make his professional debut at the Lucas Oil Pro Motocross Championship opener at Hangtown, but salmonella ended his weekend before it started. He missed a few more weeks—and also told us he lost about 15 pounds—before finally getting healthy enough to get on a bike and give it a go over the weekend at the Red Bull Budds Creek National. The Monster Energy/Pro Circuit Kawasaki rider's results weren't stellar—14-17 for 16th overall—but what it really means is up to him. He's hired to win races down the road, not right now, anyway. So what did he think and what did he learn? We asked him after the race.
Racer X: Take us through your first race. Obviously you're probably not as satisfied as you'd like to be. But how did you feel out there?
Adam Cianciarulo: First race honestly I got a great start. I was pumped on that. I came around the first corner first and ended up...I got passed by Marvin [Musquin] and then I think that was Wil [Hahn] that got by me right there, too. Kind of just got funneled right back to fourth right off the bat. Those guys come out of the box so hot and that's definitely something I learned today. I knew they did that but I didn't know the magnitude they do it. So I was in fourth and I was pretty comfortable with that. There was just a train of guys behind me and they were all like Anderson, Tomac… There were a bunch of really good guys behind me. Anderson got by me and I kind of screwed up by that and then I got shuffled back to I think 10th or so. And I was pretty satisfied right there; I was good. And then I ended up going down in the back before Henry Hill in that left-hander and a couple guys got by me and I was back to 14th or 13th. So that's how that one ended. Second one, awful start. Spun on that little concrete thing between the gate and the dirt start. I came out in the 30s somewhere. Felt like I was making good passes right off the bat and went up to that off-camber on the top there, went around the outside when they were all funneling up on the inside and some guy, 412, I think it was Kilbarger, on a Honda, hopped out just right into the side of me, just T-boned me. That was it for me. I was down. Kind of went off the track, too, into the mud. Once I got out of there I was so far last it was unreal. Ended up coming back to I think 18th. So I wouldn't say it was a bad ride. I wouldn't say that I rode good today by any means; I rode tight. It's the first race and obviously I've got to work the bugs out. But I've learned a lot today and definitely going to keep improving, for sure.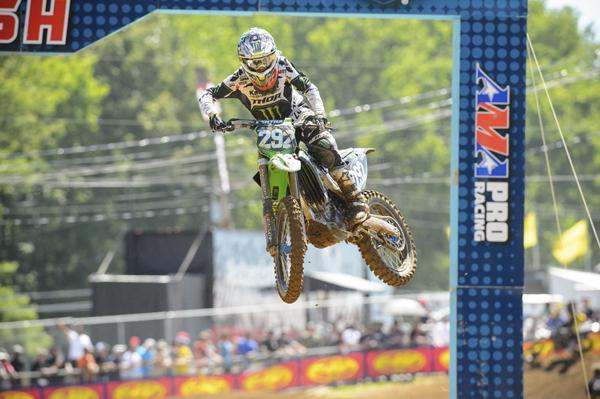 Cianciarulo finished 16th overall in his debut.
Simon Cudby photo
You were able to run up front early. Was that a big key to gauge where you are and where you need to be?
Absolutely. I have full belief in myself that once I get more used to it, and I know I can run that pace. From being up there… I'm not going to say that I have the pace of Musquin, Baggett, Tomac, but I think I have the pace of five through 10th for sure. I just need to kind of settle into my groove. I kind of held my breath there in the first moto and obviously faded back a little bit. So I've just got to get used to it. Overall the results sucked; on paper it's awful. But I learned a lot and that's the whole reason why I'm racing, is to learn a lot for next year. So I'd say it's a successful day.
How are you feeling? Do you feel like you're just going to keep improving strength-wise?
Absolutely, endurance-wise. My endurance was a joke today. I think you never really know where you're at until you come out here and race at this intensity, two 30-plus-two's back to back pretty much. So I don't regret racing today by any means. I think it was good for me to see the speed, see the intensity. I for sure think my endurance is going to only get better from here. Obviously coming off being sick and still haven't really gained everything back yet but I'm not going to make excuses either. I was pretty close to 100 percent or at least to where I was for Hangtown, but I still think I'm going to get better as the season goes on.