Mt. Morris, PA
High Point
Lucas Oil AMA Pro Motocross Championship
So far in the 2013 Lucas Oil Pro Motocross Championship, Yoshimura Suzuki's James Stewart has not been the James Stewart we're used to seeing. In fact, for maybe the first time ever, we've seen James in need of more speed to run at the front of the pack. Saturday's GEICO High Point National was another in a line of frustration for Stewart, with 16-26 scores by virtue of getting nailed in the eye with a rock in moto one, and DNFing moto two when his front brake rotor bent.
But at least that second moto provided a glimpse of the old James Stewart. While he did go from leading the race to a DNF in the second moto in just one short moment—and Ryan Villopoto was going for the lead at the time time—at least JS7 was back in the battle. We talked to him after the race, and it sounds like more races like this are coming soon.
Racer X: Okay, not best results-wise. But are you actually excited the way things went in some way, shape, or form?
James Stewart: Yeah. I think if you would have been here after I came off the track and thought I lost my eye [Stewart got hit in the eye with a rock in moto one], and just sitting in-between the motos. We were all kind of sitting here like dumbfounded, almost. Myself, as a person I'm like, if you were going to ride like this you should have went and got your knee fixed back in January. It was just unfortunate. My whole year has been about this outdoor season after the supercross points were done, so to come out here and have three motos just carrying a toilet seat around, it was just unfortunate. And then basically I just sat there, I was sitting on the gate after talking to these guys, and said. "I'm going to the front. I'm about to lead this race." And to still have that and still have the speed, I was happy about that. I just started changing up my lines. It was unfortunate because the same thing happened the first moto; when I would change up my lines they would just be awful. So I made a couple little mistakes, Villopoto caught up and got around me right up here. I went back down by the hill, bot back in front of him. It was about to get fun.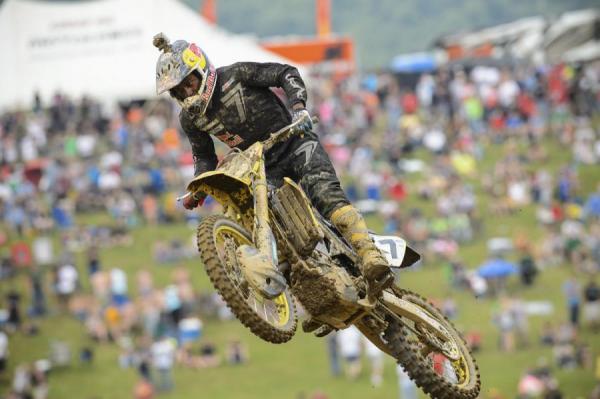 Stewart took a rock to the eye in the first moto.
Simon Cudby photo
You guys were ready to do some battle?
Yeah. I felt like for me it was kind of like last year when I raced Dungey. I actually love to have somebody right on me. I love that. As weird as it sounds, because I don't think many people like it. I love that situation of having pressure and having to make it happen. And I finally started after I jacked up on my lines figured out where not to go. And then he passed and I got back around him. I was starting to get happy. So I came up by the finish line and tagged this pole. I hit it but I didn't think I hit it that bad. And then next thing I know I jump and my handlebar's all crossed up. I thought maybe it was mud or something. Going down, I pull into mechanics area, like, "Dude, fix this!" And then we look down and the rotor's broken.
So it wasn't even a hard hit? Just one of those weird things?
It is [one of those weird things]. I've had some weird stuff happen to me. I've had some stalls. I've had a clutch just go out on the gate. And now this--I've never seen a rotor break. And the funny thing was I hit it on the right side but it broke on the left. That's how crazy it was. We think it's that [broken rotor] but I'm sure they'll go back and do some tests and find out what it was. But either way, it's weird.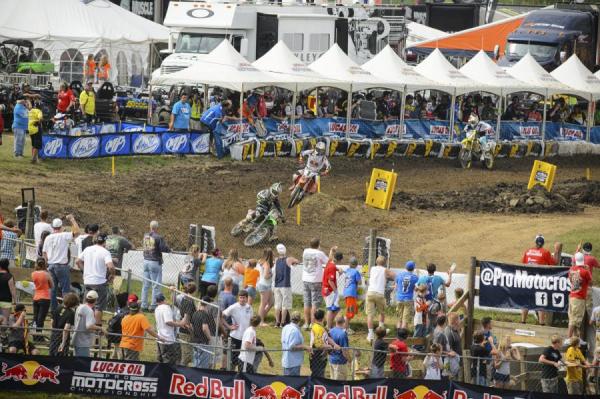 Stewart's front brake rotor bent in the second moto.
Simon Cudby photo

Is there something that you can point to, like, "I know what I did in this second moto. I can do this consistently now." Because these are the kinds of rides we expect from you.
I rode. I went racing and I woke up. Like I said, I didn't have no choice. It was just a bummer. But the difference between that and the first race, James showed up again. Whatever the reasons last couple weekends, that second moto, I said I'm not having it. I belong up there. And that's what it was. I don't belong back in 10th, 11th place. And this field is good, these riders are really fast this year, don't get me wrong, but I still feel like I should be up there.
So James will be back at Budds Creek hopefully?
Bubba's coming back at Budds Creek. I'm already calling it now.