Muddy Creek Raceway
Blountville

,

TN
Tennessee National (Muddy Creek)
Lucas Oil AMA Pro Motocross Championship
BTO Sports is your number-one source for all of your motocross parts, gear, accessories and apparel. BTOSports.com is a motocross company that is truly dedicated to the sport and to the customer. Proud sponsor of your Racer X Podcasts and the BTO Sports race team.
Yeah! A new national has come and gone. The famed Muddy Creek facility in Tennessee was awarded a Lucas Oil Pro Motocross Championship round this year and for many in the Southeast, it's about damn time. The track's been there for years and has hosted a variety of events (including a 2001 East Coast 4-stroke National where yours truly wrenched KTM's Kelly Smith to a 1-1 performance) but never a National. It's been a long time coming for owner Sam Gammon and this past weekend, the top riders in America all showed up to throw down.
So how was it? Well I can't get too far into this without reminiscing that the Muddy Creek Assassin (a term coined by Michelin's Randy Richardson) Mike Brown was not able to race. We've seen Brownie race a few Nationals here and there the last few years, and he only lives five miles or so from Muddy Creek. There probably aren't too many riders in the world that have put in more laps at Muddy Creek than Mike Brown. And in the twilight of his career, this was Mike's Waterloo, his Last Supper, if you will. But Brown's an off-road rider contracted with KTM nowadays and he was down in Mexico somewhere racing the Baja 500. I asked a long-time Mike-Brown-at-Muddy-Creek-watcher how Brown would do if he was there and in all seriousness, he quickly replied "4-5" and I didn't doubt him for a second. Mike Brown, we missed you this weekend and let's hope you get another shot next year. If old Yankee Stadium was the House That Ruth Built, Muddy Creek is the House That Brownie Built!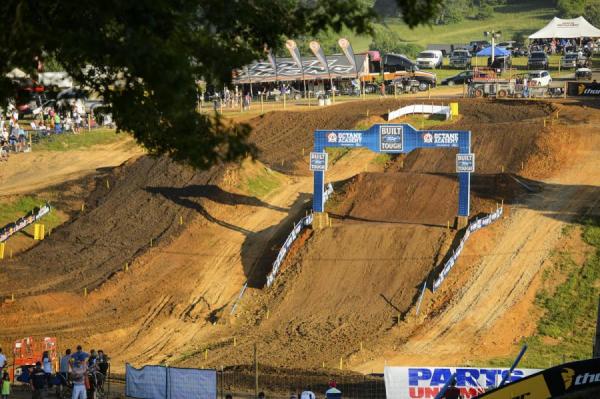 Muddy Creek underwent a number of changes, including The Bomber triple.
Simon Cudby photo
As far as the track itself, reviews were mixed. Redesigned by Mark Barnett, a couple of new sections were added and there were plenty of woodchips brought in to make the Muddy Creek soil be like, oh, all the other eleven National tracks. Going into the race, people were wondering if it was too narrow and in some spots it was, but there wasn't much Barnett could do about that, as there were drop-offs that prevented widening.  Also, the woodchips were not anyone's favorite (in talking to Barnett afterward he said that he needed more time to work the chips into the soil) and it was way overwatered for the first motos. In short, none of the riders I spoke to were that happy, including Chad Reed who had this to say after the day was done:
"It's nice to go to a nice, fluffy, loamy track, but none of us, I can promise you, none of us as riders like coming to places where it's rock hard underneath and then you go and put a bunch of wood chips on top and then you water the crap out of it and it's literally like riding a muddy garden for the first half of the day. And then it all pushes off and then it's just nasty, hard, shitty ruts. So yeah, hopefully they learn a lot today."
But this was the first race, everyone involved learned a lot and I'm sure it will be better next year. In fact, I can guarantee it. How do I know it will be back next year? Well, because the crowd was fantastic. Like, really, really strong. It was amazing to me that that many people showed up to watch a motocross race. Muddy Creek filled a void that was lacking for many years. It was a solid first race effort and with a few tweaks to the track, it'll be much better.
Ryan Dungey won his first race of the year and broke Ryan Villopoto's moto win streak at five. It was a typical Dungey race in that when he didn't get the start in the first moto, he fought his way to third and took it. Not a lot of craziness from Ryan out there, he just settled for third and took the points. In the second moto he stalked Justin Barcia for a while, again playing it pretty safe, wore the kid down and took off for a pretty big moto win. Combined with Villopoto's second-moto struggles, Dungey's win gave him the overall on the day. He rode great, better than everyone in the class not named Ryan Villopoto, but it's going to take RV crashing to get it done right now. Villopoto's that good.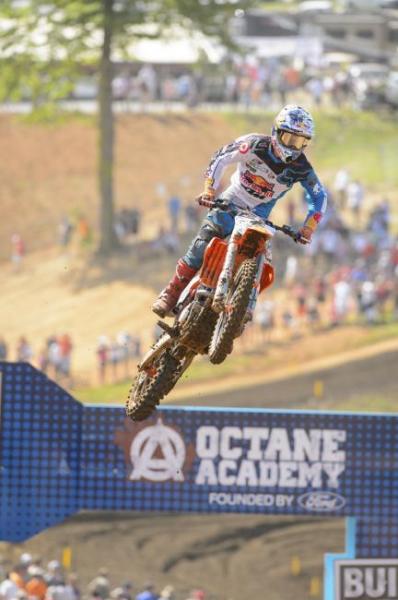 Dungey's first moto win of the year in the second moto lead to the overall.
Simon Cudby photo
I'm sure Dungey would never admit it but this is the plan in his camp, just like it was last year with Stewart, which is to put as much pressure on Villopoto as he can and hope that Villopoto is the one that cracks first, in terms of making a mistake. As we've seen for years now, Ryan Dungey isn't going to be the guy who hangs it out and takes big chances (much to the chagrin of manager Roger DeCoster). He's not wired that way. He's the speedy, solid "I'll be here every single moto and where I end up is where I end up" guy. And at Muddy Creek the plan worked to perfection. Tip of the visor to Dungey for his great riding.
Marvin Musquin has kind of been the forgotten soldier in the 250 Class. We talk about Eli Tomac and Ken Roczen and how fast they are, and Blake Baggett gets attention because we're wondering when he's going to be 100 percent fit and ready to go. Zach Osborne has been a surprise to most with his speed (not me though, I've been on the Zachy-poo bandwagon for years now) but Musquin has been sort of, "eeeeh." He's been good, no doubt about it, but he's only generating some whispers, not shouts. Part of it is because he's gone 4-4-4-4 so far, and another part of it is that he's a low-key guy from France. Well at Muddy Creek he won his second career National with consistently fast 2-2 scores. Marvin's fitness is good (one thing that helps him is that he doesn't get out of shape and he doesn't make a lot of mistakes, which saves a ton of energy), his speed and starts are there and he could win more, but as I've said before, I don't think he can go balls-out on the track (I'm sure he can go balls-out off the track but no one wants to see that) when he needs to. Roczen, Baggett and Tomac can, they have that crazy balls-out speed at times. But you're not going to change the stripes on Marvin. He won two world championships being smooth, technical and fast. He is what he is at this point, and what he is now is the Muddy Creek 250 National winner.
Congrats to the KTM boys for their second-ever sweep of both classes, which they did last year at Unadilla with the same two riders. KTM should stand for Keep The Momentum (going). If anyone from KTM is reading, you can use that. Put it on a T-shirt. You're welcome.
Justin Barcia is close. He's real close, in fact, to being the guy who challenges Villopoto. Yes, I know Dungey won and has beaten Barcia more times than not, but the gap between Barcia and Dungey is getting smaller. He's learning how to be "the guy" and not "a guy." Barcia's got the raw speed that Dungey doesn't, but he doesn't have that aggression for the whole moto. Dungey put it to Justin by the end of the second moto, but Barcia will figure it out (maybe it's just getting some "man strength," as his trainer Jeff Stanton has mentioned) and he, not Dungey, will give RV some issues later this season, in my opinion.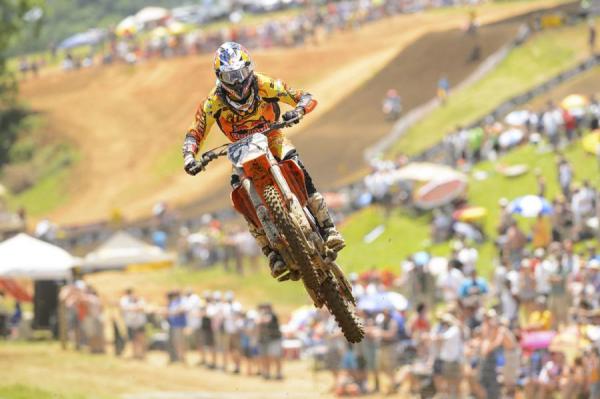 Marvin Musquin won his first overall since Unadilla a season ago.
Simon Cudby photo
I mentioned this to Justin (by the way, nice to see he cleaned himself up from supercross, where he was starting to look like a homeless guy) and he didn't really agree with me that he's not in shape like those guys, but I think he took it the wrong way. Instead of being tired, I meant it more like in a "stay aggressive" mode that he lacks a bit of right now. As I mentioned, he'll figure this out. I really believe it.
Let's take a look at the results from Muddy Creek shall we?
250MX Results
1 25 Marvin Musquin France KTM 250 SX-F 2 2
2 17 Eli Tomac Cortez, CO Honda CRF250R 4 1- As we talked about last week, if Eli gets a start he's gone. See ya' later. If he doesn't, he fights hard and does the best he can but can't necessarily come through the pack. So clearly the goal is for Eli to get starts. Yeah, I know, deep huh?
3 94 Ken Roczen Germany KTM 250 SX-F 1 4- Kenny almost had the overall on the day but one too many mistakes did him in. In the second moto his boot was just blown open from a crash and that had to have been gnarly to ride with. I've raced with just one strap undone and it feels super weird, never mind all of them. Six motos down, four moto wins and the points lead; the German will take that all day long.
4 1 Blake Baggett Grand Terrace, CA Kawasaki KX 250F 3 3- A solid rebound from Thunder Valley, where we all wondered who was riding the bike for Blake. Three-three for fourth though? Ouch. Baggett's not the same guy he was last year and it's going to be interesting to see if he comes around once he gets more seat time.
5 338 Zach Osborne Chesterfield, SC Honda CRF250R 6 5- Osborne, on his home track, gated well and ran up front but it's the small mistakes right now that are costing him. He's got the speed and fitness but he just screws up more than the top guys. That's the difference right now. He's got to figure out this issue (or make the mistakes later in the moto when it's more spread out) to break into a win.
6 21 Jason Anderson Edgewood, NM Suzuki RMZ 250 7 7- Anderson dropped back a bit in the first moto, which was a bit of a surprise, but in the second moto he was pretty far back before charging to seventh. All in all, a good day for Anderson.
7 34 Justin Bogle Cushing, OK Honda CRF250R 12 6- Bogle's been a bit of a mystery to start this very important year. We've never really seen what he can do but at Muddy Creek we saw something. Great starts, he was up front both motos but crashed in the first moto and came from way back to get a twelfth. Second moto he was strong and hopefully he keeps this up.
8 38 Kyle Cunningham Aledo, TX Yamaha YZ 250F 8 11
9 13 Blake Wharton Pilot Point, TX Suzuki RMZ 250 11 9- Wharton's getting there. He's improving from the first round and I think he'll just get better from here.
10 175 Cooper Webb Newport, NC Yamaha YZ 250F 5 15- This just in, I'm on the Cooper Webb bandwagon! I know that as a fan in this sport it's not possible to be on both the Webb AND Adam Cianciarulo bandwagons but dammit, I'm going to try to be the first one ever. Wish me luck; I'm going to need it.  One of the fan bases is probably going to tar and feather me.
11 40 Martin Davalos Ecuador Kawasaki KX 250F 13 8- It's all in the starts for Martin. He's not fast enough or in good enough shape to charge up from a bad start, but he can go fast for a while, so where he starts is generally going to be where he finishes.
12 176 Joseph Savatgy Thomasville, GA KTM 250 SX-F 10 12- Good job for Joey and the FMF/Orange Brigade KTM team. I was talking to Donnie Emler Jr. at FMF and he was saying this venture with Savatgy is indeed costing them some money, but they think Savatgy's got a great future and they already work with KTM a lot, so this is all good karma for them in their eyes. From the outside, you have to wonder why they've decided to do a deal like this.
13 43 Cole Seely Newbury Park, CA Honda CRF250R 9 13- I think that in this class, Seely (who's not an outdoor warrior) should be 7-10 every moto. He's a great starter and a good rider so I'm sure he's not happy with this finishing spot, but this just in, the top five guys are on another level than the rest of the class. So his ninth in the first moto is actually a fourth for the "B" group. And that's good! Get it?
14 317 Justin Hill Yoncalla, OR Kawasaki KX 250F 16 14- Not a good day for Hill at Muddy Creek. If he's on a team like MotoConcepts and he's a rookie, then this is okay but because he's a rookie on Pro Circuit, he should be better. Maybe that's unfair but that's the way it is.
15 77 Jeremy Martin Millville, MN Yamaha YZ 250F 21 10- Bad day for Martin, who was top ten in the first moto and crashed. In the second moto he was okay. Hey, they can't all be stupendous.
16 37 Alex Martin Millville, MN Yamaha YZ 250F 15 16- After a terrible Thunder Valley, The Ewok Warrior rebounds with his best race of the year, but, in what I'm sure is a kick in the nuts, he still didn't beat his brother. There are plenty of rumblings that Martin could end up on the Rock River Yamaha team at some point.
17 44 Darryn Durham Butler, PA Kawasaki KX 250F 14 17- I spoke to Durham at the end of the day and he said he's still in pain from his Hangtown crash. Mitch Payton left it up to him whether he wanted to race or not, and he chose to race (duh) and had an okay day. He'll be better at High Point this weekend. That's the house that he built!
18 194 Jackson Richardson Australia Honda CRF250R 19 19- Richardson had to make the motos via the consolation race, so to go in and score points in both motos is very good. To have the thirty-seventh pick on a gate that was heavily favored to the top picks and come out inside the top twenty after the first lap is not very good, it's great.
19 396 Dillan Epstein Thousand Oaks, CA Kawasaki KX 250F 17 39- Not sure what happened to Epstein before the second moto but he didn't start for some reason. Still, a good first moto for him.
20 556 Brady Kiesel Fort Worth, TX Yamaha YZ 250F 24 18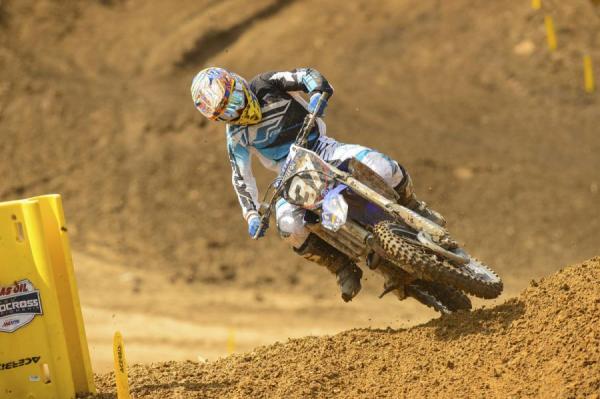 Alex Martin had his best ride of the season at Muddy Creek.
Simon Cudby photo
450MX Results
1 1 Ryan Dungey Waconia, MN KTM 450 SX-F FE 3 1- You know what I like about Dungey? I'm sure he trains his ass off every week and does a ton of stuff to stay fit, but you don't see a trainer at the races for him (not a slam at Villopoto or any of the guys that do have a trainer at all, although I'm sure some of you will take it that way). I followed Dungey on Twitter for a while and he's not posting photos of all the training he does or hash tagging #doingwork like some other riders. Nope, he's just out there in Florida somewhere bicycling his nuts off and doing the work by himself. Now if he has some trainer and all that and I'm wrong, please don't tell me and ruin my world.
2 51 Justin Barcia Monroe, NY Honda CRF450R 2 2- He should have "Boy Strength" on the back of his pants. That would be funny for everyone but Justin.
3 2 Ryan Villopoto Poulsbo, WA Kawasaki KX 450F 1 4- I know RV was not a fan of the track at all. In fact I expected more wrath in his podium interviews so maybe he either liked it a bit better by then or he bit his tongue. Either way, if you're him and you crash twice in the second moto and still almost get the overall, you'll take it. And in case you're wondering, nothing happened at Muddy Creek to make me believe he's not the fastest guy in the class by far.
4 7 James Stewart Jr. Haines City, FL Suzuki RMZ 450 4 6- Not a good day for Stewie at Muddy Creek. He qualified seventeenth. Say that a few times and now you know. Afterward he was hanging out getting pictures taken with the Euro riders (yes, I'm serious, the Belgians who were racing him on the track then wanted to get some pictures with him). I talked to him and he was upfront and honest about his troubles. He did, for the first time to my ears, admit that he's getting old. It struck me as weird for Stewart to admit this fact (it's true by the way), just because he doesn't often publicly admit much is wrong.
5 800 Mike Alessi Hilliard, FL Suzuki RMZ 450 6 5- Mike had a good day at Muddy Creek. People like to snicker at Mike and his dad Tony (and truthfully sometimes they're right to snicker) but know this, Mike Alessi is a racer. He never gives up (in motocross), he always appears to be trying his hardest and his bike, while he may like it, is in my opinion, not where it needs to be, considering the guys he's racing. I'm not saying it's a bucking bronco out there but it could be called a small angry donkey.
6 925 Clement Desalle Belgium Suzuki RMZ 450 5 9- Desalle's second moto ride was very good. Twenty-fourth to ninth is legit and unlike last week it appeared that Clement could have maintained that speed for the next day or so. So was Desalle as good in these last four motos as he has been when he's been here before? No, but he's also not as good this year in Europe, either.
7 922 Kevin Strijbos Corona, CA Suzuki RMZ 450 14 7- Solid rides for Strijbos, as his first moto was an eighth to a twenty-first and then to a fourteenth. He's not flashy but he gets the job done out there. He'd like to race in America next year if anyone who hires riders is reading this.
8 29 Andrew Short Colorado Springs, CO KTM 450 SX-F FE 12 10- A 12-10 for eighth overall? Nice to see the moto gods reward Andrew with a generous overall placement on the day. I thought that he'd get better starts because of the low-end power of the KTM, and the short, uphill start. And he did okay, just not as good as I thought he would.
9 41 Trey Canard Oklahoma City, OK Honda CRF450R 29 3- Canard rode well, but it's a bummer that he fell in the first moto. I have to say that when you watch him closely, he seems to be scrubbing, whipping and torqueing that bike so much that you see him make a ton of mistakes. He generally has one or two "Holy Crap!!" moments that he saves in every moto.
10 20 Broc Tickle Holly, MI Suzuki RMZ 450 13 11 RCH Racing- A solid day for Tickle and there's no doubt that this year's 450 class is stacked way more than last year's. If you want some proof, look at Tickle's finishes from last year to this year. He's riding fine but there's just nothing he can do at this point. He's a sixth to tenth place guy right now in this field.
11 12 Jake Weimer Twin Falls, ID Kawasaki KX 450F 18 8- It's taken five motos but we saw what Jake can do out there in the second moto. I don't think he's quite at the top guy level in this year's loaded field, but like Tickle, he should be a sixth to tenth guy.
12 22 Chad Reed Australia Honda CRF450R 15 13- This was Reed's best race of the year, but that's not saying much. Afterward I pretty much forced him to give me an interview because I really want to find out what's going on with the 22. I thank him for granting Pulpmx.com an interview (he's still mad at Racer X) and he seems confident that he'll be much better after the break. Let's all hope so because this is just downright weird.
13 33 Josh Grant Riverside, CA Yamaha YZ 450F 7 36- Grant was the fastest rider in both practice sessions, which should give you an idea of just how fast he can go if everything is aligned correctly. Unfortunately for him, that just hasn't happened in the last few years. Grant didn't get the start he needed in the first moto and came from fifteenth to seventh, which was very good. Second moto he had bike problems and called it a day. Lots of people wonder how Josh keeps getting rides with his injury problems, but as long as he can go out there and set the fastest time in practice, he's going to be able to get rides. That ability is something you cannot teach and there will always be someone hoping that it all comes together for the #33.
14 49 Phil Nicoletti Cohocton, NY Yamaha YZ 450F 8 33- Filthy Phil got effed. In the first moto he scored a career high eighth in an awesome ride. In the second moto he went down in the first turn and was way back. Like, wayyy back. Look at the TV show and you'll see him still trying to kick his bike a long time after the first turn crash even happened. But he put his head down and used his speed to get all the way up to fifteenth around halfway before his cam chain tensioner went out (seriously, when has that ever happened to anyone other than Phil? Those things are bulletproof), taking the stator with it. And that was it, Phil DNF'd on the day. You won't read about his second moto ride anywhere else but trust me, it was very impressive. Maybe even better than his eighth in the first moto. Phil's fast, bro.
15 35 Ryan Sipes Vine Grove, KY Suzuki RMZ 450 9 21- Muddy Creek is the closest thing to a home track for Sipes and he was fast early in the first moto but he, wait for it, fell. Second moto he was down in the first turn crash that Desalle caused but was in the mix. Then I think he fell again or he had bike issues because he was so far back, he might as well have been in the pits. But man does that suck to come back and get twenty-first, just out of the points after that hard work. If only they gave points all the way back to fortieth…
16 10 Justin Brayton Fort Dodge, IA Yamaha YZ 450F 10 40- Brayton crashed in the first turn in the second moto and burnt his leg (this just in, I know JGR is a NASCAR team but their two riders have pulled into the pits for goggles or mechanicals in four out of six motos this year. Note to JGR, there are no pit stops in moto!) but his first moto was definitely something he can build on. By far his best ride through the six motos that have been run. Justin Brayton, we can build on this!!
17 28 Tyla Rattray South Africa Kawasaki KX 450F 11 38- A crash in the first turn for Rattray, but I didn't see him go by after that, so I imagine his bike or body was too bent up to keep going.
18 32 Malcolm Stewart Haines City, FL Honda CRF450R 25 12-Mookie Fever hasn't had a major outbreak since Hangtown and has mostly been contained to small cases here and there.
19 54 Les Smith York, SC KTM 450 SX-F FE 17 18- Smith's been perpetually banged up since the Seattle SX. Seems like every week he's jacked something up on his body. So Muddy Creek (a track he's raced a ton) was his best National of the year by far. And obviously he hopes to build on this.
20 42 Vince Friese Cape Girardeon, MO KTM 450 SX-F 40 14- Not sure what happened in the first moto but a fourteenth is good for Vince. Four KTMs in the top twenty in the 450MX class is pretty sweet for the Austrian boys.
Here's some news and notes from the Creek that was Muddy:
-It was cool to see New England rider Robbie Marshall show up on a two-stroke (he raced the first two rounds on a 450) and qualify sixteenth in the class. It was pretty remarkable to do that in the sloppy and hilly Muddy Creek track, but looking at Marshall's other laps, he never even came close to duplicating his fastest time. It certainly was weird, I'll say that and some people were surmising that maybe he missed a corner or his transponder was broken. Anyway, Robbie landed on Trey Canard's downed bike in moto one and hurt his shoulder, which was a bummer. The two-stroke cult guys got effed once again and I'm interested to hear who they think conspired to do this to poor Marshall. I'm kidding. Not really.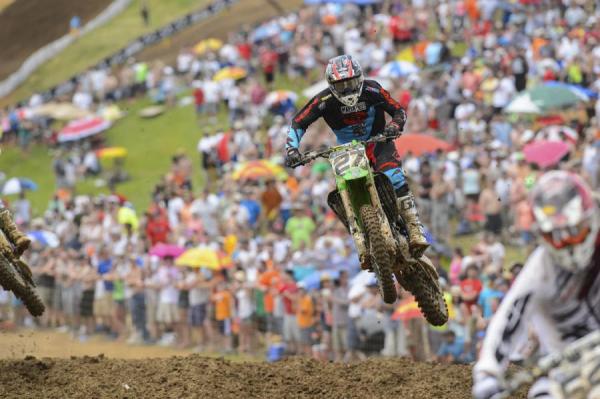 Nick Wey is trying to work his way back to form.
Simon Cudby photo
-You know who got screwed? Privateer Broc Shumelyun scored points in both motos (20-19) and somehow finished twenty-third overall! Tough deal as his scores would usually get you inside the top 20. Still, nice ride.
-The two vets coming back from injury, Nick Wey and Michael Byrne, both had tough days once again at Muddy Creek as they just finished outside the top twenty in points. This has got to be killing Wey, as I know he's been working hard off the bike to try and get back to his old form. He did have his best race of the year with points in both motos but he's still got a ways to go. It pains me to say that about a good friend of mine. Byrne's hit and miss. He's further along than Wey but he can't seem to stay out of trouble. Still, good first moto for him.
-I stayed back after Muddy Creek at my boss Jason Weigandt's house (no outward signs of him being super cheap, by the way, but there were subtle things like his two-year old daughter wearing a cut off onesie for a shirt because she outgrew it. He's like your alcoholic uncle who hides flasks in the toilet tank. In other words, he's good at concealing his problems) and went down to the JGR MX shop on Monday for a good hang-out/bench racing session with the guys. It's been a tough year for them but I have no doubt after touring the shop and knowing the quality of their staff that they will turn it around at some point. They have everything they need and they do things right. It'll work out for them, as Brayton and Grant are too good to do this poorly. I really believe that. Hard work, good riders and great people are hard to keep down for long.
I'm not a NASCAR guy (I do follow the races and read about it here and there but in no way am I watching the races and getting deep into it) but getting the inside tour of the shop with Coy Gibbs was pretty awesome and unique. I can't believe the stuff they do and have there. Trust me, there's nothing "stock" about stock car racing. Also, having Coy as a tour guide was interesting, as he introduced me as "this guy thinks he's a journalist" to a bunch of workers. Also, having all of the shop bust on him was classic. Coy reminds me of the kid that everyone likes but still gets tied up to a goalpost at the end of practice. Anyway, definitely pumped I stayed back to see all of that stuff and yes, I do have a new appreciation of NASCAR, but I stand by my theory that if you're 50 years old and can still be competitive in your sport, it ain't that hard.
Thanks for reading this edition of OBS -- see you next week! Matthes@racerxonline.com if you've got something to say.