Blountville, TN
Tennessee National (Muddy Creek)
AMA Pro Motocross Championship
With the addition of live television to the Lucas Oil Pro Motocross Championship, the timetables have also changed. Gone are the days of long intermissions and a lot of recovery time in between 35 minute motos. Most of the races now have adopted a continuous schedule of action throughout the four-moto program. While it makes the day go by quickly and keeps the fans' attention with non-stop racing, it is really tough on the riders and mechanics. For the mechanics, it really puts a rush on preparing the bike to race again and every task has to be planned to maximum efficiency. I have heard many mechanics say that they don't have enough time to be thorough and they are scared of overlooking something they would normally have time to address. While this is a worthy topic of its own, I want to focus on what this schedule change has meant to rider preparation.
One method of preparing for the brutally hot nationals is acclimation. If possible, exposing yourself to the expected conditions beforehand can increase blood volume and the precision of sweating. Acclimatized athletes start sweating sooner while also sweating more evenly across the body, which cools the body more effectively. Further, an athlete who has acclimatized can perform at a lower heart rate while also maintaining lower core and surface skin temperatures. All of this means an easier day in the heat for racers. The main problem, however, is unless the rider lives in similar conditions, it is difficult to meet the minimum seven-to-ten day period it takes to fully acclimate. I lived in Florida while I was racing, so this wasn't a problem as we rode and trained in this sort of heat and humidity daily. For those living in cooler climates, it could present a real challenge. On the hotter event days, it was very apparent who was ready to face the heat and who wasn't. It always gave me a morale boost when I saw the forecast to creep into the 90s come race day, as I knew my torturous days of Florida training would pay off.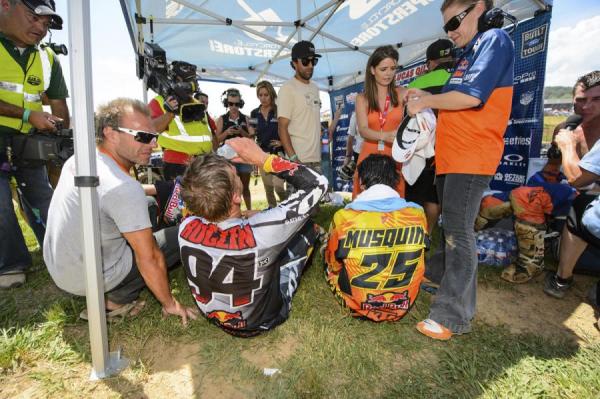 Red Bull KTM teammates Ken Roczen (left) and Marvin Musquin (right) cooling down at Muddy Creek.
Simon Cudby photo
Before the first moto, there is plenty of time to relax and prepare. Most riders will eat something fairly light and it's usually the exact same thing they ate the previous Saturday. Riders are creatures of habit and highly superstitious, even if it is just the ritual that gives them comfort. Most have also figured out what their body agrees with and is ideal for race day. For me, it was some kind of fruit/smoothie/nutrition bar combination. Nothing heavy that would make me too full and then lead to a tired feeling. Staying light and energetic was key. After that, it was just a waiting game until that "first call" horn sounded. Assuming all was well after the first moto, it is a rush to cool down and get out of my gear. Getting the core body temperature down is crucial to recovery and conserving energy.
The hotter the core temperature is, the higher the heart rate remains, and also sweating will continue. In fact, studies have shown that athletes can lose 5 percent of their body weight per hour and 10 percent of their body water composition. Add to the equation the fact that just a 2 percent loss in body weight can negatively impact performance and increase heart rate by 5 beats per minute and you can see the need to get as cool as possible and start the recovery process immediately. With riders and trainers always obsessing about heart rates and hydration, losing that kind of performance is no joke. Many methods are employed to get the core temps down. Sitting in garbage cans filled with ice and water are popular, kiddie swimming pools, cold showers, and obviously resting in climate controlled haulers are all the norm. There used to be a concept of remaining in the heat to not "shock" the body with fluctuating temperatures, but that has been overruled by the importance of cooling the body down.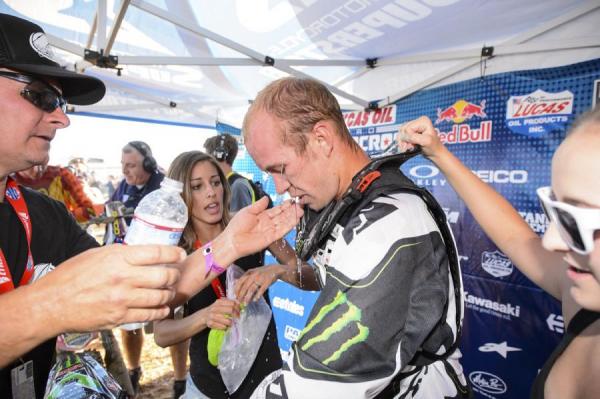 Monster Energy/Pro Circuit Kawasaki's Blake Baggett trying to cool down after a long day at Hangtown.
Simon Cudby photo
Once the body has cooled, trying to replace fluids and get some kind of nutrition is important. Most riders have gone the smoothie route lately as it is easy for the body to absorb nutrients without excess strain to digest any solid foods. With barely over an hour in between motos, there isn't much time for anything else before it's time to suit back up. Many riders have invested in cooling vests that will continue to keep the body chilled until it's time to perform. These really help to stop the body from heating up, which in turns leads to sweating and the loss of vital fluids. Riders are even wearing these on the parade lap in an all out effort to maximize their effectiveness. While this may not be crucial for every race, on the hot summer days it is a huge tool that you can see more and more riders utilizing.
All in all, the rapid turnaround is the same for everyone. The difference is who is equipped and prepared to handle it. Utilizing some of the methods discussed above and really making core temperature and hydration priorities are good ways to combat the inevitable pain everyone will feel the last ten minutes of the second moto. Not one rider is immune to high heart rates, dehydration and the sun's rays. I can tell you from experience, however, that these factors are decreased when you see your competitors suffering more than you are. There was a strange comfort in knowing that I wasn't hurting as bad as the next guy. This doesn't come from being tough, it comes from discipline and preparation. Sitting on the line for the second moto, everyone is feeling the heat, the first moto, and dreading the 35-minute war that lays ahead. The riders who do their homework seem to excel when conditions are at their most difficult. So the next time you see Chad Reed sitting in a garbage can in between motos, realize he isn't Oscar the Grouch but attempting to be his best when he has to race again in a few minutes. As the summer wears on, we will undoubtedly have some brutally hot days ahead of us. Keep your eye out for some creative ways that riders try to cool and maintain that all important temperature, it can mean the difference between winning and losing.