Lakewood, CO
Thunder Valley
Lucas Oil AMA Pro Motocross Championship
BTO Sports is your number one source for all of your motocross parts, gear, accessories and apparel. BTOSports.com is a motocross company who is truly dedicated to the sport and to the customer. Proud sponsor of your Racer X Podcasts and the BTO Sports race team.
So, two rounds down and ten to go in the 2013 Lucas Oil Pro Motocross Championship. While it's dangerous to draw conclusions after two rounds, that's what we in the media tend to do, because, well, I'm really not sure why. We've been proven wrong (and right) many times over the years, and many things could happen between now and the end of this series. But we really do see some trends here after only two rounds. And when it gets hotter and rougher, I'm afraid that what we're seeing now is only going to get more pronounced.
But, as always, let's start this with the track. I thought it was gnarly. Lakewood is sneaky rough and rutted and always has been since we've been going there. Add in the heat (not too bad this year) and the elevation (it's always there, bro) and you have one of the more taxing tracks of the year. Watch the race on TV and man, can you ever see the bikes kicking and swapping around out there! Long football field ruts with some sand thrown in (probably too much sand if you go by what most racers were saying) makes for a day when you can really tell if your bike setup is in the right ballpark. As I've said before, Lakewood is fast becoming one of the better Nationals of the year when you factor in everything in terms of track, viewing, travel and improvements. I think it's a tad narrow in spots but it's got everything you want in a National and I hope it stays on the schedule for years. If you haven't been there then you've got to make it out. You'll be impressed.
I was very impressed by Ryan Villopoto last week and nothing he did this week has dampened my enthusiasm for his riding. Another 1-1 day, complete with passes on his main rival Ryan Dungey in both motos to get those wins, is pretty sweet for him. It's this simple: Villopoto is riding as well as I think I've ever seen him ride. He looks to be in complete control out there and even when he's not, he quickly saves it and twists the throttle some more. He's Ricky Carmichael-esque, no doubt about it. I had a front row seat for almost every single one of RC's outdoor wins (seriously, I probably only missed about five of them) and this is the closest I've ever seen to that. When Dungey was crushing them last summer and in 2010 it was with precision and robotic style. There wasn't much flash in those seasons; he just got the job done very efficiently.
But with Villopoto and Carmichael, it's all-out aggression and attacking for the whole moto. He's in complete control, yet he's not. Anyway, a lot can happen between now and Lake Elsinore, but it's not looking good for the COMP (a tip of the cap to Alessi Weekly for that by the way ///////) right now. Villopoto's one with his bike, body and these tracks. We knew he'd be good, but not this good right?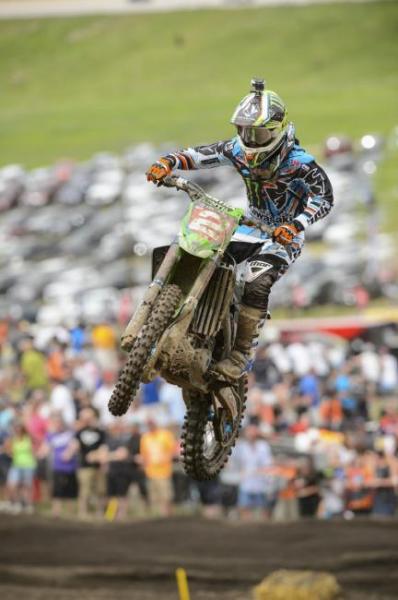 Ryan Villopoto is running on all cylinders.
Simon Cudby photo
I think this summer it's going to come down to two things in the 250MX class. Can Eli Tomac get starts and is Kenny Roczen tough enough to last the whole moto? Tomac thinks that he can't get starts because he's too big for the 250F but we all saw how awesome his starts were on the 450 in supercross (hint-they weren't good), so I'm leaning toward the notion that he's just not a good starter. I've longed believed that starts are mostly in a rider's head and they've got to believe that they are a good starter. Once they start thinking about foot placement, RPMs, chest position, throttle position, etc., then they're done. The best starters do everything instinctively and don't think about it. In Colorado (Tomac is from Colorado, but Thunder Valley isn't really his home track, as the announcers were saying, because he lives so far away. He even flew to the race because it's nearly an eight-hour drive) Tomac was very good off the starts and he went 2-1 for the overall. He caught Roczen in the first moto and was all over him for a long time before coming up just short.
In the second moto he was gone. He got another start and checked out big time. The race was over by the end of the second lap. Great job for Tomac and in Lakewood, he got the starts. Roczen won the first moto in a nice ride but the fact he got caught by Tomac at the end, and then in the second moto (there was no intermission at all so it was an hour break for the racers, which isn't much) was visibly not the same rider, has to be concerning for Roczen's fans. Last season he led the second most laps on the year (tied with Tomac for 79 behind Justin Barcia's 138) but got just one moto win, as he was caught late in the race a ton of times. Last week he was great, and it looked like he had his endurance problems solved. But this week! Not so much. And guess what? It's just going to get hotter and rougher from here on out.
Something to pay attention to going forward is what races have all four motos airing on domestic TV live. And this year, that's most of the races, such as in Thunder Valley and this weekend at Muddy Creek. These races have shorter intermissions for riders to recover, as all four motos run back-to-back, taking out a good 30 minutes or an hour out of the break between races. And the rounds that feature WMX rounds have extra-long intermissions. It will be interesting to see if Kenny's results change at the races with shorter breaks. Being three for four in moto wins this early isn't a bad deal at all, so it's not like the sky is falling, but Roczen's Lakewood rides indicated to me that he's got some work to do.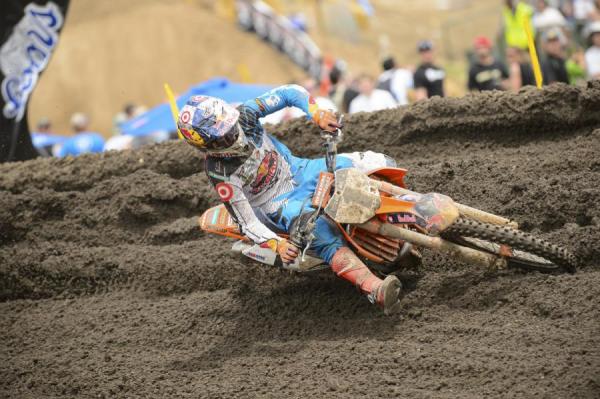 Dungey finished runner-up for the second straight race.
Simon Cudby photo
Tomac versus Roczen seems to be the battle right now, but there is the Blake Baggett factor. No excuses from Blake after Lakewood, who said he just didn't ride well, and it wasn't his wrist giving him trouble or anything like that. He fell in the first moto and had to come from a long way back, but in the second moto, he just didn't look like El Chupacabra out there. He looked more like a mouse that, although fierce, wasn't going to suck anyone's blood out. I spoke to Mitch Payton after the race and he said that he doesn't have to get on Baggett or worry about his desire to win. He said that he doesn't need to say anything, because the defending champion knows what he needs to do.
James Stewart showed me something at Lakewood. Yeah, I know he's got the second most National wins of all time and he shouldn't have to show me anything (and for the record, I thought he should have been #2 on the Racer X 30 Greatest AMA Motocrossers list, but I was out-voted. I'm still not happy. Yeah he doesn't have the titles like the guys that were ranked ahead of him, but I don't care. The "eye test," and having the second-most wins ever and being one of only two riders ever to go undefeated clinches it for me. Oh well.). At Lakewood, when he went down in the first moto he was pretty much dead last.  I thought that Stewart might pull off. I really did. But he put his head down and charged through the pack, passing guys I'm sure he didn't even know, to get fifteenth. Yeah, it wasn't great and truthfully I thought he'd get higher, but he did it. Every time you pull off and justify it, the process becomes easier and easier. Stewart didn't do that and good job to him.
In the second moto, Stewart showed the new kid, Justin Barcia, that he's still one of the guys as he caught and passed him late in the race. Can we stop with the pit whispers of James not being in shape now? If not, when can we stop this? It's no secret that Stewie's got some "haters" in the pro pits but c'mon, the dude's in shape. Pick something else to pick on. The problem for James right now, and I can't believe I'm saying this, is speed. He's consistently about a second back of the two Ryans. After Hangtown he was talking about how he wants to make it through the motos, it's a long season, anything can happen and maybe it wasn't all just lip service for a dude that's long been a "checkers or wreckers" type of guy. He really, really means it; he's going to try and win this thing with consistency. Wow. Who knew?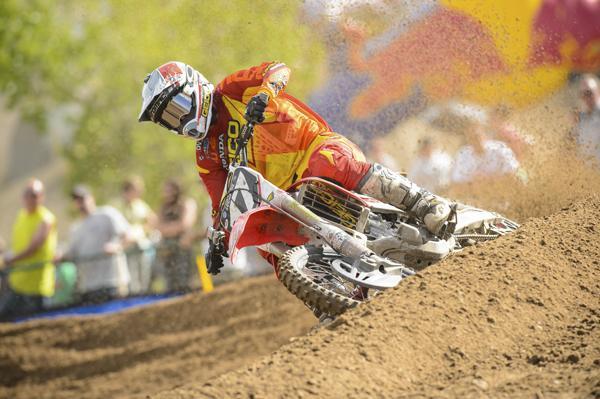 Eli Tomac won his home race for the first time this weekend.
Simon Cudby photo
The Euros are coming! The Euros are coming! Yeah, that's right, in a super cool move Clement Desalle and Kevin Strijbos of the Rockstar Suzuki team both showed up for Thunder Valley (they're also racing this weekend in Tennessee). Both riders are solid contenders over in Europe and brought their suspension, bars and exhausts over to bolt onto a couple of 450's that Rockstar Energy Racing over here brought for them. And yes, the Euro's are full factory Suzuki guys in Europe, and yes, it's weird that they weren't pitted with the American factory Suzuki team but an energy drink company (Rockstar in this case) is a powerful sponsor. Desalle had raced four motos here before and was on the podium for three of them, so clearly he's fast. Strijbos had never been here before but has made plenty of podiums in the MX1 class so you know he's for real. I thought both racers handled themselves well. Desalle appeared to be pretty tired in the second moto and Strijbos told me afterward that he backed it down for the second moto, as he was already tired from the first. It's super cool to have both guys over here racing two Nationals, no matter how they do. Antonio Cairoli, you're up.
One thing I hear in my travels to Europe is that Desalle doesn't have much time for the media and is a bit difficult to deal with. I interviewed him when he raced Unadilla a couple of years ago and his English didn't seem very good so I just chalked it up to that. But I heard a couple of American media guys this past weekend had some, err, interesting run-in's with him. Oh well, not everyone can be Wil Hahn, right?
Speaking of the GPs, how about three out of the top five in the 250MX having heavy GP experience for the second week in a row? Yeah that's right, you have Roczen, Marvin Musquin and Zach Osborne, who all came from the GPs to race over here. Osborne has somehow made the incredibly hard transition from washed-up-American-kid-forced-to-go-to-the-GPs-to-make-a-living to now coming back here and finding success. That's really good and stuff. So thank you Europe for these Three Musketeers. Please keep sending them over whenever you can, we'll be here.
Let's take a look at the results shall we?
250MX Results
1 17 Eli Tomac Cortez, CO Honda CRF250R 2 1- I don't know about you guys but Tomac hucking that quad while Roczen tripled made for a pretty cool visual. Talking to Tomac after the race he mentioned that it was better for him to do the quad because it gave him time to rest. Yeah, that's exactly what I would be thinking while up there.
2 94 Ken Roczen Murrieta, CA KTM 250 SX-F 1 3- I like Roczen's whole get-up. His orange bike, Fox gear, and blue and chrome Red Bull helmet, it just looks so clean.
3 338 Zach Osborne Honda CRF250R 6 2- Last week Zach went 9-5 for fifth and this week 6-2 for third. Can we all agree that the moto gods are on his side? Oh and I defy someone to find me a rider that has been on the podium in supercross, motocross AND a GNCC in one year. Hold on, I'm checking Bill Ballance's supercross record…
4 25 Marvin Musquin Corona, CA KTM 250 SX-F 4 4- Well, 4-4-4-4 for Marvin after four motos is pretty good. I was very surprised that Webb caught and passed him in the first moto. I'm sure he was also! Still, I think it was more of a case of Webb riding great, not Marvin slowing down a whole bunch. Second moto he slowly (and I mean slowly) caught Osborne and Roczen at the end.
5 1 Blake Baggett Grand Terrace, CA Kawasaki KX 250F 9 5- Baggett crashed in the first moto and was so far back that it was ridiculous. Second moto he was just okay. It was weird to see him just riding around out there. He'll be better this weekend.
6 77 Jeremy Martin Millville, MN Yamaha YZ 250F 8 6- Nice ride for Jeremy here, who last year seemed to be more erratic when he hit the scene. This year he's solid. I'm also thinking that Webb killing it has got to be helping Martin raise his game. No one wants to be the worst guy on the team, trust me.
7 40 Martin Davalos Cairo, GA Kawasaki KX 250F 7 10- Good ride from Martin on one of his better tracks. Mitch Payton told me afterward that he told Martin that he needs to be in better shape. But he's always needed to be in better shape.
8 21 Jason Anderson Edgewood, NM Suzuki RMZ 250 5 12- With the RC Hard Charger locked in with his fortieth to twelfth ride in the second moto, this was a good day for Jason Anderson. You like to see this from your rider if you're the Rockstar Energy Racing team. As I've said before, 2014 is going to be the year of the Anderson.
9 175 Cooper Webb Yamaha YZ 250F 3 17- Yeah, Cooper Webb! A very impressive third in the first moto showed all of us that he's for real. He was very good at Hangtown and great at Thunder Valley. I suppose the only troubling thing is that for the second week in a row he gave away a ton of positions late in the second moto. Last week it was a stall, this week it was a crash with three laps to go. If you give Webb those positions back (yeah, yeah, I know) he'd be sixth in the points. Oh well, it's still a nice start to his pro career.
10 34 Justin Bogle Cushing, OK Honda CRF250R 13 7- Bogle rode well at Lakewood but he missed the first moto gate drop because his hats-off device wasn't in his helmet. And to that I say, "C'mon man!"
11 13 Blake Wharton Pilot Point, TX Suzuki RMZ 250 14 8- A much better result at Thunder Valley than Hangtown for Blake.
12 317 Justin Hill Kawasaki KX 250F 12 11- Mitch Payton seemed to insinuate HERE that Hill needs to work a bit harder and this ride is a chance of a lifetime for him.
13 30 Nico Izzi Rochester, MI Suzuki RMZ 250 11 13- Izzi's got to be better. He was better than this on a privateer Honda. I expect bigger and better things going forward for this talented guy.
14 43 Cole Seely Murrieta, CA Honda CRF250R 10 14- Seely rode well in the first moto and then in his words, "sucked" in the second. He also admitted that getting back into the mindset (thank you Jeff Emig) of racing outdoors after missing a year is tough.
15 396 Dillan Epstein Kawasaki KX 250F 15 15- I think this full privateer kid has been solid.
16 38 Kyle Cunningham Aledo, TX Yamaha YZ 250F 38 9- Not sure what happened to Kyle in the first moto. I think it was a bike issue but again, I'm not sure. He was doing pretty well.
17 194 Jackson Richardson Cairns, Australia Honda CRF250R 18 16
18 87 Lance Vincent Youngsville, LA KTM 250 SX-F 17 18
19 176 Joseph Savatgy KTM 250 SX-F 16 35- Bummer for Savatgy, as bike problems took him out of moto two while he was up there, and a late crash in moto one while closer to tenth hurt him also.
20 157 Jacob Baumert Kawasaki KX 250F 19 19- Anyone know anything?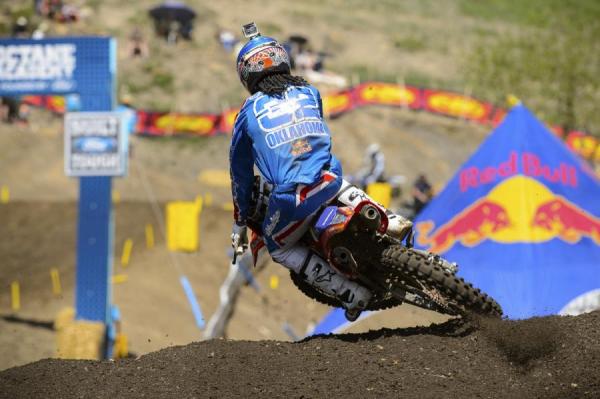 Malcolm Stewart garnered his first 450 top ten at Thunder Valley.
Simon Cudby photo
450MX Results
1 2 Ryan Villopoto Seattle, WA Kawasaki KX 450F 1 1 So…yeah…uhhhh…when does the 24-0 talk start? It's not there yet but a couple more races and it should begin. He's been that good.
2 1 Ryan Dungey Belle Plaine, MN KTM 450 SX-F FE 2 2- It's got to be disconcerting for Dungey that RV has passed him three times in four motos and gone on to win. Dungey's so good, so in shape and so fast but RV is just a tad better for right now.
3 51 Justin Barcia Pinetta, FL Honda CRF450R 3 4- I couldn't help but think of Jeff Stanton's quote to Weege about the Nationals being more about "man strength" than "boy strength," and that Barcia doesn't have the man strength yet. I was talking to his mom after the second moto and she was asking me what Justin needs to do to stop going from first to fourth. I just said everything's fine, Justin's riding well and the two Ryans, well, they're gnarly. I'm not sure I eased her mind but sometimes the simplest explanation is the easiest.
4 41 Trey Canard Oklahoma City, OK Honda CRF450R 4 5- Canard was happy with his ride at Lakewood and I'm happy that he's happy because he was up front and got passed and dropped by the leaders. I thought he'd be pissed but it's a learning process for Trey. After all, he now has just three full 450 Nationals under his belt.
5 800 Mike Alessi Canoga Park, CA Suzuki RMZ 450 6 6- Nice rebound day for Mike after a poor (for him) Hangtown. I'm no Mike Gosselaar, but I think his bike still looks like it needs some suspension work.
6 925 Clement Desalle Suzuki RMZ 450 5 7- Desalle set the second fastest qualifying time so perhaps the hopes were a bit high for him going into the first moto. The MX Panda (best nickname ever by the way) was hungry in the first moto but in the second, he was winded and wanted to sleep.
7 7 James Stewart Jr. Suzuki RMZ 450 15 3
8 28 Tyla Rattray Wildomar, CA Kawasaki KX 450F 7 10- Funny to listen to Nicoletti on the Pulpmx Show say that at Hangtown, Rattray was all over him and just wouldn't quit. He said that's the difference between the 250 and 450 classes; you have "men" like Tyla who just push and push.
9 922 Kevin Strijbos Suzuki RMZ 450 10 8- I follow the GPs pretty good and doesn't it seem that Strijbos has been around forever? Like he's washed out of good rides, had crappy rides and now he's back and maybe better than ever? Strange career arc for the Belgian.
10 15 Dean Wilson Wesley Chapel, FL Kawasaki KX 450F 11 9- Dean's still getting up to speed. I'm been a bit let down on his rides but asking people who are closer to him, they're okay with this. It takes a while for someone to recover from the lung injuries that Wilson suffered in supercross. I'm sure the altitude really helped.
11 32 Malcolm Stewart Murrieta, Ca Honda CRF450R 9 11- A good, strong, fast and consistent day for Mookie. Yeah, that's right. I said it. 450s agree with him!
12 33 Josh Grant Corona, CA Yamaha YZ 450F 8 18- Good first moto for a guy who's won a moto here before. Second time out he had to pull in for goggles, as something happened and he was buried. At one point the JGR riders were thirty-first and thirty-third in the second moto and Coy Gibbs was seen trying to asphyxiate himself with the semi-truck.
13 46 Weston Peick Wildomar, CA Suzuki RMZ 450 13 14- Can someone help this guy out?
14 12 Jake Weimer Rupert, ID Kawasaki KX 450F 16 12- Bad day for Weimer and I went to go talk to him afterward and find out what happened, but just as I got to him he took off. No, I don't think he saw me, funny guy.
15 20 Broc Tickle Holly, MI Suzuki RMZ 450 14 15- Tickle after two rounds last year: 43 points. Tickle after two rounds this year: 29 points. But the good news is he did go back to an air fork for this weekend. Look for it to stay on from here on out.
16 35 Ryan Sipes Elizabethtown, KY Suzuki RMZ 450 19 13- Sipes, last week's surprise, didn't have a good day as crashes hurt him in the first moto. Afterward he made it pretty simple by saying, "I didn't get a start."
17 49 Phil Nicoletti Bethel, NY Yamaha YZ 450F 12 27- Filthy had a poor second moto when he lost his rear brakes, but his first moto was, once again, strong.
18 29 Andrew Short Smithville, TX KTM 450 SX-F FE 18 16- Short's worst National since Troy 2004 (that's what he told me anyway), as he fell in the first turn in the first moto and then dealt with a sore groin the rest of the day.
19 63 Derek Anderson Arvada, CO Kawasaki KX 450F 17 22- Derek's home track, and one he normally does pretty well at. Not sure what happened but I would have placed him higher going in.
20 867 Fredrik Noren Suzuki RMZ 450 26 17- Noren's the first guy in the points that you're like, "Who's that?" That's a good thing. He really should have a National number off of last year but the Swedish racer must not race under an AMA license. Noren passed a lot of guys in the first moto.
Some other news and notes:
Chad Reed went 23-21 and got lapped both motos. When you add in the end of supercross and now the first two Nationals, things aren't going so well for the 22. He was really sick before Hangtown and according to his wife Ellie, he did get to ride a bit this week, but this isn't working out. A "struggling" Chad Reed should get tenth, not finish out of the points. Something has to give here if he doesn't get better soon. We had team manager Dave Osterman on the Pulpmx Show on Monday and he talked a lot but we really didn't get an answer as to what's wrong with Chad, and whether or not he's thinking about skipping races to get better.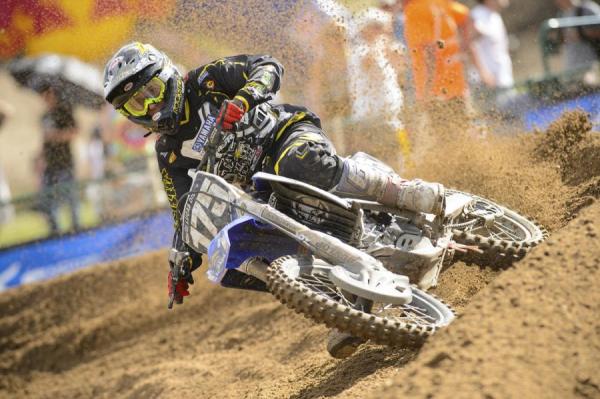 Cooper Webb picked up his first career moto podium over the weekend.
Simon Cudby photo
I don't know what they have going on over there at the Honda truck but there's no doubt that the factory 450MX team has altitude/low horsepower mapping on point. Both Hondas of Barcia and Canard were up there off the start and last year it was Tommy Hahn and Andrew Short and the year before that it was Chad Reed. If you want to go to 2010, guess who got both holeshots there? Yeah, Andrew Short of factory Honda. 2009? That would be Ivan Tedesco, who got both motos and he rode for…wait for it…factory Honda! The mapping and motor package that Honda has whipped up for Lakewood is obviously superior to everyone else's. Honda always gets the starts at Lakewood!
I found it amusing that the Honda guys, after I finished saying I would get to the bottom of the rocket pack they have hidden for the starts, were bemoaning the fact that the results sheets don't have the right wording for their sponsors. This is hilarious on so many levels because if you listen to the Racer X Podcasts then you will know that Weege, Jason Thomas and I have been given many laughs each and every week when it comes to the AMA sheets. The hometowns are constantly screwed up or just left out entirely. Some riders are listed by where they're originally from (Michael Byrne is Rockhampton, Australia) or some are just listed by their city (Cody Woolworth, Anchorage) yet others are listed where they live now (Marvin Muquin, Corona, California). There's absolutely no rhyme or reason for the hometowns on the sheets. As far as sponsors, forget it. The teams enter the riders for the most part and so Cooper Webb has MyPlash/Yamaha/Metal Mulisha while teammate Kyle Cunningham just has "none listed". Yes, I'm sure that Star Yamaha just didn't put any sponsors at all for Kyle but loaded up Cooper. It's pure comedy each and every week. Don't try to figure it out because you won't be able to.
Thanks for reading, we all appreciate it. Email me at matthes@racerxonline.com and we can chat. See you next week from the creek that is muddy.