Lakewood, CO
Thunder Valley
Lucas Oil AMA Pro Motocross Championship
Ryan Villopoto and Ken Roczen fired on all cylinders at the Lucas Oil Pro Motocross Championship at Hangtown, a great early step for their championship hopes. But it doesn't always start out so well. We take a look back at some disappointing openers for this week's The List. To provide some perspective, we'll divide them into two categories.
Under the Radar: Some seasons begin with unsuspecting rides from riders who will catch fire later and pull off surprise titles. Here are some examples.
Jeff Emig 1992: It's well known that Emig's 1992 125 National Championship came courtesy of an incredible late-season comeback. That means it didn't start out so well. Emig was sixth at the opener at Gatorback in Florida, while Mike LaRocco, the rider he would have to run down in points, won the race.
Doug Henry 1998: Hard to believe now, but Henry's first-production-year Yamaha YZ400F four stroke was considered a disadvantage at the time, or, at least just a big risk. At the Glen Helen opener, he was decent but not spectacular, carding fifth. He'd surge into the points lead a few rounds later.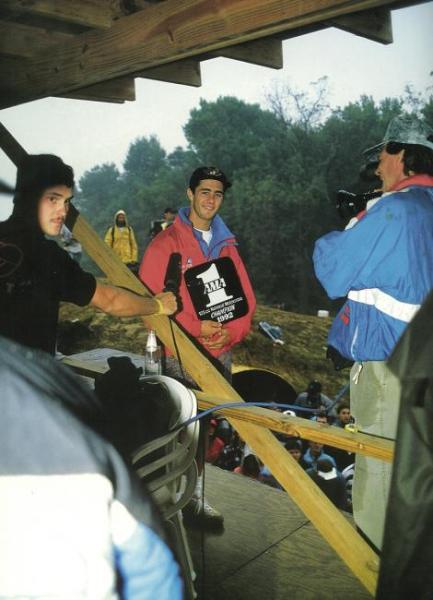 Jeff Emig struggled in the '92 opener, but would rebound to win the title.
Racer X Archives
Greg Albertyn 1999: Albee had first turn crashes result in 6-9 for eighth overall at the opener at Glen Helen, and then had another first turn crash at round two at Hangtown. Albertyn's season took a dramatic upturn at the next round when he won at High Point. After that, Albertyn never finished outside the top five and secured two more overalls before the season ended. When it was all over, Albertyn had earned the 250 (now 450) National Championship by 29 points over Kevin Windham.
Ryan Villopoto 2006: RV is embarking on his first full pro season, so no one knows what to expect. He goes 2-10 for fifth overall at Hangtown, which is okay, but his old rival Mike Alessi dominates with 1-1 finishes. RV would turn it around with authority a few weeks later at Budds Creek.
Trey Canard 2010: Trey enters the season still looking for his first ever national overall win, and when he starts the year with a Hangtown holeshot, things are looking up. Not for long. Arm pump kicks in and Trey fades all the way back to seventh. He salvages a podium in moto two, but it certainly didn't look like title-worthy stuff at the time. It would be by the end of the season!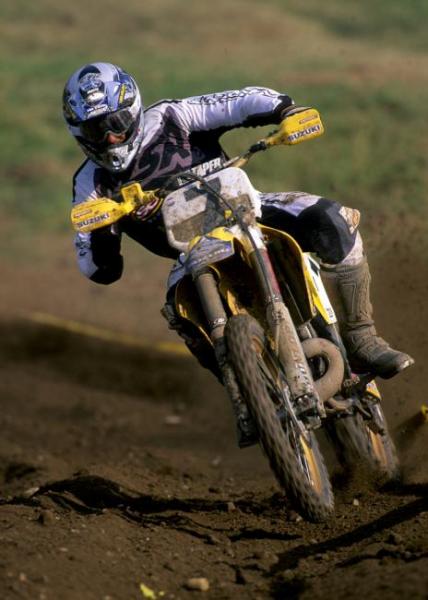 Albertyn finished eighth overall at the opener in '99, but would come back to win the title that same season.
Paul Buckley photo
Broc Glover 1983: Moving to the 500 class for the first time, The Golden Boy finishes 12th in moto 1 at Hangtown, but he comes right back to win moto 2, and then later, the title. Glover was pretty dominant all season, but the legendary Danny "Magoo" Chandler did get that Hangtown overall.
Rick Johnson 1984: RJ blew the 1982 250 National Championship, and then a hip injury ended his 1983 campaign. No one knew what to expect for '84, and his eighth overall at the opener at Gatorback wasn't anything special (Bob Hannah won). But Ricky would come back to win the crown.
Ivan Tedesco 2005: The 125 Class is loaded with talent, but Tedesco, who had not even won a 125 National overall at this point in his career, is way under the radar coming in. He finishes eighth in the first moto of the season, and his 8-3 scores leave him fourth overall. He'll come back to win the title.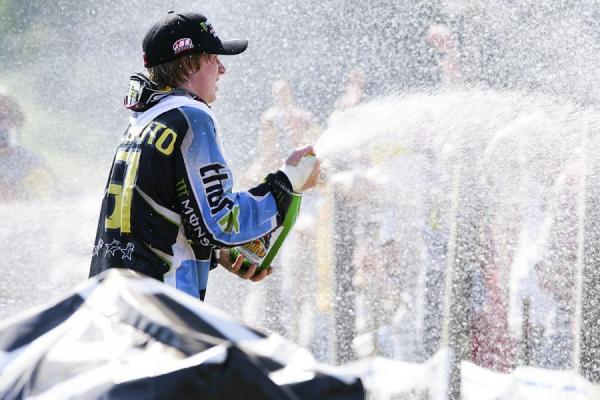 Ryan Villopoto won his first career outdoor title in 2006.
Simon Cudby photo
Under Par: Often the year begins with huge hype around one rider, often the defending champion, but he struggles at the opener. Here are some stories:
Ricky Carmichael 2001: RC may be an east coast boy, but Glen Helen was a real stomping grounds for him, as he won his first eight professional motos there from 1997—2000. He's the overwhelming favorite in 2001, but on the first lap of the first moto, there's a hay bale sitting out in the middle of the track, and he hits it, crashes and practically falls off of a cliff! He climbs back to go 8-1 on the day. Tim Ferry goes 2-2 for the overall.
Doug Henry 1994: Henry is the defending 125 National Champion on his Honda, but he's suffering from a strange stomach ailment early in his defense season, and finishes 13th at the Gainesville opener. Henry will eventually resort to getting IVs at the races, which will eventually result in the AMA banning them at races. Once he gets his health back, Henry gets back in the game and repeats as champ.
Mickey Dymond 1987: In a story quite similar to Henry's above, defending 125 National Champion Dymond is suffering from an illness early in the season. He finishes seventh at the opener and fourth at round two at Hangtown, while Suzuki's George Holland wins both rounds. Dymond would then come back with a vengeance.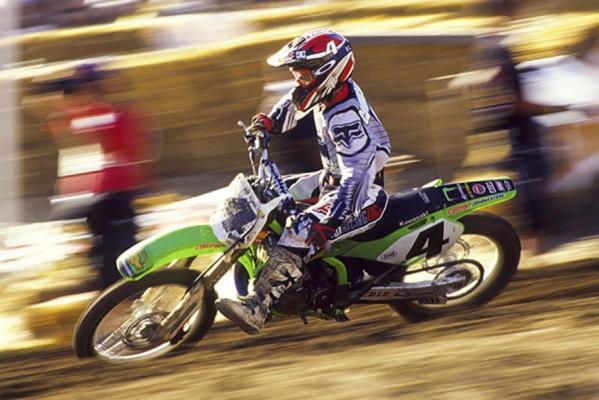 RC was a huge favorite in '01, but lost the opener. He would eventually rebound to win the title.
Simon Cudby photo
Ryan Villopoto 2011: A podium with 3-3 scores in the 450 Class sounds good, but Villopoto had just wrapped the SX title and was expected to crush it outdoors. Instead, he's sick and finishes way back of Chad Reed and Ryan Dungey. He'd get it figured out.
Ryan Dungey 2010: But RV's 2011 performance looks awesome compared to Ryan Dungey, who comes off of the SX title with 10-6 scores at Hangtown for eighth overall. That's one of Dungey's worst outdoor rides ever! No worries—he'd come back to win at Freestone the very next weekend.