Thunder Valley Motocross Park
Lakewood

,

CO
Thunder Valley
Lucas Oil AMA Pro Motocross Championship
On Saturday the fans at the Red Bull Hangtown Motocross Classic were treated to a sound that hasn't been heard in Lucas Oil Motocross for quite some time: a 125 two-stroke at full tilt, laying waste to the competition. Piloting the machine was 17-year-old New Zealander Courtney Duncan, who rode to a perfect 1-1 score in her first race as a pro. We caught up with Duncan to talk about her stunning debut.
Racer X: Congrats on your double sweep at Hangtown! Take us through your motos.
Courtney Duncan: Thank you! The first moto went good. I got a really good jump, and I just knew that I had to be careful and ride smooth. It was my first ever pro race, and I had a bit of nerves on the start line, but it went really well. I rode consistently and did what I had to do to come across the finish line and win my first pro race. There are no words to describe how happy I felt after that first moto. It's a good feeling. In the second moto I just knew that I had to get a good start and try to do the same thing I did in the first moto. I didn't get as good of a start, but I came through the pack and made sure I rode with patience. I was consistent and didn't do anything stupid, and I went 1-1 for the overall. I was just pumped!
How was the track? Was it one of the rougher ones you've ridden?
Yeah, it was definitely one of the roughest tracks I've ever ridden on. I've never been to a pro AMA National before. Obviously there were a lot of really fast riders there, so the track got cut up and really rough. I enjoyed that, I thought it was really cool. I like rough tracks because you have to be smart and look for good lines. I think no matter how rough the track gets there's always going to be a smooth line somewhere. You just have to be smart.
So you haven't even been to a National before, let alone race one. How does it feel to have gone 1-1 at your first?
It was crazy! I didn't know what to expect. I've only seen it on TV, and I didn't know how big the crowd was going to be. It was a really cool experience, and I'm just super-thankful to be able to race one. A lot of kids dream about doing this, so just to get the opportunity to be on the line is something else. I'm very thankful for it. It's a dream come true, for sure.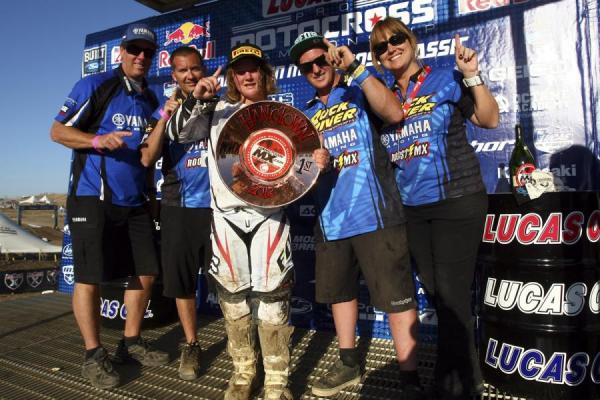 Duncan (center) went 1-1 in her first career pro race.
BrownDogWilson photo
Were you surprised at how big the crowd was?
For sure! Just sitting on the start line you look up and there's just people everywhere. I could hear them yelling my name and "Two stroke!" when I went by, and that was cool. People screaming your name just gets you excited and makes you want to go for it. So for the two-stroke fans, and the people that were screaming my name, thank you, I appreciated that!
Coming into the race, where did you think you might end up? Did you think there was a chance you might win?
To be honest with you, I had no idea. I went in wanting to win, I just didn't know if I could. I've never even ridden with most of those girls, so I didn't know if I'd be competitive. But I knew I'd been working hard at MTF and I had a good 125, and was going to give it everything I had. To come away with the win was pretty special.
What made you decide to race a 125 instead of a 250F?
Mainly because it's my first year on the big bikes, and I've already got the 125. We're still learning on it, and it didn't really make sense to get a 250 just for this race.
Do you feel like you're at a disadvantage on the two-stroke?
On the start we're down on power a little bit, but I just had to be smart and make up for it in other areas, like corner speed and carrying momentum. Obviously on those hills it was a little bit crazy, but I knew I just had to hold it on a little bit longer to make up for it.
How long ago did you make the jump from 85s?
This is my first year on big bikes. In 2011 I was on mini-bikes, and in 2012 I had two knee surgeries. I had a few months off the bike, and it wasn't until September of last year that I started riding again. It's my first full season on big bikes, and I'm still learning and looking for speed. I'm definitely enjoying it a lot for sure.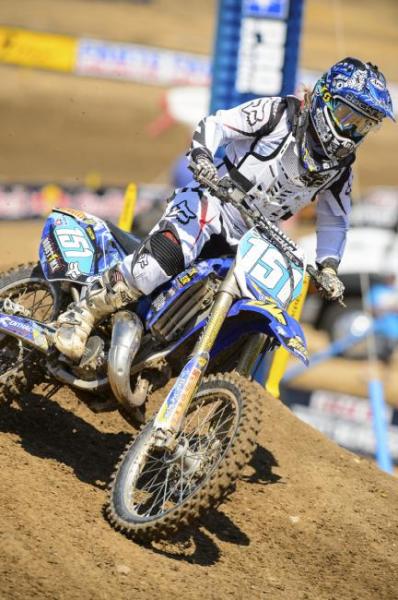 Duncan had the crowed in an uproar as she ripped around on her 125.
Simon Cudby photo
Did you get a chance to watch the 450 and 250 races?
I got a chance to watch the 450 motos, and just to watch Ryan Villopoto, Ryan Dungey and James Stewart was great. I've looked up to those guys since I was a little kid, and to get the chance to watch them live was just amazing. I have so much respect for them and I love watching them. You can learn a lot from riders like that, as far as what they do on the track and how they present themselves off of it. Just watching them on different parts of the track, you can definitely pick up a lot. Villopoto was ridiculously fast, that's for sure.
Were you surprised at how fast they actually are in person?
Yeah, for sure. They look fast on TV, but they look so much faster in person. Their corner speed and how fast they ride is just ridiculous. Just to be able to watch them, I can't really describe it. I never thought I'd get the chance to do that. It was definitely pretty cool.
How'd you end up with Rock River Racing?
I ride for Yamaha back home in New Zealand and they offered support and let me park under their rig. That's awesome, because going to the race and having a place to park out of the sun and a place to chill out after the races definitely helps a lot. I appreciate what they're doing for me, and it was just cool to be on the line at Hangtown. I was just thankful to be there.
You're here without your parents, right?
Yeah. My parents are at home working to keep me here, and I owe a lot to them. It's definitely hard being away from home, but it's just one of those things. If you want to make your dreams come true, and if you really want to make it, you have to sacrifice things. It's definitely hard being away from home, and I appreciate everything my family does for me. They've been very supportive since day one and I wouldn't be here without them. Also Jeremy McKnight, who has been my mechanic over here for the last three months. He's a family friend, and he's like an older brother. He had to go back home after Hangtown, and now I'm here by myself, but I'm at MTF, and Colleen [Millsaps] and all the crew have been a huge help to me. They're like family and they look after me. Also, Pirelli, Leatt, Yamaha, Rock River Racing, Scott, Fox, FMF, Back Flips and GMB.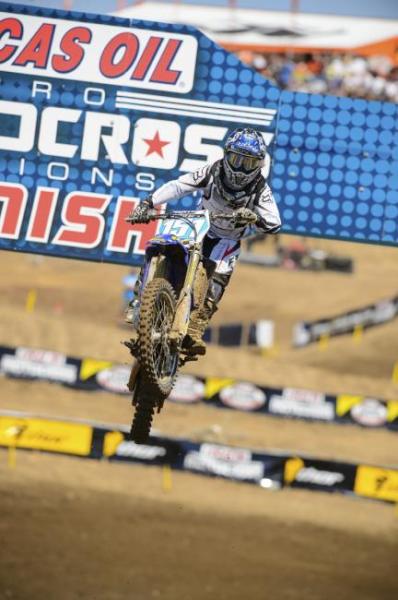 Duncan takes the points lead into the next WMX round at High Point.
Simon Cudby photo
What was your parents' reaction when they found out you won at Hangtown?
They were just pumped for me. I think they had a tear in their eyes because they knew how hard I've been working. And not just my family, but everybody back home in New Zealand was just so supportive. As soon as the race was done there were messages and everything coming in. Having that support at home is incredible.
What time of day was it over there?
My parents got up at three in the morning just to watch practice. That in itself shows how much support they have in me. I think the first moto was about eight in the morning, and the second was somewhere around lunch time.
Will you be racing the rest of the WMX rounds
?Yes, that's the plan. It's exciting.