Hangtown Motocross Classic
Rancho Cordova

,

CA
Hangtown
Lucas Oil AMA Pro Motocross Championship
Red Bull KTM's Ken Roczen tore up the Red Bull Hangtown with 1-1 finishes in the 250 Class. It's his first overall win in AMA Pro Motocross. So, clearly, the secret to success is more hard work than ever, right? According to Kenny, that's not the case!
Racer X Online: What was it like in that first moto? You certainly didn't get any kind of start where you thought, "This is going to be a big moto win for me." Especially after you had to see who was out in front of you.
Ken Roczen: I was kind of bummed. I didn't know what I did at the start, but just pretty far back. I was like, man, I need to get out there. I can't let these guys go and pull a gap, because then it's really hard to close. I felt super good and I don't know if I was going that fast or if the other guys slowed down a little bit; I don't know. I just got out there super quick for some reason and then it was awesome to actually pass the top guys, because last year I was always the one who got passed. So it was great. Especially coming here I didn't really know where I was at because since Vegas I had a couple friends over from Germany and I basically went surfing every day and didn't really care as much, but it still seems like I got here super rested. But I think next week it's time to put in some work.
You went surfing?
Yeah, I just got into it. I went out there a few times and I actually got to stand a little bit so it's definitely a good workout. Then maybe we go running or something after. But I just went to the trampoline place with my friends. Just hanging out a little bit. I think for me it's important to keep the fun up and then I go good. It's our first race, too. There's a lot more races to come. I feel like everybody said, I think we're going to get better and better from here. I just overall felt good and actually had my first ever AMA win, so I can't really complain about it.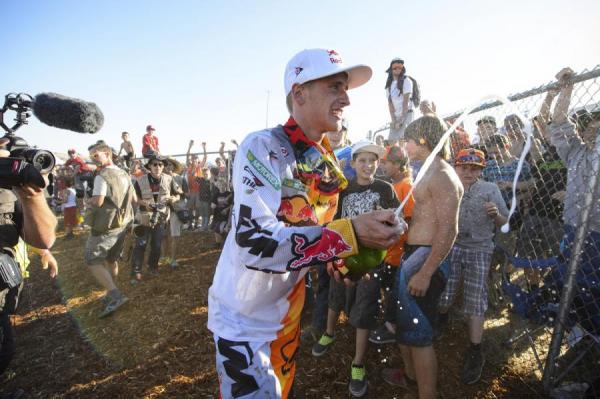 Ken Roczen celebrates his first career motocross win in the U.S.
Simon Cudby photo
Do you have some momentum coming in from supercross?
Honestly I kind of forgot about the supercross thing already because I just like to look forward. I'm not going to be at home for five weeks and say, hey, I got the Supercross Championship; I'm not going to do anything anymore. I kind of forgot about it already. It's outdoors time now. Of course there's always a little bit of momentum you take. It's confidence and everything. But since outdoors is a totally different thing, some people are really good at outdoors and not as good at supercross or the other way, so it's actually great for me to see that it's good in both.
Jeff and I commented on the broadcast that you were in way better shape this year and that's why you won this race. Was there a lot of training before the surfing, before the trampoline? Is there harder training you think you laid down as opposed to last year?
Yeah. I started out before supercross getting all my stuff in, and even in supercross I just kind of wake up in the morning and train however I feel like. Me and my dad, we together kind of make a schedule in the morning and say, "Hey, if we go do this and this and this." And we go surfing or something. You can go to the beach, have fun and still go running a little bit or something. So I think at one part I've been better in shape because I didn't have an injury luckily this year, so obviously things have to go better, otherwise there would be something wrong. Like I said, I'm going to go back now and put in some good training. I want to definitely improve on myself. I want to go out there and win as many motos as I can and be on the box as many times as I can. It'd be awesome to get another championship.
You got a year under your belt here now. How much of a difference is that going to make for the rest of the season?
It will make a huge difference. I came here even for the press day, and I rode on the track and it was so good—I could basically go out like a moto and not wait around. So that's a good thing. I also like that this year we all go to a totally new track that nobody knows. It's always fun. It's like in supercross, we go to all the places, there's always different tracks every week, a different track from the year before, so you kind of need to learn quick and I think that will make a difference in all the riders. Still, there is a few things [I need to deal with] for example travel time. I just try to actually take it as a rest time and not be against it as much as I was last year.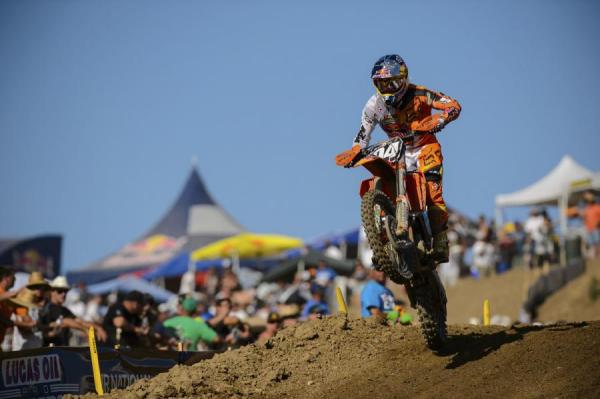 Roczen goes for two straight Saturday at Thunder Valley.
Simon Cudby photo
As you spend more time in America, it seems like a lot of riders, Grant Langston, people that have come over from the GPs, it takes them a little while then they become really comfortable in the society over here. Do you feel that you're now… obviously you're a German through and through, but do you feel now that you're part of the culture?
Honestly for me it would be weird to go back to Germany right now if I wanted. I got used to California. That's my home basically right now. I'm actually kind of bummed that the races go east coast. There's just so much travel. So I'm actually thinking of maybe get an apartment or something, go to the east coast. There's definitely less travel time which just helps your body way more. But overall I'm happy that I'm in the US. I adapted good and I know all the places where I can go eat, like In N Out, McDonald's and all those places…
And Chipotle!
And Chipotle, too, of course. That's a little too healthy for me. I actually, on Thursday I had two In N Out burgers. You won't believe me, but we were at the track and I didn't have any food here at this point, so I actually had two In N Out burgers. But as a person, I don't really care. So it doesn't bother me as much. I just like to have fun at one point and I think that's what helps me, I guess.