Hangtown Motocross Classic
Rancho Cordova

,

CA
Hangtown
Lucas Oil AMA Pro Motocross Championship
Welcome to Racerhead, and a brand new season. Tomorrow is the day everyone starts over, everyone is in the points lead, everyone gets to race for the championship. The 2013 Lucas Oil Pro Motocross Championship will kick off with the Red Bull Hangtown Classic, the 45th running of one of the most storied races in all of motocross. And the gang's pretty much all here, save for the sidelined Davi Millsaps and Wil Hahn, with new kids to boot—Adam Cianciarulo and Cooper Webb will both make their professional debuts tomorrow. Ryan Dungey has a #1 plate on his bike again—the first time for a KTM in series history—and Blake Baggett will wear #1 for the first time, too, no doubt hoping it treats him better than his new #4 did in supercross.
Ryan Villopoto, James Stewart, Chad Reed, Justin Barcia, Jake Weimer, Mike Alessi, Justin Brayton, Josh Grant, Tyla Rattray, Dean Wilson, Michael Byrne, Ryan Sipes.... Heck, even Travis Preston is here, and that's just the 450 Class! The 250 Class should be epic, especially if it's anything like the highly competitive Monster Energy Supercross tour we just saw. Both classes are truly up for grabs, at least until the end of the day tomorrow.
And hats off to the Dirt Diggers North Motorcycle Club, who once again rolled out the red carpet for everyone here and have the track and the whole facility looking great. They are expecting a huge crowd tomorrow, and they are ready for it. Motocross starts at Hangtown, and it starts well because of the pride everyone here takes in this event, the oldest on the entire schedule.
A lot of people have been working behind the scenes to make sure that this race and the rest of the series enjoy a very big audience. Mark Carter, Corey Myerson, Christi Bassos, and John Sikorjak of NBC Universal/Alli Sports, and the whole gang pushing motocross programming over there, never stopped trying to work it out so that not only will the TV package for this series be bigger and "more live" than ever. Fans at home can also watch the live stream for both motos (and for free) on www.allisports.com or NBC Sports Live Extra (scroll down to "Pro Motocross"). Coverage actually begins at 10 a.m. (1 p.m. ET) with one hour of practice—yes, we're even getting the second set of practices up online—and then the motos. There are some restrictions for international viewers, but we are working through those as well and trying to expand rapidly with technology. Tomorrow will be another step forward, and if all goes well, this is how it's going to be from now on: live TV if you want to watch it there, online streaming you would rather watch it there.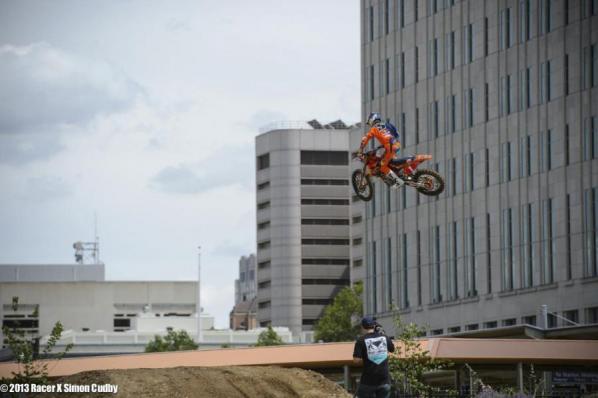 Dungey going big at press day against the backdrop of downtown Sacramento.
Simon Cudby photo
But the bad news come from hockey—again. The NHL playoffs and previous programming commitments have thrown the second moto way out whack as far as the TV coverage goes on NBC Sports. Everyone worked to get it corrected (remember, hockey was on strike last year, then started up late and took up much of the calendar) and we came up short. Next week's Rockwell Watches Thunder Valley National will see all four motos live, and then again at the Built Ford Tough Muddy Creek National will be live, and on down the track we go....
Again, sorry for the channel changing, but we're getting there. And I have to get back to my other gig helping out here at Hangtown. Here's hoping for a great, safe and exciting Hangtown Classic tomorrow.
HOW TO WATCH (Chase Stallo)
The first round of the 2013 Lucas Oil Pro Motocross Championship begins tomorrow with LIVE coverage of the 450 and 250 class from Hangtown on Fuel TV beginning at 4:00 p.m. Eastern. Coverage of the second motos will be shown on the NBC Sports Network Monday night (Tuesday morning in the East) at 9:30 p.m. Pacific / 12.30 a.m. Eastern. Remember, ALL motos can be seen LIVE on Allisports.com beginning at 4:00 p.m. Eastern. Practice will also be LIVE starting at 1:00 p.m. Eastern on NBC Sports Live Extra HERE. The weather should provide a good day for racing with temperatures expected to be in the mid 80s all day, according to weather.com. Be sure to follow us on Twitter and Instagram (@racerxonline) for coverage from the pits. Also, check out RacerXonline for breaking news and updates throughout the day.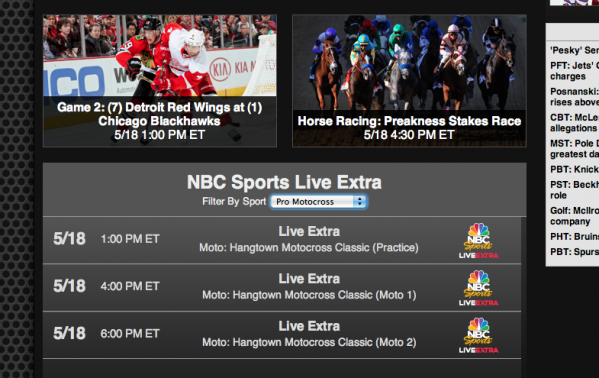 Fans at home can also watch the live stream for both motos (and for free) on www.allisports.com or NBC Sports Live Extra.
THE TOP-SECRET TECHNOLOGY (Jason Weigandt)
Tony Alessi has a flair for the dramatic, so when his MotoConcepts team put out a press release saying Mike would skip the final SX rounds to get in prep for pro motocross, he added a quote about testing "top secret technology."
That led to a lot of questions over the last few weeks. Shocker: It was really just Tony being Tony. "You know my dad, he likes to mess around," said Mike when I asked him about it yesterday. Here's a brief interview with last year's 450 Class runner up, conducted during yesterday's media day.
Racer X: Where have you been, Mike?
Mike Alessi: I've been in Florida working on things, lots of suspension testing and engine testing. That's it—just working hard on testing and training and putting the pieces together.
But the top secret technology. There isn't a rocket booster?
No, just fine tuning. And it's taken a few weeks to get the bike where we want it, and I still think we can do more, but we have the best package we can have right now.
Last year you started out okay but got much better as the year went on. Will you be stronger from the start now?
I do feel like we're significantly better than we've been in the past, but there's a lot of fast guys this year, so we'll see where we're at. Right now I think everyone isn't sure where they're at, and everyone is anxious. It's going to be a long season and a tough season. There are a lot of fast riders this year.
What about Hangtown? This is usually one of your best races of the year. Why is that?
To be completely honest, I don't know! I just always seem to have some magic here. I like the track and I ride fast here. I don't know, I guess that's all I can really say.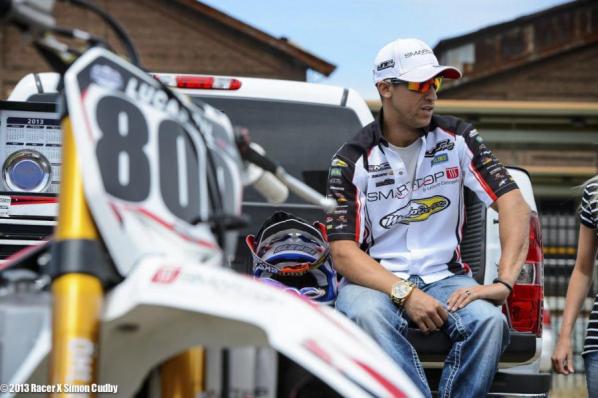 "You know my dad, he likes to mess around," said Mike Alessi about the teams "top secret technology."
Simon Cudby photo
THE RETURN OF WILSON AND RATTRAY (Jason Weigandt)
As if the 450 Class needed even more championship-caliber talent, 2011 250 Class Champion Dean Wilson joins the fray this summer on the new Monster Energy/Pro Circuit Kawasaki 450 team. Tyla Rattray is also on the 450 for team PC, which has a brand new second semi for the effort. Last year the team raced the 450 Class with Broc Tickle, but Broc pitted out of the same rig as the 250 riders. This is a much bigger effort.
Wilson and Rattray both had forgettable Hangtowns last year. Dean made only a few laps wearing his 250 Class #1 plate before his injured shoulder finally gave out. Rattray made it one 450 lap before getting hit in the hand with a rock and breaking his hand. They were both so mad that they booked the first flights home on Saturday, then ran into each other at the Sacramento airport, while motos were still going on. "You should have seen us," Wilson said. "We were both so bummed. It was like our dogs had died."
Rattray eventually returned at midseason but struggled with setup on the hard-packed tracks (he did win a 450 moto at Southwick, though). He told me yesterday that he's much better prepared this year. Last season he entered motocross coming off of a broken neck in supercross, and his bump to the 450 (as Ryan Villopoto's replacement) was a little late. This year he's been preparing all season.
No one knows where Wilson will fit in. His mom, in fact, told me she's more nervous for this race than any race ever, because Dean hasn't raced much lately and competition is stacked deep in the 450 Class. She's even thinking of getting some anti-anxiety medicine for the weekend, which she's never even considered before.
Dean raced a few REM races at Glen Helen just to get some gate drops in on the 450 and race long motos. He won three of the four motos he entered (the returning Travis Preston beat Dean in a moto where Dean crashed) but still has no idea what will happen this summer. There's just too much unknown.
"I hope I do good," is all Dean could offer. What else can he say?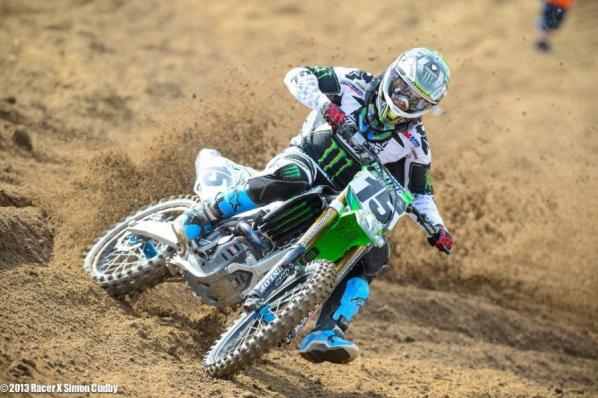 Wilson makes his 450 Class debut tomorrow.
Simon Cudby photo
PRO CIRCUIT 250 HEALTH WATCH (Jason Weigandt)
Maybe they need a team doctor over at Monster Energy/Pro Circuit Kawasaki's 250 rig. First no one knew if Darryn Durham's shoulder would be ready for Hangtown. This week they decided it is, and DD said he's going to go for it on Saturday. Then we have the long saga of Blake Baggett's wrist problems. Blake is surely playing mind games when he says his wrist is still brutal and he's in major pain under braking in corners. All you had to do was watch him ride yesterday at press day to know he has serious speed.
But then trouble came for rookie Adam Cianciarulo, who is said to have been suffering from an illness all week. AC rode the first press session at Hangtown yesterday but never really pushed it. Then he didn't come back out for session two. A lot can happen between now and Saturday, but it appears AC won't be feeling 100 percent for his pro debut.
THE BEGINNING (Steve Matthes)
So here we are, the Lucas Oil Motocross Nationals are kicking off this weekend in Hangtown and I'm, in the words of Ryan Dungey, super-pumped.
Twelve rounds of fury, twenty-four motos of savagery, my shoulders are back and I'm ready for some revving up of the engines. Sorry to go Bowyer on you there, but I am looking forward to this series. The 450 class is impossible to predict and the depth is incredible. The 250 class, somewhat like the 450s, I suppose, has an upper echelon of riders that we believe will be in the mix, but after that it's wide open.
In my time as a mechanic I always believed (and still do believe) that there really are two sets of nationals. Now that we don't start with two California rounds, it's a little less important, but what I believed was that there is a first-round-out-in-California-national-results and then there is also the East Coast national results.
The teams pound laps in SoCal for a month and develop a good setting, and then when they go to the first East Coast track (this year it's the new facility at Muddy Creek), the ruts and tackiness of the dirt cause most teams to readjust suspension and motor settings. It's a tricky thing to do, but there's not much else teams can do other than heading east to test (and the big teams with the big guys actually do this).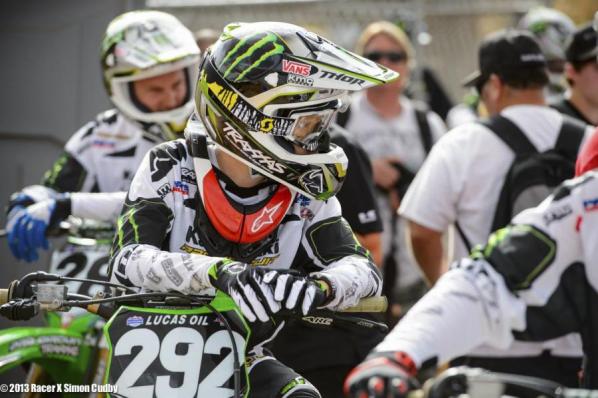 Cianciarulo has been battling an illness all week but is expected to be on the gate at Hangtown.
Simon Cudby photo
Plus, testing and practicing are one thing; race speed is another. There's nothing you can do when a rider sets his bike up for his 80 percent speed and then gets into the heat of the battle and finds that his settings need to be changed. This will happen to many riders this weekend, especially because Hangtown is majorly rough. The square edges and braking bumps coming down the hills are a real test of your suspension and chassis setup right off the bat.
This is the game within the game that the teams and riders fight with, and I've been there. It's not pretty if your rider doesn't have a good race and isn't happy with his bike. It's a whole new ballgame once the racing starts and the series heads east. Let's see who's got it nailed and who needs more work.
I'm also happy to see the two veterans (I realized that I'm getting old as I just typed this because I was around when both debuted in the USA) Michael Byrne of BTOSports.com KTM and Nick Wey of the Mafia Moto Crew make their season debuts after dealing with injury all supercross. The sport's better when both of these dudes are on the line, and I'm happy for these guys to be getting back at it. Good luck to both of them.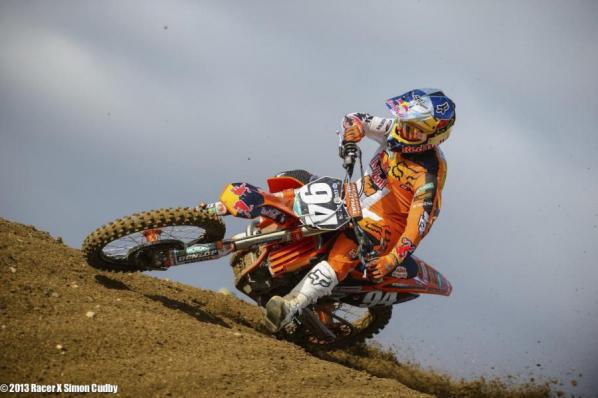 Ken Roczen is expected to be a major player in the 250 Class title chase.
Simon Cudby photo
PRO PERSPECTIVE – GOING OUTDOORS (Jason Thomas and Ping)
JT$: Roost. Sweat. Tears. Okay, maybe not tears unless you are me, but Hangtown is going to be war on Saturday. After eight or nine months of supercross practice and racing, it's time to take it outside. Sacramento weather can run the gamut from 50 and raining (2002) to 110 and sunny (2000). Luckily for the riders this weekend, it is supposed to be in the low 80s and beautiful. Still, the high intensity and rocky base of Hangtown is still a formidable opponent in any weather.
Of course all of the contenders have been pounding out motos for a month or two in preparation for the coming onslaught, but no amount of training can truly imitate genuine racing. The nervous energy on the starting line before the first moto is something racers will never forget. Just standing down there, the feeling of electricity is in the air. So much anticipation and uncertainty of where everyone stands leads into a long summer with millions of dollars at stake. A good day at round one can set the tone for much more success. A bad day can send everyone scrambling back to the drawing board next week.
All in all, Hangtown is a huge question mark for most riders on this Friday morning. Did I prepare enough? Is my bike set up correctly? How does my speed fit in with the pack? All the riders will be asking themselves these questions, some more than others. Mentally, it's gut-check time. Confidence can be a huge factor when no one has concrete evidence to work from. Believing in yourself can keep those demons from creeping in your psyche when you have a bad qualifying practice or lose a few spots early in the moto. The first race is always the most interesting to me, as everyone is starting from a clean slate. The riders who did great in supercross are looking to keep the momentum rolling, while those who struggled are hoping to turn the ship around. Mostly, everyone feels that they have a shot at being up front, and we all know there is only so much room on the podium. Beaming smiles and broken hearts will both be seen tomorrow, and with the most stacked field in history, I can't wait to watch it.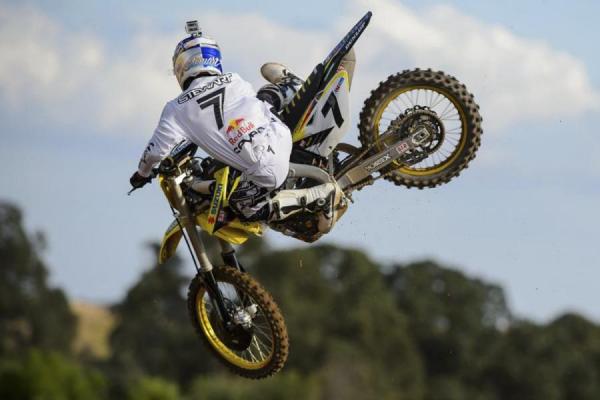 Stewart is looking to repeat his 1-1 performance at Hangtown a season ago.
Simon Cudby photo
PING: The first moto at Hangtown is something special. Points are all tied up for everyone, and whatever finishes you had in supercross don't seem to matter as much. Some riders had a little more time to prep (a la Mike Alessi), but for the most part all riders are equal and looking to start the series off with a bang.
Even though you know you're heading out for the first moto, it's tough to really prep for what actually happens. At the drop of the gate you suddenly have twice as many riders barreling into turn one with you as you did in SX, RPMs are higher, mud and rocks are flying everywhere, and for at least the first twenty minutes it feels like you are elbow-to-elbow and nuts-to-butts with thirty-nine kamikaze pilots who would rather die in a fiery crash than let you be in front of them. Maybe I'm being melodramatic, but that's how I remember it.
It's a free-for-all, is the bottom line. Rookies like Cooper Webb and Adam Cianciarulo will be stunned by the intensity of the other riders and the depth of the talent; it happens every year. How they handle it will help shape what kind of racers they become in the future. And even the best in the premier class will leave Hangtown with bruises and blisters as their bodies respond to the longer motos and rough conditions of outdoor motocross. Welcome to the nationals.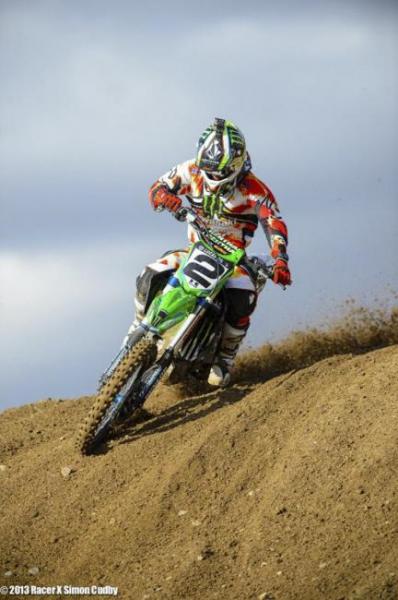 RV is back and looking for a win at Hangtown.
Simon Cudby photo
HIGHLIGHTS OF THE WEEK (Chase Stallo)
YOUNG GUNS: A lot of the depth in the 250 class comes from the likes of a talented group of rising stars. Jason Weigant takes a look at the fast young prospects making their debuts this weekend in Redux.
SPOTTER"S GUIDE: The 2013 250 Class features one of the deepest fields in recent memory. Chase Stallo provides a team-by-team breakdown of what to look for at the opener in 250 Words: Spotter's Guide.
ALL-TIME: Looking for a cheat sheet of all-time motocross wins to impress your buddies? Look no further than this week's Bench Racing Ammo, where Aaron Hansel compiled a list of wins in every class in motocross history.
IN THE MAG: TEAM HONDA AT DAWN
The 2013 Daytona Supercross by Honda was a big day for Team Honda, as it marked the 40th anniversary of their first AMA race. Honda was practically winging it back in 1973 when they first joined the professional motocross circuit, and unlike the state-of-the-art professional racing program we see today at the races from Honda Muscle Milk, that first effort was downright humble. Yet their presence was the result of several years of work, both in Japan and America, which resulted in one of the most popular motorcycles ever built and the company's first motocross title. Read more about the game-changing 1973 Honda Elsinore CR250M and the men who raced them starting on page 170 of the July issue of Racer X Illustrated.

HEY, WATCH IT!
Hangtown Animated Track Map
Racer X Films: Baggett's Back
The Construction of Hangtown
Stewart Preps for Hangtown
Racer X Films: Hangtown Press Day
Racer X Films: Hangtown Press Conference
RANDOM NOTES (Staff)
Be sure to stop by the Racer X booth at Hangtown this weekend to get your 2013 event sticker!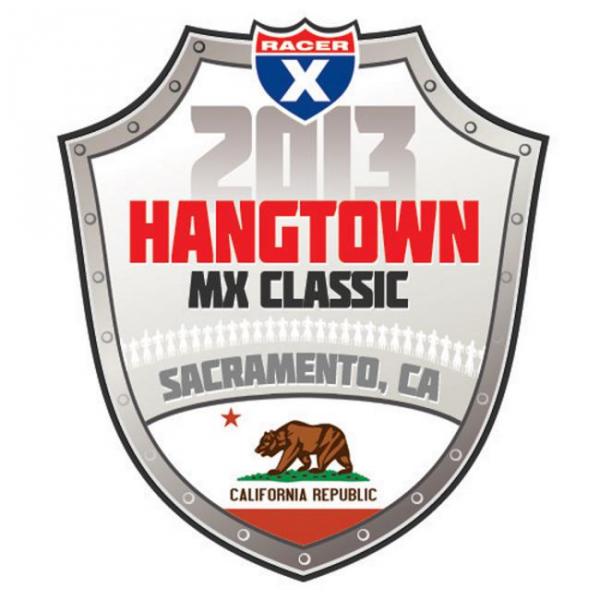 Aside from Racer X and event stickers, we'll also have a limited-edition Kevin Windham drawstring bag for anyone that subscribes or renews for only $20! Get 13 issues of your favorite mag, plus this awesome drawstring bag to stuff all your savings into. Go see Jordan at the Racer X booth on Vendor Row—K-Dub strongly advises that you do!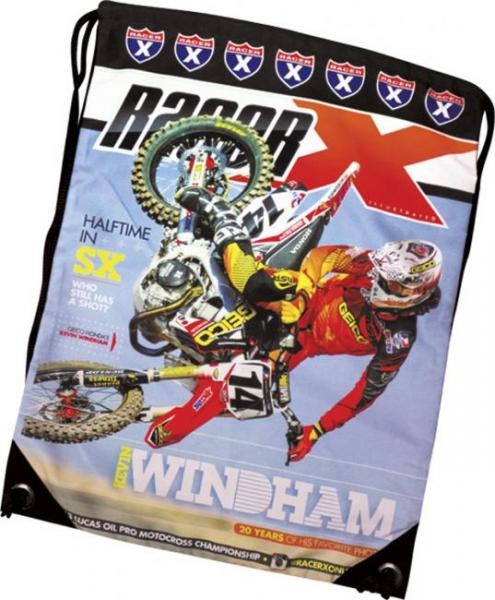 That's all for this week. Thanks for reading. See you at the races.