8th Annual Extremity Games Motocross
Rochester Hills, MI (May 13, 2013) – Returning to Baja Acres Motocross Park for 2013, the 8th Annual Extremity Games will take place during Memorial Day weekend on May 25th in Millington, Michigan.  The Action Sports series for disabled athletes begins with its most popular event, where amputee and paraplegic athletes gather to race motocross on one of the toughest and most challenging tracks in the region.
Created by the non-profit organization Athletes with Disabilities Network, Extremity Games 8 (eX8) provides limb loss (amputee) and limb difference (paraplegic) athletes with a venue where they can compete on an equal playing field with other adaptive racers.
Throughout its storied past, Extremity Games have witnessed world-class athletes like multiple X Games gold medalist "Monster" Mike Schultz and 4-time AMA Supercross and Motocross champion Doug Henry. Adding even more depth to the field this year, first-time Extremity Games competitor and RCH-backed rider Steve Howe will be competing for top honors in 2013.  Steve has been riding motorcycles all his life, and much like the athletes he'll be racing this coming Memorial Day weekend, Steve has found ways to adapt his Dodge/Sycuan Casino/RCH Racing/Bel-Ray Suzuki RMZ 450 to his own specific needs.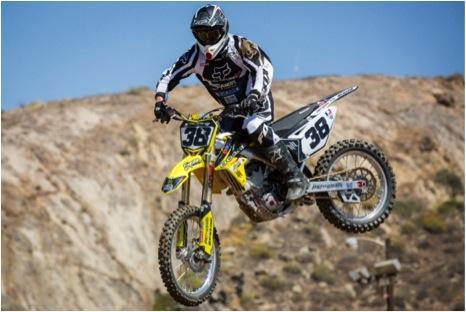 RCH-backed rider Steve Howe
When asked about his goals for the Extremity Games event, Howe said that while he wants to win, his experience there means more than what place he'll take once he crosses the finish line.
"Yes it's about results, but it's about something more than that; it's about a group of people getting together who have a love and interest for motorcycles—a group of people that have been able to overachieve expectations and beat the odds that have been set against them."
Fellow adaptive racer and Extremity Games Motocross Director Jim Wazny says that he looks forward to welcoming new competitors like Howe to eX8—encouraging both racers and fans to come out and see what Extremity Games is all about.
Along with Extremity Games races taking place on Saturday, Baja Acres' Memorial Blast weekend will feature a full schedule of motocross racing and other fun events including a Friday night fishing tournament, the annual Mailman Marathon, and the Ashlee Sokalski Brraap Fund Auction.
To find out more on the Extremity Games, please visit http://www.extremitygames.com or http://bajaacres.com/events/2013-memorial-blast/.  You can also watch last year's event video here: /2012/05/31/2012-extremity-games
About Extremity Games
Extremity Games, organized by Athletes with Disabilities Network, is an extreme sports event including competitions, instructional clinics and exhibitions for individuals amputations or spinal cord injuries.  Organized to raise awareness of the abilities of athletes with limb loss or limb difference to compete in extreme sports, Extremity Games allows participants to demonstrate skill, persistence and passion while competing for cash and other prizes.  You can brace a limb, replace a limb, but There is No Replacement for the Competitive Spirit™. For more information, visit www.extremitygames.com
About Athletes with Disabilities Network
Extremity Games is organized by Athletes with Disabilities Network (ADN), whose mission is to promote a better quality of life by creating opportunities for people with physical disabilities. In addition to Extremity Games, ADN operates and organizes the Athletes with Disabilities Hall of Fame, the only Hall of Fame completely dedicated to honoring individuals with disabilities for sport and recreation achievement.  Other programs include Mentoring and Outreach, and the Adaptive Sports Coalition.  For more information, visit www.adnpage.org.