Las Vegas, NV
Las Vegas
Monster Energy AMA Supercross Championship
BTO Sports is your number one source for all of your motocross parts, gear, accessories and apparel. BTOSports.com is a motocross company who is truly dedicated to the sport and to the customer. Proud sponsor of your Racer X Podcasts and the BTO Sports race team.
And that's a wrap! The 2013 Monster Energy Supercross series is over with the just-completed finale here in my hometown of Las Vegas, Nevada (home of Jeff Matiasevich's one and only 450SX main event win!), and what a race it was. Well, in some respects anyway. The Vegas race is always interesting because we see a couple of truths rise to the surface, we have riders that have something to race for and go for it and those that just want to get to the Nationals.
The 450SX championship was already decided but both the Eastern and Western Regional 250SX titles were coming down to the wire. And of course there was always the Dave Coombs Sr. Memorial East/West Shootout as well, which makes Vegas unique for a lot of reasons. Instead of the usual heat races, the night started with the main events for both coasts (racers qualified for 250SX mains straight out of practice), and the whole program was moved up about 30 minutes. And oh yeah, add in the slightly different track and you have the recipe for some nuttiness.
And about that track. It was probably one of the best prepped Las Vegas tracks I've ever seen. It didn't get too baked out and blue-grooved and the dirt kept its moisture as best it could. Not sure what was done differently, if anything, but it was pretty sweet. Very little dust, some lines formed and the layout itself was okay. For a while now the start has been outside the stadium and the guys come roaring into the stadium from this Monster Alley thing. I'm not a fan of this. The start is one of the most exciting parts of the race and although there are video screens, you really can't tell what's going on.  I'd put the start back inside the stadium, right down the center of the floor and let the fans see it. Going outside the stadium is cool (The Kawi guys have Ryan Villopoto clocked at 70mph heading out), but bring the start inside.
And in the ultimate "Eff you Matthes" move, the guys busted out the over/under bridge but it was used as the landing to the finish line jump only. So yeah, it was almost cool to see the thing that "opens the track up and allows the designers to do more" used but nope, it was not. Oh, and also, we needed bigger whoops!
There is a segment of people out there that think the main events are too short and sometimes, they are. But Vegas is a classic case of be careful what you wish for because with lap times at almost 1:10, the main events stretched out for a long time and it hurt the racing. It's the last race of the year, most guys aren't racing out there for much and it was sort of a "just get through it" mentality in both classes for the guys outside of the title fight.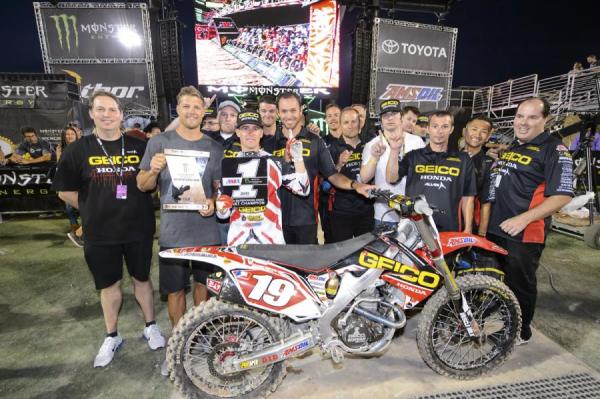 Recently crowned 250SX East Champion, Wil Hahn, is out until Budds Creek with a broken hand.
Simon Cudby photo
I usually start with the 450s but this weekend it was all about the 250s, as both classes came into Vegas with a close points race. The Vegas SX doesn't have heat races, just main events and when the dust cleared both of the series points leaders did enough to hold on and win their first career AMA titles.
Wil Hahn went down in practice and it was bad enough that he had a cast on the next day. He's going to miss the start of the Nationals with his hand injury. And so for that, Hahn deserves even more props for his third-place ride in the main event. I was most impressed with Wilbur's reaction when he was caught and passed by his main competitor, Marvin Musquin. Some riders would have freaked out and either gotten dirty, pinned it and crashed or basically lost their mind but not Wilbur. With a possible title slipping away he kept it straight up despite some small contact by Musquin and tried his best to stick with the Frenchman.
Hahn's a veteran in the sport now, someone who most everyone in the pits likes and it was cool to see him break through and bring it home. He's moving up to 450s next year so this puts a nice bow on this first part of his career. With so many injuries and problems over the years, it's always been up for debate on whether Wil could pull off something of this magnitude, but he did it. It wasn't that long ago that Hahn showed up at the U.S. Open on a privateer Kawasaki 450 and had nothing going on. After MDK KTM went away, it wasn't easy to get a ride but the TLD Honda guys got him and he kept on grinding away. From there he went to GEICO and a lot of teams would have dropped a kid that immediately got hurt as much as Hahn did. But GEICO stuck with him, Hahn stuck with his plan and it paid off for both sides. Nice to see and I look forward to seeing yet another fast kid in the 450s next year.
Kenny Roczen, like Wil Hahn, did just enough to win his title. When Eli Tomac put on a nice ride (who said he couldn't do it in the clutch?) and rocketed past Roczen and early leader Martin Davalos, Roczen was two laps away from losing the Western Regional 250SX title. It was that close! Roczen rode a strong race to catch and pass Davalos and like I said, did just enough to get it done.
Roczen becomes the first German to win a supercross title (to go along with all his other "first German" things he always seems to do) and he, like Hahn, is moving up to the 450s next year. Roczen was the most consistent rider on the West Coast (despite the DNQ last weekend, which was just weird), making the podium at every single race.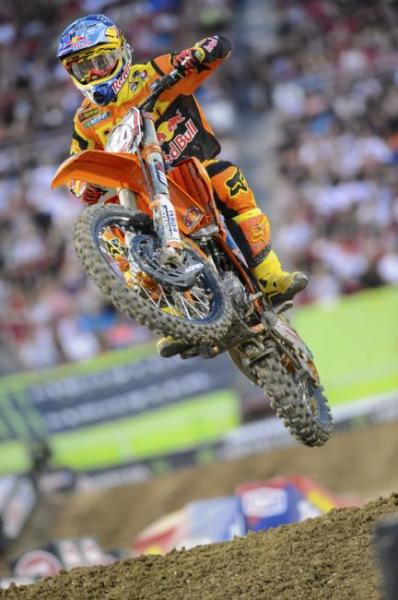 Roczen hopes to carry this momentum to the Nationals.
Simon Cudby photo
I thought Tomac was fantastic in Vegas. We saw what happened last week in Salt Lake City when he turned a second place start into a sixth place finish (and got lucky it wasn't worse!), and it was obvious that his bike wasn't working in the whoops. Team manager Mike LaRocco told me on Friday that they just went back to the Anaheim 1 suspension settings because they knew they would work, and Tomac dealt with the softness of his original settings.  Eli did all he could do in Vegas and he still came up short but like Musquin, the other runner-up this year, he has nothing to be upset about. He laid it on the line and for Tomac, he's wondering about his Oakland DNF and what could have been. Remember, early on in the year there was legit talk about whether or not Eli would go undefeated in this class.
The best part of all of this for us fans is that Tomac, Musquin, Roczen and Hahn (when he comes back) will all be battling it out together here in two weeks at Hangtown!
Ok Ryan Villopoto won the 450SX main event in a terrific ride. He was on a mission all day long out there! And somehow, he came from around eighth or so to second in the first two straightaways before you even knew what happened. He was the fastest guy in Las Vegas last Saturday night. Ryan Dungey kept him honest throughout the twenty laps but RV was never pushed hard enough to take his riding to a new level, and he collected his tenth win of the season, climbing the record books some more in the process.
With the dry, slick track they were facing, as well as the upcoming motocross series, I noticed that the Kawasaki guys went from a titanium shock spring to a steel blue spring, which meant there was most likely a spring rate change. I'm thinking it was in a softer direction. Whatever it was, it obviously worked pretty good out there for supercross, and Villopoto looked as comfortable on the bike as we've seen him in a while.
He was also helped by really being the only guy to triple into the section before the triple going out of the stadium. He had nothing to gain by trying it but he did it anyway and it was fast. Villopoto just crushed it out there for the entire main event to become one of only a few legends to win ten races in one supercross season.
Let's take a look at the results shall we?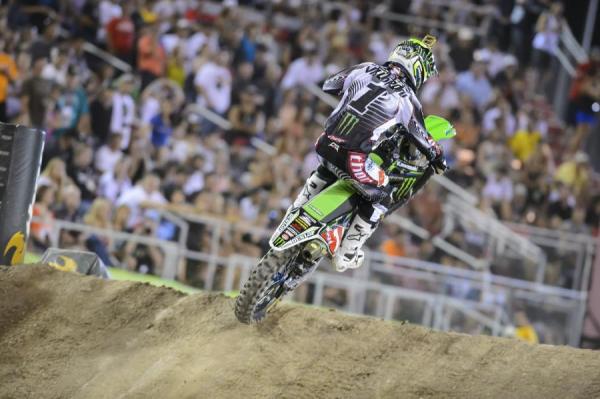 RV picked up his tenth win of the season in Vegas.
Simon Cudby photo
250SX West Main Events
1 1 Eli Tomac Cortez, CO Honda CRF 250
2 94 Ken Roczen Murrieta, CA KTM 250 SX-F- So Roczen is going to the 450 class next year but the question I have is, on what bike? We've seen him do well on the 350 in limited races in the 450 class. Perhaps Kenny could be the guy to make that bike look good in supercross?
3 40 Martin Davalos Cairo, GA Kawasaki KX 250F- What more can be said about Davalos? He was really fast but yet again, he failed to use that speed to end up at the front. He led eleven laps and he should've won, but I suppose in the end, with the way he folded, he stayed out of the title fight which was probably the right thing to do, as he wouldn't actually know what to do in a real title fight.
4 38 Kyle Cunningham Aledo, TX Yamaha YZ250F- Cunningham always rides well in Vegas on the hard-pack and this race, along with his shootout ride, really was the first time all year that you were like, "Hey, look at Kyle Cunningham!" He needs more of that this summer. He's talented, he just needs to put it together.
5 35 Ryan Sipes Ekron, KY Suzuki RM-Z250- Sipes is on the 450 this summer filling in for Davi Millsaps and I think this is a good move for the 63-year-old Sipes. He needs to make the step up.
6 21 Jason Anderson Edgewood, NM Suzuki RM-Z250- I spoke with Anderson at the awards ceremony on Sunday night and he did indeed read my synopsis on how Phoenix SX was actually his home race and not SLC like he was claiming after last week's win. He said that the driving time makes SLC his home race, as getting to the other races takes more time. Or something like that. I'm not going to argue with him on this one. I'll need an interview from him at one time or another.
7 32 Malcolm Stewart Murrieta, Ca KTM 250 SX-F- Mookie Fever wasn't as rampant as it was last week but he still rode well. With his team, J-Star JDR KTM closing its doors for outdoors (it will be back in some form in 2014 with a new owner), Stewart doesn't have a ride but there are strong rumors he's going to be over at TLD Honda on a 450 as a fill-in for Christian Craig. Stay tuned…
8 43 Cole Seely Murrieta, CA Honda CRF 250- I'm a fan of almost everything that TLD does in terms of gear and bike looks, but in my opinion they struck out in Vegas with their "Vietnam Camo" look. It looked like they were giant plants out there.
9 28 Tyla Rattray Wildomar, CA Kawasaki KX 250F- Not a good night for Rattray and overall, a terrible series for a world-class rider. Supercross was never going to be his strong suit but he's better at it than he's shown this year. Tyla's on the 450 this summer and I'm looking forward to seeing how he's going to do.
10 176 Joey Savatgy Thomasville, GA KTM 250 SX-F – A good ride considering that Joey had to ride the LCQ. He'll be working with FMF for the Nationals.
11 31 Travis Baker Romoland, CA Yamaha YZ250F- Baker's out of a ride now unless the Valli Yamaha team flip-flops yet again and does decide to do the Nationals. Baker's been talking to some teams in Europe. If that doesn't work he may actually have to get a job.
12 91 Topher Ingalls San Luis Obispo, CA Honda CRF 250- Yeah! Canada! Well not really but Ingalls is going up there again this year.
13 726 Gared Steinke Woodland, CA Kawasaki KX 250F
14 66 Killian Rusk Aztec, NM Honda CRF 250
15 72 Dakota Tedder Surfside, CA Kawasaki KX 250F- We had a Gared, Killian and a Dakota in the main event. Which is weird. That's all I got.
16 78 Scott Champion Orange, CA Honda CRF 250
17 98 Chris Plouffe Castaic, CA Honda CRF 250
18 239 Ross Johnson Tenino, WA Honda CRF 250- Yet another guy that's off to Canada this summer. Yeah, Canada!
19 76 Austin Politelli Menifee, CA Honda CRF 250- After Seattle, Austin was tenth in the points and only three back of eighth in the series. Then he had two bad races to end the year, which put him back to thirteenth in the series, which pretty much sucked for him. Still, this kid has got some skills and don't sleep on him for 2014. For now, he's off to Canada this summer. Yes, I'm serious.
20 338 Zach Osborne Lake Elsinore, CA Honda CRF 250- Osborne wasn't happy with being taken out (I didn't see it, his words) by Jason Anderson and he hurt his leg. I've heard from good sources that Zach's been the fastest guy on the team in the outdoor test sessions. And he's off to Canada as well for the Nationals! Just kidding…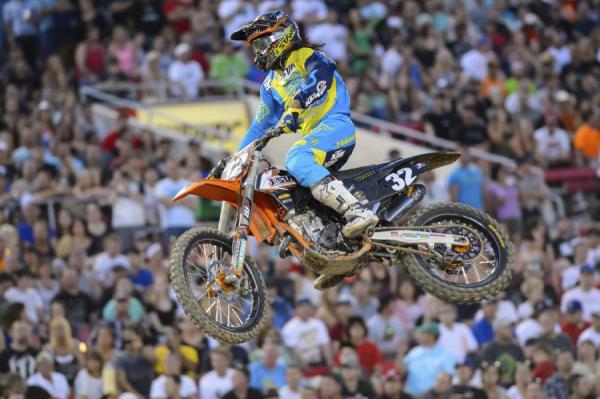 Is Mookie headed to TLD for the Nationals?
Simon Cudby photo
250SX East Main Event
1 68 Tyler Bowers Danville, KY Kawasaki KX 250F- I know I didn't talk about Bowers that much but great job for him in getting his first career 250SX main event win. The Beast from the East (seriously, unlike Bradshaw, Bowers is a beast) showed that his Arenacross skills do indeed translate over to the bigger tracks. I've heard rumors that the AX schedule will be moved back into the Fall next year, so don't think Tyler won't be back in SX for PC in 2014 barring injury. Has a fill-in rider ever won a race before? Send me an email if you can think of one because I can't.
2 25 Marvin Musquin Corona, CA KTM 250 SX-F- There's been some confusion on whether or not the three races that Marvin did in 2007 would affect his eligibility for next year, had he won the title. Musquin told Weege that he was told that if he won, the '07 races would count and he'd be out. So in one way, his runner-up finish wasn't that bad for Marvin as he becomes a favorite in 2014.
3 19 William Hahn Decatur, TX Honda CRF 250- So just to recap, a Pro Circuit rider really helped out their arch-enemy GEICO Honda in the East final and in the West, a Pro Circuit rider really screwed the GEICO Honda team over. Okay? Got it?
4 13 Blake Wharton Pilot Point, TX Suzuki RM-Z250
5 67 Gavin Faith Fort Dodge, IA Honda CRF 250- Faith had a nice race to secure fifth in the points. He holeshot and led for a little bit on the MCR machine. He ate something earlier in the day that didn't agree with him and got cramps during the race. Then he threw up before the shootout and DNF'd in that one. Afterward, he told me that he's looking to go back to Australia this summer and race their Nationals.
6 42 Vince Friese Cape Girardeau, MO Honda CRF 250- Friese hit the jackpot in Las Vegas in that he secured a fourth in the 250SX East points (a career high) AND because Ben LaMay got hurt and didn't race, he stayed in the top twenty in the 450SX points and collected some cash. Look, the coast wasn't that strong but no matter, Vince rode well.
7 87 Lance Vincent Youngsville, LA KTM 250 SX-F- Vincent had some weird looking AXO (I think) gear. It had all of us trying to figure out what was going on with it. Vincent was one of seven guys to make every main event and ended up a career best eighth overall.
8 48 Cole Thompson Brigden, Canada Honda CRF 250- Thompson had a quiet main event and Shootout but nothing to be ashamed about, as he finishes sixth in the series points. Oh Canada!
9 393 Daniel Herrlein Bethesda, OH Honda CRF 250
10 73 A J Catanzaro Portland, CT Kawasaki KX 250F- A career best tenth overall in the points for Catanzaro.
11 556 Brady Kiesel Fort Worth, TX Yamaha YZ250F- Brady's been up and down this season and this was by far his best result of the year.
12 412 Levi Kilbarger Logan, OH Honda CRF 250
13 69 Peter Larsen Menifee, CA Yamaha YZ250- This just in, the Yamaha guys aren't pumped on Larsen's team, Eleven10 Mods, having some difficulties showing up for the races. Larsen pitted out of the Rock River truck again.
14 244 Ryan Zimmer Fuquay Varina, NC Honda CRF 250
15 712 Justin Starling Deland, FL Honda CRF 250- Starling rode the last few rounds for the HRT Honda squad.
16 248 Mitchell Oldenburg Alvord, TX Honda CRF 250
17 385 Adam Gulley Jonesburg, MO Kawasaki KX 250F
18 194 Jackson Richardson Cairns, Australia Honda CRF 250
19 93 Landen Powell South Jordan, UT Honda CRF 250
20 552 Steven Clarke Cairo, GA KTM 250 SX-F
450SX Main Event
1 1 Ryan Villopoto Seattle, WA Kawasaki KX 450F
2 5 Ryan Dungey Belle Plaine, MN KTM 450 SX-F- Dungey was on RV at the end but he also didn't manage to secure second in the series, as Millsaps finished one spot behind him to wrap up the spot. Was Ryan Dungey's series that good? Well two wins and he came on at the end, which was great, but the beginning wasn't so good. He's just so solid that it's hard to ever count him out.
3 18 David Millsaps Murrieta, CA Suzuki RM-Z450- Millsaps rode by himself out there for the most part. Second year in a row he's gotten second in the series. Four out of the last six races had a podium that included Villopoto, Millsaps and Dungey in some order.
4 12 Jake Weimer Rupert, ID Kawasaki KX 450F- This just in, Jake Weimer is indeed back! Well, at least in Las Vegas he was. He led the heat and holeshot the main as well. Weimer had his best race in months and it's nice to see. For Jake, who's definitely more of an emotional guy than most, this could be what he needs to have a good start to the motocross season.
5 51 Justin Barcia Pinetta, FL Honda CRF 450
6 22 Chad Reed Dade City, FL Honda CRF 450- A terrible ending to the SX season for Reed. I'm not sure what's next for the 22. He's got to shake off this malaise and figure things out quickly for the outdoors. I suppose a lot of riders would take a terrible race if it meant ending up sixth. Reed was one of a few to be able to do what RV did by tripling in that one section, but when he would go for it and not be able to do it, man it really cost him some time.
7 46 Weston Peick Wildomar, CA Suzuki RM-Z450- What a night for Peick as he beat Reed in his heat race and then in the main, he was ALL OVER Chad out there. Peick's two best races of the season have come in the last two races and good for him. He's really the top privateer out there in the points, and even though he doesn't believe in anything and is a nihilist, he's got to be happy with his supercross season.
8 10 Justin Brayton Cornelius, NC Yamaha YZ450F- The Jet had a good main event. Not great, not bad, just good.
9 29 Andrew Short Smithville, TX KTM 450 SX-F – I don't know how Andrew got ninth in the main or seventh in the series because on track walk he just kept telling me how big one rhythm section was, how steep the finish line landing was and how big the whoops were. It was classic. Who knew he lived in fear?
10 20 Broc Tickle Holly, MI Suzuki RM-Z450- Tickle was again locked into a battle with his rejuvenated teammate Josh Hill out there until Josh fell late in the race. It was an okay season for Broc. Next up are the Nationals, where he shined last year.
11 49 Phillip Nicoletti Bethel, NY Yamaha YZ450F- After Salt Lake when I wrote how I thought all the tracks should have big whoops, "Filthy" texted and in a bit of a joking manner informed me that I was an idiot. Phil doesn't like whoops very much it turns out. Well, maybe not but he does enjoy getting eleventh in the main event. Easily the most improved rider this year from A1 to Vegas, Nicoletti didn't even make the main the first eight weeks and ended the series seventeenth in the points.
12 39 Robert Kiniry Holland Patent, NY Yamaha YZ450F- Weird deal for Kiniry. He eats crap, he's not that good on the hard-pack and he has to make the main event through the LCQ. So then he goes out and gets his best finish of the year. Of course, right? Bobby's been struggling with bike setup and team changes all year and he's a friend of mine, but bottom line, he was better last year.
13 56 Kyle Regal Howell, MI Yamaha YZ450F- Regal made his first main event of the year (he only raced three races) and a thirteenth is nothing to sneeze at. Maybe this will get him outdoors, a place where he's really good.
14 75 Joshua Hill Yoncalla, OR Suzuki RM-Z450- A crappy ending to the season for Hill but it shouldn't take away his improvement from where he was after two years off. Hill's looking to make a deal to go to Australia for the Nationals down there.
15 84 Chris Blose Phoenix, AZ Yamaha YZ450F
16 374 Cody Gilmore Blair, NE Kawasaki KX 450F- Gilmore really started riding better near the end of the year. He made the main yet again and I'm sure the series ending is a bummer for Cody, as he was just getting better and better. There's a lot of confusion out there on riders' privateer statuses, but in my mind, Gilmore is a true privateer.
17 85 Kyle Partridge Lake Elsinore, CA Honda CRF 450- I thought the hometown kid would put on a better showing. Kyle's good on the hard pack, he rides it a lot.
18 415 Nicholas Schmidt Seattle, WA Honda CRF 450- The Milestone Assasin, as JT$ calls him, made his first main event of the year.
19 95 Tevin Tapia Menifee, CA Suzuki RM-Z450- This was also Tapia's first ever 450 main event.
20 41 Trey Canard Shawnee, OK Honda CRF 450- Two out of the last three races ended up being DNFs for Canard through a combination of crashes and bad luck. It wasn't the way that he wanted to end the series but on the bright side, he raced sixteen races and ended up sixth in points, which ain't too shabby people.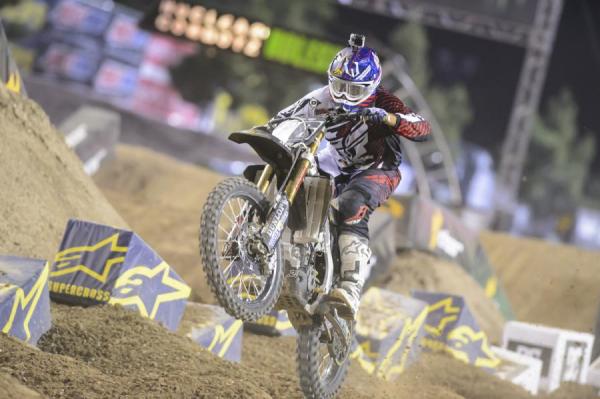 Peick had one of his best rides of the season in Vegas.
Simon Cudby photo
Some other news, notes and Timbits from the weekend:
- Alpinestars busted out some florescent boots for their riders and the brightly painted boot guys really stood out on the track. Ryan Villopoto was about the only guy who didn't go for the look but everyone else did. It worked with some guys (Short, Weimer) but didn't work for some other guys (Barcia) and by the end of the night, with the rocks, the boots didn't exactly hold up out there.
- Once again there was an East/West shootout and I suppose I should cover this better than a paragraph at the end of the column, but since the two finales have started being in Vegas, the shootout loses some luster as the dudes sort of just ride around out there. Despite my pre-race Twitter prediction that some weird guy (like when Short on a MotoWorld Suzuki won it) would take it, Roczen killed it but hats off to Kyle Cunningham who rode awesome and tracked the German down. I think they guys should make a few regular rounds East/West shootouts to really make the racing interesting. As it is, ten laps with guys giving half efforts isn't really what we all had in mind.
- By the way, I know the East Coast guys are getting tired of people saying that the East is not as strong as the West, but the facts are the facts, as eleven out of the top thirteen in the shootout were all from the West. The very top end talent on the east (Hahn, Musquin and Wharton) can win on any coast but due to injuries, there was a big drop off after that.
Thanks for reading, send me an email to matthes@racerxonline.com if you want to chat about this column or really, about anything.