Sam Boyd Stadium
Las Vegas

,

NV
Las Vegas
Monster Energy AMA Supercross Championship
Red Bull KTM's Ken Roczen is now a Monster Energy Supercross Champion after his incredible late-race charge and pass to seal the 2013 250SX West crown. He then capped it with a win in the Dave Coombs Sr. Memorial East/West Shootout. After the race, we found Kenny under the team tent and fired off this interview.
Racer X: Just talk us through that race. That was pretty incredible.
Ken Roczen: It was so much weight on the shoulders. I grabbed a decent start and I was going really good in the first half but then I made this mistake and from there I kind of went backwards. I just started to tighten up a little and [Eli] Tomac passed me. He also passed Martin [Davalos], and from then on I knew, man, I need to get my s&%t together and freaking hammer down. I'm glad I passed Martin in almost the last lap and then made it happen. So that was one thing, but the championship is a huge thing for me and for the whole team, for everybody. But for the East/West shootout got a holeshot and that was my first holeshot in the whole season this year. Just had a good battle with Marvin [Musquin] and never looked back and won that one, too. I think I couldn't have finished it off any better. It's the last 250 supercross race I did. So I'm stoked right now. I'm just going to celebrate for the next couple of days and then we go into Hangtown.
When you were behind Davalos what were you thinking? Did you know you had to get that pass to get the title?
I knew I had to pass him, that's all I have to say. I knew I had to pass him. Luckily it worked out. That's all I can say. It was a close one, but it was good for the fans.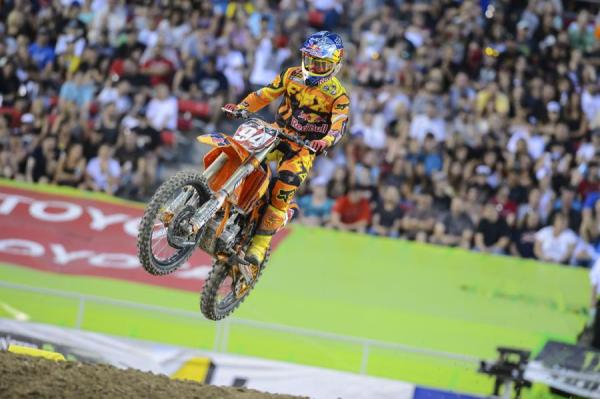 Roczen made a late pass on Martin Davalos to secure his first 250SX title.
Simon Cudby photo
Was it different - the pressure? Did you feel like you rode different? Did it have an effect on you?
Yeah. I feel like it did. I usually never have that bad of butterflies in my stomach but this time I had them, I have to say.
What was it like going to the shootout, then? Was it like total weight off the shoulders?
Yeah, I didn't worry about anything. And then as you can see it worked out, luckily.
But in that battle with Davalos, were you worried? He had a pretty good gap at one point.
Oh, yeah. He did have a good gap. After we closed up, Tomac was hauling ass. Once he passed him [Davalos] I knew… I was not really close, that was the thing. So I had to make something happen. But I think he made a mistake then in the rhythm section; that's why I passed him. So it helped me a little bit.
You didn't have much Supercross experience growing up. So what does it mean to get to this level? When you were a kid were you like, I want to be in the U.S. and win Supercross? Did you even think that was going to happen?
Yeah, that's the thing. I didn't race supercross but once maybe. I wanted to come over here. It always just seemed so far away. No matter how fast I went in the winter time, it always seemed so far away. That's why it makes it even better to finish it off this time.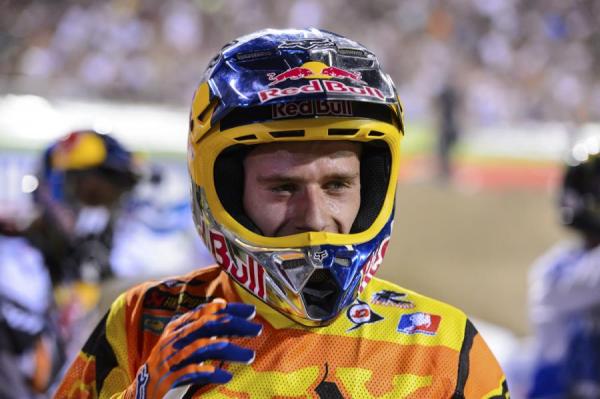 Roczen shows his emotions following his championship winning ride.
Simon Cudby photo
How would you compare this championship to your world championship?
This is something totally different. It's a world title. It's super awesome. But this Supercross championship is something that… It's kind of like for the world title I worked for my whole life and now for the Supercross it's basically been a couple years. So it is something very special.
With this being the last year in 250 class for you was there sort of additional pressure to make the most of this year?
Actually no. I didn't even think of that, to be honest, until after the race. So I didn't worry about that.