Sam Boyd Stadium
Las Vegas

,

NV
Las Vegas
Monster Energy AMA Supercross Championship
Welcome to Racerhead, on the eve of the end of the very entertaining and successful 2013 Monster Energy Supercross Championship finale. Tomorrow night's race is in Las Vegas, the vacation capital of supercross (Anaheim is the actual capital), and there are things happening all over town—the press conference at Sam Boyd Stadium, the pool scene at the Hard Rock, EnduroCross over at The Orleans, and then of course the endless laps that will be taken around the Hard Rock Circle Bar. Then comes the tough drive out to the stadium tomorrow (well, tough for non-racers and, I'm guessing, Monster Girls) and a very long day in the sun.
But not me, at least not this time around. I am watching this one on my home TV, as my son Vance has a birthday coming up and I have a pretty busy summer ahead of me anyway. My last SX race of the year was Salt Lake City last weekend, and I must admit that no matter how many supercross races I go to, I am still absolutely stoked when the lights go down, the fireworks go up, Kevin Windham comes and jumps halfway across town, and then the racing... I am missing this one, but I'll be there next year.
So as one of the many fans who will be watching from home tomorrow evening, I do want to thank everyone at Feld Motorsports, Michael Prince, Chris Bond and Jeff Manhart and the whole TV production crew, and of course SPEED and CBS for all of the coverage. I have a pretty good idea as to how difficult and expensive it is to pull all of that together, week in and week out, only to get more complaints than compliments because people are so passionate about seeing the sport they love. I am one of those people when it comes to supercross, so the chance to watch these races live almost every week (as well as the SupercrossLive programming online) is truly appreciated. These guys were nominated for an Emmy for a reason—they work hard and do a great job on what is an extremely difficult program to show live.
This week we have been taking a look back at some of the greatest films in Racer X history. To date we have seen the likes of Chad Reed, James Stewart, Ryan Dungey and Ken Roczen, with plenty of more stars to come. Continue to follow along with the countdown this weekend and into next week. You can view the previous videos linked below.

Justin Barcia on a 450 circa 2010
There's a lot of stuff in the works for the next series that's right around the corner, but we'll get into that next time around. For now, we're all focused on tomorrow night's big race...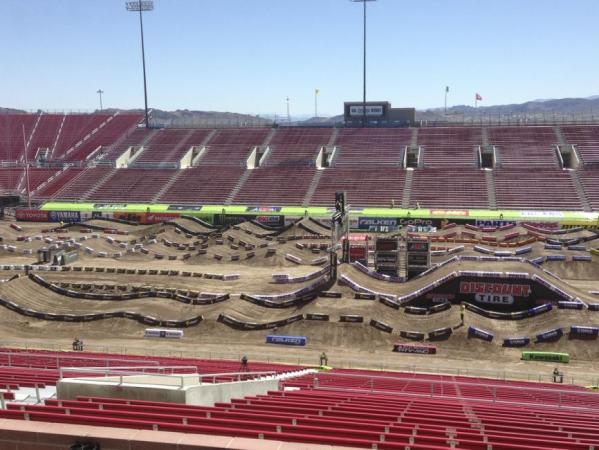 It all comes down to Vegas tomorrow night!
Steve Matthes photo
HOW TO WATCH, BROUGHT TO YOU BY YAMAHA (Chase Stallo)
The final round of the 2013 Monster Energy Supercross season from Las Vegas can be seen LIVE on SPEED beginning at 9:30 p.m. Eastern. Qualifying coverage will begin at 4:15 p.m. Eastern on Supercrossonline.com. As always, the Racer X team will be covering action from the pits all day on Twitter and Instagram, so make sure to give us a follow (@racerxonline). Also, make sure to check out RacerXonline.com throughout the day for morning, practice and race reports, as well as photo galleries and breaking news.
BONUS TV
"Feld Motor Sports announced today that CBS will broadcast an all-new, one-hour feature on the 2013 season  and the future of Monster Energy AMA Supercross, an FIM World Championship, fittingly named Changing of the Guard, on Sunday, May 5, at 1 pm Eastern."
PRESS CONFERENCE (Matthes)
And just like that, we're here in Las Vegas at the very last round of the Monster Energy Supercross series. Unbelievable, really. I was talking to Feld Motorsports' Director of Supercross Dave Prater, and we were both remarking that this season, more so than most, has just flown by. It seems like we were just at the Anaheim press conference, and now here we are at the Las Vegas one.
We didn't learn that much from the press conference here this morning. All the riders are feeling good, and they've all had good weeks. More than a few guys mentioned that they are getting ready for Lucas Oil Pro Motocross, as the shouting is over in the 450SX class (well done, RV, Mike Williamson, and the whole Kawi team). The best part of the presser, to me anyway, was when Ken Roczen jokingly mentioned that he was paid off by Feld to keep it close and hence the DNQ last weekend! Ken also mentioned that he left the stadium immediately after the LCQ and didn't know how Eli Tomac did until he was texted the results. He mentioned that it was the "best thing that could happen in a bad deal," and I happen to agree with him on that.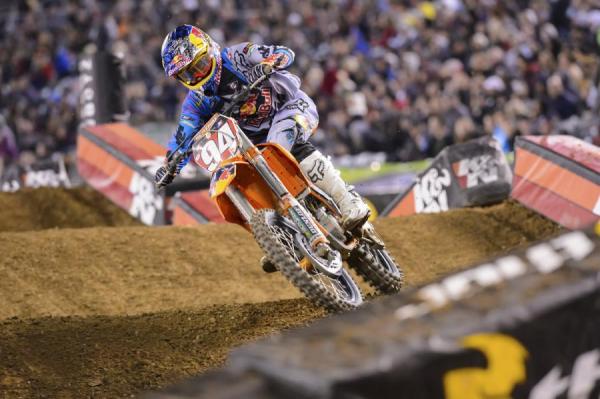 Ken Roczen looks to secure his first 250SX title tomorrow night in Vegas.
Simon Cudby photo
The
2014 Monster Energy Supercross schedule
was announced… and like we wrote here last week, the new venues are MetLife Stadium in New Jersey and Ford Field in Detroit. We're losing Minneapolis and Salt Lake City from the 2013 schedule. The move to New Jersey is pretty cool, as it's part of the media market capital of America and the series and riders will be exposed in ways that they haven't been before (there was a different media landscape the last time they raced here on May 18, 1991). It should be pretty cool for fans in the Northeast, and the riders will get to see the Big Apple.
Going back to Ford Field in Detroit should be exciting as well, with press conference host Jeff Emig mentioning that there will be some "enhancements" to the track, though he didn't mention any details. My guess is a nod to the old Pontiac Silverdome races by sending the track up into the grandstands.
The track here in Vegas looks really cool. It will be typical hard-pack Vegas and has the start outside with the Thunder Alley in place as well. One thing that looks exciting to me is a quad jump that seems really, really big, and although I doubt anyone will do it, there does appear to be a chance that someone on a 450 might launch it. Maybe I'm on glue, but we'll see!
THE NUMBER: 3 + 3 = 2 (DC)
Kind of a neat little bench-racing nugget that I haven't heard much of this week: While we have discussed the three-peat often -- Villopoto joins Jeremy McGrath, Ricky Carmichael and Bob Hannah as the only men to have won three Monster Energy Supercross titles in a row -- we haven't said much about the fact that RV now joins RC as the only man to have ever won three SX titles in a row as well as three motocross titles too. RV was the 250 Motocross Champion from 2006-'08, and now he's been the SX champ since 2011. Carmichael was the SX champion from 2001-'03 and of course the 10-time MX champion ('97-'06). That is a rare distinction and speaks volumes for the versatility of both of these multi-time, multi-series champions.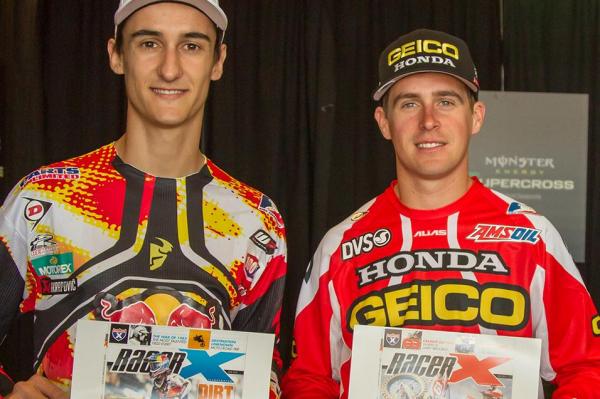 Musquin and Hahn will battle it out for the 250SX East Region title tomorrow night.
Chris Barnes photo
ONE DOWN, ONE TO GO (Aaron Hansel)
The battle for the 450SX Championship may be over, but there's still plenty of excitement to be had this weekend in Las Vegas. With Ken Roczen leading Eli Tomac by five points in the West Region and Wil Hahn up by the same number on Marvin Musquin in the East, we'll get to see a battle royale between Red Bull KTM and GEICO Honda.(It sure feels weird to not type Pro Circuit in that sentence.) Both Tomac and Musquin are in must-win situations, and have to hope their title competitors finish third or worse. On the flip side, if Hahn and Roczen finish second or better, their respective championships are theirs, regardless of what happens elsewhere on the track.
So when is the last time the fans were lucky enough to see both regional titles come down to the wire and be decided on the same night? Turns out, it happened pretty recently, although the situation in the East was a forgone conclusion at the time. In 2011, then GEICO Honda rider Justin Barcia led Dean Wilson by 20 points going into Vegas and it was his title to lose. He provided some nervous moments when he went down while leading, but in the end he took third while Wilson took fourth. Up front, Blake "El Chupacabra" Baggett stole the lead from Ryan Sipes on the final lap to take the win.
The situation in the West was much more intense that year. Broc Tickle lead Eli Tomac by a mere two points, creating a true, winner-take-all scenario. And when the gate dropped, all hell broke loose. Roczen held the early lead until a crash handed it over to Cole Seely, who then crashed and relinquished the lead back to Roczen. Meanwhile, the rookie Tomac had his hands full dealing with the Pro Circuit brigade of Josh Hansen and Tickle. Then Kyle Cunningham and Seely joined the battle and everybody just started bouncing off each another like it was a multi-ball pinball machine. It was a crazy race (the Racer X Race Report from that night can be seen here), and I'm pretty sure the press box was in need of a few repairs, as just about everyone was screaming and pounding the desks in front of them without even realizing it. Roczen won that night (for the first time in his career), but it was Tickle who took the championship with second place.
If the regional races, let alone the Dave Coombs East/West Shootout, are half as exciting as that night in 2011, we're in for a great night!
PRO PERSEPECTIVE – CHAMPIONSHIP PRESSURE (David Pingree & Jason Thomas)

Ping: Two championships, hundreds of thousands of dollars and the career paths of several riders are all on the line tomorrow night in Las Vegas. A small handful of points separate the top two in each 250 SX matchup, which means there is no room for error. Blake Wharton and Tyler Bowers could play the spoilers in the east while Cole Seely, Martin Davalos and a few others could steal some points in the West. The bottom line is that the pressure is on.
Sadly, tragically, I never got to head into a final round with a points lead. But I did go into the penultimate round with a ten-point lead, and that disappeared just as quickly as a first-turn crash happens.
The weight of your own expectations and lifelong goals, along with the pressure of performing for your team, are enough to keep you awake at night before this last round. You have to try to go about your week and your race-day routine as usual, but there is a palpable tension in the air and typically a mild-to-severe case of bubble guts that accompanies it. Good luck with all that, fellas. The rider who can push the distractions and the nerves out of his head and perform on Saturday night will be the same guy partying at the Hard Rock when the sun comes up Sunday. Try to be that guy.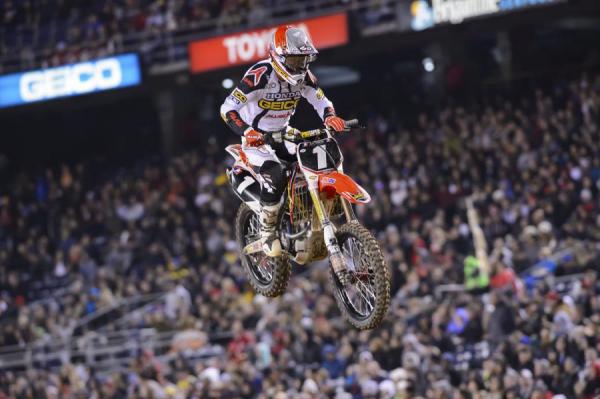 The defending champion finds himself in a must-win situation.
Simon Cudby photo
JT$: I'm not really sure... Championship pressure is not something I had to worry about very often!  Okay, make that never. The closest I came to that was battling for the Top Privateer Challenge a few times. Even for that, keeping your nerves in check is a mental battle. All racers know that your mind can be your best friend or worst enemy and in high-pressure situations like this weekend. It's crucial that they remember what got them there. They all know how to ride at the highest levels, but as we saw from Eli Tomac last weekend, if you don't control your mental game, things can unravel quickly.
I think that the start of each region's main event is going to tell the tale. Being only 10 laps, it will be more important than ever to get up front early. The nervous energy flowing through the contenders' veins when that 30-second board is up could probably power Las Vegas the rest of the weekend. Having only barely tasted what these guys are going through, I doubt they will get much sleep tonight. I wish them all good luck and feel lucky to be able to witness it.
THE SHOOTOUT (DC)
Hansel mentioned the annual East/West Shootout, and I want to again thank Feld Motorsports for naming that race after my dad after he passed in 1998. He and his friend and fellow promoter Bill West came up with the concept in 1985 as a way to help riders ease into supercross through a regional class for smaller bikes, rather than jump right into the deep end with the premier class. I think it's worked really well, and a lot of great riders have emerged through this system. Sure, there are some detractors of the East/West set-up who think the athletes in this class should have to do 17 races in one combined 250 SX class, but that would cut down in the amount of rides—why would GEICO and Pro Circuit hire four guys when two would likely suffice in that system? And how many mechanics and trainers and support people would be needed if there are half as many rides?
With the 450 title clinched, the two 250 title bouts should make for some great racing action. The East/West Shootout is the icing on the cake and the chance for bragging rights for the year, much like an All-Star Game for younger riders.
One more thing: with these four guys going for titles, plus the sidelined Dean Wilson and Blake Baggett, and race winners like Blake Wharton, Cole Seely and the sidelined Darryn Durham, plus all of these kids on the horizon, the future of competition in the 450 class looks very bright.
Thanks again, Feld Motorsports, for keeping this class and this system going for nearly 30 years now.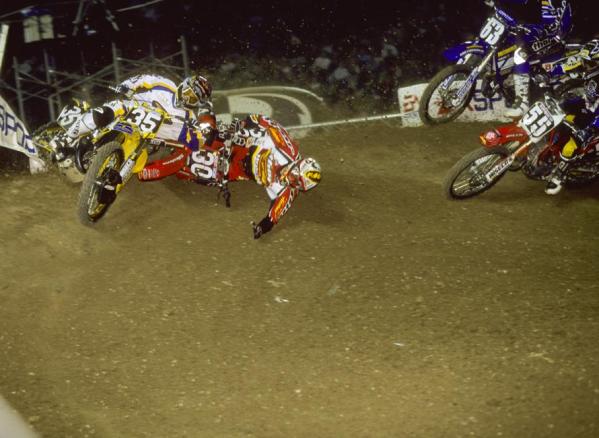 Ping (35) throwing it away.
Racer X photo
OUTDOOR TESTING (DC)
Kirk Chandler from Pala Raceway had a front-row seat to some of the testing that took place earlier in the week (and Racer X Films contributor Matt Francis shot) and posted his take on Vital MX:
"Ricky was going fast, but Chad pulled away from him a couple of seconds the time that I saw them together on the track, but they were both only doing 2-3 laps at a time doing suspension testing so who really knows how hard they were going.
"Ricky was every bit as fast as Tickle when they were on the track at the same time. As far as lap times, Deano was probably the quickest, but he rides Pala 2 times a week when he is in California, so it's kind of his home track compared to Reed and Carmichael that hardly ever ride at Pala. You can see a clip where he is tripling through the back straightaway when the others were doubling through it.
"Cooper Webb looked really fast and was riding aggressive, he will be up front at Hangtown. Musquin was going fast too, but was doing a photo shoot for 100% most of the morning."
Let me mention here that Chandler may be an engineer and race-track promoter, but he could probably work as a moto journalist as well!
ANOTHER NUMBER: 1-2-3 x 6 = 2003 (DC)
Every day we take a look in The Vault to come up with something that happened "On This Day in Motocross" and post it in the Pro Motocross Facebook page, which serves the Lucas Oil Pro Motocross Championships. Today we found out that ten years ago Yamaha's Chad Reed, a premier-class rookie, captured his sixth straight win at the Las Vegas finale, with Ricky Carmichael finishing runner-up for the sixth straight time. Carmichael, then on a Honda CR250, would lock up the SX title by seven points over the YZ250-mounted Reed, who served notice that he may very well be the next Jeremy McGrath, a frequent comparison ten years ago. Most people recall that 1-2 finish by Reed and Carmichael, bench-racing back and forth over whether or not Carmichael was truly trying or just riding out a huge points lead.
But what we spotted that we had totally forgotten about, as likely have a lot of folks, is the fact that the third-place finished in all six of those races -- St. Louis, Houston, Pontiac, Dallas, Salt Lake and Las Vegas -- was Carmichael's young Honda teammate Ernesto Fonseca.


Check out the identical numbers in the last six rounds of the 2003 Supercross standings
Fonseca had not finished on the podium a single time through Daytona, but then went on a tear of his own, following the defending champion (Carmichael) and the soon-to-be champ (Reed) through each of the last six rounds to seal up third for himself in the final rankings.
AND ONE LAST NUMBER: 0
In the history of supercross, KTM has yet to win a title in any class—125, 250, Lites, 450, the old 500s. Tomorrow night, that number may change by one or even two...
BIG AIR, AND GREAT BIG KARMA (DC)
It's time once again to tip our visors to Steve Bauer and Jeff Tilton and all of the athletes, sponsors and supporters of the annual Big Air Kids Fair at Loma Linda Children's Hospital in Riverside, CA.  Bauer, a former pro, and Tilton, the longtime freestyler, have been teaming up for the past ten years to bring a little fun and excitement to the kids and their families who are hospitalized at Loma Linda, often with long and grueling illnesses. They pull together their friends and resources and put on quite a show, including some FMX jumps in the parking lot. They also lead a battalion of very good moto people through the halls of the hospital, handing out posters, decals and just a whole bunch of smiles to the kids. Among the visitors this year were Zach Osborne, Kyle Cunningham, Travis Baker, PJ Larsen, Sarah Price,  former pros like Jeff Emig and Damon Huffman, the inspiring Ricky James, and the hilarious Andy Bell. Cycle News' Kit Palmer went along and posted this report on the Big Air Kids Fair, which included a freestyle show by  Jessy Jolson and Luke Dolin. Check it out.
Once again, well done Bauer and Tilt, well done.
HEY, WATCH IT!
Las Vegas Animated Track Map
Josh Hill: From Hell and Back
GoPro: Taka Higashino Moto X Freestyle Gold Run
IN THE MAG: The War of 1983
While 2013 boasts a stacked field of competitors, 1983 may never be matched. Here's the story of an epic season in the words of the men who raced it: David Bailey, Broc Glover, Bob Hannah, Mike Bell, Mark Barnett, and Ron Lechien. Check out the entire feature written by Eric Johnson starting on page 162 in the June 2013 issue of Racer X.
HEAD-SCRATCHING HEADLINE(S) OF THE WEEK
"Gay Teen Still Going To Buy LeBron James Jersey" shouted The Onion after Jason Collins came out as the first gay NBA player.
"Omaha Beef Indoor Team Offers Tim Tebow Contract." ESPN.com
"Carlton Dry Honda Racing endure horror run at Murray Bridge"- Carlton Dry PR
Salad-Munching, Masturbating Burglar Takes Toy Chopper For Joy Ride: Cops -Huffington Post
"Jason Anderson completely unaware of US geography."  -PulpMX blog
RANDOM NOTES (Staff)
Here's a rough look at the design for Miller Motorsports Park. The jump combinations will be different, but that's up to Marc Peters.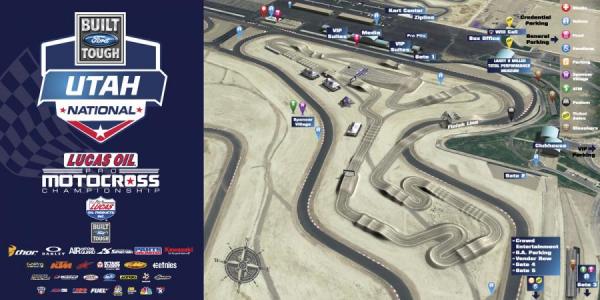 Got snow? Thunder Valley does! Local pro Bobby Fitch has been keeping an eye on the national track along the interstate in Lakewood, Colorado, and he snapped this photo on Thursday morning. We've all seem some crazy weather this spring; here's hoping that means we're going to have a great summer.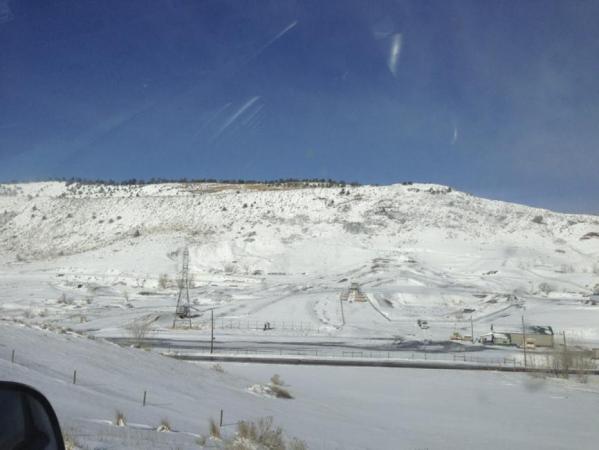 After we posted Ron Lechien as #19 on our list of Greatest AMA Motocrossers, the Dogger himself posted a link on his Facebook page. Check out the two world champions on his list of friends who liked the piece: "Dave Strijbos, Jean-michel Bayle, Sue Davies Laird and 28 others like this." Sue sure runs in some fast social circles!
What's going on over at Husqvarna? Not much, at least not since April 22. Check it out.
Check out this season's first digital issue of The Racing Paper.
Finally, not sure if you've been following along with our Monster Energy 30 Greatest AMA Motocrossers list, but it's getting down to the nitty-gritty. Today's #16 was Marty Smith, the OG American motocross idol.
You can check out all of the legends on the list so far, and follow along as we count down the days to the Hangtown opener...
Thanks for reading Racerhead, and enjoy your weekend and the races if you're in Las Vegas or just watching on TV. See you at the races.