Mullins Seeks Third Straight at Mammoth
MORGANTOWN, W. Va. - At this point in time last season, Charlie Mullins had yet to secure a race win, whereas teammate Kailub Russell was just coming off a three-race win streak. However, heading into Round 5 of the 2013 AMSOIL Grand National Cross Country Series this weekend, the tables have slightly turned for the Factory FMF/KTM duo but this time it's both riders who are in contention for the National Championship early in the 13-round series.
With three of the four wins this season, Mullins has proven to be the dominant force as he commands the points lead heading into Sunday's Rocky Mountain ATV/MC Mammoth GNCC. However, Russell claimed the Round 2 victory, finishing a close second at the other three rounds and trails his teammate by only ten points in the championship standings with nine races remaining.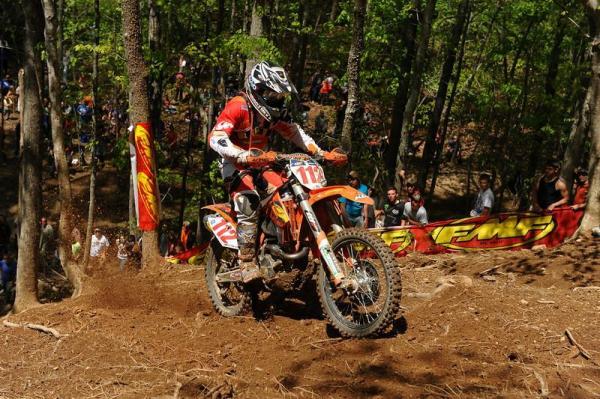 Mullins has been a dominant force this season.
Photo: Ken Hill
In just its second year hosting a GNCC, the Park Mammoth Resort offers some of the freshest trail on the circuit with plenty of single-track sections and technical terrain. Although defending champ Paul Whibley currently sits eighth overall in the standings, the "Axe Man" tends to excel in rough and technical conditions, which could afford him the chance to gain valuable points this weekend. Another rider who favors this type of terrain is RPM/KTM Team Maxxis rider Rory Mead, who claimed the inaugural victory last year. Mead has struggled to finish out front so far this season but perhaps the terrain this weekend will showcase his skills in the rocky woods of Kentucky.
Carolina KTM/RidePG.com's Chris Bach has put in a consistent string of finishes in the first four rounds and heads into Round 5 with third place in the point standings. Bach is aboard an all-new privateer-backed program for 2013 and appears to be making a seamless transition thus far.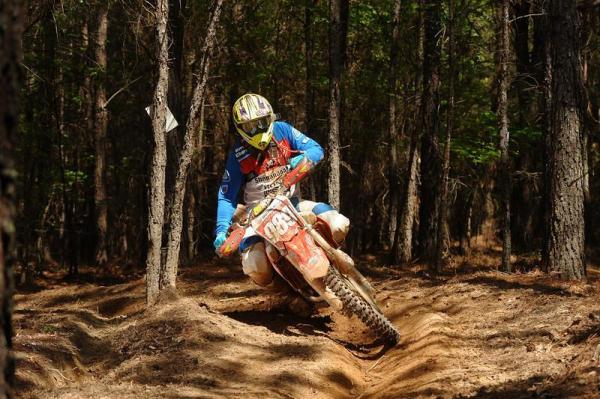 DuVall is back on track after finishing third at the last round.
Photo: Ken Hill
Shenandoah Honda/USWE-Sports.com's Thad DuVall experienced a race ending crash in North Carolina and despite suffering from the pain of rib separation, DuVall managed to land atop the podium last round in South Carolina. DuVall's third place finish lessened the point deficit and he now sits in fifth place just one point below XC2 Pro Lites class leader Andrew DeLong in the overall standings. The F.A.R Husky rider's impressive overall ranking also lands him ahead of the XC2 division with three of the four class wins so far this season.
Rocky Mountain ATV/MC's Josh Strang currently trails DuVall in the overall standings, sitting in the sixth place position. Strang came into the season on a good note, grabbing a podium finish at the opening round and following up with fourth place the next weekend. However, after experiencing a couple rounds of bad luck and injury, the 2010 GNCC champ looks to land on the podium this weekend in Kentucky.
KTM Support Rider Grant Baylor currently holds seventh place overall in his first pro season, edging out defending XC2 Pro Lites champ Jason Thomas, who sits in ninth overall after a less-than-desirable finish at the last round. XC1 rider Ricky Russell rounds out the top 10 overall, just behind Thomas.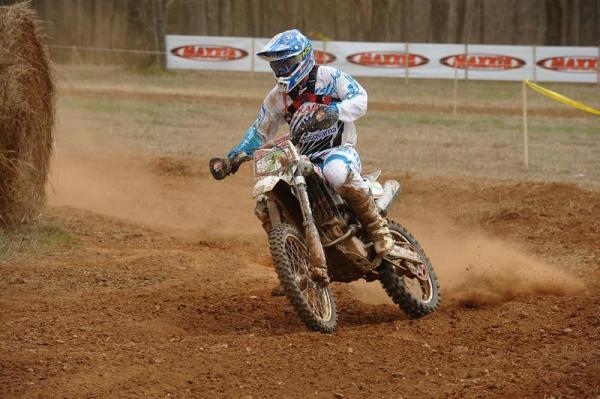 DeLong holds fourth place overall and leads the XC2 class in points.
Photo: Ken Hill
Four-wheeled ATVs will compete throughout the day on Saturday, May 4 and dirt bikes will race on Sunday, May 5. Local riders are invited to race the event as well, as GNCC racing offers classes for riders of all skill and experience levels. The amateur racer entry fee is $40 and riders can sign up at the track.
Spectator passes run $15 for the full weekend, with pro pit access and pro autographs at no additional charge. On both Saturday and Sunday, youth riders race at 8 a.m., amateurs race at 10 a.m., and top amateurs and pros race at 1 p.m. Round 3 of the 50cc Micro Series will take place Saturday at 4:30 p.m. For more information, please visit the official series website at www.GNCCRacing.com.
Tune in Sunday at 1 p.m. CDT / 2 p.m. EDT for the GNCC LIVE webcast from The Mammoth, providing audio and video coverage of the Pro Bike race. Stay up-to-date with exclusive content from the 2013 AMSOIL GNCC Series by following the series Facebook, Twitter and Instagram.