Rice-eccles Stadium
Salt Lake City

,

UT
Salt Lake City
Monster Energy AMA Supercross Championship
Just because I love saying "penultimate" over and over, here we go: The penultimate round of 2013 Monster Energy Supercross took place in Salt Lake City and it's been quite a remarkable season so far, if only because of the incredible riding of Ryan Villopoto and the emergence of Davi Millsaps. If nothing else, the year 2013 will be remembered for those two.
The rumor in the pits is that, along with Minneapolis, whose stadium is being demolished; Salt Lake City won't be on the 2014 SX schedule next year and that kind of sucks, to be honest. The rumored new venues are Giants Metlife Stadium in New Jersey (just outside of New York City) and Ford Field in Detroit (I say this with certainty because a fan sent me the 2014 Ford Field schedule that had supercross on it). If it's true and we lose SLC, we're losing a really cool city. The views up there are phenomenal, the city is clean and nice and it's a short flight for me from my home in Las Vegas. Yeah, I'm basing some of my opinion on the length of the flight there, so what? I know it's a smaller stadium and I know the weather hasn't always cooperated (it was beautiful this year though) but I've always enjoyed the SLC round.
We spoke about this on our BTOSports.com Racer X podcast, but the track in Salt Lake, although short, was tough and come to think about it, a lot of the second-half tracks have been tough. In Salt Lake, big whoops made the world's best racers cry uncle and a loose surface added up to a lot of crashes in practice. We saw some improved designs and toughness over the last few weeks, overall the tracks have been much better and have provided more excitement.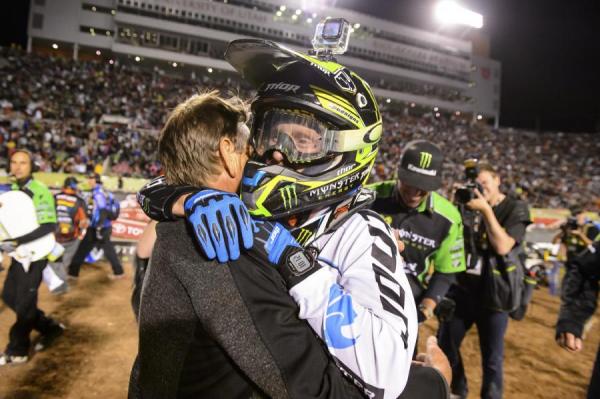 RV adds another one to the trophy case.
Simon Cudby photo
Think about some of the more exciting races from the last few years. A lot of that action came from the difficulty of the whoops. Whoop-de-do's are the single-biggest obstacle that the very best riders struggle in. It's what makes for exciting racing! Time and time again we've seen mistakes in the whoops open the door to some great battles. Whoops are tough for riders, they're tough for the teams and bike set ups, they're pretty safe and they're fairly easy to build. More whoops! Gigantic ones, please and thank you.
This weekend, like so many others in the past, was decided in the whoops. It all came down to, could you ride them or not?
I don't even know where to begin this column, there was so much that happened at Salt Lake City. I suppose we should start with Villopoto clinching his third straight supercross title. It was quite a run for Ryan this second half of the season and it's remarkable that he clinched the title with one race left. After all, at the conclusion of the San Diego Supercross the points looked like this:
1-Davi Millsaps 132
2-Ryan Dungey 113
3-Ryan Villopoto 105
Yep, 27 points down isn't good. And now, just ten races later he's got over a 25-point lead. He's put a gap on the field of 52 points in just ten races. Since that night in San Diego when Millsaps won, the average number of points scored per round is:
1- Ryan Villopoto 24.1 (17.5 average points per race the first six races)
2- Ryan Dungey 20.2 (18.8)
3- Davi Millsaps 18.6 (22.0)
So it's not really a case of Dungey or Millsaps really falling apart (Dungey increased his performance, also) it's more that Villopoto just really stepped it up. You can't average an almost perfect 25 points per race by being anything less than stupendous. So what is it that caused the turnaround for the champ? Well I asked Villopoto this question on the Pulpmx Show and he sort of hemmed and hawed about a number of things like East Coast dirt, bike changes, and tracks being tougher, but he didn't really pin it down to one thing. There's also no doubt in my mind that his training methods make him one of the strongest riders standing at the end of this 17-races-in-18-weekends series. Same thing with Dungey; when the grind begins to get to you, the strongest will survive. Also, the tracks did indeed get tougher, the more skilled riders emerged from their funks, and Millsaps hurt his knee and lost some confidence. That all contributed to the surge from Villopoto and to a lesser extent, Dungey.
In SLC, Villopoto earned every bit of his race victory as he jammed his way past Dungey on the opening lap and then had to deal with Millsaps on him like a spider monkey for the last half of the race. And Davi was faster than Ryan in the whoops. Every lap it was very exciting as the two racers came around to that section. To Villopoto's credit, he switched lines a couple of times, survived some bobbles and fought off the 18. It was a thrilling race and Millsaps, who was oh-so-close to winning this race last year, gave RV everything he wanted. Dungey, too, was right there and also could have easily won if either of the other two slipped up even a tiny bit. Great racing by all three riders and guess what, it was the whoops that had a lot to do with it.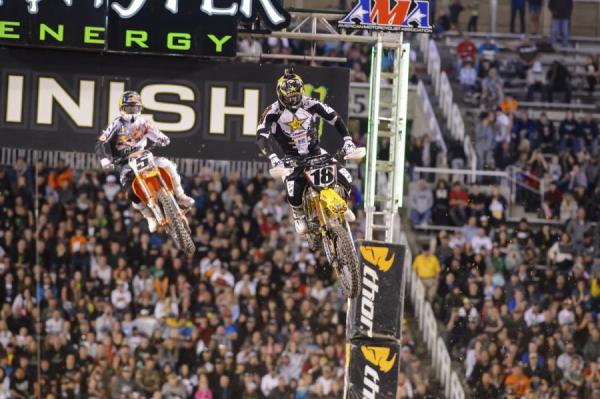 Millsaps (18) and Dungey (5) left it all on the track, but it wasn't enough to displace RV.
Simon Cudby photo
So congrats to all three of these riders. They all had great seasons. Well, maybe Dungey's two wins isn't great by his standards, but just because of his usual excellence are we thinking it's merely a "good" season by The Dunge. And Villopoto, with three titles in three years, is moving on up the list of motocross legends. He's now got seven titles (3 250MX, 3 450SX, 1 450MX) to tie him with some of the greats in the sport and it appears that he's still improving. He's not as dynamic on the track as some in the past and he's not as polished off the track as some either, but he's very, very fast and fit. In my opinion, he's got two and a half years left in the sport and he'll be the favorite in every one of those seasons going in. So, if you'll allow me to get ahead of myself, the potential is there for him to win five more titles, which would make him a solid second all-time.
Regardless if Millsaps finishes in second or third (financially, my rough estimate is that the difference for him will be about 50K), he had a terrific season and although it's still a bit up in the air, I don't think he'll be lining up this summer for the Lucas Oil Motocross Championship. The knee injury he suffered while practicing at some point during supercross is going to need some attention. So seeing as how this might be the last weekend you see Millsaps out there, give him some golf claps on a season well done.
Also part of the Rockstar Energy Racing team, Jason Anderson won his first race ever in the Western Regional 250SX series, so great job to him and his team on this feat. But I have to talk about the drama in the West before I get to the winner of the race. It was just too good to not start with. There were so many mistakes made in this race, it was ridiculous and it's not until after this weekend that we'll see which ones cost which rider the most.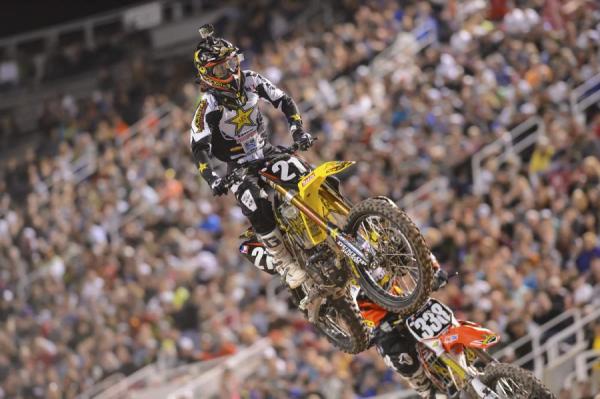 Was SLC a sign of more to come from Anderson?
Simon Cudby photo
Ken Roczen, with a 20-point lead, didn't make the main event. Yes, I'm serious! The kid that made the podium at every single race didn't make the main event, which was a massive mistake on his and his team's part. Roczen went down twice in the heat race and was seventeenth when he inexplicably just pulled off the track with two laps left. It was a strange move and a bad miscalculation by Kenny. Yes, he was frustrated and upset with the way it was going (he was the fastest qualifier by the way), but with the short start straight massively favoring the inside gates, he needed to keep going for gate position. If he had just been able to pass four more riders in the remaining two laps, his thirteenth would have given him the eighth gate pick for the LCQ, or somewhere around the box. Instead he had the twentieth gate pick and being so far outside, he had about a 0.5 percent chance of getting a good start in the LCQ. And what happened? Predictably, there was a first turn crash and since he was on the outside, he was effed. Great charge by him to even get back up to third, but oh what could have been.
There's no way his mechanic or his team should have let him pull off. That just can't happen in that spot. You have to be aware of the short start straight and realize that on this weekend, starting position was EVERYTHING. Being around the middle of the box probably improves your chance of getting a decent start by, let's see, carry the 1, add the 3 and it's about 40 percent (all figures subject to change). Honestly, the very first thing I thought when I walked the track was, "The dudes on the outside are screwed." Later, when Roczen pulled off it was "Something must be wrong with his bike," immediately followed by "He's screwed." But we know now that there wasn't anything wrong with the bike. Kenny admitted that he shouldn't have pulled off and being as I was a mechanic for eleven years in the sport, I am shocked that no one at KTM told him to keep going.
So it was pretty much an open door for Eli Tomac to walk right on through. This was Eli's chance and not many of us thought he wouldn't make it happen. Tomac wasn't exactly on fire in practice but he's the defending 250SX champion, he battled down to the last round in last year's 250MX fight and his future as one of the up and coming stars of the sport is well assured. And certainly, when Tomac immediately got into second behind teammate Zach Osborne on the opening lap of the main event, it did not look good for the German or KTM.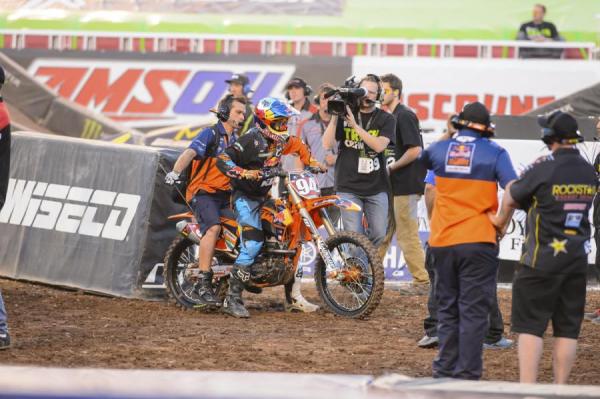 Although he failed to qualify, Roczen still holds the points lead.
Simon Cudby photo
But then a bizarre thing happened. Tomac started sliding backward, and really fast. The kid was coming apart right there in front of us. His speed going into the whoops was that of an amateur rider and guys were basically jammed up behind him like it was the 405 Freeway. It must have been like, as Davey Coombs said, watching Damon Bradshaw at the L.A. Coliseum in 1992. It was a meltdown in front of everyone.
Now to be fair to Eli, his bike and Osborne's looked like they weren't working very well in the whoops. The GEICO Hondas didn't seem to be at their best in the massive obstacles so I'm sure that was part of the issue going on with Tomac, but it was still amazing to watch. And not amazing in a "Look at the talking cat on YouTube" kind of way.
And to his credit, Tomac slightly rebounded to make it up to sixth (he had dropped as far back as ninth) and he still made up fifteen points on Roczen going into the last round. But to watch a guy that had made the podium in all but one race, and has four wins, just get caught and passed by guys he handled in the previous seven races was quite weird. Nice to see that, even with this performance, Tomac met with some members of the media afterward (I didn't make it over there) and faced the music as to what in the hell happened out there.
Who's happier about their race, Tomac or Roczen? Honestly, I have no idea. I still don't know what we saw out there in Utah. It was so bizarre to watch and if I'm Tomac I get my suspension guy out at the track every single day and get into some therapy ASAP to try and forget about this horror show. And if I'm Roczen I remember that unless I'm hurt or my bike can't go, never, ever, ever pull off.
Let's take a look at the results shall we?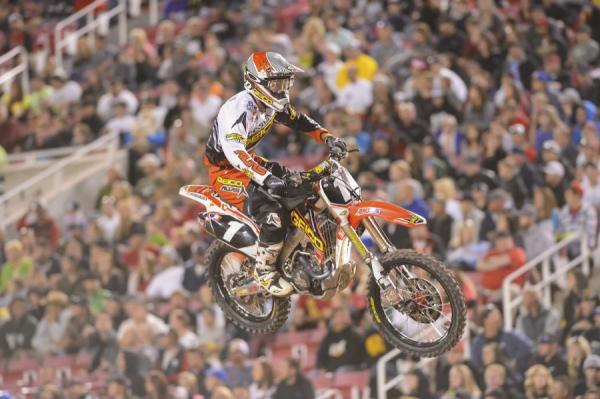 Tomac looks to rebound this weekend in Vegas.
Simon Cudby photo
250SX Results
1. Jason Anderson Edgewood, NM Suzuki RM-Z250- I don't understand this deal here. Anderson told us that this race is the closest one to his hometown of Edgewood, New Mexico and even though I'm Canadian I still have a working knowledge of American geography. And to me, Las Vegas, Nevada AND Phoenix, Arizona, seem to be closer to New Mexico than Utah is. I don't want to make a mountain out of a molehill here but I Mapquested the distance from Edgewood, to SLC and to Vegas. It's 10 hours, 46 min to SLC from the beautiful (I assume) town of Edgewood, 8 hours, 47 min to Vegas and 7 hours, 10 min to Phoenix. Now I like Jason and congratulate him on the win (I've said he's going to be a title favorite in 2014 250SX no matter where he lines up), but I demand to know why he said SLC was the closest race to where he's from. Phoenix is his "home race" if anything, with Vegas as a runner-up and SLC a third place. This was just something that really stuck with me especially after Weege called it his home race, and Anderson said that it was. Someone get Jason a Rand McNally ASAP. Thank you for your time.
2. Cole Seely Murrieta, CA Honda CRF 250- Seely rode great to get a second and pull away from Osborne for third in the series. Cole almost lost his career here last year so it's nice to see him get some revenge on Salt Lake City. I know he's staying in the 250s for another year but I think Cole's got a future in the 450 Class with his precise riding style.
3. Martin Davalos Cairo, GA Kawasaki KX 250F- At this point, don't you just have to laugh at Davalos' repeated winning of heats and being fast in practice but then never being able to win a main event despite being on some great teams over the years? I mean really, what else can you do? You have to know that it's some sort of mental thing with Martin. When he's got pressure on him and thinks he can win he just craps the bed. His first win will be one where he gets a seventh in a heat and somehow pulls the holeshot. He rode great at SLC but it's the same old story. On the bright side, with three podiums so far, this is Davalos' best year since 2008.
4. Malcolm Stewart Murrieta, Ca KTM 250 SX-F- After watching practice I picked Mookie to get his first ever podium and after he won his first ever heat race, I looked like a super-genius. And even though he wasn't able to get onto the box, he still rode awesome and it was perhaps his best 250SX race ever.
5. Christian Craig Wildomar, CA Honda CRF 250- I think this WAS Craig's best SX race ever as he came from outside the top ten to this spot. He got a "talking to" by manager Tyler Keefe before the main event and it looks like it helped. He'll be on a 450 in the Nationals.
6. Eli Tomac Cortez, CO Honda CRF 250
7. Ryan Sipes Ekron, KY Suzuki RM-Z250- If Davi is out, then the Rockstar team really, really, really needs to move Sipes up to the 450 for this summer. Sipes can ride a big bike very well. Do it, Gowland!
8. Tyla Rattray Wildomar, CA Kawasaki KX 250F- Mitch Payton thought that this was Tyla's best SX of the year and I'm not sure I'd agree with that but hey, he knows more than I do.
9. Joey Savatgy Thomasville, GA KTM 250 SX-F- Thanks to FMF, it looks like Joey is going to get to race the Nationals this summer on a factory KTM. That's the word on the street anyway. I also heard that J-Star JDR KTM will be back for supercross in 2014.
10. Travis Baker Romoland, CA Yamaha YZ250F- I didn't watch Baker out there. I do know that he won the LCQ to get into the main.
11. Cunningham Aledo, TX Yamaha YZ250F- Kyle was up there, as high as fifth, before crashing back to this spot. The bad news? This is his typical deal. The good news? Las Vegas is this weekend and he's typically been pretty good there.
12. 338 Zach Osborne Lake Elsinore, CA Honda CRF 250- Zach's results are the main reason why I can't put Tomac's race all on Tomac and Tomac only. Osborne was in the lead and he couldn't get through the whoops either. And Zach's got nothing to race for, no pressure and was trying to catch Seely for third in the series. And he struggled before eventually crashing in, yep, the whoops. Watch out for the 338 outdoors, I'm telling you people. All you other media peeps, I read your outdoor previews and there's nary a peep about Zach. You all just watch.
13. Dakota Tedder Surfside, CA Kawasaki KX 250F
14. Topher Ingalls San Luis Obispo, CA Honda CRF 250- Ingalls is looking to go up to Canada again and race the CMRC Nationals this summer. I was talking to his potential competitor up there, Austin Politelli, and we were running down the fast guys in MX2 and I would put Ingalls on that list. He was good at the races I was at last summer.
15. Scott Champion Orange, CA Honda CRF 250
16. Tyler Bereman Lake Elsinore, CA Kawasaki KX 250F
17. Casey Hinson Clovis, CA Honda CRF 250- The real question I have about Casey is if he uses Hinson clutch components or not? Shouldn't it just be a gimme? I know one thing, I bet he uses one of those Hinson clutch covers and tells his buddies it's custom for him.
18. Ross Johnson Tenino, WA Honda CRF 250
19. Austin Politelli Menifee, CA Honda CRF 250- I'm not sure what happened to Politelli out there but I think something was up with his bike after a crash. I probably should remember what he told me but for some reason, I'm drawing a blank.
20. Bracken Hall Rock Springs, WY Honda CRF 250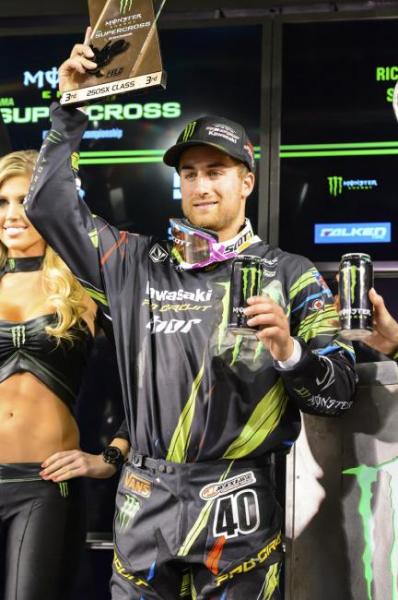 Lost in the headlines was Davalos' third place ride.
Simon Cudby photo
450SX Results
1. Ryan Villopoto Seattle, WA Kawasaki KX 450F
2. David Millsaps Murrieta, CA Suzuki RM-Z450- So this Saturday night, who you got for second in the series? I think Davi, with a three-point lead on Dungey, manages to do enough to hold onto a second consecutive runner-up position in the supercross series but I'm warning you, I have been wrong before.
3. Ryan Dungey Belle Plaine, MN KTM 450 SX-F- Dungey rode a great race and amazingly enough, captured his first heat race win of the year. Weird right?
4. Trey Canard Shawnee, OK Honda CRF 450- Trey was coming off a disaster at Seattle and needed a strong showing. Despite not having Timmy Ferry there to comfort him, he still managed to ride well to a fourth.
5. Justin Barcia Pinetta, FL Honda CRF 450- If Barcia's been pissed off at getting a bunch of fourths, can you imagine how he was with this finish? He wasn't able to make the podium and he couldn't catch the 41 of Canard.
6. Justin Brayton Cornelius, NC Yamaha YZ450F- Once again The Jet was killing it in the whoops and looked like he could be a factor in the race. He qualified sixth fastest as well so this is a good result for Justin. It's a deep class people.
7. Joshua Hill Yoncalla, OR Suzuki RM-Z450- The Hill/Peick/Tickle battle was something fierce with the privateer rider going balls out to keep the two highly paid guys behind him. In the end Hill got him and had another good ride.
8. Andrew Short Smithville, TX KTM 450 SX-F
9. Weston Peick Wildomar, CA Suzuki RM-Z450- Interesting discussion on Weston on the Racer X Podcast with Jason Thomas, Weigandt and myself. We all agreed that Peick has done enough to warrant a ride with a team in the pits like BTOSports KTM or N-Fab Yamaha, but we also all agreed that we don't think it will happen. At this point, Peick's done all he can do to impress the right people out there. I suggest that if he doesn't get a good ride next year he starts flipping over semi-trucks at Anaheim 2014.
10. Chad Reed Dade City, FL Honda CRF 450- At one point Chad wanted to get fourth in the series and be the top Honda guy. But after a strong Minneapolis, Reed's gone DNF-10 in the last two races. Not only is fourth in the points gone, he's got Canard now back on him in the points. Reed even got lapped at Salt Lake. I wonder if he had any idea what the blue flag even was. The good news for Chad is that he's always strong in Vegas.
11. Broc Tickle Holly, MI Suzuki RM-Z450- Tickle went down and pretty much wrecked his race. His mechanic, Tony Berluti, said that up until that point it might have been the best race of the year for Broc.
12. Ben LaMay Wasilla, AK Yamaha YZ450F- Another week, another great ride from the privateer LaMay. Ben qualified ninth overall and set another career best this week as he tries to get into twentieth in points. He's been really good the last month or so.
13. Jake Weimer Rupert, ID Kawasaki KX 450F- Weimer was down with Reed in the first turn and was way, way far back on the first lap. From there it was a battle to the end but in the positive column, I loved his flo-green Alpinestars boots, which matched his new 2014 Answer gear.
14. Robert Kiniry Holland Patent, NY Yamaha YZ450F- Meathead had his best finish in a while in Salt Lake. He said the whoops were majorly sketchy but he just tensed up and in his words, "meatheaded" it through them each lap.
15. Phillip Nicoletti Bethel, NY Yamaha YZ450F- Filthy Phil had a crappy main event. It wasn't his night as the whoops got to him and almost caused him to crash every lap.
16. Vince Friese Cape Girardeau, MO Honda CRF 450- I don't know man, Vince should keep riding 450s. As I'll explain later this week, there is a lot of money at stake here for him and I know he's going for a top-five spot in the Eastern Regional 250SX series but no one will remember that in a few years.
17. Chris Blose Phoenix, AZ Yamaha YZ450F
18. Cody Gilmore Blair, NE Kawasaki KX 450F- Another feel good story for Gilmore, who made his third career main event in the 450 Class.
19. Adam Enticknap Lompoc, CA Honda CRF 450- JT's favorite underdog rider makes another main event!
20. Kyle Partridge Lake Elsinore, CA Honda CRF 250- With the huge whoops I expected Partridge to kill it out there. I'm not sure what happened but he was out of the race early.
A couple of quick hitters:
I loved it on the broadcast when they talked about RV joining such legends as Carmichael, Hannah and McGrath and then they used a photo of Tim Ferry on a Kawasaki for Jeremy McGrath. Classic and definitely not Emmy worthy right there. Still, I'm grateful that the producer or whoever automatically just thought of Tim Ferry and Jeremy McGrath as basically the same person.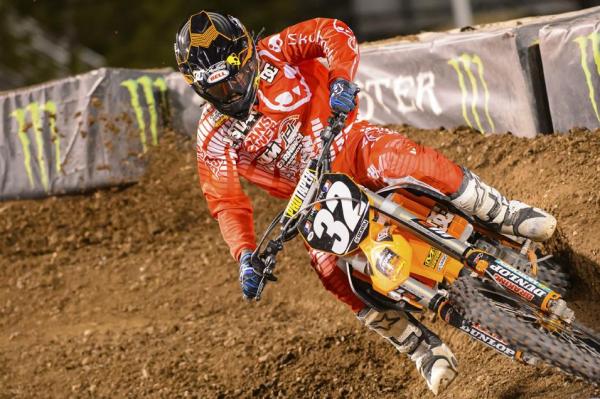 Mookie had a career night in Salt Lake City.
Simon Cudby photo
Also on the broadcast, they went to a Twitter question from a fan asking when the teams replace the motors in the bikes. I suppose a heads-up by a producer was needed here as you could tell that neither Jeff Emig nor Kevin Windham had any idea when the teams replaced motors.  For the record, it's about every four races that everything is gone through in a motor, but they are checked every week for various high wear parts.
Because Mike Alessi wears X Brand goggles, a company that I do some side work for, I was quizzed this week by more than a few people about where the 800 was and what he was doing to get ready for the Nationals. The PR about Mike taking these last two races off mentioned some new technology they were testing so people naturally thought I knew (on another note, three years ago Tony Alessi wanted to set me on fire for true and accurate things I wrote about him when Mike rode for factory Suzuki, and now people think I know what their secret testing is. Man, life is weird, huh?). So that got me thinking about things to say and I may or may not have told a bunch of people that they have a small jet turbine for the air box. If the AMA swarms Mike's bike at Hangtown, we'll all know why.
That's all I got. Thanks for reading and send me an email at matthes@racerxonline.com if you want to chat about this or anything else. Viva Las Vegas!