Sam Boyd Stadium
Las Vegas

,

NV
Las Vegas
Monster Energy AMA Supercross Championship
By his own admission, Ryan Villopoto isn't a numbers guy. He's not all about the record books, and he doesn't usually mention his place in history. He wins races and titles only because that's the ultimate goal of a racer, and he'll let the bench racers sort out the statistics.
But after wrapping his third-straight Monster Energy Supercross Championship, we figured now is a good time to review some of the statistics behind what is rapidly becoming one of the greatest careers we've ever seen.
It's much publicized that Ryan joined an elite crowd with his supercross three-peat, as just three others, Bob Hannah, Jeremy McGrath and Ricky Carmichael, have won three-straight (extra credit to McGrath, who had both a four-peat and a three-peat, separately!) But did you know that beyond these four riders, only one other rider, ever, has even won back-to-back supercross titles? Jeff Stanton's 1989-1990 triumph is the only other case of a rider successfully defending his supercross title. No one else has even won two in a row.
Ryan now has 33 career wins, fifth all time. He passed legends Rick Johnson and Bob Hannah on the all-time win list this season.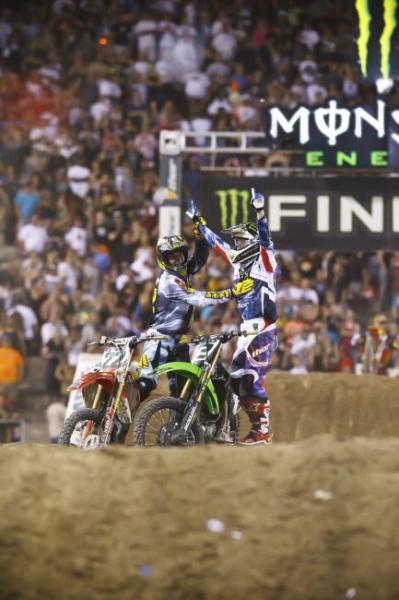 Reed (left) passed the torch to RV (right) in 2011.
Simon Cudby photo
Since his first 450SX win in Seattle in 2009, Ryan has entered 67 450SX races and has won 33 of them, or basically half.
Villopoto has more SX wins on a Kawasaki than anyone ever (James Stewart is second with 25).
RV's five-race win streak this season is the longest of his career.
Villopoto has won an AMA National Motocross Championship in every season he completed without injury (three titles in three years on 250s, and he won the 450 title in 2011, his only full outdoor season in that class).
Similarly, Ryan has won the AMA Supercross Championship in every season he has competed and completed without injury or illness (he missed time in 2009 and 2010 but has won the title every year since).
Which reminds us: Villopoto crashed out of the 2010 season in St. Louis, while in the thick down-to-the-wire championship fight with Ryan Dungey. RV could already have won four-straight titles, at this point. He'll certainly be the favorite to do it for real next year.
Villopoto missed a main event in 2011 by failing to qualify in Jacksonville, but still won the title. The last two years, he's wrapped up the title early.
In five years of 450SX racing, Ryan has only finished out of the top ten four times: a bizarre crash in Atlanta 2010 plugged his exhaust and left him in 19th, and then he crashed out of St. Louis and broke his leg later that season. He tore his ACL on the first lap of last year's Seattle SX main event. This year, he was 16th at the Anaheim opener.
RV came back from 27 points down to win this year's SX title. That's the second-largest gap ever overcome to win (Ricky Carmichael was 35 points behind David Vuillemin after three races in 2002).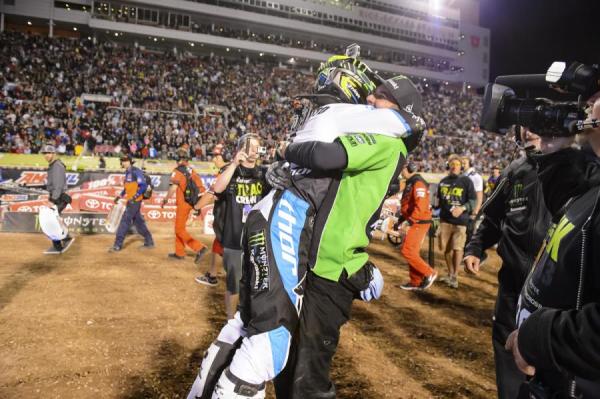 RV made it three straight Saturday night.
Simon Cudby photo
Bonus: Perhaps most eye-popping stat of all, Villopoto's trainer, Aldon Baker has won EVERY TITLE HIS MAIN RIDER HAS RACED IN WITHOUT INJURY. Really? Yes. Baker entered the sport by working with Ricky Carmichael in the summer of 2000, and RC went on to win the 250MX title that year. They followed that by winning every supercross and motocross championship they competed for through 2006 (Carmichael only missed the 2004 AMA Supercross Series with a torn ACL, he was aces beyond that). Carmichael raced half the season in 2007 before retiring.
Baker then moved to James Stewart, who missed the '08 SX tour with a torn ACL, but returned to win the 2008 450MX title (going 24-0) and the 2009 AMA SX title. Stewart was racing SX-only at that point, so they never took a shot outdoors, and then Stewart missed most of the 2010 SX season with a broken wrist.
Baker began working with Villopoto for 2011, and they delivered both the 450SX and 450MX titles that year, as well as the SX title for the last two years. Villopoto missed last season's motocross series due to a torn ACL.
When working with Baker, Carmichael, Stewart and Villopoto have won the title in every full series they competed in. Wow!