Rice-eccles Stadium
Salt Lake City

,

UT
Salt Lake City
Monster Energy AMA Supercross Championship
Two years ago, Rockstar Energy Racing's Jason Anderson was expected to make a splash in the pro ranks following an outstanding amateur career. It did not come together, and at one point his future seemed in doubt. But he worked hard and rebuilt his confidence, and now, finally, the kid from New Mexico has a pro win after his 250 West triumph in Salt Lake City. We found him at the Rockstar truck to talk about it.
Racer X: How does it feel? I have to ask that question, obviously.

Jason Anderson:
Feels awesome. Definitely got a monkey off the back with that one. I feel like all year I've been good enough to be in the position to get a win, I just haven't put it together. And putting it together is something I pulled off tonight and I'm stoked.
This was your best race of the year last year. Is that a coincidence? Or is there something about here?
It always seems like this is my turning point for the year. Last year I got a second here and then I was kind of a top-five guy after that. I won this year, so hopefully I'm just a consistent winning guy or a consistent podium guy after this! Battling with Eli [Tomac] and people like that is where I wanted to be when I came in [to the pros]. Didn't happen, but I've worked my butt off to get to here and now that I'm doing it, I'm stoked.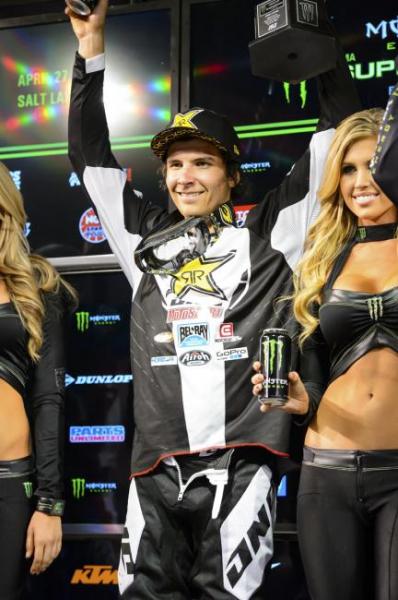 Jason Anderson was finally able to break through and capture his first career 250SX win in Salt Lake City on Saturday.
Simon Cudby photo
Yeah, anyone who knew you had potential wasn't really a genius. We all saw you race as an amateur. You used to battle those same guys and run up front then.
I just think I came in and when I was amateur I just rode. I didn't train or do anything. I don't think I had the preparation coming in. I thought I could just do that and come in and kill it. But the motos are longer, bikes make a difference, and you get to a point where everything makes a difference. It's so much harder at this level. I was kind of winging it, and winging it didn't work. But I'm pumped to pull it all together and bring my confidence back and be where I'm at right now.
Take me through the race. Were you getting nervous at any point? You were going for your first win, Seeley was close for a little while. Were you worried?
I kind of just made my first few passes and then I just kind of tried to pull away and not think about it and put in my laps. But definitely once it got to lap 12, 13, 14… those whoops got bigger, that's for sure. Those laps were definitely twice as long as the laps before that. But it was good. I'm pumped.
My colleague Steve Matthes has said before, it's really hard to win a title in the first year you've won a race. So do you think that getting this win out of the way sets you up a whole lot better for next year, because you don't have to worry about that? You've already done that part.
Yeah, definitely. I think it would be tough, too, because winning is definitely tough; getting that first one is tough. To do it every weekend, is definitely a tough thing. But I think this is a good stepping-stone into the next year, and even into outdoors. I feel like I'm going to ride outdoors really good because I rode a lot of it during with the break, and I think my speed is good. We've worked hard. So definitely hoping to be a podium guy from here on out, for the rest of the year. Not just with this win in supercross but in outdoors, too. Podiums turn into championships, and wins turn into championships, so that's my goal. Keep trying to be consistent and strong.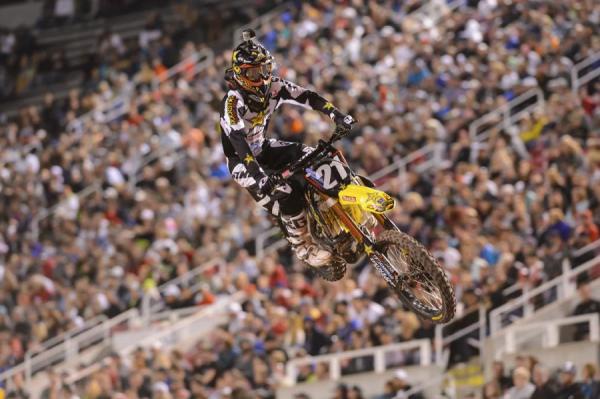 Anderson is hoping his win will lead to championships in the future.
Simon Cudby photo
Talk about your team, you guys have stepped up.
Yeah, the team has definitely stepped up over the two years I've been here. But Millsaps put pressure on all of us because he was killing it at the beginning of the year!
Is this in any way, shape, or form a "home race?"
It's the closest race to my house; it's only like six hours.
How is Vegas not closer?
Vegas is 7.
There we go, so you won your home race.
I guess so!