Rice-eccles Stadium
Salt Lake City

,

UT
Salt Lake City
Monster Energy AMA Supercross Championship
A week ago, Redux covered the world around Justin Barcia, who has logged a season that is solid, but just short of spectacular, as a rookie season in Monster Energy 450 Supercross. Rated on most scales, Barcia's year, featuring an early-season win in Phoenix, piles of top-five finishes and fourth in points, looked great. After all, many predicted Barcia's speed and aggression would result in a ton of crashes, but instead he's stayed at the track so he can learn each week.
Team Honda is good with everything, but trainer Jeff Stanton is not pumped on fourths, and neither is Justin's mom Lorraine, and, most of all, neither is Justin himself.
But last week I reasoned that fourth is darned good for a rookie in one of the most stacked and consistently healthy 450 fields ever. Why was Barcia and those that surround him not happy?
Because they know he has more. And, once again, Stanton, a three-time AMA Supercross Champion, was proven right when Justin grabbed the holeshot in Seattle and moved out, holding SX Champion Ryan Villopoto at bay and taking his second win of the year.
"I would put Justin and Eli [Tomac] in the same kind of group, they're ready to break through at any time," said Stanton when I called him this week. "Both of those guys, they're going to be the next guys, there's no doubt. It's just inevitable, younger guys move up and older guys move out, it's the circle of life. So, you know it's there.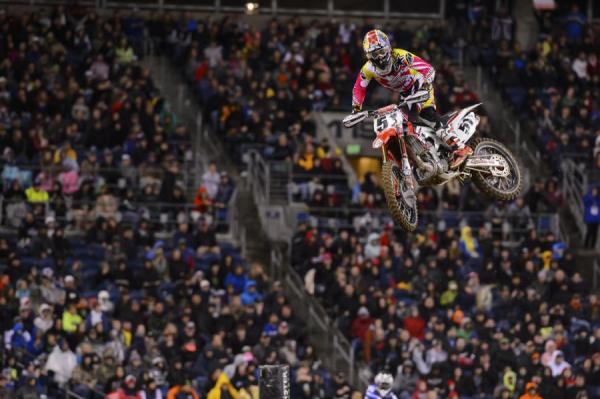 |
Jeff Stanton wasn't happy with fourth, because he knew Barcia could win, which Barcia proved again in Seattle.
Simon Cudby photo
"It's awesome that Justin has been consistent, and if it wasn't for those two DNFs at the beginning of the year, he'd be right in the hunt," continues Stanton. "But I didn't want him to get settled into that fourth-fifth-fourth-fifth kind of pattern. And don't get me wrong, he wasn't happy either! It was a struggle, and after Minneapolis, he had enough. No doubt in my mind, he hit an all-time low on himself. We had a heart to heart about it, we worked on the bike, we worked on a lot of things. Giving up isn't going to do it. We have to work hard."
Sure isn't easy to break in during a season like this. Ryan Dungey stormed to the darned title in his rookie year, but before he even had a chance to figure out where he fit in, James Stewart and Chad Reed, the previous year's 1-2, weren't even around. That made it easier for Dungey to build some confidence. Barcia is dealing with the brick wall of the Ryans every week, plus a rejuvenated Davi Millsaps at every turn, Trey Canard is still fast, and Reed and Stewart are still around. Witness one of Barcia's best rides of the year, in St. Louis. Yes, this one will be most remembered as "The race where Villopoto passed under the red and yellow flags and also got penalized during the race and not after," although, those thoughts have mostly faded now that RV has a giant points lead, anyway. Regardless, Barcia also rode very well that night, going back and forth with Villopoto and Stewart in a tussle for the lead, and he had just cleared JS7 to get into second before clipping a tuff block and losing a few spots. Just one mistake, and he was off the podium. That's what happens in a loaded field like this, and it certainly doesn't make it easy to build confidence.
Starts help, and Barcia has been an incredible starter for the least few years. Those starts betrayed him as of late, but some bike changes—Barcia said post-race in Seattle that they mellowed his CRF450R off the line—clearly helped. But while it's easy to say Barcia simply turned it around in Seattle with a holeshot, it's not that simple. "At this level, a holeshot is definitely key," says Stanton. "The last four of five weeks he was in a little bit of a lull, so I'm not saying he would have won the race if he got the holeshot at those. But, I think if he had been up there with them, he would have battled them, like St. Louis. Look back at that St. Louis race, it was awesome, great racing for 15 laps, things were just settling in, and he made one mistake. But I wasn't bummed on that at all. It's your rookie year, that's what you want to do, battle, battle, battle, build confidence and show those guys you're going to be there."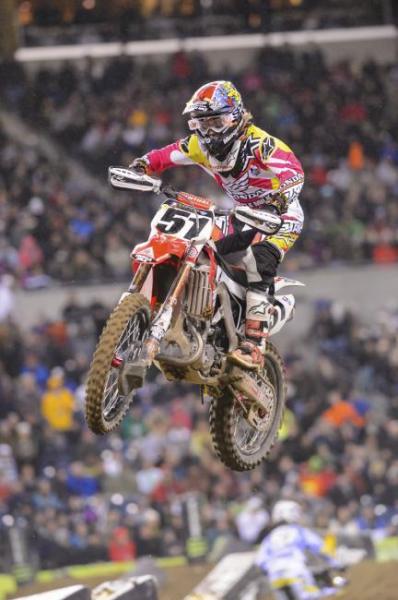 Barica hopes to build off the momentum of his win in Seattle.
Cudby photo
So what did he need to do to turn it around?
"I told him, this is gritting time, this is when you have to dig deep and work hard, and not slack off and take the easy way out," says Stanton. "And he did work hard last week, he had some good bicycle rides and some fun riding days, and they made some changes to the bike. The results speak for themselves, he was fast all day."
Two supercrosses remain, and then comes another rookie campaign on a 450 in Lucas Oil Pro Motocross. No shocker, Stanton calls it straight when asked to make predictions.
"With the outdoors coming up, there are veterans that have their legs built up, their endurance built up. They're men, you're a boy, you know what I'm saying?
"There's no substituting boy strength for man strength. It's just age and life and growing up. You think you just train your ass off for a while and we'll get it. Well, that's not going to happen. Road cyclists, they just log miles and miles and miles and miles and the older they get, the better they are. Man strength for boy strength, that's what it is."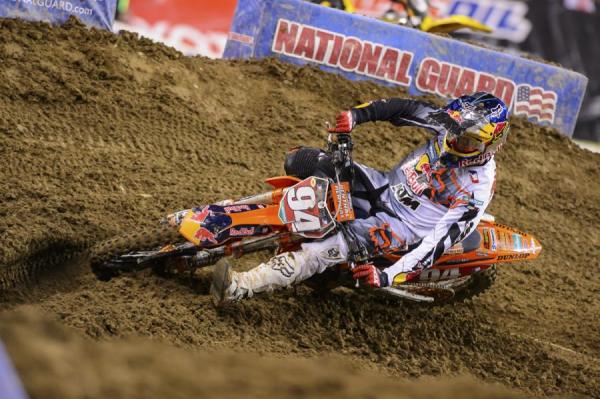 Ken Roczen and others will lead the next generation.
Cudby photo
At some point, the next generation will figure out the puzzle pieces, but each can point to some frustration along the way. Barcia's mid-season run off the podium certainly didn't make him happy. But the time will come for all of them, if pushed in the right direction.
"The young kids coming up are talented, the Barcias, Tomacs, Roczens, all of them," says Stanton. "It's no different from when Jeremy [McGrath] came in. Someday, they'll raise the bar for the sport."
It's up to their surrounding cast to try to make that day come a little sooner.