Rice-eccles Stadium
Salt Lake City

,

UT
Salt Lake City
Monster Energy AMA Supercross Championship
With Ryan Villopoto now magically on the verge of wrapping the title early in what was, not long ago, an incredibly tense SX season, our staff once again got to bench racing about great seasons gone by. Don't worry, there are still two weeks for 2013 Monster Energy Supercross to bring the drama, and when you scan through this week's The List, you'll see that stranger things have happened.
Since it's impossible to determine criteria to pick one year as being better than another, we just had a few staffers pick their two favorites and state their case here. What's the best? Each of these seasons would be an easy pick.
1983: (Jason Weigandt)
Bob "Hurricane" Hannah was the hype machine for this season. Bob won the 1977-1979 SX titles but wasn't the same following a gruesome leg break while water skiing, and he also said his Yamahas weren't competitive anymore, either. But once Bob joined the mighty Team Honda, he promised to kick ass and take names, and he really did for a while, winning four of the first six races and taking the points lead.
But disaster struck in Orlando when Hannah crashed and broke his wrist. His title hopes were done. Into the void stepped 1981 SX Champion Mark Barnett and youngster David Bailey. Each had disastrous moments—Bailey breaking his foot and missing a race, and Barnett losing a transmission with the title clearly in sight. Throw in the combo of Yamaha riders Mike Bell, Broc Glover and a teenaged Ron Lechien winning races, and you had a wild season of young and old talent mixing in highs and lows.
When it was over, Bailey emerged with the title. Read more about it with the full oral history as told by the riders to Eric Johnson in our June Racer X Illustrated story, The War of 1983. On newsstands now!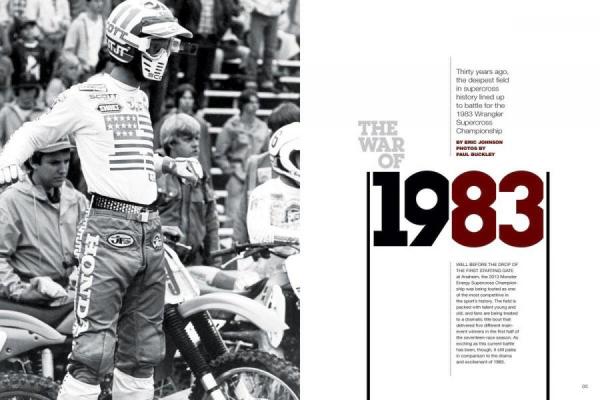 Read more about the 1983 season in the June issue of Racer X Illustrated.
1985: (Steve Matthes)
It's appropriate (and probably not coincidental) that I'm writing about two seasons from the 1980s to talk about. I loved this era of the sport, it speaks to me. Let me crank up some 5150 here and get to work.
1985 was a transitional year in supercross. There was infighting with promoters and sanctioning bodies. There was an actual AMA series with only a few rounds, but no one really counted that. Instead everyone went with the real series, an eleven-round one with, get this, two twelve-lap main events! It was a radical departure from past years but really, how can you argue any other season when the following all happened in 1985:
1. On the line for the opening race in San Diego was eight, eight, past supercross winners (O'Mara, Glover, Ward, Hannah, Barnett, Bailey, Lechien and Johnson) which is right up there in the record books. Read those names back, it's like a Mount Rushmore of supercross Gods!
2. In the eleven races, there were eight different winners that season. Yes, that's called parity. And add in the excitement of the two motos at every race and it's already a pretty awesome season. But wait, it gets better!
3. Going into the final round in Pasadena, Glover and Ward were tied in points, Lechien was two points back and Johnson was ten out. Four riders had a shot at the thing. That's high drama, folks! And then to add to the drama, Wardy crashed in his heat race and rode backwards down a jump to start his bike. This was a no-no at the time. In the final main, Wardy finished right in front of Glover both times and took the title. But Glover and Yamaha protested the heat race move by Ward and everyone had to wait for Jeff to be declared the champion. Imagine if that happened now? Moto message boards would just melt down. It was a nail-biter season if there ever was one. You can watch this race with myself and Larry Brooks (who won the 125's that night) commentating if you go here and scroll to '85 Pasadena.
4. On a personal level, my favorite rider, Mark Barnett, rode his last season that year on a factory Kawasaki and won the Atlanta SX with a 2-2, which validated, to me anyways, that he still had "it." Ah, 1985. What a season!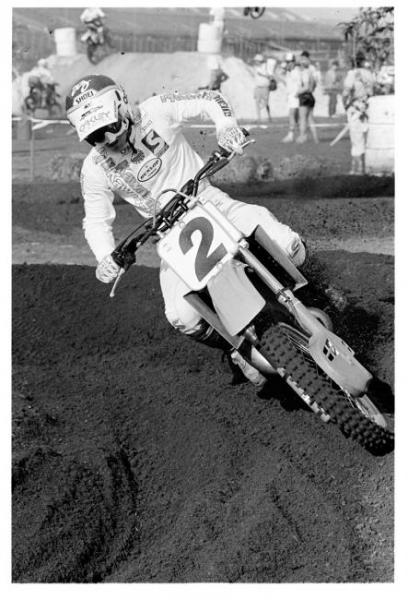 Jeff Ward won the chaotic 1985 title.
Paul Buckley photo
1989: (Steve Matthes)
Okay, if '85 isn't your style then let me sell you on 1989. It didn't start off that crazy. After all, this was Rick Johnson's era and he quite possibly could have been at his peak to start this year. RJ racked off five straight pretty easy wins to start the season and in the sixth race he fell late to gift his new protégé Jeff Stanton his first career supercross win. No worries though, Johnson was easily the best supercrosser this year.
Disaster struck the next week at the opening AMA National when RJ broke his wrist. He would never win another supercross again. His tragic injury though would open up the '89 series for some nuttiness. Stanton would start getting on a roll but you truly didn't know if he was for real. Each week it seemed that Stanton, Ron Lechien or a back-from-injury Jeff Ward would grab the win. It was the start of a new beginning in supercross history. Johnson and Ward were descending down the peaks of their powers and the kids were coming in.
Also bonus points for '89 in that it was my first ever time seeing a supercross. Pops and I made the drive down from Canada to catch Atlanta and Miami that year. Once Johnson went out, 1989 was a great year in terms of excitement and unpredictability.
1990: (Chase Stallo)
The 1990 Camel Supercross series may forever live in supercross lore. It was old vs. new. Flair vs. grit. Rookies vs. veterans. The depth of the field was astonishing, as former 250cc champions Jeff Stanton, Ricky Johnson, Jeff Ward, and Johnny O'Mara were joined by young hotshots Damon Bradshaw, Mike LaRocco, Larry Ward, Mike Kiedrowski and Jeff Matiasevich. Yes, five top riders moved out of the 125 class in one year! Bradshaw, the wild child with a take no prisoners attitude, dazzled in his debut—winning the opener. Bradshaw would go on to win five rounds his rookie season, but inexperience would hinder his title chances. While the series featured six different race winners, in the end it came down to the grit and hard work of Stanton (the 1989 250cc champion) against a surprise—not the young rookies, not Johnson or Ward—but the rapidly improving Jean-Michel Bayle.
Although it took nine rounds to secure his first win, which came in Irving, JMB went on a tear after, winning four of the next six. It looked like the 1989 250cc GP Champ could win the title in his first full year in SX, but Stanton came firing back winning the next two rounds to secure his second consecutive 250cc title.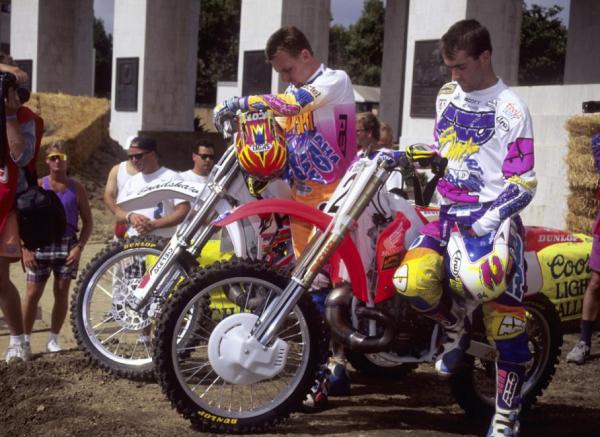 It was all about Jeff Stanton and Damon Bradshaw in 1992.
Racer X Archives photo
1992:
(Jason Thomas)
The season that defined Damon "The Beast from the East" Bradshaw's career was also a showdown between Team Honda rivals Jeff Stanton and Jean-Michel Bayle. These three went at it all season with Bradshaw also having his share of drama with Jeff Matiasevich along the way. The Honda guys weren't really getting along, either, and when Stanton and Bayle nearly collided at San Jose, sending Bayle to the ground, sparks were flying. The championship would come down to a very controversial LA Coliseum finale with Stanton taking the title. Bradshaw won a then-record nine races that season and only needed a podium at the finale to wrap it all up. He couldn't deliver, and Stanton won the race and the title in an all-time clutch ride. It should be noted that Bradshaw's curiously poor performance in Los Angeles is still fodder for bench racing to this day, to which many conspiracy theories abound.
1997: (Jason Weigandt)
The supercross world revolved around Jeremy McGrath in these days, and Showtime was so spectacular that in this season he essentially set up a collision course with himself! First, his four-straight years of SX dominance (1993-1996, including his run at a perfect season) had resulted in explosive growth for the sport. A lot of eyeballs were watching now, and they were treated to a great season thanks to MC's very late, very shocking switch from Honda to Suzuki. With literally days to prep for round one (and switching from the most successful major brand at the time to the least), MC had stacked the deck against himself big time. This was exciting stuff! A bad night at round one resulted in 15th for the champ (and just to stir some controversy, his old Honda teammate Steve Lamson took him down in a hard pass) but even more shocking, a Suzuki actually won anyway, via Greg Albertyn, who up until this point had really struggled supercross.
Oh but the surprises were just getting started. Doug Henry, with a career supposedly dead and gone and buried following his (literally) backbreaking crash at Budds Creek two years earlier, came out of nowhere to start winning races! McGrath was figuring out that RM250 each week, while Jeff Emig was scoring consistent finishes along the way. Henry's pace faded slightly at mid-season, then ended completely when Jimmy Button landed on him and busted his hand. This left McGrath versus Emig, and MC had several shots at stealing the points lead, only for uncharacteristic crashes (while leading in Pontiac) and strange luck (flat tire in Charlotte) to zap him. Then other riders started getting in on the winning, like Ezra Lusk, and Kevin Windham, who became the first 125-class rider to ever take a 250cc win while moonlighting on the other coast. Yes, KW was a factor all the way back in 1997! Jeez, so many stories were fighting it out here—would MC end Suzuki's 15-year SX title drought, while simultaneously ending Honda's nine-year title streak?
One no and one yes. Emig showed grit down the stretch, staying consistent and then winning in the mud in Dallas to pretty much ice the title. Just for good measure, the season ended with Henry returning and grabbing another win—but this time on a four-stroke! Somehow, this incredible season ended on a crazier note than it started.
Looking back now, Suzuki and McGrath just weren't ready for each other at the time, but it shouldn't take away from Emig's performances under pressure, as he was the first to dethrone the King.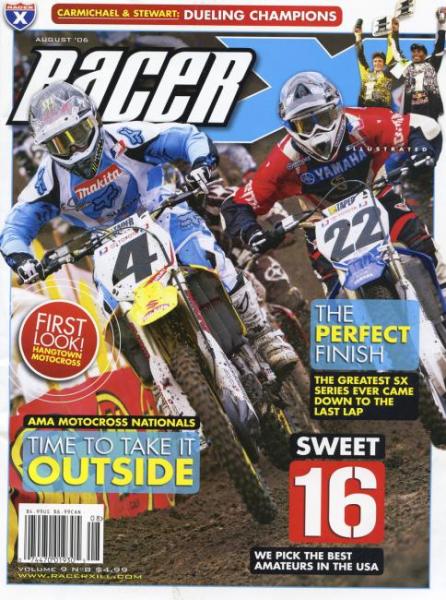 RC, Reed and Stewart engaged in a heated title battle in 2006.
2006:
(Jason Thomas)
This was the last supercross championship for the "GOAT" Ricky Carmichael. It was a series of controversy, crashes and yes, a boating accident. James Stewart and Chad Reed were the other two players and the trio went back and forth all season long. Carmichael had a broken shock in St. Louis, had his points taken and then returned after a failed fuel inspection in San Diego and got creative in line selection in Dallas. In what I have coined as "Goat vs. Boat", Ricky almost threw away his season and possibly more with a massive crash that sent him careening into an unsuspecting wakeboard boat. James was extremely fast but had his share of big crashes at Daytona and St. Louis, opening the door for Reed. Reed capitalized on these mistakes, while also fighting through a shoulder separation while preparing for Daytona. After all of these mishaps, the three found themselves within five points of each other coming into Vegas. When the dust settled, Carmichael stood tallest with Reed and Stewart tied for second in the championship points.
2011: (Chase Stallo)
This year really was a clash of eras, with 2010 title fighters Ryan Dungey (now defending champion) and Ryan Villopoto (back from a gruesome leg injury) ready for a challenge from the former 1-2 punch of SX, James Stewart (back from a wrist injury) and Chad Reed (starting his own team after a dreadful season with Kawasaki). Trey Canard was the hot rookie following a spectacular foray in guest 450 rides the previous year.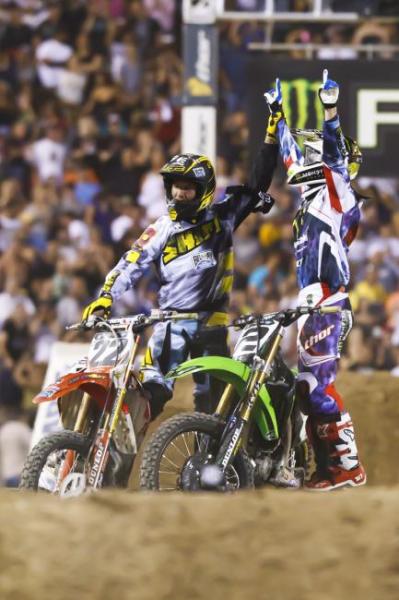 Reed also found himself locked in a title fight in 2011, only this time it was with RV.
Simon Cudby photo
Normally, the hype outstrips the racing, but 2011 pretty much delivered in reality. Villopoto snagged the opening-round win in Anaheim and soon he and Stewart began swapping blows, with the two winning the first five rounds. But round six in Houston proved to be a pivotal point in the series with Stewart crashing twice, leading to a backbreaking 15th. Canard broke through for his first career win, and started making himself a factor in the points. Stewart had his ups and downs throughout the year, including plenty of drama off the track, but he still tried to make a late run at the title with wins at round 14 and 15. But ultimately, he made too many mistakes to get a third 450SX title.
Many doubted if he could win as team owner, but Reed was determined to prove the critics wrong and did so in San Diego. It seemed as if he was building some momentum, but RV went on a three-race win streak to put a firm grip on the championship. That is until a week later in Jacksonville when he uncharacteristically missed the main—allowing Reed and the ever-consistent Dungey back into the title fold. Dungey would finally take his first win the following week in Toronto. Yet the title changer would come in Dallas. Reed held the points lead, but was undone when Stewart came barreling through the whoops, taking both to the ground. Villopoto got his mojo back, and would seal the deal with an all-time clutch win over Reed in Salt Lake City, making Reed's win the following week at the season finale in Las Vegas an afterthought. By the Vegas race, they were hanging banners saying "Greatest Season Ever" and with five legit contenders winning races and stealing points week in and week out, they have a case.