Seattle, WA
Seattle
Monster Energy AMA Supercross Championship
BTO Sports is your number one source for all of your motocross parts, gear, accessories and apparel. BTOSports.com is a motocross company who is truly dedicated to the sport and to the customer. Proud sponsor of your Racer X Podcasts and the BTO Sports race team.
Last year's Seattle supercross couldn't have gone any worse for Ryan Villopoto. The hometown hero blew out his knee in the first lap of last year's main event, but luckily for him, he'd already clinched the title, thanks to his excellent racing in the previous rounds. It was a weird deal. This year, he did not have the title wrapped up, and after being beaten a week before by Ryan Dungey in his hometown, RV was looking for revenge. Would he get it?
Weather is always a topic in Seattle. The Pacific Northwest, as we all know, is a little dank (it's a word, I swear) and dreary this time of the year so with Seattle's open-air stadium, rain can pose a threat to the riders and teams. Since I have a small job prepping and delivering X-Brand goggles to some riders and teams, I was constantly refreshing the weather app on my phone. At one point, after being refreshed so many times, I swear my phone just popped up with a, "Really guy?"
After rain came down for two days before the race, the first practice was canceled, and the other two practices were cut short—just ten-minute sessions. I think this was a smart decision. Some rain did fall during the second set, which made that group of practices pretty much moot. Hopefully you got your bike setup nailed right away and were able to put in fast times right from the start before the track went away. It wasn't the easiest thing to do for the guys I spoke to but they had no choice. It's the joys of racing supercross in Seattle.
But, it's not as gnarly as it once was. Back in the day, the Seattle race was held in the (late, great,) Seattle Kingdome (Ty Birdwell/Steve Matthes- 1997 Seattle main event participants!). To me, the ruts there were worse there than they've ever been in the new open-air stadium. I can remember top guys not jumping triples for main events because of the ruts. I'm not sure that ever happens now! Of course, now they race four-strokes, which make everything easier, but the Kingdome, man, it had some serious ruts!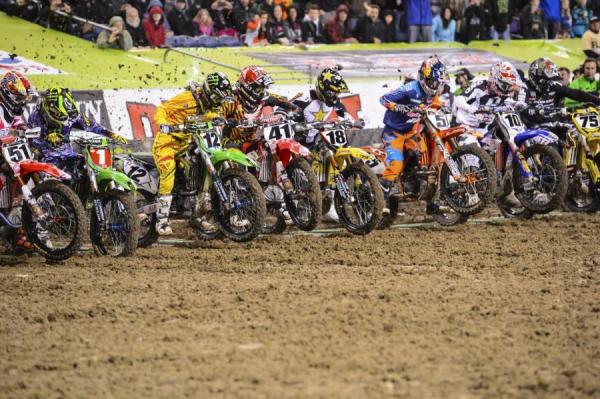 The weather in Seattle played a big role throughout the night.
Simon Cudby photo
After a few weeks of pretty good tracks, I thought that there were some curious choices made in Seattle. There are a few things that are known about Seattle and those are:
1. There's a good chance it's going to rain and the track is going to be sloppy.
2. No matter what, the dirt will be soft and rutty even if the weather is perfect.
With that in mind, I'm curious as to why the designers took a football field-shaped stadium and instead of making long straight lanes that run the length of the stadium like they usually do, they decided to go diagonal a bunch and make shorter lanes. What this did was make the track pretty one-lined in spots because the guys could never build up speed. It was simply point and shoot to the insides of the next corner, then repeat. I think had this been St Louis or somewhere like that, maybe it would've worked. But with the soft and chewy dirt and the constant threat of rain, I thought a better layout would have provided some better racing. I wasn't alone in this thinking either, as a few riders mentioned the same thing.
Lately there's been some stressing in the Justin Barcia camp (mom Lorraine and trainer Jeff Stanton). They (and Justin, himself) felt he just wasn't doing well enough. The whole attitude around Barcia is that he should be winning or challenging for wins, and fourth-place finishes aren't cutting it. But to me (and others like that Jason Weigandt fellow) he's been fine. He's got a win and when he starts up front, he can, for the most part, stay up there. It's his first year in the class and he'll just get better from there. Only a short list of riders really had success in their first 450 SX season (Ricky Carmichael struggled badly in his first season, and it took Villopoto all the way until the very tail end of the year to get a win). Most guys spend their rookie years learning the ropes (and sometimes don't even win a race, while Justin already has) before growing into title contenders.
I see nothing wrong with Barcia's season, but I suppose it's good to put pressure on someone to be the best they can be and drill it into them that nothing short of excellence is to be expected. I do know this: Jeff Stanton doesn't need the money that Barcia pays him and he's not one to suffer fools. If you're not doing the work, he'll wave bye-bye and head back to Michigan. So the fact that he's still there with Justin, still helping him out, on and off the track, tells me that Barcia's been grinding away at this stuff trying to make it work.
And in Seattle, Barcia grabbed the holeshot (I'm no Donnie Hansen but that's a huge help) and led all twenty laps. It was a great ride by the kid who used to race with a stuffed frog on his chest protector.  Barcia and the always-present Villopoto played a game of yo-yo out there. RV would gain some ground, and then lose some and by around the halfway point, the gap was about the same. Barcia was the man on this night, and he held on to win. Two wins, fourth in the points and a constant podium threat, it adds up to a nice rookie year.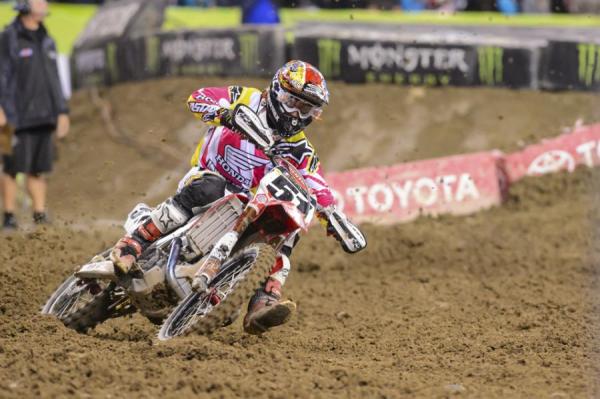 Justin Barcia was confident out front, riding to his second win in 2013.
Cudby photo
And Villopoto, once again, didn't win in front of his home crowd. It's remarkable really that in RV's great career, he's only won two times in front of the home crowd. He has one 250 SX and one 450 SX win in Seattle, and even that 450 win was back in 2009. He's never won the Washougal National on a 250 or 450. Weird, right? No matter though, he rode well to get second (it was truly incredible that he didn't go down in the first turn. Did you see the clip on TV?). After the race, he admitted  (while giving Justin all the credit) that he could see he wasn't going to catch the #51 so he hung back and took the runner-up spot. Even so, he still put two points on Davi Millsaps in the title hunt, and four on Ryan Dungey. If he wins this weekend in Salt Lake City, it's over; he's a three-time SX Champ. And if that doesn't happen, unless a total disaster strikes in SLC, he'll for sure win it in Vegas the following week.
Too bad Ryan Dungey fell in the first turn. He was coming off a great win last week where he hunted down and passed Villopoto. I was looking forward to seeing him keep the pressure on this weekend, but with the crash, he had to work through the pack to get a fourth. It was a great ride but in the end, I'm sure he's not happy. Supercross is a game of inches and RV almost landed on the ground in turn one, but miraculously didn't, while Dungey did in a separate crash. Switch the order and we may have a much more exciting final two races.
Time for the 250s. Da German Ken Roczen had a couple of things happen to him that were in and out of his control. His riding was in control, he rode great to get into second. He was probably happy to only lose three points to Eli Tomac. After all, a 14-point lead with two races left would have been pretty sweet. But, out his control, Tomac bailed and allowed Kenny to cruise by for the win. If you think a 14-point lead is sweet, well you should try 20! That's what Roczen now has with two races left.
Let's take a look at the results shall we?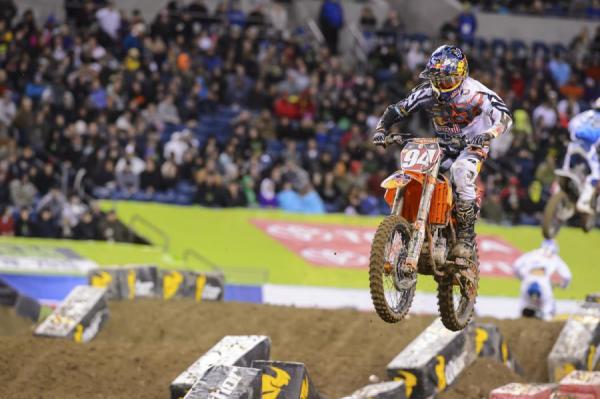 Ken Roczen took one step closer to his first title in America with a win on Saturday.
Cudby photo
250SX Results
1. Ken Roczen Murrieta, CA KTM 250 SX-F
2. Eli Tomac Cortez, CO Honda CRF 250- One thing I love about Eli is that he basically threw away the race, and maybe the championship, with his late-race endo. But there he was on the podium sort of smiling and trying to put a positive spin on this disaster. I don't know, he just seems to be a good guy up there and says and acts the right way no matter what. I like that. Then again, he's going to be pretty rich whenever he makes up his mind between GEICO Honda, Monster Kawi and RCH Suzuki for next year. I'd be in a good mood also.
3. Zach Osborne Lake Elsinore, CA Honda CRF 250- Zachypoo Nation can rest easy, he is good on the GEICO Honda and isn't feeling the pressure of trying to be as good as he was last year. And he doesn't need a carb and an oil tank to do well either. Osborne was fast all day long and deserves this finish.
4. Cole Seely Murrieta, CA Honda CRF 250- Seely was FAST. He was outside the top ten off the start as he wheelied out of the gate but then he put the hammer down and was the fastest guy for the last half of the race. Cole did six laps in a row in the 57's and there wasn't anyone, including the leaders, within a second of him. He was all over Osborne at the end for the last spot and his "help" pushed Zach's times back to the 58's as he picked it up to hold off Seely. It was a great ride for the 43.
5. Tyla Rattray Wildomar, CA Kawasaki KX 250F- The best race of the season for Rattray. Is it a coincidence that it came after he had some time off and on a track that was very outdoor-ish? Uh, no.
6. Austin Politelli Menifee, CA Honda CRF 250- Great ride for the privateer. He really had to dig out of a big hole in the heat race when he crashed in the first turn. This kid is legit and I hope some teams are paying attention.
7. Ryan Sipes Ekron, KY Suzuki RM-Z250- On the East Coast it seemed that every week Sipes was going to race a 450 but due to injury, it never happened.
8. Joey Savatgy Thomasville, GA KTM 250 SX-F- Savatgy was the "it" guy before we took a break and truthfully I was just happy to see the J-Star JDR KTM rig there, as they've already announced that they're done after supercross. Anyway, Joey was again pretty good in Seattle and it looks like he's going to keep going for the Nationals, courtesy of an FMF deal.
9. Martin Davalos Cairo, GA Kawasaki KX 250F- Stop me if you've heard this before: Davalos was going fast, won his heat and then didn't pull through in the main. I know, crazy stuff huh? In the positive Davalos news department, I do hear that he's going very fast in the outdoor testing sessions.
10. Jason Anderson Edgewood, NM Suzuki RM-Z250- Anderson looked great in practice, qualified fifth fastest and then…I'm not sure. Decent start and a crash will do this to you. I'm also guessing that growing up in New Mexico didn't offer him much of a chance to ride rutty, wet, sloppy and slick tracks.
11. Malcolm Stewart Haines City, FL KTM 250 SX-F- Mookie Fever was looking good early on as he looked to be one of the only guys who was aggressive out there. Sadly, he couldn't keep it up and he crashed off the side of the track and into a puddle.
12. Christian Craig Wildomar, CA Honda CRF 250- This race is definitely not going to make Craig's highlight reel, as he finished here from a second-place start. Months ago, while the west was going, his girlfriend was buying Weege and I hot dogs in the press box hoping that would give Christian good luck. His luck wasn't good, so she stopped doing it. In Seattle, she went back to the hot dog buying, but it didn't work. The hot dog was delicious however.
13. Killian Rusk Aztec, NM Honda CRF 250
14. Jake Canada Sun City, CA Honda CRF 250- Canada was fast but he had to pull in to get a rock out of his footpeg while running in sixth or seventh. Jake's year has been either really good or really bad—no in between—and an eight-week break wasn't going to change that.
15. Travis Baker Romoland, CA Yamaha YZ250F- I'm not sure what happened but Baker qualified well but then came around way at the back in the first lap of the main event. From there it was a battle to work his way up.
16. Scott Champion Orange, CA Honda CRF 250
17. Travis Bright Ojai, CA Honda CRF 250 /58
18. Kyle Cunningham Aledo, TX Yamaha YZ250F- Stop me if you heard this one before: Cunningham qualified fast and he was going fast in the main before crashing out.
19. Bryce Stewart Canyon Lake, CA Yamaha YZ250F
20. Trevor Ivey Pasco, WA Honda CRF 250 19- Nice story here with local rider Ivey making his first ever main and his dad getting the MMI Top Tech award.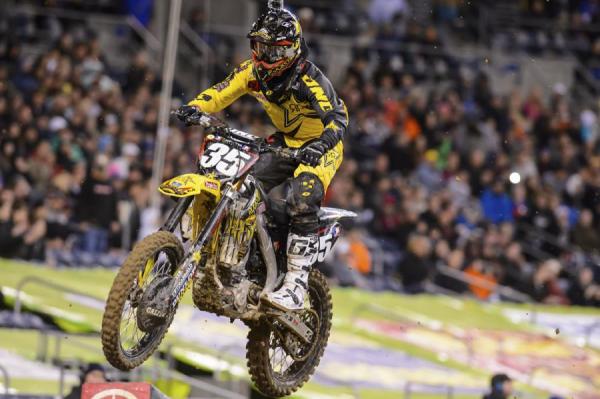 Ryan Sipes finished seventh in his return from a wrist injury.
Cudby photo
450SX Results
1. Justin Barcia Pinetta, FL Honda CRF 450- I heard from sources in the post-race area that Barcia's chain guide on his Honda was bent really badly from the ruts or a rock. Like so badly, it was amazing his chain didn't derail at some point. Ahh, the fine line between victory and disaster in racing.
2. Ryan Villopoto Seattle, WA Kawasaki KX 450F
3. David Millsaps Murrieta, CA Suzuki RM-Z450- After the race I was hanging out with the JGR crew when Davi come over. After he took a Jimmy John's sub from his old team, he proceeded to tell me that he hadn't tested for the outdoors yet. I know he's got a small knee problem he's dealing with but I do find it weird that he hasn't started a bit of testing yet.
4. Ryan Dungey Belle Plaine, MN KTM 450 SX-F
5. Jake Weimer Rupert, ID Kawasaki KX 450F- Weimer rode great all day and was fast in practice as well. I don't think of Jake Weimer as a mud/rut specialist so maybe it wasn't just the track that helped him. Perhaps this is an indicator that he's back out of his slump.
6. Mike Alessi Hilliard, FL Suzuki RM-Z450- Mikey didn't appreciate the fact that I wrote that he should have just ridden back to the truck after grabbing the holeshot last week. Hey, sometimes I have to put it out there and I don't blame him for not liking it. Anyway, this week, the 800 rode a great race to a sixth in his team's hometown race. The ruts and the crappy conditions didn't seem to bother him as much out there and late in the race, he saw a green bike and a blue flag indicating that he was being lapped so he pulled over. The problem was it wasn't RV, it was sixth place Jake Weimer! Sucks for Mike but at least he can take solace in that the blue flag wavers make that mistake every single week as our own Jason Thomas could probably write a book about.
7. Broc Tickle Holly, MI Suzuki RM-Z450- Tickle, a former 250SX winner in Seattle as well as a guy I predicted would finish third in a pre-race podcast, had a nice race. He came from around fifteenth or so to seventh and ripped through a bunch of good dudes. He came up on Short and we were all watching to see if there would be any more fireworks but there weren't. A simple clean pass by Tickle on Short ruined our night.
8. Justin Brayton Cornelius, NC Yamaha YZ450F
9. Andrew Short Smithville, TX KTM 450 SX-F- Short had to ride the LCQ to get into the main and somehow pulled out a good start from the outside. From there he worked up to seventh before ending up ninth. The Weimer/Brayton/Short/Tickle battle was something fierce!
10. Phillip Nicoletti Bethel, NY Yamaha YZ450F- Okay, what if I told you at the start of the year that Filthy Phil Nicoletti was switching from a Honda 250F to a Yamaha YZF450 and was going to be a complete rookie in a stacked 450 class but by the end of the series he would be beating veteran N-Fab/TiLUBE Yamaha teammate Chris Blose and be only a few points behind Bobby Kiniry? You'd say I was crazy right? What if I told you that out of he, Blose and Kiniry, he would have the best finish? Would you call the cops on me? By the way, Phil made the pass into the last qualifying spot on the very last lap of the heat. Whew!
11. Vince Friese Cape Girardeau, MO Honda CRF 450- Nice ride from Vince, who is probably looking at this result, his so-so 250SX east series, the difference in purse money from 250s to 450s and wondering if he made the right choice in going to 250SX.
12. Joshua Hill Yoncalla, OR Suzuki RM-Z450- You would look at this finish and think "meh" but Hill came from dead last and on the ground in the first turn to this ride. He had the ninth-best lap time in the main as well.
13. Ben LaMay Wasilla, AK Yamaha YZ450F- Lamay quietly qualified eleventh this weekend, eighth last weekend and twelfth the weekend before. The guy can ride. His racing has gotten better too, as evidenced by this season-best result. He's been sneaky fast lately.
14.  Chris Blose Phoenix, AZ Yamaha YZ450F
15. Cody Gilmore Blair, NE Kawasaki KX 450F- Yeah! Gilmore, who, in a world where the word privateer is weird and wacky, is as privateer as privateer gets. He made his second career main with a nice ride in his heat.  Great ride for "Happy."
16. Weston Peick Wildomar, CA Suzuki RM-Z450- Peick's bike quit on him. I think. Whatever it was, he didn't believe in it happening. Peick is fourteenth in the points and for sure, he's the first guy in the points with the least support.
17. Kyle Partridge Lake Elsinore, CA Honda CRF 450- Kyle's been on a make-the-main/miss-the-next-one/make-the-main program for a few weeks and I'm sure it's frustrating for him to not be in there every week.
18. Trey Canard Shawnee, OK Honda CRF 450- Canard had a rough night. He was up to fourth at one point and looking good before some stalls, some throwing off the goggles, a head slap and a subsequent pull-off. There was nothing good about Trey Canard's Seattle.
19. Michael Horban Grants Pass, OR KTM 450 SX-F- Horban, another full privateer, is probably best known for getting a fill-in ride at H&H last year for one race. He made his first 450SX main event ever and it was nice to see. I'm sure three-quarters of the stadium were wondering who in the hell Gilmore and Horban were as they rode great in the heat to make it in.
20. Chad Reed Dade City, FL Honda CRF 450- Reed went down in the first turn and got a stinger in his elbow. He walked off and really hurt his chances for being the Honda rider in the points, especially since Barcia won the thing.
A few other news and notes from the race:
-Hey, look who's back! Kyle Regal, straight from the pipelines of Texas, showed up on a Valli Motorsports Yamaha 450F and although he didn't make the main event, he looked pretty good and only missed it by one spot. Never a supercross specialist, Regal is hoping to go outdoors with Valli but that's up in the air as of right now.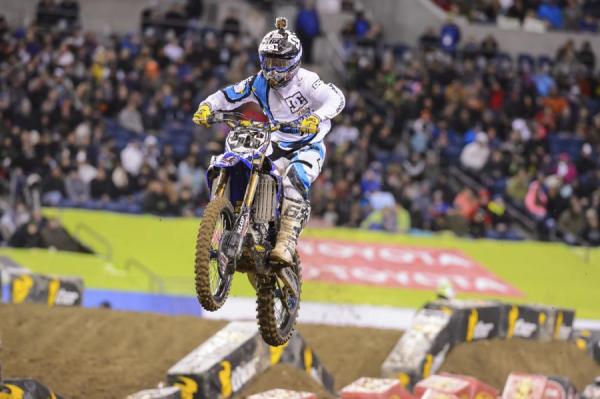 Kyle Regal was back for the first time in 2013 in Seattle.
Cudby photo
-With the sloppy track, the fans in Seattle missed out on a couple of things. One of them was the Kevin Windham transfer (which is a bummer), and the other was the Toyota Trucks Tuff Block Challenge, where two fans race to fill the back of a Tundra with Tuff Blocks. That was not a bad thing to miss out on. Toyota still had to get their commercial in though, so in a curious decision, JGR Yamaha's Jeremy Albrecht (whose primary sponsor is Toyota) was hauled down for an interview on the virtues of owning a Tundra. For a little bit there, I was waiting for J-Bone to tell me to come on down, and that he wants to see me in a Tundra.
- Oh Canada! Despite many of the top Canadian MX'ers saying that it's really, really hard to enter a supercross, somehow Canadian racer Brock Hoyer figured it all out and showed up in Seattle. He is the British Colombia Provincial Arenacross champion so he's got some indoor skills. In talking to him beforehand, he didn't really have any supercross practice to speak of coming into the race, but he handled himself pretty well in qualifying twenty-eighth out of fifty-three guys. From there he didn't make the main event, but it's still good to see Team Maple Leaf out there giving it his all.
-So you want to be a supercross racer? Well I sure wouldn't have wanted to be a dude like Hoyer this weekend. With the rains and the condensed schedule there were only two ten-minute practices. That's pretty much a get-out-there-and-ride-your-balls-off right away situation. Hope you get the track down quick enough! Tough deal for sure.
-Hey, where was Derek Anderson? TLD Honda's Jessy Nelson hurt his elbow and won't be back until Hangtown but Anderson? I have no idea.
- Bobby Kiniry didn't make the main. It's always a surprise when "Meathead" doesn't make it in. Kiniry's a good rider and tough as nails, and he just didn't ride that well in Seattle. Bobby's been a friend of mine for years, and in between practice sessions he was telling me the issues he's been having with his bike, his life and a few other things. It just struck me how hard it's got to be for a guy to calm down and focus on putting laps together when there are so many other things to worry about. It's just normal "life" stuff, but come gate-drop time, a guy has to put it all in the back of his mind and, not to be overly dramatic, risk his life out there. Just something for all of us to remember and tuck away in the backs of our minds when you think about what life must be like for a professional rider.
Thanks for reading. Email me at matthes@racerxonline.com if you want to chat about Seattle or really, anything else for that matter.