Racer X caught up with Jimmy Decotis after the second Grand Prix of his career in Bulgaria last Sunday. It's been a struggle for Jimmy D so far, as he goes in search of his first FIM World Championship points as part of the CLS Monster Energy Kawasaki Pro Circuit team.
Two GPs down, twelve to go…how do you feel right now?
Jimmy Decotis: A bit overwhelmed. I jumped into this and thought I would fare a lot better against these guys but at the same time the level is high here and these guys have all been training hard for this. I'm in the deep end and it is hard but I am also doing days during the week where I am knocking out motos and I know I would be right there with them. At the races I am not myself and not performing. I'm getting paid to do a job and I'm not doing it right now. I'm not putting that bike where it should be, it doesn't belong in twentieth or twenty-fifth place and it is not where I belong. It is not the bike and it is not that I'm uncomfortable with it or that I've just switched from a Honda to a Kawi. My suspension works well, my motor is unbelievable…it is just 100 percent on me as a rider to get it done. So it is a little frustrating but I know how the sport works and just one lap, one race can change everything so I have to keep on pushing forward and try to do the best I can.
It has only been two weeks since you touched down in Europe. These last two GPs have been back-to-back so you must still feel like a stranger here.
A little bit, but not really. Once you are at the race then you are at the race. I've got a couple of friends here and my friend Allan came over also. Everyone on the team is taking really good care of me. If I need to ride or need to get a trainer or even with things like food then there is always help. I'm finally sleeping through the nights now and I'm on a good schedule. I'm putting in the work during the week and my bike is awesome. These results are just about me. If I was in the U.S. right now and riding like this then I would still be in twentieth place.

Decotis has yet to score a championship point in two GP appearances.
Monster Energy photo
For the first minute of that first moto it was a case of "game on" as you almost got that holeshot but it didn't work out. Sevlievo was flat and fast. How did you find it?
It was tough and it took me back to Steel City with all those long ruts down the straight and into those turns. It is not my thing and hasn't been so far in my career but, no excuses, I struggled and I need to learn to ride them or I won't be up front. I need to adapt and make some changes whether it is with my training or my riding or whatever. I need to make that change now and I'm thankful that I finally have a weekend off before Portugal where I can put in some good riding and workouts without worrying about pushing too much too soon. I can't be playing games any more.
Can you describe what it is like being on the line and not knowing 90 percent of the gate next to you?
I have guys passing me that I don't even know who they are and they just blow right by me. I thought I was good at scrubbing but these guys…people said to me "Europeans can't even hit jumps they just go into turns fast" but I had four of them scrubbing a jump underneath me in one moto and making me look stupid! I was like "Whoah"! It is frustrating sometimes but I know how quick these guys are and how hard they work so it is not like I'm taking anything away from them by saying I know I should be doing better but the truth is that I should! The time is now for me. It is not like I can say, "I'm a privateer I need the bike" because I have that, the team and the program. Lupino [Italian teammate Alessandro] is on the same bike and just put it on the podium so I know what it is capable of.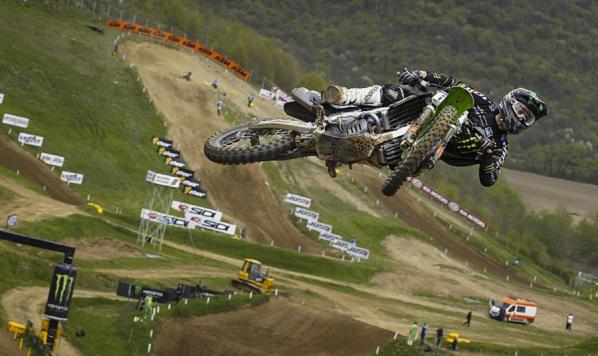 The GPs are on a week break before returning in Portugal May 5.
CLS Kawasaki photo
What changes do you think you need to make then?
I think I need to be more confident on raceday and initiate the first three laps better. Once I get into a groove then I feel good but at the beginning of the motos it feels like guys are just zapping me and I'm all over the place. I'm also struggling with the way they water the tracks. That first practice this morning I went out and I thought it had rained! I'm just getting used to stuff like using the mousses in the tyres, I don't run that stuff at home. The bike is so good though. I just need to make a "snap" in my head and try to ride like I know how. I know I can be at least top ten and top five eventually.
Lastly I know 98 percent of the reason you are here is because of this bike and this opportunity but have you looked at the calendar and seen places like Portugal and Brazil and thought about that sense of adventure? Of racing a dirt bike around all these countries?
Yeah! It is a experience for me whether I do good or bad, going around the world on this team but at the same time –- no matter how cool that is -– this is my chance and I have to get it done. If I don't do that then people will say I had all the tools but couldn't cut it. I need to make some changes and do more 35 minutes plus 2 motos, train a bit harder and get back into the intensity of racing. I have been so out-of-it so far. At this point I am rock bottom and it has to get better from here.