Metrodome
Minneapolis

,

MN
Minneapolis
Monster Energy AMA Supercross Championship
Red Bull KTM's Musquin Musquin now has four wins in the 250 East Region, but this latest triumph in Minneapolis was probably his best yet. He dominated the event, and now sits five points behind Wil Hahn heading into Vegas finale in two weeks. Can the friendly Frenchman pull it off?
Racer X: That was better than last weekend.
Marvin Musquin: Last weekend just small mistakes. Lost a couple points. I know I'm fast, my condition is good, so I know I can win. I proved once again today that…. I feel the best right now in the class. It was a great night, great practice, great heat race, and great main event. Especially with Ryan [Dungey] too, he won the race, so that's awesome.
Going into the last race now it's five points. Would you rather be in the position you're at or would you rather be in the lead?
I think for Wil Hahn it's pretty tough. I can see him riding, he's kind of a stressed a little bit I think. For sure it's normal. For him I think it's the first time leading a championship in pro. I understand him if he's nervous. I think I'm in a good position but it's only one race left right now. It's only five points. There are not so many riders who can be between me and him, so it's going to be tough. But like I say all the time, I just want to try to win the main events and we'll see what's going to happen. But I think he did good. Wil Hahn did good tonight because he ended up second and he didn't get a good heat race, so he did a good job. He did the best he could do, I think.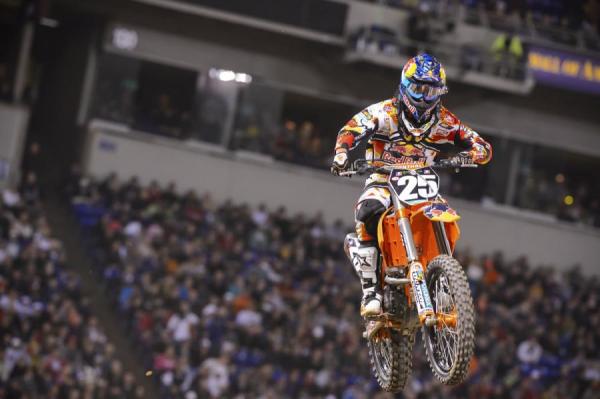 Musquin captured his fourth win of 2013 in Minneapolis.
Simon Cudby photo
It looked like you didn't want to take any chances tonight though and just pull away as fast as you could.
The first lap I really tried to push and then I got a really good gap, and then I controlled the race. I was looking at Wil Hahn every lap. It was fun. It's good when it happens like this, you can control the race. I was not tired at the end of the moto because I was controlling the race and I felt really good.
How cool is it to have both you and Ryan winning tonight? It has to make it really fun for the team.
Oh yeah, for sure. It's a great feeling. I don't think a lot of teams can do that. To win both classes, it's crazy. It's a great feeling for the whole team. I hoped for the win for the team but also for the fans because Ryan is from Minnesota, so that was his home race. That's great for him, for the fans, for everyone.
You're behind the gate just watching the 450 race. Are you a fan at that point?
Yeah, I've been a fan since I was really little, watching races. I'm still a fan of those guys. They are the best in the world. It's really nice to watch. Especially that one. it was amazing. I was behind Ryan the whole race. Behind him and supporting him and everyone. It's cool.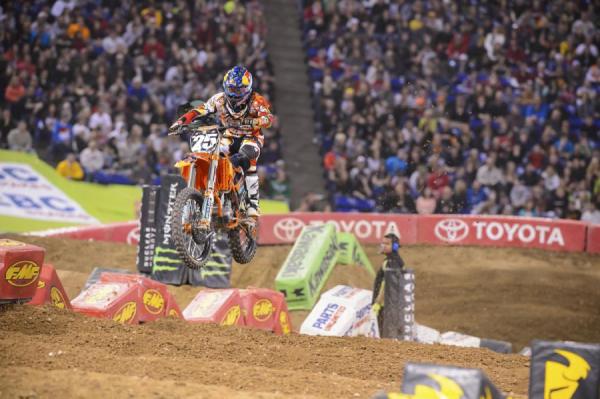 Musquin trails Wil Hahn by five points with just one race left.
Cudby photo
Are you riding better than the beginning of the year? You had a first-turn crash at the first race, was it just bad circumstances or do you feel you're riding better?
I felt good before the season. Sure, I think I'm riding better and smoother and I control more of what I do. Since Daytona I've been on top and it's good and it makes me feel better and more confident. It's going good.
What I'm getting at is, that win at Daytona, how big was that? Do you think you would have won this many races? Did you need that breakthrough to get going?
For sure. Before the season the goal was to win the main events, but yeah, four is pretty good! I'm really happy right now. So right now I'm kind of like, I should have done better the first few rounds, but that's the way it is and that's the sport. So, a little mistake last week. If I had the win last week it would be only maybe one point or something. But, "if, if…" you can say that all the time, we can't change anything. Like I said, I'll try to win Vegas and we'll see what's going to happen for Wil Hahn.