Metrodome
Minneapolis

,

MN
Minneapolis
Monster Energy AMA Supercross Championship
450SX
Jimmy Albertson – Broken Wrist
Comment: Albertson crashed on the start of the LCQ in Toronto and is out for the remainder of supercross.
Michael Byrne - Lateral Tibial Plateau Fracture
Comment: Byrne injured himself at Unadilla. Byrne is back on the bike and will be racing the Nationals.
Kyle Chisholm – Injured Ankles, Leg and Knee
Comment: Chisholm broke a bone above his ankle in his left leg and injured his knee after a midair collision with Matt Goerke in St. Louis. Chisholm underwent surgery for his injuries and will miss the remainder of the season.
Josh Grant - Fractured Tibia and Injured Shoulder
Comment: Grant sustained ankle and shoulder injuries at A3. Grant's shoulder was later found to have a rare condition that requires surgery. Grant will miss the rest of supercross.
Matt Lemoine – Torn ACL
Comment: Lemoine tore his ACL in practice in Dallas and underwent surgery and won't be back until after the Nationals.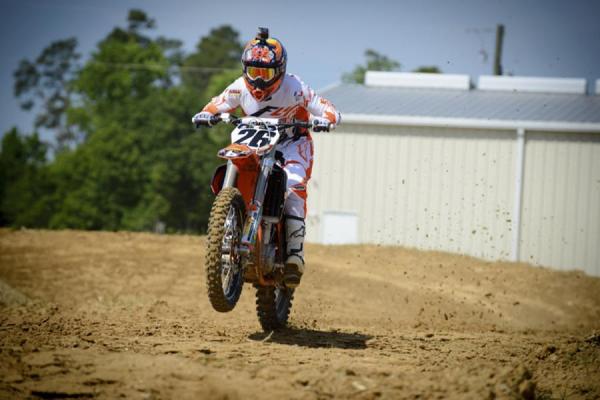 Byrne is back on the bike!
James Lissimore photo
Chad Reed – Knee Injury
Comment: Reed underwent surgery to correct a problem stemming from a knee injury suffered in supercross last year. Reed will be in Minneapolis, but whether or not he'll race will be a game time decision.
Justin Sipes - Torn ACL, MCL, PCL, and Meniscus
Comment: Sipes went down during his heat race in Houston and will have to undergo surgery soon. "Just got out of the doctors office. I have a torn ACL, MCL, PCL, and meniscus. The good news is i still have an LCL. So I guess the plan is to have surgery as soon as possible so I can start riding as soon as possible! Thanks again for everyone checkin up on me and prayin for me."
Tevin Tapia – Chipped Ankle Bone and Injured Knee
Comment: Tapia injured himself in Atlanta. He has resumed riding and should be ready for the Nationals.
Nick Wey - Three Fractured Vertebrae, Dislocated Hip and Broken Ribs
Comment: Wey had a terrible crash at Spring Creek that sent his bike tumbling into the creek and him to the hospital. Wey's fractured vertebrae have been fused, he is back riding and is planning on getting back behind the gate for the Nationals.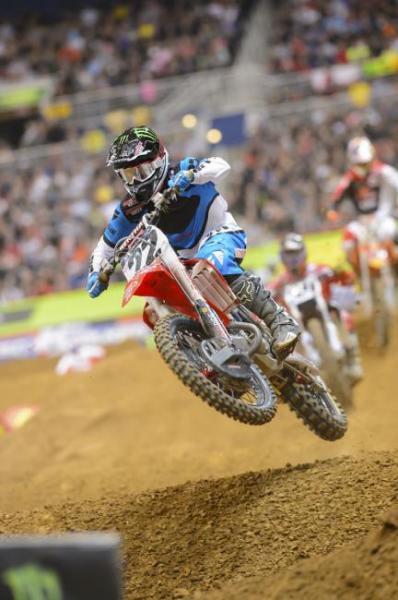 Chad Reed's status for this weekend is still in doubt.
Simon Cudby photo
250SX
Gannon Audette – Fractured Pelvis and Clavicle
Comment: Audette sustained a fractured pelvis and clavicle in Dallas. Audette resumed riding this week. Right now there is no timetable for his return to racing.
Blake Baggett - Broken Hand and Wrist
Comment: Baggett injured his hand in a first-turn pileup at A1. Baggett has undergone surgery and will not be returning before the end of supercross. His team says he'll be ready for the opening round of the Nationals.
Zach Bell – Shoulder Injury
Comment: Bell hurt his shoulder during practice in Toronto and will sit out the rest of supercross.
Justin Bogle - Broken Right Scaphoid and Dislocated Left Wrist
Comment: Bogle is shooting to be ready for the beginning of Lucas Oil Motocross in May.
Darryn Durham - Torn Achilles Tendon and Shoulder Problems
Comment: Durham has resumed riding, and his team says he'll be ready for the Nationals.
Zack Freeberg – Cracked Tibia
Comment: Freeberg injured himself when he went down in the main event in Houston and will likely miss the rest of supercross.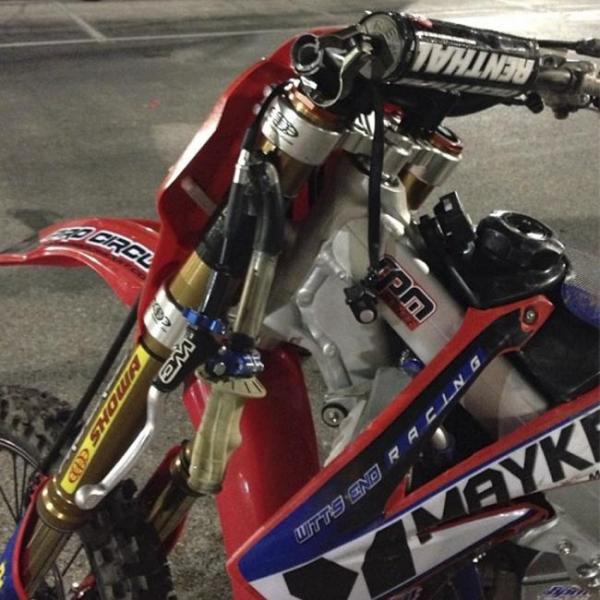 Check out Zack Freeberg's bike after his crash in Houston.
Zack Freeberg Instagram photo
Jacob Hayes - Broken Collarbone
Comment: A broken collarbone kept the SX rookie out of the first two Eastern Regional 250SX rounds, and then he rebroke it in a crash in St. Louis. The break is too close to the end of the bone for surgery and a plate to work, so Hayes is out until the Nationals.
Justin Hill – Fractured Radius
Comment: Hill sustained a fractured radius (forearm bone) when Gavin Faith landed on him in Toronto. Hill is week-to-week at the moment, but he won't be racing in Minneapolis.
Casey Hinson - Torn Hand Ligament
Comment: Hinson sustained a deep gash in his hand, and underwent surgery. Hinson hopes to be back on the gate in Seattle.
Nico Izzi - Torn ACL
Comment: Izzi had surgery for a torn ACL in October. Izzi is back on the bike and plans to line up at Hangtown.
Alex Martin - Broken Wrist
Comment: Martin broke his wrist while training at ClubMX in December. He underwent surgery to remove the pins in his left wrist and is planning on being ready for the Nationals.
Jeremy Martin – Fractured Wrist
Comment: Martin sat Houston out after going down hard in practice on his wrist. Initially the wrist checked out okay, but Martin crashed again a few days later while practicing and finished it off. He is expected to be back for the start of the Lucas Oil Motocross Championship.
Kyle Peters – Strained Shoulder, Injured Hip and Pulled Muscles
Comment: Peters crashed during the Easter break while practicing on his 450. He hopes to be back within two to three weeks.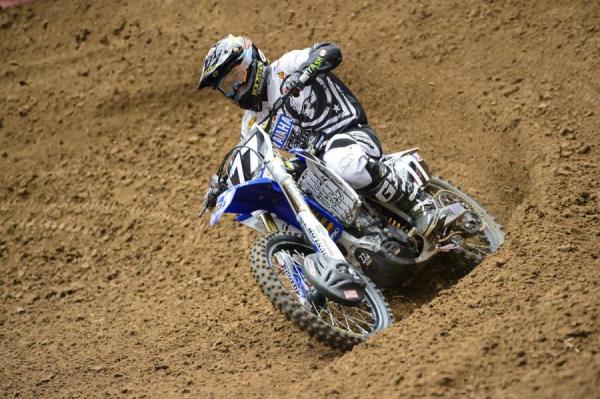 Jeremy Martin is out for the rest of supercross with a broken wrist.
Simon Cudby photo
Ryan Sipes - Fractured Wrist
Comment: Sipes sustained a hairline fracture in his wrist at A2 during the main. He has resumed riding and was hoping to be able to race a 450 by Houston, but it didn't work out. Sipes will be back racing in Seattle.
Gareth Swanepoel – Broken Wrist
Comment: Swanepoel broke his wrist in practice in Daytona. The cast was removed last week and Swanepoel hopes to start riding again shortly.
Dean Wilson – Broken Ribs and Collapsed Lung
Comment: Wilson injured himself in a hard crash in his heat race in Indianapolis. He will miss the rest of supercross, but his team says he'll be ready for the opening round of Lucas Oil Motocross.
Media
Steve Cox – Broken Femur and Gashed Abdomen
Comment: Cox crashed in a rhythm section at Milestone MX. He had surgery on his femur and is cleared to get back behind the camera as soon as he can stand the pain of standing.
Steve Giberson (GuyB) – Fractured Orbit, Black Eye and Chipped Tooth
Comment: After getting punched at the RC car track, GuyB had to get ten stitches. From GuyB, "I got punched by an irate RC car racer. Fighting is stupid. Fighting over RC car racing is really stupid."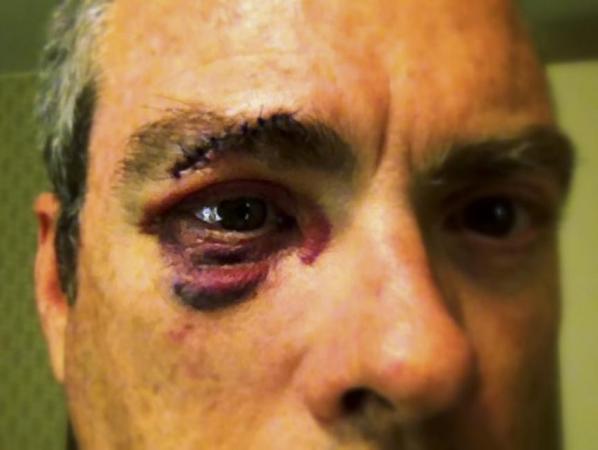 Get well soon, GuyB.
GuyB photo