Reliant Stadium
Houston

,

TX
Houston
Monster Energy AMA Supercross Championship
Honda Muscle Milk's Trey Canard started the series in spectacular fashion—coming within a lap of winning the Monster Energy Supercross opener in Anaheim, and a lap from taking over the points lead a week later in Phoenix. But the last two months haven't been the same, as Trey wasn't able to get back to the podium. A big crash in Indianapolis left him with a concussion, so he skipped the Toronto round.
He seems to have returned a new man at Houston, finishing third. But what's changed? Trey was playing it unusually close to the vest after the race, explaining only that a lot has changed, but only letting on to one of those changes. Clearly, though, he's moving in the right direction.
Racer X: Is it weird that this is your best race in a while after missing one? You essentially had two weekends without a race, and came back better. Is there something to that?
Trey Canard: There's a lot to it, for sure. I'm grateful for tonight. It's something that I think was really needed for me. I'm just grateful for it. I have a lot of peace about it and hopefully can kind of continue to progress.
You were getting podiums for a while, then you weren't getting them, and now you're back on. Can you even put a finger on the difference between those races this year?
Yeah, for sure I can. There's a lot of things to it, but yeah.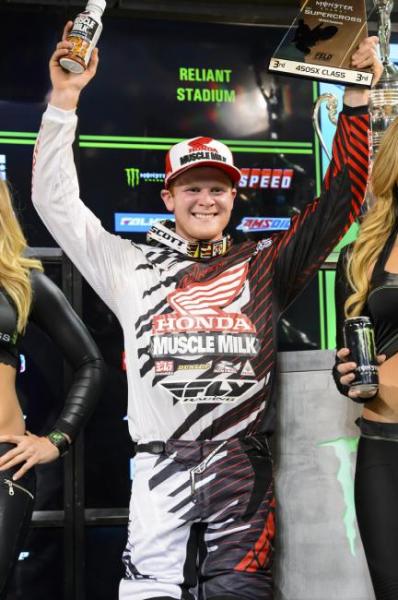 Trey Canard returned to the podium for the first time since A2 in Houston.
Simon Cudby photo
Are you happy to have answers?
Yeah, it's always a journey. You never quite get there. So I'm just going to keep on moving the feet and try to go where I'm led.
But you're not going to identify any of the things that you could put your finger on that have changed? Can you give me one?
There was a clutch part that really helped with the starts tonight.
Well, the starts were a big difference over the last few months. So, now that's fixed, and maybe other things, could you start doing this more consistently?
We'll see. I'll just continue to do my very best and that's all I can control. And I'll be content either way and try to just give up to the Lord Jesus Christ every time.
You've said at the beginning of the year you were not going to get super hard on yourself, you're being grateful for every moment. When you weren't getting on the podium, were you able to maintain that, or were you starting to get frustrated?
I got pretty disappointed but there's a lot to it. There's a lot to that disappointment. I don't feel that it was really based on results. There was a lot going on.
What happened after Indy? How much riding have you even done?
I rode four times since Indy. So not a lot, but enough to get a feel for the bike again.
Have you done outdoor stuff?
Yeah, that was actually two of the days that I rode, I rode outdoors. We tested at my house. That was actually the first two days I rode after my head injury. That went really well. I had a lot of fun.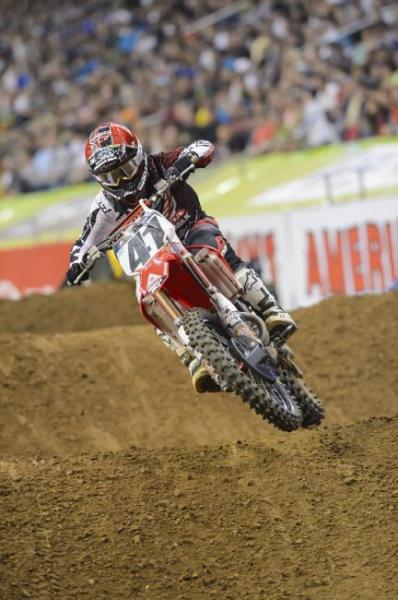 Canard is now sixth in points after his third place finish in Houston.
Simon Cudby photo
So, you had a fresh start after two weekends off. Is it kind of a nice time for you right now? A lot of new things happening?
Yeah, there's always this time of year, I guess;. But I haven't really made it this far yet in a 450 season- I would think that this time of the year there's kind of light at the end of the tunnel as far as the series and a nuance to kind of build up a little excitement.
Take me through the early laps here up front, battling dudes, Dungey and Stewart were there. How did that all go?
Like I said, I was pumped to see the good start, which was really good. I think I came away in 3rd or 4th. That was a huge thing. I kind of tried to stick onto [Ryan] Villopoto the best I could. I was trying to ride really hard, and I did ride really hard. I got a little winded for sure, but I felt like I pulled it together a little bit at the end and tried to… was kind of eye-racing the Ryans and was trying to stick onto them.
The track. The whoops seemed really tough at the beginning of the day. Were they still pretty bad by main event time?
Yeah, they got really hard and slick. Usually back East they kind of go forward and break through, but they stayed about the same size and got just really hardened.