Reliant Stadium
Houston

,

TX
Houston
Monster Energy AMA Supercross Championship
Momentum is finally starting to build for Dodge/Sycuan RCH Suzuki's Josh Hill. For the first time since 2010, he's finally able to ride and train and practice consistently, and he's been making the races and making the mains. The results are trending up, too, and he finally delivered a top-ten on Saturday night in Houston with an eighth. Could have been seventh, too, but he was passed in the very last turn by BTOSports.com KTM's Andrew Short. Still, for what Hill has gone through, eighth is good, and he thinks he has more.
For Hill, much of his story keeps revolving around where he's been and what he's gone through. We found him in the RCH rig after the race and, instead, we chatted about where he is, and where he's going. Forget the past—he's looking to the future.
Racer X: It did seem like you were just that much closer to the front or feeling better. That's the way you felt?
Josh Hill: Today was… all day just kind of was good. I've been riding really well at the practice tracks. All the test tracks, out at Ricky's, everywhere, I've been riding really well. I just haven't been putting it together on the weekends. I've been coming out and tucking my tail between my legs and not riding like I know how. I still don't think this weekend I rode to the best of my ability, or even close. But it was definitely a step in the right direction.
And that started right at the beginning of the day. You're not just talking about getting the best result of the year in the main, but even practice and stuff.
Yeah. I was ninth in the first practice, eighth in the second, third in the heat race, eighth in the main. Should have been seventh. [Andrew] Short got me in the very last corner. I wanted to kill him for like five seconds, but then I realized it is racing. But it was good. If the tables would have been turned I would have been really happy with myself for the pass that he made on me. So, I give him that.

Josh Hill picked up his first top ten since 2010 in Houston.
Simon Cudby photo
Did it help even just having better gate picks and all that, going into the main and stuff?
I'm not trying to disrespect anybody but when you're starting next to [Davi] Millsaps and [James] Stewart and the top players, it feels better than starting on the very outside, barely making it in the main. You go up to the line with the sense of "I belong here." When you barely make the cut, you're just all, "Well, 20 laps, starting from last. Let's get this going."
Just take me through that pass with Short, in the last turn. Did you even touch? He was squeezing in there.
He threw an elbow in on me, but it was a good pass. I rode too protective the last lap and just kind of didn't go fast enough. I didn't go fast enough on the last lap. I was too timid through the whoops. Made a mistake right before the mechanics area, gave him too much room. And I still thought I had it for sure. I thought he was going to try to swing to the outside and rail past me, so I protected the inside. Kind of went a little slow so I could jump out and kind of take the line away from him. And he just ran it in, stuck his elbow, and pretty much just out-muscled me for that 7th spot. Like I said, I was actually kind of out of line and stuffed the hell out of him after the finish. I had to take a deep breath and realize that what he did was great racing, and it wasn't dirty; it was just a great racing pass. I came out on the short end.
Let's talk about your riding in general. How close do you feel you're getting to your potential? You said you still didn't quite feel like your racing as well as you can ride. Are you close? Or do you think you've got a lot more to give?
I've got so much more to give. I felt like I rode… I'm telling you, right now I can go to the practice track and I feel as good as I ever have. I get on the Suzuki, the bike works like a dream. And when I'm in the flow on this bike I don't know how many people could beat me. It's just when I come to the races, it's so foreign to me again. I've just got to keep racing. I'm trying to figure out what I'm going to do. I don't have an outdoor ride right now, but I have to keep racing. I'll go to whatever country will give me an opportunity to ride a good dirt bike.
You just need to go over starting gates?
I just need to keep racing. I just want to race. Or maybe it's a regional series. If I have a bike, that's what I'm doing. I need to ride because I know I can get back up to the level I was. Just got to keep going. Other than the little wrist thing at the beginning of this season, this is the first time I've been able to ride consecutively for months. Every other time, I was riding three weeks, trying to go out and race. After that type of injury that's just not ever going to happen, it's never going to work. We're gaining some momentum now and I'm hoping by the time Vegas rolls around I'll be knocking on the door for a top five, or on a perfect scenario, a podium, if I ride like myself.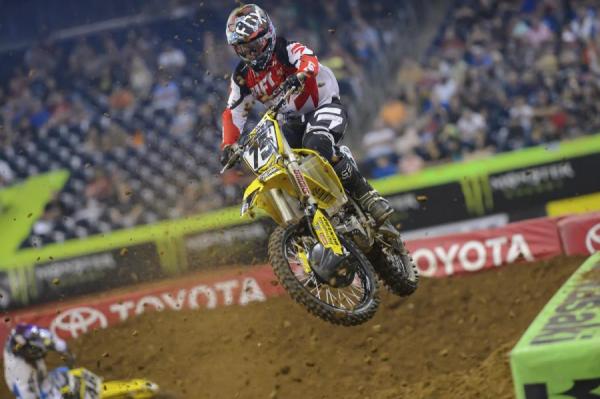 Hill is uncertain about his future for outdoors, but is hoping to secure a ride.
Simon Cudby photo
Does the ankle, foot and all that hurt by the end of the night or anything like that? Or is that totally behind you at this point?
No, I don't feel it so it doesn't hurt! It's completely numb. I mean, it hurts; I take that back. When I wake up Sunday morning and I'm walking through the airport I look like I got ran over. But in the race it doesn't affect me unless I have an extremely hard landing or someone runs into it, which that doesn't bother me. But it's numb. I can't move my toes and I don't feel the thing. I can just rock my ankle that many degrees and make it work. But with modern-day suspension and boots, I can make it work.
And on a 450 you don't need to shift that much, right?
No, not too much.
But you can do it when you need to.
I just throw the butt shift, like the 65 class.
Ah, when they're learning to shift.
Yeah, I'm throwing the butt shift out. Watch it; you'll crack up. I'll go off a little jump, my whole ass just goes forward.
So you look like a guy just learning how to shift a bike.
That's what I look like, yeah.