Reliant Stadium
Houston

,

TX
Houston
Monster Energy AMA Supercross Championship
It's always interesting to go behind the scenes with some of the world's best motocrossers. Watching what these guys do when there are no cameras around, how they practice, what they say and what they do to get ready for the race is somewhat fascinating and unknown. After all, not too many people get to see these guys in their natural habitat. Did I just compare the riders to some rare animal? Yes, yes I did.
Thanks to having some prior relationships with these guys before I became a pesky media guy (although to Ryan Villopoto, he doesn't remember me as a mechanic, it's more that he somehow tolerates me) I've been able to go to the compounds and basically hang out like a buddy or something. And of course, now that I'm a media guy, I happen to have a couple of guys with cameras standing around while I'm hanging around.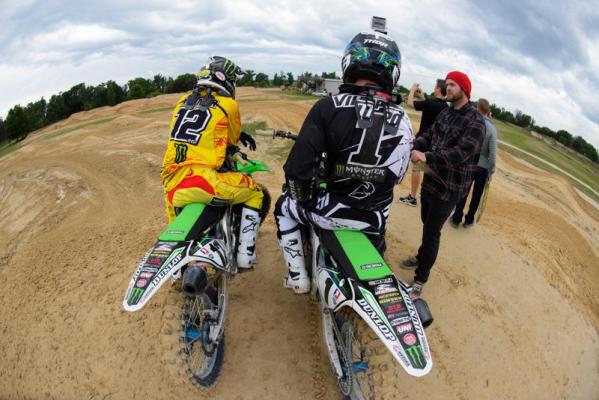 Weimer and RV getting ready to lay down some motos in Florida.
James Lissimore photo
This is the fourth year that I've headed down to Florida to hang out work (in case my wife is reading this) and it's an interesting deal each time. The scenes is always in flux according to what's going on in the supercross series. A few years ago at Chad Reed's, before Daytona, the Team TwoTwo semi truck was there, there was a Daytona section built, and Reed, Byrne, Gosselaar and Metcalfe were all motoing down and things were intense. This year? With Reed still on the mend from knee surgery, new Florida resident Dean Wilson hurt and Michael Byrne still getting up to speed from injury suffered last summer, the Reed compound was really tame compared to year's past. Still, Chad came out with son Tate to hang and Byrner rode some supercross (first time we've seen him on the KTM). Then it was some go karting for the two riders, which blew me away. Man, those CRF250 motors wedged into a little frame really haul ass. And Chad may or may not have a factory Honda motor in his kart.
The next day we went to Tim Ferry's. Well actually we just walked fifty feet to Tim Ferry's garage, because we are staying in his guest apartment. The commute wasn't too bad, really. Four years ago, Ferry was motoing down getting ready for Daytona 2009. And that would really be the last time he was 100 percent at his peak. That Saturday night in Daytona, he smashed his heel early in the main and he never really recovered from it. He retired in 2010, a big part of that due to him not ever being able to get back to the same level he was before the heel injury. But hey, a twenty-year pro motocross career is still pretty good and Ferry's done well over the years.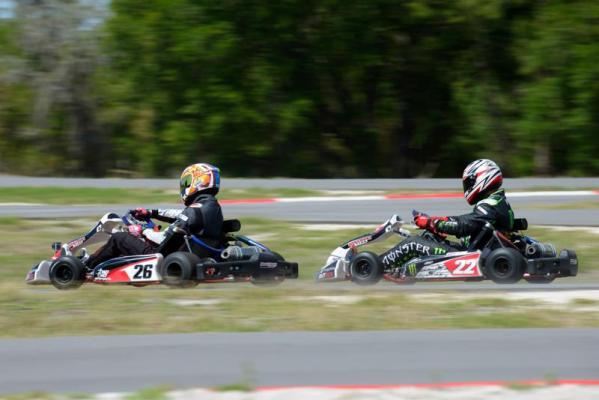 Byrne and Reed throwing down on the kart track.
James Lissimore photo
Because we were there (and because I pestered him non-stop the last few weeks) Ferry suited up for the first time in about a month. And man, I know I'm biased but I'd say he was "PODIUM SPEED!!!!"…ok, it's been four years since he retired, I'll stop now. Absolutely no one is buying that anymore. He wasn't podium speed but it was good to see the Big One-Five out there. He even made me change the oil, air filter and put graphics on. I was back!!! Well, kind of. The super team of Ferry/Matthes was able to successfully ride some laps and not have anything fall off the bike so that's a victory. This is where we're at these days.
Evan Ferry, the eight-year old son of Timmy, rode all day long only stopping for a pizza break at lunch (and you all know I also stopped for the pizza break, as well. There are some things you don't even need to ask.). Pretty good rider too, he's got dad's nice cornering style.
Ferry's helping out some amateur kids named RJ Hampshire and Marvin Stacer so they also were out there riding a ton. It was a nice relaxing day where no one got too serious. The track was prepped to perfection, too, so it was a good day all around. Oh and did I mention that I made Ferry hit the FMX ramp he had there? Flat as a pancake bro! Got the photo to prove it.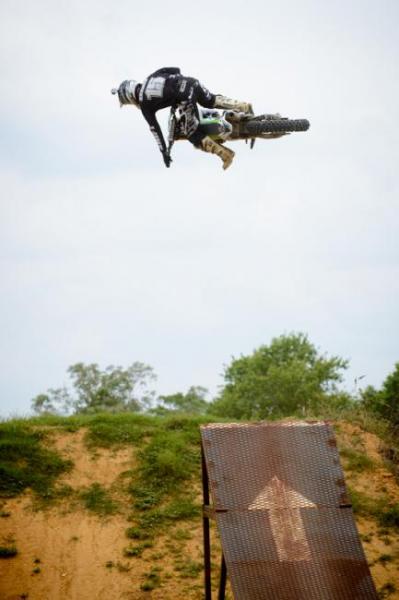 Matthes wasn't lying... Ferry went big off the ramp.
James Lissimore photo
Did I mention relaxing? Yeah, yesterday was anything but, as we spent the day at Ryan Villopoto's place. With trainer Aldon Baker and the practice bike mechanics there, it was two supercross motos for Villopoto and Weimer and two outdoor motos for Cianciarulo who may or may not be racing at Hangtown in a month and a half. Think about it, we went to Reed's place where he was hurt and Byrne's not racing to Ferry's place (home of retired guys, eight-year olds and amateur racers) to a guy who's leading the supercross series (RV), an up and coming star (Jake Weimer) and perhaps the most hyped amateur motocrosser since Eddie Hicks (Adam Cianciarulo). This day was anything but relaxed.
It's always impressive to see these guys at speed, up close and  tolisten in to what they talk about, like how the track is shaping up, how their bike is working or how they hate the motocross media. Oh wait, that's just Villopoto and he only hates Pulpmx.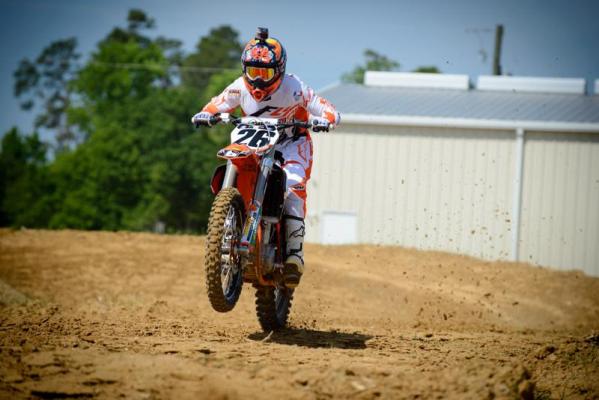 Bryne is back on the bike!
James Lissimore photo
But really, the parts that I treasure the most are being let into these circles and all the story telling and shit-talking that goes on. None of it is repeatable here (at least not if I want to go back) and I think in a way, we're doing these guys a bit of a favor just by getting some new people around for a day. It breaks up the monotony and breaks up the grind or riding with the same people at the same track each day. Kind of like that mouse in The Green Mile. Sure those guys were on death row but having Mr. Jangles there with his yarn spool sure made the day go by fast!
These moments are the best, when we're talking about the sport, the media, the different things they're doing and solving all the sports' problems right there. It's bench racing, and that's the best part, to me. It takes me back to my wrenching days, when this would go on daily. It's work, but it's not, you know?
And in way, it's the same way for me as well. Unless the wife is reading, then this is some grind week we're having here.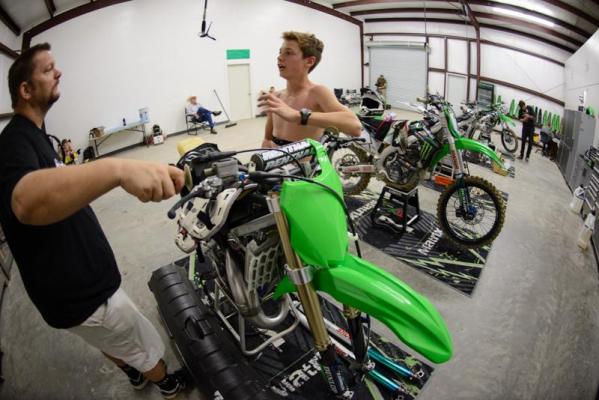 Matthes (left) and AC (right) have a chat down in Florida.
James Lissimore photo