Rogers Centre
Toronto

,

ON
Toronto
Monster Energy AMA Supercross Championship
With arguably one of the most talented fields to ever grace Monster Energy Supercross, you're not supposed to be able to do what Monster Energy Kawasaki's Ryan Villopoto has done. The two-time defending 450SX champion left his mark in Toronto, and it came at the expense of title contenders Davi Millsaps (Rockstar Energy Racing) and Ryan Dungy (Red Bull KTM). Following his fourth consecutive win, and five of the last six, Villopoto has taken command of the championship to the tune of a 12-point lead over Millsaps.
After it was announced earlier in the night that Toronto would be his last supercross race for a while, due to a linger knee problem that will require surgery, TwoTwo Motorsports' Chad Reed was looking to go out with a bang. The Australian squeezed out Millsaps to grab the early lead, but the likes of Villopoto, Dungey, and Stewart were all lurking.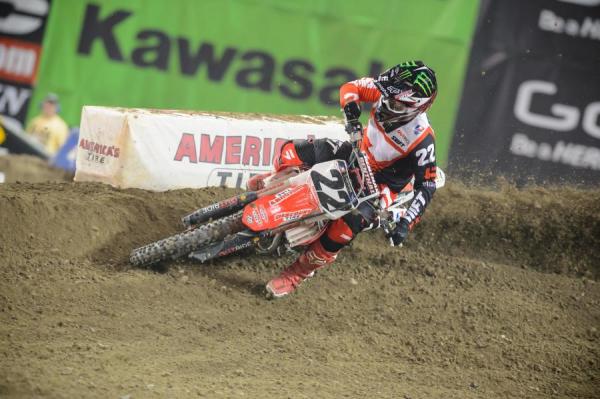 Chad Reed would lead early, but eventually fell back to finish fourth.
Simon Cudby photos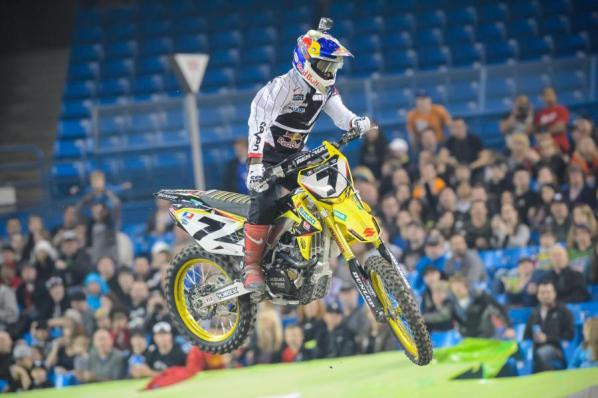 James Stewart dominated his heat but couldn't find the spark in the main.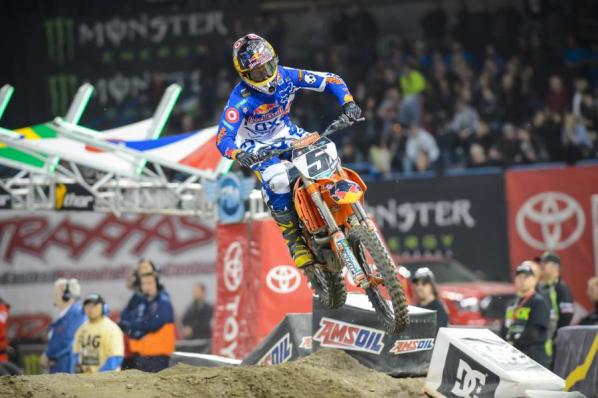 Ryan Dungey lost more ground in the championship after a third in Toronto.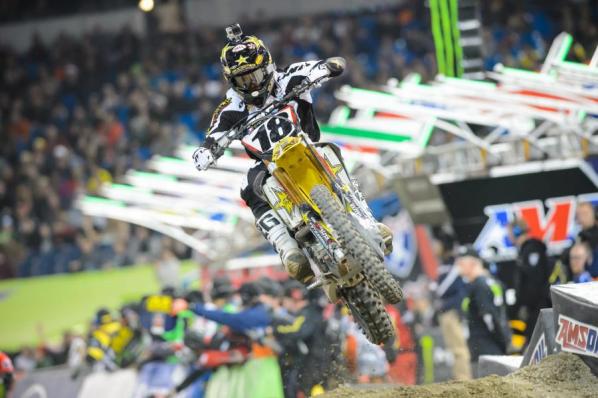 Davi Millsaps held the lead early, but eventually finished runner-up to Ryan Villopoto.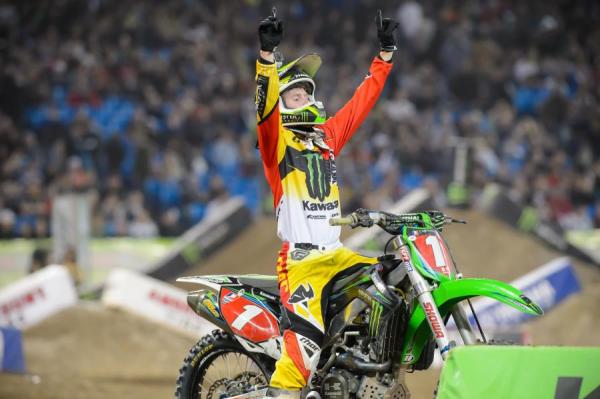 Four in a row for Ryan Villopoto.
Following the loss of the red plate, and facing a 9-point deficit to a red-hot Villopoto, Millsaps knew he needed to take advantage of his good start. The Rockstar Energy backed rider sprinted to the lead early, after Reed made a mistake and was unable to triple the rhythm section. Millsaps tried to run away, but Villopoto had a different thought in mind as he made an aggressive inside pass on Reed after the whoops. While Villopoto was beginning to pressure Millsaps for the lead, Dungey had made his way around Reed and was joining the Millsaps and RV lead party.
RV continued to be aggressive with Millsaps early, showing him his front wheel on more than one occasion. This would allow Dungey to close in on the duo. Meanwhile, after a dominating performance in his heat race, Stewart was unable to find the same mojo in the main and was never able to make a serious run at the leaders, eventually finishing seventh after stalling late in the race.
At the midway point, Villopoto was just too much for Millsaps, as he made an aggressive pass after the finish line to take the lead for the first time all night. Dungey looked to make the move around Millsaps as well, but stalled right before the triple and lost third to Reed, a spot he would eventually gain back, and significant time on Millsaps. Villopoto would cruise to his fourth consecutive win, with Millsaps, and Dungey rounding out the podium. Justin Barcia made a hard charge to capture fifth, with Jake Weimer, Stewart, Broc Tickle, Andrew Short, and Matt Goerke rounding out the top ten.
GEICO Honda's Wil Hahn entered Toronto with a 9-point lead over a streaking Marvin Musquin (Red Bull KTM), but Musquin clearly had the momentum on his side after back-to-back wins in Daytona and Indianapolis, respectively. The Frenchman continued to ride his hot streak in Toronto, leading start to finish to capture his third straight victory.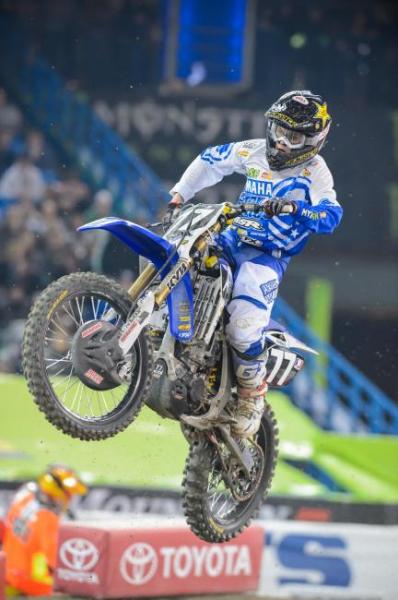 Jeremy Martin bounced back with a fourth in Toronto.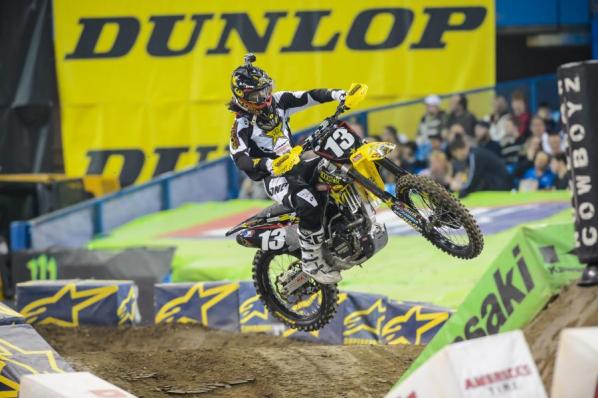 Blake Wharton held off a late charge from Martin to round out the podium.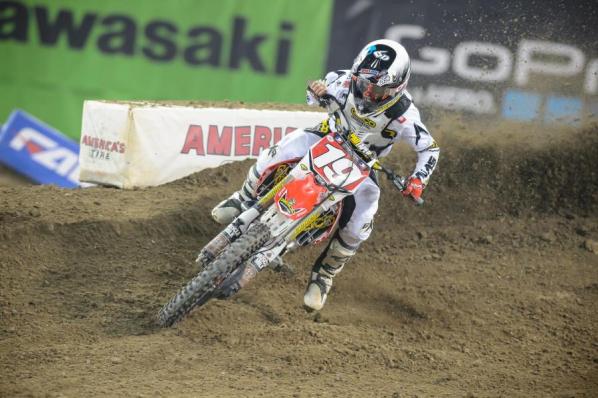 Wil Hahn would finish second, but still holds the points lead.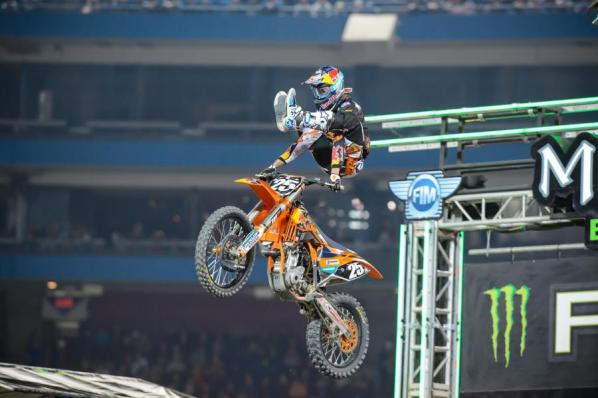 Marvin Musquin made it three in a row in Toronto.
Jimmy Decotis joined Musquin up front early with Blake Wharton, Wil Hahn, Vince Friese and Canada's own Cole Thompson in tow. Decotis would crash early, which lead to a seventh place finish. Wharton would take over second, but soon had company in the form of a hard charging Hahn. The points leader would eventually make his way around Wharton, lessening the points damage. The top three were spread out throughout the race, but the battle for third would heat up late. Following a sub-par start, Star Racing rookie Jeremy Martin made a hard charge at Wharton late in the race, pressuring the veteran over the final three laps before a last ditch effort at the finish line fell short. But the finish line melee was far from over. Thompson, who was engaged in a heated battle with Friese for fifth all night, made a hard, aggressive pass at the finish, slamming Friese, as the two became tangled with Friese's leg stuck in Thompson's bike. The two collided on the face of the finish line and actually crossed at the same time. Initially fifth was awarded to Thompson, but the ruling was later overruled with Friese being awarded the spot. Decotis, Gavin Faith, Jackson Richardson and Kyle Peters would round out the top ten.
With his win, Musquin now trails Hahn by six points heading into the week break for Easter. Monster Energy Supercross continues on April 6 in Houston.
450 SX
1. R. Villopoto
2. D. Millsaps
3. R. Dungey
4. C. Reed
5. J. Barcia
6. J. Weimer
7. J. Stewart
8. B. Tickle
9. A. Short
10. M. Goerke
11. J. Brayton
12. P. Nicoletti
13. J. Hill
14. B. Lamay
15. R. Kniry
16. C. Blose
17. J. Sipes
18. W. Peick
19. L. Smith
20. M. Alessi
450 SX Point Standings
1. Ryan Villopoto 252
2. Davi Millsaps 240
3. Ryan Dungey 230
4. Chad Reed 196
5. Justin Barcia 184
6. James Stewart 169
7. Trey Canard 165
8. Andrew Short 148
9. Justin Brayton 122
10. Broc Tickle 122
250 SX
1. M Muquin
2. W. Hahn
3. B. Wharton
4. J. Martin
5. V. Friese
6. C. Thompson
7. J. Decotis
8. G. Faith
9. J. Richardson
10. K. Peters
11. P. Larsen
12. A. Catanzaro
13. L. Vincent
14. L. Kilbarger
15. Z. Freeberg
16. K. Hussey
17. D. Buller
18. A. Coon
19. B. Kiesel
20. J. Hill
250 Point Standings
1. Wil Hahn 134
2. Marvin Musquin 128
3. Blake Wharton 108
4. Dean Wilson 87
5. Vince Friese 81
6. Kyle Peters 78
7. Jeremy Martin 71
8. Justin Hill 68
9. Gavin Faith 66
10. Jimmy Decotis 66