First off, a disclaimer: I didn't go to Indianapolis. Nope, I was at home in Las Vegas hanging out with my wife, and just like all of you saps guys, I watched it from home. So without knowing what was going on in and around what looked like a packed Lucas Oil Stadium, I was somewhat limited in what I could bring you in terms of "Observations". So I just thought that a running diary of the race from the couch would work out.
Climb in and let's check this out shall we?
The SX on Speed broadcast opens up with the sweet sounds of Ralph Sheheen welcoming us to supercross as he stands next to Jeff Emig. Ralph brings in Erin Bates (Yay Canada!) and the recently retired Kevin Windham, who we all knew would kill it in the booth and yep, he does. Ralph asks if this could be Trey Canard's night to break through for a win and KW agrees with him that it could be. It's worth noting that we also posted a similar story on Canard right before the race on Satuday. Oh how wrong we all would be…
The green arrow track maps are done a long time before the track actually gets built so if you pay attention every week you'll usually see little differences here and there between the track map and the actual track. After the green arrow is done taking us around the track it's GoPro camera view of what Ryan Villopoto sees around the track. Seriously, I don't watch very many videos at all these days­-you've seen one dude whipping it to music you've seen them all-but the GoPro cams of RV, Millsaps and Stewie? Yes, please. I love them! They're so clear and so awesome, it gets your heart rate up just watching them. Or it could be a bag of Doritos and queso that did that.
Erin Bates is on talking about the sand section and saying that it's going to come into play big time tonight, but it doesn't at all. She was talking to some riders and they said you had to be "concise and no jerky movements," but I'm not sure if she was talking about the sand or what she is watching out for from crazy fans who run into her at an airport.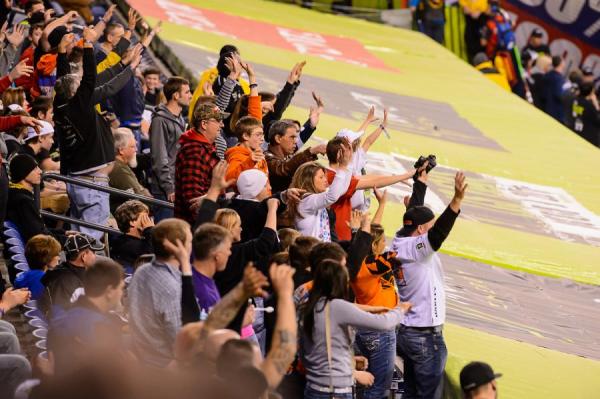 It was a packed house in Indy Saturday night. Matthes house? Just Pookie and some dogs.
Simon Cudby photo
Ok, the first 250SX heat is up…
Jimmy Decotis grabs the holsehot, he was in the far inside gate and although he came in way behind, he slowly went around the inside and grabbed the start. Moving Marvin The Marv Attack Musquin is right there, though. On another note, Decotis is sponsored by a Harley Davidson shop and has the HD logo right there on his shroud, which is pretty cool. Like he's in a gang. Except Jimmy wouldn't actually be in a gang because he looks like he's 14 or something and would never get past security at the front door for the initiation.
Musquin grabs the lead with a scrub that looks to come close to Decotis but he still sticks to the inside. "Good bye you foul Americans, I am not stopping until ze checkers," he mumbles.
Behind him it's (Canadian!) Cole Thompson and he's got an ass-load of Jeremy Martin behind him. Seriously, we make fun of Zach Bell for crashing so much but not far behind him is Thompson, who it seems goes down in every practice. He even got a medic ride off at St Louis. As I was at home and just following Twitter (this is what you people do? You poor bastards) it seemed that "Thompson down, he's back up" was uttered a few times throughout the day and night. Anyway, Thompson's got some skill but Martin's been on a roll here. I like Jeremy's odds to get by Team Maple Syrup.
Annnnd there he goes with a slick move on the kid. I can't wait until Jeremy's brother Alex gets healed up and back out there. We saw the two brothers battling at times last summer and it was pretty cool.
Musquin takes the win and celebrates with a heel clicker. Somewhere out there in Southern California there's a Frenchman nicknamed "The Cobra" who is tearing up and clapping at Musquin's move. A great ride by Jimmy "The Rippah" Decotis gets second.
Erin interviews Davi Millsaps before the heat and Davi says he's not going to worry about anyone except himself. I like it.
Ralph and Jeff talk about how Harley Davidson used to make a dirt bike with Emig saying, "I actually remember that."
GoPro Baby…hee hee hee. More please.
Ok, 250SX heat two is up. Wharton, Hahn, Wilson and Hill are all in this.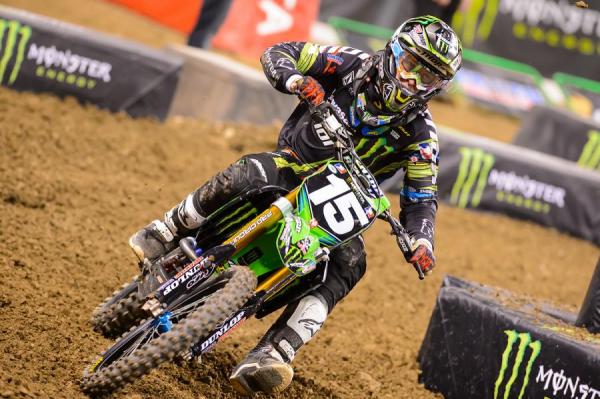 Disaster struck for Wilson in the second 250SX heat.
Simon Cudby photo
Oh no! Disaster strikes as Wilson, while in second, doubles off the side of the track after the off-camber and goes down hard right into the face of the next jump. He's up slowly and his season just went from solid poo-poo to explosive diarrhea all over the place.
The happiest guy from Wilson's crash is Wil Hahn who just has to keep it upright and he'll… OH MY GOD WIL HAHN JUST ABOUT BUYS THE FARM WITH A MASSIVE NOSE WHEELIE OFF THE TRACK AND BACK ON. Speaking of poo-poo, someone check Hahn's Alias pants right now. Wow, what a save!
Nice little race here between Wharton, Justin Hill and Hahn. I can't figure out if Hill has been good, average or struggling. He's a complete rookie so his finishes have been good. He's on the Pro Circuit team so he should be doing about what he's doing, or maybe, he should be doing better because he's on the Pro Circuit team? I have no idea, I'm so confused when it comes to this guy.
That inside rut on the off-camber is being used more than a bottle of Purell at a swingers club.
Wharton wins the heat with a nice ride while Hill holds off Hahn for second and Friese goes from falling in the first turn to making the top nine. Nice ride for Vince, and it even draws kudos from Kevin Windham. It's nice to see that Windham can let go of any old grudges from his racing days and call it as he sees it.
I've never really spoken to Blake Wharton at all but when I have he's always been a cool dude. And I love his interviews with the guys in the booth. He seems like an interesting cat (he's got a CD out you know?) and he event thanks his mechanic in the interview, which causes me to tear up. Not enough riders do that nowadays.
Erin interviews Kurt Bush who says being in Indy is better than sitting in his motorhome at Bristol. Ah the perks of having a private jet. Bush is wearing a Monster hat and shirt and drinking a can of Monster in case anyone was wondering who sponsors him. They cut away from the bad boy of NASCAR before we see if he kicked any dogs or beat down any reporters.
Heat 1 of the 450's gets under way and some guy wearing the #800 grabs the start. Definitely a weird thing to see such a high numbered rider grab the holie like that, good for him. Glad he could get the start.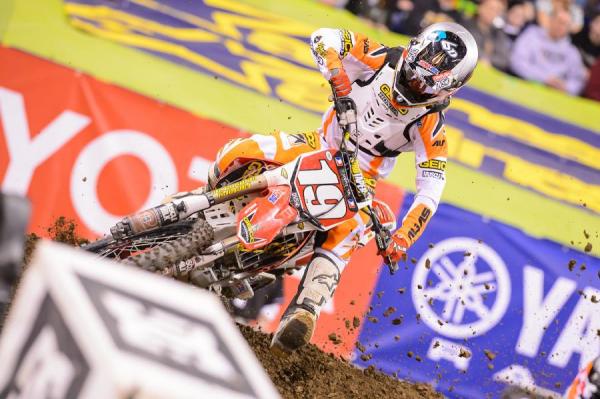 When Wilbur nearly ate in in the whoops, Matthes nearly coughed up his Doritos, ironically.
Cudby photo
Villopoto goes into the lead, and basically, he's going to see you all later when he's on the podium. Number one reason why RV's been so good lately? His starts have been better. Look it up, it's science bro.
Yeah, Pooh Sipes is third! Ryan Sipes' brother, a total privateer who probably has a dip in right now, is a good dude and holding strong. Another privateer in Chris Blose is right behind them. Add in that #800 dude and this heat should be called The Privateers Strike Back.
Seriously, there's a seven-man battle royale going on behind Sipes. It's insane. Dungey, Canard, Barcia, Blose, Brayton, Peick and Partridge. And there isn't a folding chair in sight. In the absence of a real bad guy, like in the wrestling world, Weston Peick settles things really easily when he goes for the pass in the sand turn. That is, if your definition of pass is to just aim for the front wheel of a guy. And the guy here turns out to be Blose. Both Peick and Blose go down (if you're going to argue that the pass was fine, my comeback to you would be, "Oh yeah, then why did BOTH guys go down?" It's bad enough when one rider crashes but when you yourself go down, then it's pretty safe to say that you shouldn't have went for it). Partridge almost goes down, too. But as we've covered in our podcasts, Weston Peick is a nihilist and that means he doesn't care about anything.
Look, I love Pooh Sipes (I don't even know his real name, I love Pooh so much) but he's never, ever come close to racing with and beating guys like Dungey, Barcia and Canard. Am I supposed to believe that somehow, tonight in Indianapolis, Sipes has found his inner Rick Johnson and magically has the pure speed to hold these three off? Uh no. Tack it up to another track that offers up so many passing options.
Villopoto's bike starts smoking (no it doesn't mean that Kawasaki is looking to get J-Law on the team for Hangtown). I'm no mechanic but I did play one in the pits for eleven years. Smoke out of either the radiator overflow tube or the crankcase vent means that the bike is getting hot. Either the coolant is gone or the oil is gone. Take your pick, but neither one is very good.
The bike holds up, and to the surprise of no one, Villopoto crushes this heat. The trio in the booth debate how long it'll take the Kawasaki guys to change the motor. Windham nails it with a "20 minutes" guesstimate. And I've pulled a few motors out in my day.
Heat two for the 450's gets under way and Andrew Short grabs the holie! Nice start for the #29 and Ralph says, "Short never makes it easy for anyone," which basically means he's a smiley-faced assassin. Stewart gets by and he's going to check out.
Hey, look, "Filthy" Phil Nicoletti is in fifth after a good start. Some things that I want put on my tombstone are that I called Kyle Peters to have a good year, that I gave Phil the nickname "Filthy" and that I gave "Top" Jimmy Albertson his nickname as well. Both guys have confirmed this. These are the things I live and die for.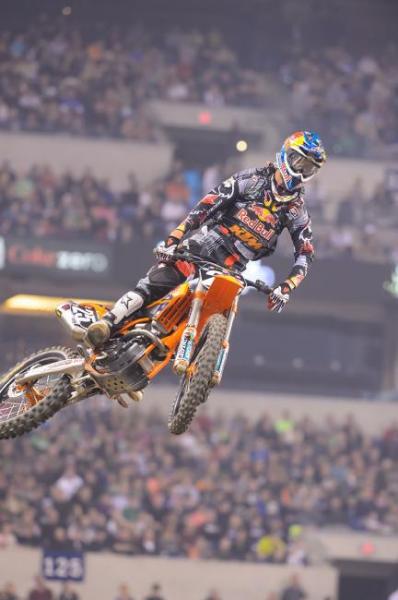 Movin' Marvin the Marv Attack Martian Moose-Can.
Cudby photo
How many of the top guys have thought to themselves, "Matt Goerke? I can't get by MATT GOERKE??? What's going on with me?" Might have even been the reason Windham called it quits but that can't be confirmed. "Beef" Goerke has been very good this year, has definitely gone to another level and can run the pace. Here's another example: Ralph- "Reed is still trying to get around Goerke."
The final lap goes to a split screen of Stewart riding around and taking the checkers (which you have to show) and then the Josh Hill/Nicoletti battle for eighth spot. This is good news for us viewers. We get to see the best of both worlds. And that's also the name of one of the better Van Halen songs.
In his post-race interview Stewart says he was thinking of getting in the bobcat and filling in some of the holes himself. Was that a slam on the track guys or a joke? Stew's good like that; he's pretty polished when it comes to saying something without saying anything.
Okay, filler time while the real race goes into intermission. They show a segment with Eli Tomac and Emig training at Ryan Hughes' gym.
It's an interesting look at Tomac, his training and having Hughes on camera is always great (see what I did there?).
Not surprisingly, Hughes' routines seem like something out of early Olympic training. Ryan doesn't seem to believe in new technology like treadmills or elliptical machines. I imagine that the Greeks in the B.C. years also just lifted a weight up and down. At least Hughes uses a giant rubber ball.
They have a camera outside in the pits and I swear I just saw Michael Moore walk by.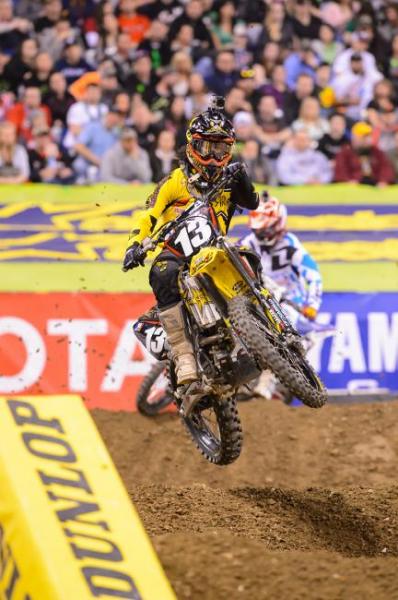 Hahn and Musquin way back? Wilson out? Wharton out to an early lead? Turn on some hockey, this race is over.
Cudby photo
OK LCQ's are up, but before we get there Ralph and Jeff talk about trying to set up Diana Dahlgren with NASCAR driver A.J. Almendinger. Ralph asks Diana, "So what about the Dinger?" which has so many meanings it's not even funny, which means it actually is.
Next up Ralph says he got a text from his rock-n-roll buddy (Sheheen is WAY into rock music by the way) Brad Whitford, who Ralph says is from Aerosmith, but no one really knows anyone in that band other than Steven Tyler and Joe Perry, and we all just try to be cool pretending we know all the names and only just casually mention two. We'll just take your word on this one Ralph.
More GoPro baby. Oh Charlie Ray, I don't even have a kid and I like you. By the way, Charlie Ray has a Twitter account.
250SX LCQ and Zach Bell wins his second LCQ this season. It's never good when you're a GEICO guy and you have to ride two LCQ's. Mitchell Oldenburg cannot be stopped. He's the surprise of the Eastern Regional 250SX series and he wasn't going to take no for an answer. He grabs the last spot into the main.
450SX LCQ up next and it's the Bobby Kiniry and Weston Peick show out there for the 763rd time. Both veterans are good friends and both are gnarly. Peick's a nihilist which might mean he does or doesn't care more than Bobby. We've seen some great races all season between these two and I propose three lap battles to the death at each race. It would be great TV, no doubt.
I love how Peick has a comfy lead on Jimmy Albertson in third and he looks like he still wants to break Kiniry's tib/fib in every corner.  These two go 1-2 and into the main event.
Okay, here we go for the 250SX main event. Close-up of Hahn, and love the new technology of those 6D helmets, but with their larger shell they make guys like Hahn and Bell (especially Bell) look like a toy bobble-head rider.
And it's Wharton with the holeshot! Privateer Kyle Peters grabs the lead right away. Or so we're told. We can't actually see this because the director loves to hold it tight on the track-level camera on the outside so we just see all the dudes in the back ride by before they cut to Wharton and Peters.
Wharton grabs the lead back, although we're not sure he ever had it. We just have to trust Ralph on this.
Wharton, privateer Peters, Aussie privateer Richardson and privateer Thompson all right there and none of the announcers have anything to say about anyone right now. Ralph just said something about taking some huge jumps.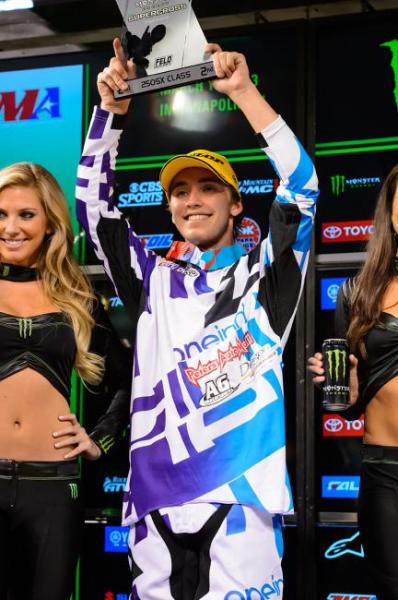 As much as we hate to give Matthes credit, he did say he saw something special in Peters last year and expected him to do well this season. Here he is on the podium.
Cudby photo
A replay shows us what happened to Hahn and Musquin--they were attacked by some giant tuff blocks in the first turn. Fifteenth and eighteenth for those two after a lap. Not good, but it could be worse for those guys-they could be in the hospital like Wilson.
Musquin is in the top ten after four laps. How do you say, "Thank God I'm in the Eastern Regional 250SX series" in French?
Wharton's out front and Windham makes a great comment about relaxing and not getting tight because you have a nice lead and you have time to think.
Musquin's up to sixth??? From last??? Nice ride for Moving Marvin The Marv Attack Musquin. But now he's got to get by Vince Friese, which has to make him a little nervous.
Musquin is jumping two rhythms that Friese isn't but all he can do is get close on this, errr, awesome track. Finally Marvin blitzes the dragon-back and squeezes inside of Vince before Vince can do his patented "I'm moving over to the inside even though your front wheel is at my elbow" move. It's tighter than a mayonnaise sandwich.
Ralph says "Friese just doesn't make it easy," which is sort of like saying "Several countries in the Middle East don't really like each other."
Next up is Gavin Faith who was behind Musquin and saw where he made the pass on Friese. And Faith goes for it but oh no, Friese's patented move gets him and leaves Gavin on the ground wondering why he even tried that.
Windham says, "There's just no room there," which is true on so many levels with Friese.
Nice ride going for AJ Catanzaro. Peters is riding great in second, proving that you can get dropped from Star Racing and still go on to have a nice career, just like about thirty-one other riders have proved.
Hey, this just in, Marvin's on fire right now. He's into second place with one lap to go! But Wharton's got this, he's almost four seconds ahead of Marvin.
OH NO WHARTON GOES DOWN AND THROWS IT AWAY!!! Wow- what a shocker. Even more shocking is that Ralph doesn't seem to know that Marvin went by, despite all of us knowing that Wharton was down for fifteen seconds and Marvin, and many other riders, are already past.
And Marvin takes the checkered flag in a crazy race! Wow, what a last lap steal of a win for him. Did you know that Musquin's mechanic, Frank Latham, was also the mechanic for Travis Preston at Husky when Grant Langston threw away a sure win on the last lap and Preston won at Houston in 2001? Well now you do. So the crash wasn't really Wharton's fault. Call it the Curse of the Latham.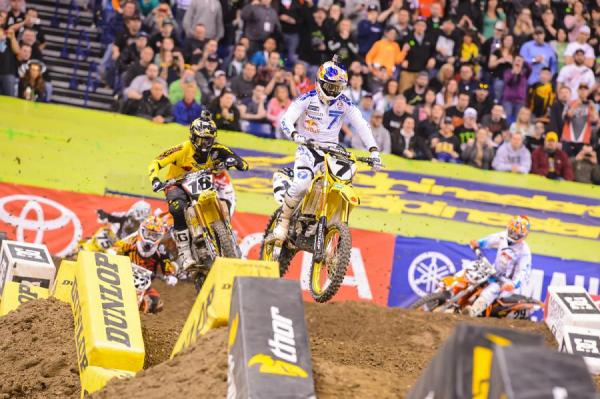 Shaping up to be a good one.
Cudby photo
Erin says in her interview that Marvin has back-to-back podiums, which is totally true, but if I'm the PR person for KTM, I'm taking the back-to-back WINS over the podium stats, but that's just me.
Marvin's interviews are good. I like this guy. Actually, Hahn, Wharton, Musquin and Wilson all give great podium interviews and have great personalities. Hey, maybe that could be Feld's tagline for the Easter Regional 250SX series- "The East, just stacked with good interviewees!"
They show Wharton, six turns away from victory, going down. It was a nice crash in the short whoop section and man, heartbreak for Wharton. They say that all songwriters need heartbreak to write a good song. Well, the good news is that Wharton has a ton of material for his next song.
450SX Main event time, bro. Erin reports that the Kawasaki team has no idea what happened but they changed the motor. Yeah, sure, guys. You don't know what happened. We'll take that. Just say it was the spark plug and we'll smile and nod.
Gate drops! And the inside gate doesn't work out for RV so much but we really don't know for sure. All we see is that low, track-level camera from the outside. Ralph is telling us what happened but we see nothing but a bunch of bikes stopping and going from the far outside of the first turn.
Oh, cut to the action now and Millsaps is out front. RV must have snuck around the inside because he's in the top five. Davi effs up the off-camber section and James Stewart sneaks to the inside to grab the lead. It's Suzuki and Rockstar Racing running first and second!
Both Stewart and Millsaps launch the wall over the sand and right into the corner. Pretty cool sight.
Oh man, Trey Canard scrubs next to his teammate Justin Barcia and bails off in midair. Not good at all, and he's down and out. It looks serious but we find out later that nothing is broken and that he'll be okay, although he did take a shot to the head.
Villopoto into third and closing on Millsaps. Stewart still out front. Barcia is behind Goerke and is wondering what's wrong with him tonight. Nothing's wrong Justin, you've just been "Goerke'd".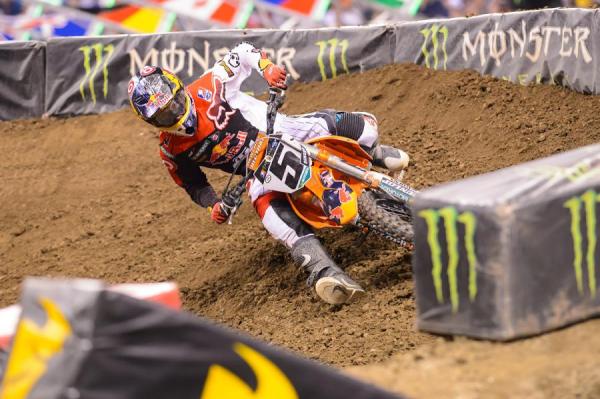 Dunge was running outside in the rhythm lane, while a few dogs ran around outside Matthes' house.
Cudby photo
Villopoto, who is just riding all normal behind Millsaps, tries to shut Davi out but to no avail. It looks like the pass failed and Ryan's going to have to wait another lap. But oh no, in a move that looks like someone hit turbo on his Kawasaki, he flies through the sand, cuts in underneath Millsaps, explodes the berm, pulls a wheelie and passes Davi in the next twenty feet. Seriously, I watched this sequence five times, it's amazing. His initial attempt at cutting Davi off before the wall should have taken him out of being able to do anything. All his momentum was gone. But oh no, he gains all the time back and more in two twenty-foot sections and a turn. And in the sand at that! It's an incredible moment, and it tells us all why Ryan Villopoto is a two-time defending supercross champion. Just his aggressiveness, precision and aggressiveness (worth saying it again) is something to see.
But now that he's by Davi, he's got Stewie to worry about. And on this track, with Stewart's pace, it's going to be very hard for Villopoto to get by. We're about to witness a battle like we haven't seen since Andre the Giant and Hulk Hogan in the Silverdome in '87. It's going to be incredible, amazing and awesome all at the same time.
Stewart stalls his bike in the off-camber and Villopoto rides by. Aw crap.
Dungey and Millsaps come dangerously close to taking each other out in the air. It even earns Davi a look over by Dungey like, "Can you believe we're both not on the ground right now?"
Jake Weimer is out. Erin's interviewing him and he's pragmatic about the situation. His bike is bent up and he tried to ride but yeah, no go on that. Weimer's really struggling a bit since coming back from injury. This is where we're at with supercross; you can't just get right back in it after missing a few weeks.
Windham is just killing it in the booth, he's pointing out a few things that help me enjoy the race a little more. Isn't that what it's all about?
Dungey is closing on Villopoto a bit. Track looks sketchy like an Etch A Sketch. Yeah, I just made that up. It's good. Stamp it.
Further back, Barcia has finally gotten by Goerke, but now Tomac's struggling to find a way by the #62. It's Matt's world man, we're all just living in it.
Look at Ryan Dungey taking the outside in the off-camber and doubling off, which is a little faster rhythm than what Villopoto is doing. When RV called me on Sunday to yell at me for not being there I brought this up to him and he said he knew about it but if he had gone outside, he felt like Dungey would've switched to the inside and gotten him. Villopoto was also confident that Dungey's line wouldn't have resulted in a pass as the next turn was a left and Dungey would have had to go around him to make it happen, and that wasn't going to work.
Hey look! Chad Reed! Reedy got a terrible start and has been busy as a beaver trying to work through the pack. He finally works up into the top six by getting Short and makes it on the TV show. What we can't see is the stream of expletives he's yelling as he rides around out there.
Dungey pulls close to Villopoto here, we have ourselves a race! Thanks to Pooh Sipes for costing Ryan a half-second but hey, it works and creates drama.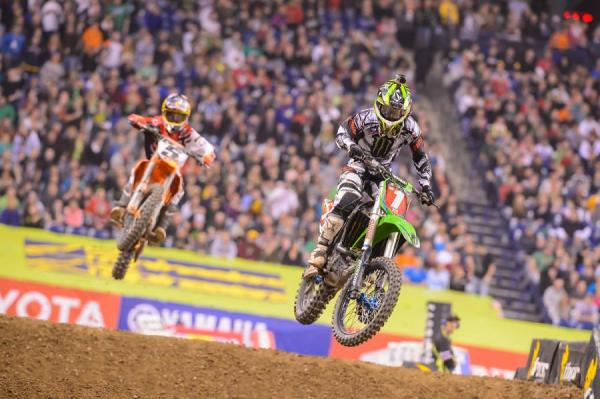 Villopoto's mechanic Mike Williamson predicted this week's Obs would be based on Matthes' night sitting on the couch, with some food and dog references. You don't win multiple SX titles without being sharp.
Cudby photo
There's a rut so deep in the whoop section I can see the tops of German soldiers' heads. Thank you Larry Huffman for the gift that keeps on giving.
Stewart/Millsaps battle! Last lap! Millsaps washes out after the finish and another potentially great battle is eliminated by a rider's mistake. Stew into third.
Checkers are out…Ryan Villopoto wins it! He withstands the pressure from Dungey (nice ride by the Dunge) and takes his third win in a row, and fourth out of the last five races. He also extends his points lead.
Pretty good race. I'm going to get out of here before Villopoto says he "can't thank" (leaving out the "enough") Kawasaki, Thor, Parts Unlimited and Oakley. Dungey says that they're working hard and he's got to give it up to his team and James actually says something interesting.
Thanks to Ralph, Jeff, Kevin and Erin for calling the action and keeping me on top of it when I wasn't there. I'll be back for Toronto, of course. And thank you guys for reading. Email me at matthes@racerxonline.com and we can chat.