Daytona, FL
Daytona
Monster Energy AMA Supercross Championship
Davi Millsaps was in damage control mode as soon as he rolled into Daytona. A practice crash at home on Wednesday left him with a tweaked knee, a terrible scenario considering Daytona's rough, rutted track and extra-long races.
Millsaps was fast at Daytona—fourth-best in 450 SX qualifying—but once the races began, he wasn't the same rider we have seen all year. As is often the case when a rider feels a little off his game, as confidence wanes, starts erode, also. Millsaps started poorly in his heat and only finished fourth—sub-par for this season.
The main event started worse, with Davi completing the first lap in 10th. It turned into a disaster on the second lap. The Rockstar Energy Racing rider crashed in the left hand turn before the Daytona Gator Pit, and he got tangled on some tuff blocks, too. Crashes early in a race do major damage, and by the time he was going again, he was back to 13th—and the riders in front of him were long, long gone.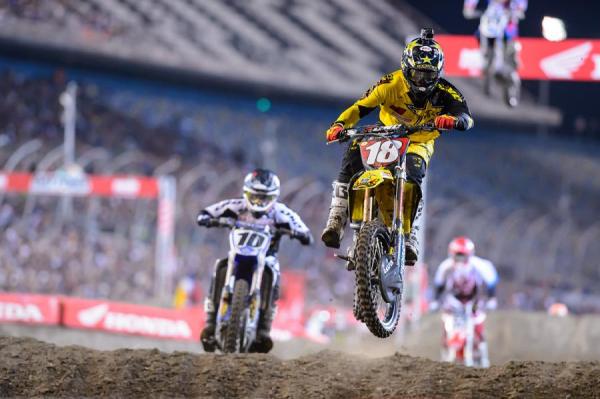 For the first time all season, Davi Millsaps has lost control of the points lead.
Simon Cudby photo
This is the type of moment Davi's competitors were hoping for. Every other top rider in the championship can point to a key mistake or crash they'd like to take back. Instead, they were left digging out a points hole while Millsaps kept shoveling more in via consistency and two wins. Now the adversity is coming his way.
He was plenty capable last week in St. Louis. He battled James Stewart for the win in his heat, and even after a bad start in the main, made a bunch of early passes. Then Davi was passed by Ryan Dungey in one of the many moments of red light/red flag confusion (the AMA and FIM ultimately ruled that Dungey's pass was not illegal, and the light was on to tell riders not to jump the triple ahead, not the double where Dungey made the pass). Moments later, Millsaps was run into by a crashing Trey Canard, bashing his arm and ruining his race. Before that, Millsaps was on the gas.
Now the bad luck is starting to pile up. Passes under red lights, run into by others, bad starts, practice crashes at home, crashes early in the main event—you name it, Davi is dealing with it, and now he's lost the red plate for the first time.
Hard work is often praised as the ultimate answer to racing success, but there are some things that fall well outside of the realm—bad luck being one of them. But hard work is also what put Millsaps into the points lead in the first place. Can it get him back into it?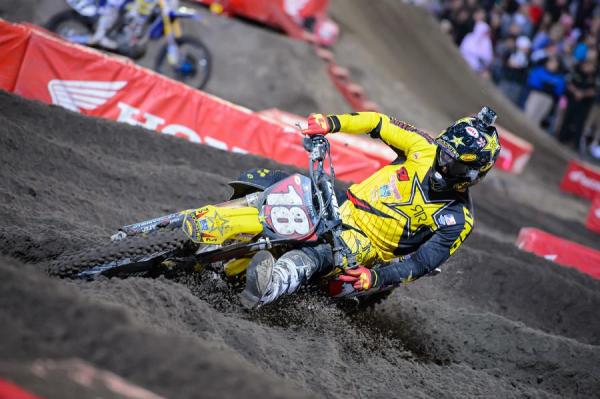 Will Millsaps bounce back in Indy?
Simon Cudby photo