Factory FMF/KTM's Charlie Mullins won the 2011 GNCC title, but suffered through a rough, bad-luck plagued defense of it last year. He's back with a vengeance in 2013, starting the year with a pair of wins in the AMA National Enduro Series, and now a victory at the AMSOIL Grand National Cross Country Series opener yesterday at River Ranch in Lake Wales, Florida. We called him today as he was headed up north to prepare for this weekend's second GNCC round in Georgia.
Racer X: Congrats on the season so far.
Charlie Mullins: Yeah, it's been great so far. I've been training really hard and putting in the time. Enduros have gone well and I've won a National Hare Scramble, too, and now the GNCC opener. So it's been a good season so far, I've just got to keep the ball rolling.
Results-wise, it's been much better than 2012, already. But most of your problems last year were just bad luck—freak mechanical problems, and injuries. So are you taking the same approach, or have you stepped up somewhere?
I have kind of stepped up my training this winter. I wouldn't say I slacked off last winter, but I probably could have done a little more to be prepared. This year, I think mentally and physically I know what I have to do, and I've really been focused and working hard. I've got a lot of motivation right now.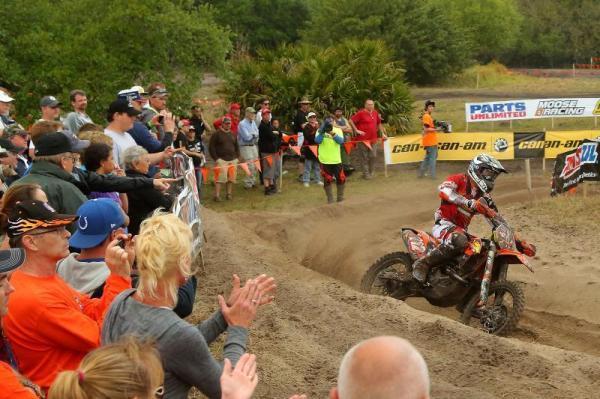 Mullins en route to the opening round win in Florida.
GNCCRacing.com photo
Did last year add to that motivation?
It was definitely a tough year. But after the summer break, I went to Germany for the ISDE and did pretty well there, I had a good ride. My result wasn't that great in the end because I crashed, but I had some good test times up until then. Then I came back, and I won a GNCC in the fall and a National Enduro. So I had good momentum going into the off-season, and then I carried it into this year. Winning both championships this year is the goal, and I think it's doable.
You always seem to do well at the GNCC in Florida. It seems weird to me that a guy from Ohio is so comfortable in the sand.
Yeah, Florida has always been good. I think we've been going to River Ranch five years, and I have three wins and two seconds. I think the sand and my riding style kind of go together, and that helps. But, there's only one race per year down there, so I tried not to put all my focus on it. I usually spend three months down in Florida training, but this year I only did about three weeks, and they were broken up. I actually stayed home in North Carolina for most of the winter.
Did more of the typical GNCC type stuff?
Yeah, rode more dirt than sand. But it also really helped out now that we have a new baby. It's not easy going back and forth to Florida when you've got three people! I think that's the reason we really did it, but I'm not complaining because I ended up winning, anyway. I had way less Florida prep time than usual, but it worked out.
Yes, congrats on the little guy. We're seeing over and over in racing that having kids doesn't slow you down—heck, seems like guys are stepping up.
Thanks. It's definitely a big lifestyle change. It just seems like everything clicks, and it changes the way you look at life. You're motivated to do everything for him. It's been fun having him [Cooper] around—we definitely enjoy him!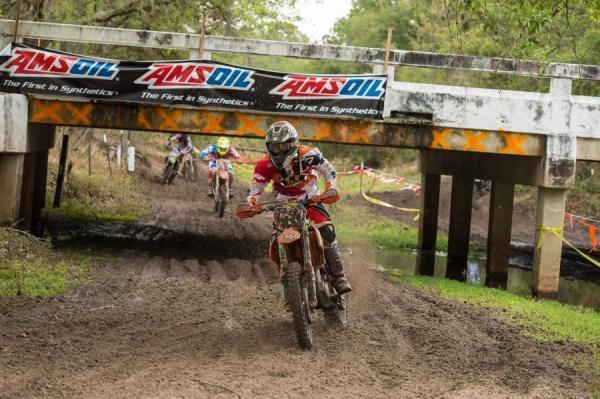 Mullins would outlast his teammate Kailub Russell.
Shan Moore / KTM photo
Take me through yesterday's race.
I got a good start, top five, and I kind of found myself in the lead by the second lap. I was feeling good. Then Kailub [Russell] caught me and got around me on lap three or four. He was riding good, he had a good pace going. But I was comfortable running it, so I just kind of stayed with him and followed. On the last lap, I had a spot picked out where I was going to make my move, and he ended up taking the line I planned on using! So, I wouldn't say I was in panic mode, but I was a little more stressed than usual because I had to come up with another spot to make a pass. There was just a long, fast, whooped out straight away, and I was able to get past him there. It was probably only a mile or two from the finish, so I had to ride solid from there. He's definitely going to be tough all year.
And now you have Josh Strang back in it, and Paul Whibley, of course, is always tough. This should be a good season.
Yeah I think it's going to be real tough. Strang is back, he put in a good race in his first race back. You can never count out Whibley. I think there are four or five of us that can win any given race. It makes it exciting.
You won the GNCC on a 450, but you're racing the 350 in the enduros?
Yeah switched up to the 350. I felt more comfortable on that bike in the tight stuff, the enduros are a totally different format than GNCC and the 350 works well for that. I'll race the 450 at the Florida and Georgia GNCCs, it's a great bike for those. I actually don't even practice on a 350. The only time I ride one is at the enduros, and after riding a 450 all week, it feels like a 125, it's easy to just throw around. It's a real fun bike to ride, and that gets me motivated to ride the two series, because I get to try a different bike at each one.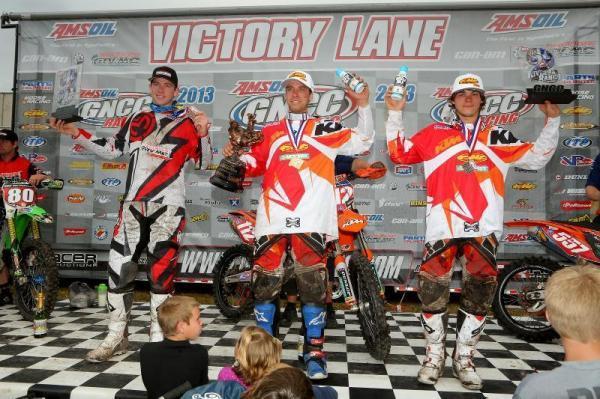 Mullins (center) looks to make it two in a row this weekend.
GNCCRacing.com photo
You could have ridden the 350 starting in 2011, but you decided to go 450. Is the 350 that much better now?
The last time I rode the 350 was when they first came out in 2011, and they've come a long way since then. It was nowhere near the bike that it is now. As soon as I tested one for this year, I knew it was the bike to ride in the enduros. I was blown away. I'm glad they have that dialed in, because I knew it would be a good bike for the tighter races.
Okay, last thing. You said you have some riding and mountain biking coming up. Normally guys are just spent after the Florida race. You have something left for this weekend in Georgia?
Well, I wouldn't call this week training. I just enjoy mountain biking so much, it's just kind of my stress reliever, too. It's a way to di-stress and clear my mind. And then I'll probably ride a little on Friday just to make sure we've got the right setup for the dirt and the woods up there. So it's nothing too intense, just some seat time to get loosened up. I actually feel really good after yesterday. I've never felt this fresh going into Georgia, so hopefully that's a good sign. Hopefully I can get another win!