Daytona International Speedway
Daytona

,

FL
Daytona
Monster Energy AMA Supercross Championship
Welcome to Racerhead and Bike Week at Daytona, where tomorrow night the 2013 Monster Energy Supercross season visits the World Center of Speed. This is the oldest of all supercross races, going back to 1971, when Gary Bailey first put a shovel into the sand and dug his first "gator pits" for the motocross race Daytona International Speedway decided to have. How far has this race come since? Check out this rare footage from 1971.
This weekend is also a big one for American Honda. Forty years ago, Team Honda made its debut as a motocross program at the Daytona race. Gary Jones and his brother Dewayne showed up on brand new Honda Elsinore race bikes, sending the entire pit area into an immediate buzz. But the bikes weighed only 177 pounds, well below the minimum weight requirement of 190 back then. So Honda's mechanics and engineers, working out of rental trucks, set to work welding heavier pieces on the bikes in order to make the weight. The handling suffered, and Gary Jones, then the 250 National Motocross Champion, did not finish in the top twenty, but Dewayne finished fifth overall.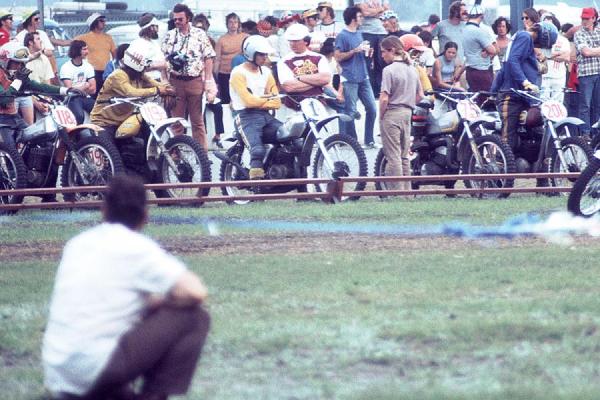 Gary Jones (1) about to start the first motocross race for Team Honda, Daytona '73.
Racer X Archives photo
With all of that in mind, Honda will celebrate the birth of their motocross team forty years ago with a big bash under the Honda tent in front of the speedway. Gary Jones will be there, as well as other legends like Jeremy McGrath, Jeff Stanton, Kevin Windham, Ricky Carmichael, and more. Happy birthday, Red Riders!
Unfortunately, it won't all be a celebration here. This will be the first Daytona in who knows how long that Henny Ray Abrams is not here. As I mentioned last week, the prolific and talented Henny Ray died suddenly at his computer in Brooklyn last week, sending shockwaves through the motorcycle industry and the media in particular. Henny was a straight shooter, telling the tales of motorcycle racing good and bad. He was the AMA Pro Racing people's biggest critic, as well as the AMA itself. His passing leaves big shoes to fill, both as a writer and a photographer. In fact, as I write this in the Daytona International Speedway press room, it seems really, really empty without Henny here holding court, discussing the state of motorcycle racing. As Roy Janson just said, they should rename this media center the Henny Ray Room for the next week.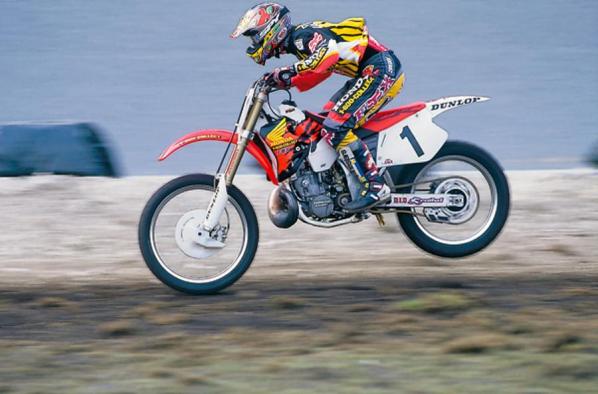 Jeremy McGrath is one of the stars that will celebrate Honda's 40th birthday in American motocross tonight at Daytona.
Moto Verte photo
Yesterday, on the way south, I took a detour to Wilmington, Delaware, for Henny's funeral service. It was very cool to see old friends like Paul Carruthers, Tom Riles, Larry Lawrence, Jim Allen, and Wendy Black all there to pay their respects. He had a profound influence on all of us, and he's sadly missed.
Okay, let's get into the week's news.
HOW TO WATCH (Chase Stallo)
Round 10 of Monster Energy Supercross from Daytona International Speedway will be broadcast live on Speed beginning at 7:30 Eastern. According to Weather.com, the high for the day will be right around 70, with zero chance of rain. As always, the Racer X crew will be in Daytona with coverage of practice, qualifying, and play-by-play of the nights action. Be sure to follow us on Twitter and Instagram (@racerxonline) as well as Racer X Online for wire-to-wire coverage of action from Daytona.
And for a cool preview, check out this video LeBig put together of the calm before the Bike Week storm here at Daytona.
It will be interesting to see how quickly Rockstar Racing's Davi Millsaps can recover from his first subpar night of the season in St. Louis, as well as how fast RV will be in what will effectively be his first "outdoor" race since last year's Daytona SX, which was a mudder.
COVER ME (DC)
With Kevin Windham having called it quits on his racing career, we wanted to do something special for one of the most talented and popular riders of all time. So we came up with twelve pages of K-Dub photos and memories in the May 2013 issue of Racer X Illustrated, plus two entirely different covers—one shot by Simon Cudby this season and one from a classic Kevin Windham moto at Budds Creek back in 2005, snapped by Paul Buckley.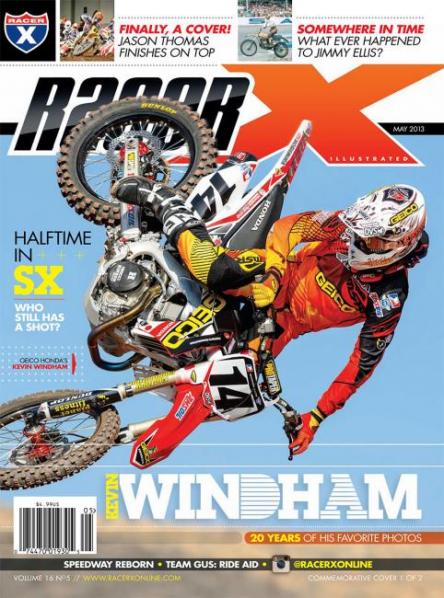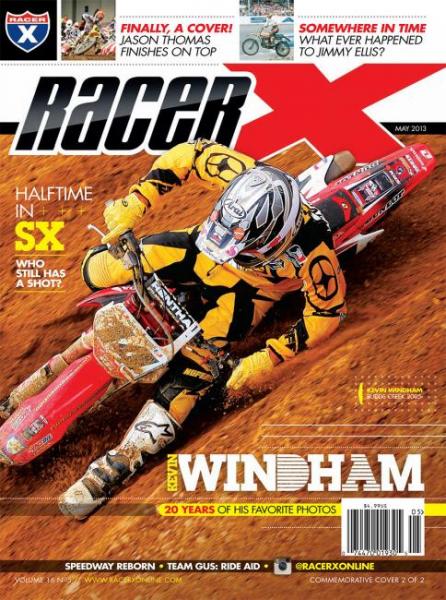 Yes, that's a mid-race bar-drag by Windham!
BAD NEWS via Austin Stroupe on Twitter: "our house burnt down lost everything it was terrible we are all safe tho just upsetting"
What a terrible break for a rider who's been down on his luck a lot lately—not to mention his entire family. Our best wishes go out to all the Stroupes.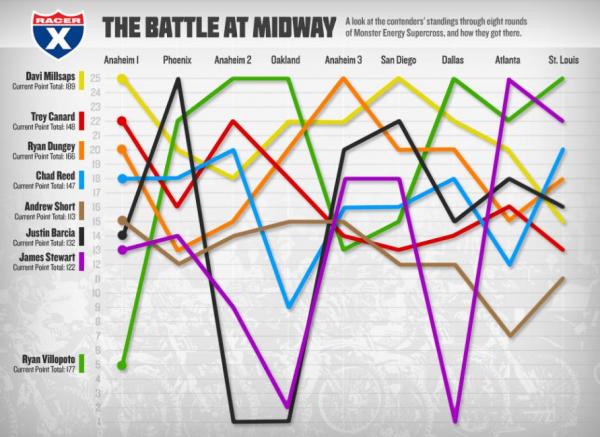 PRO CIRCUIT STRUGGLES
(Steve Matthes)
More times than not, the powerhouse Monster Energy/Pro Circuit team is used to standing atop the podium, but for the first time in ten years, the Mitch Payton-owned team only has one win through the first nine SX races. Dean Wilson has the team's lone win, in Dallas two weeks ago at the start of the East Region. The crew was shut out in the West, and most nights Payton looked like he wanted to be anywhere else. An injury to Blake Baggett and some slumps by Martin Davalos and Tyla Rattray contributed to that o-fer out West.
Things were supposed to turn around, as Wilson was the favorite to win the Eastern series while the team's other active rider, Justin Hill, is a complete rookie and just getting his feet wet. Hill's not expected to bring home a win just yet, but there's no doubt the team would like to see him closer to the podium than he's been so far. For Deano, on the other hand, this is expected to be his series to win-unless his bad starts continue to haunt him. GEICO Honda's Wil Hahn has won two races in a row, and that thing called confidence is all over him right now. Many a favorite has been dethroned by someone who simply catches fire and takes off. You can lose your confidence or get it in an instant, and right now it's all on Hahn's side. Now it's Wilson's job to go out there this weekend and make sure he reestablishes himself as the guy.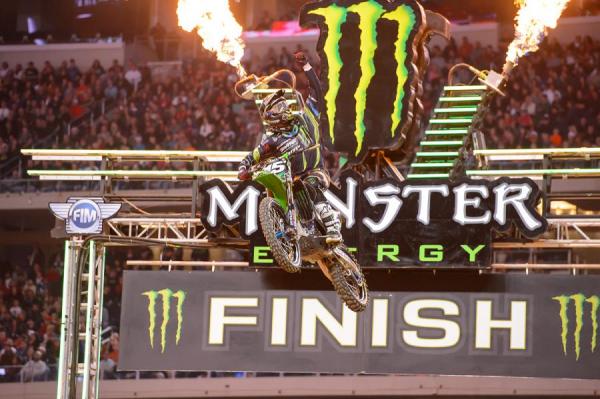 Dean Wilson's win in Dallas has marked the only one for Monster Energy/Pro Circuit in 2013.
Simon Cudby photo
Going back ten years, in 2003 there were no wins for PC through nine races, but the team did win the tenth race with Mike Brown, which was, like this weekend, in Daytona. Certainly the Pro Circuit guys are hoping history repeats itself with either Wilson or Hill. It's got to happen for Pro Circuit sooner or later—they've been too quiet so far this year.
YOUR TAKE:
"He bruises easily for someone who punches hard." VitalMX.com poster FTE, referring to Barcia's take on Stewart's aggressive riding.
THE NUMBER – 406 (Aaron Hansel)
Actually, this week's number is the sum of 5, 98, and 303—with not a single one of those stats being generated by Justin Barcia. It was the Muscle Milk Honda-backed Bam Bam who provided the inspiration for this piece when he clipped a Tuff Block while running second in last Saturday night's main event in St. Louis. Before the small mistake, Barcia was having himself quite a night – pressuring, and eventually passing, James Stewart to take over second place. If this was last year, Barcia probably wouldn't have had much trouble quickly recovering and regaining the positions he'd lost, if any. But that was his life in the Eastern Regional 250SX class, far removed from his current premier-class reality.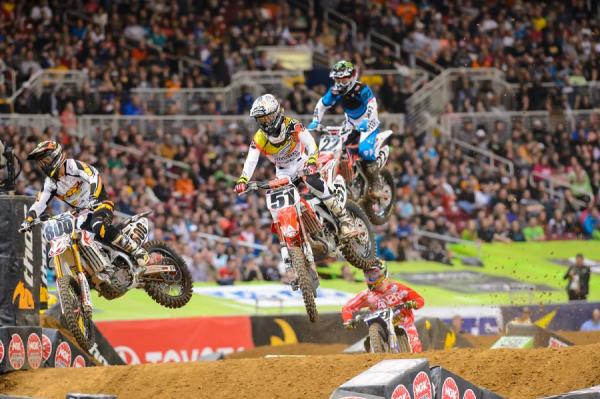 Justin Barcia's one mistake last weekend was costly.
Simon Cudby photo
So when Justin made his little misstep, it allowed Stewart, Chad Reed, and Ryan Dungey to go whizzing past, hauling their combined total of five premier-class championships (two each Stewart and Reed, one for Dungey), 98 premier-class SX wins (Stewart has 45, Reed has 41, Dungey has 12) and an incredible 303 main event starts! Stewart (97) Reed (157) and Dungey (49) are as fast and talented a pack of men that you will ever see go past you in the blink of an eye, which is what happened to Barcia in St. Louis.
"It was definitely crazy," Barcia told our own Jason Weigandt after the race. "I was feeling good and battling it up, having five, six, so many fast guys, one mistake puts you from top three to off the box like that. Definitely a bummer. I went in the corner pretty good and clipped my front brake. Tuff Block stood me up a little, and I couldn't do a triple."
That's just the natural order of things in the pressure cooker that is the 450SX class these days. If you're running up front, you've probably got a swarm of championship-caliber riders who are loaded with wins and experience breathing down your neck. Any mistake, however small, is almost certain to translate into a loss of positions.
PRO PERSPECTIVE – FLAGE GATE (David Pingree and Jason Thomas)
David Pingree: Everybody has an opinion on the RV pass for the lead in St. Louis, so I might as well throw mine out there. I think the AMA whiffed on this one. Here's why: The top priority during a red-cross flag situation has to be safety of the downed rider and staff who are helping him. Everything else needs to be secondary. While the lead duo may have been past the flags and across the track from the downed rider, there were still personnel on the track and in harm's way. It could have gone either way at that point, but what tips the scales for me is that this was Villopoto's second infraction in that race. He had already shown some level of disregard for the caution lights when he doubled out of the triple. Yes, he was docked for that, but typically a second infraction is judged more harshly. If Jason Lawrence, for instance, had done the same thing I feel like they would have penalized him for making the pass where he did.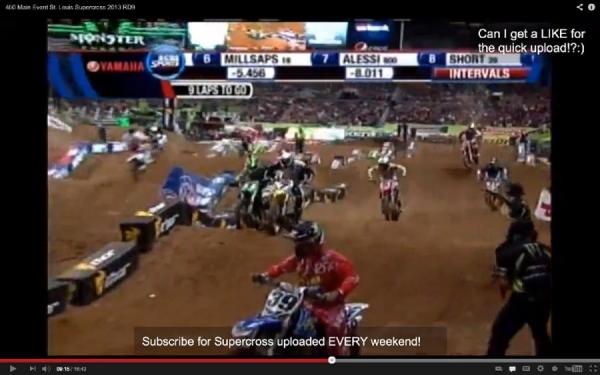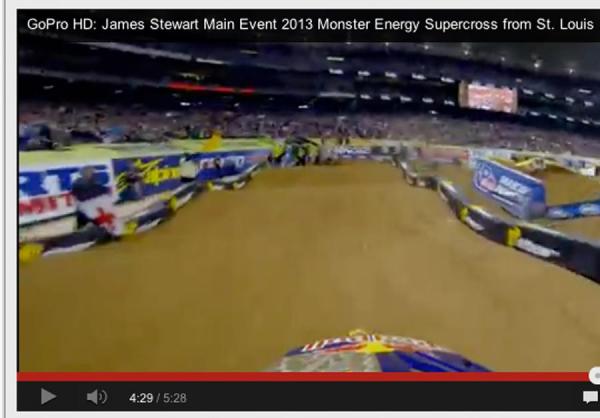 This is the confusion of last weekend, from Stewart's GoPro point of view
Ryan was on fire last Saturday night and he certainly earned that win. But the AMA/FIM needs to have the balls to penalize a rider when it is appropriate. Last weekend, in that moment, I think it was. Hopefully they can use this incident to clarify the rules to the riders and make sure there is no grey area when it comes to the red cross flags.
Jason Thomas: While I agree with Ping on the safety issue, I believe the real problem is the vagueness of the rule. The official ruling came down that the pass was made under yellow and not the red cross flag. This was argued by both sides for hours after the race, and it literally came down to a matter of a few feet of the track. Had he been considered still in the red cross zone, he would have been penalized accordingly. Luckily for Ryan, the yellow zone is open for passing and the case was closed. Sorta.
These rules need to be clarified and etched in stone so that there is no "interpretation" of the rulebook. Conspiracy theories abound when rules have to be explained and applied. I do not feel that anyone influenced the decision—I feel it was more of a reluctance to take a victory away from the clear winner. I can't think of a time when victory was actually taken from a rider, and this would be a serious precedent to start. I hope the rules will be explained ad nauseam at the riders' meeting this weekend. If the rules are stated publicly and EVERYONE is crystal clear on it, I think penalties will be more viable. No one wants the races to be decided by the officials, but making sure riders and medics are safe is the first priority.
HYPERBOLIC QUOTE OF THE WEEK:
"This was a[s] mad a race as I have ever witnessed. The first corner and opening laps was like a wild-fire crashing through a forest. It had all the mechanics and team managers on their feed (sic) and screaming. It even made the combined MXoN motos seem a little average and that isn't an overstatement." MX Large's Geoff Meyer always paints a very rosy picture when it comes to the GPs (even if it is finger-painting).
STRANGE MOMENT (DC)
Did you catch the confusing moment at last weekend Qatar Grand Prix that followed the first Superfinal? Moto winner Tony Cairoli took the top step, alongside seventh-place finisher/MX2 winner Jeffrey Herlings, and then listened to the Italian national anthem being played, all while the actual overall winner and series points leader, Clement Desalle, stood on the lower step with a look of WTF on his face. Surely this will get sorted by this weekend's second round in Thailand.
And speaking of Thailand, here's a shot of the new track they've built for this weekend's race, shot by Lebigusa.com's Xavier LePorcher.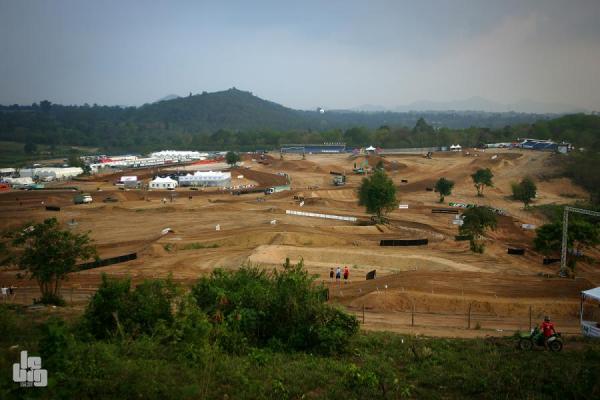 EVERTS III? (Chase Stallo)
Liam Everts, the son of ten-time world champion Stefan Everts and the grandson of four-time world champion Harry Everts, will be lining up next weekend in the KTM Junior Supercross Challenge at Indianapolis' Lucas Oil Stadium. That will make Everts the third offspring of a very successful rider to participate in the reborn program, following Brian Deegan's son, who raced Anaheim, and Tim Ferry's boy, who won the Atlanta race.
WAIT, THERE'S MORE... (DC)
Yesterday, my esteemed young colleague Aaron Hansel's Bench Racing Ammo compiled a list of all of the past winners of the Daytona SX in the premier class. The problem is, the list does not go further back than 1974, nor does it include the 500cc class, which was considered equal (for the most part) to the 250cc class in the early years of what was called the Yamaha Super Series. For instance, in 1975 the 500cc class was won by Maico factory rider Steve Stackable, followed by Gary Chaplain (CZ) and the ill-fated Jim West (Maico). But the results have mostly been lost to time, and they are not in The Vault. Yet.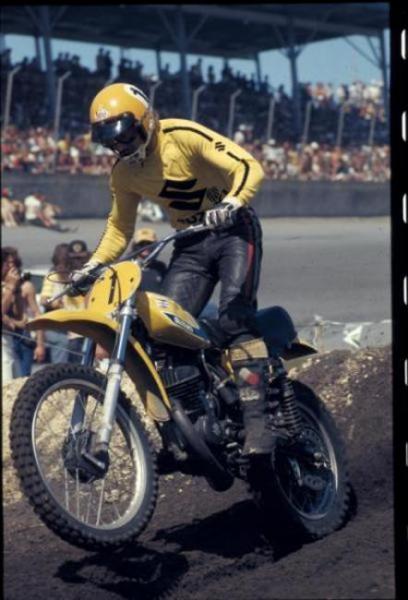 Roger DeCoster won the 1974 Daytona Supercross in the 500cc class.
Racer X Archives photo
In 1974, champion-to-be Pierre Karsmakers won the 250 class on a Yamaha, but reigning 500cc world champ Roger DeCoster came over from Belgium to win the 500cc class over Team Honda's Rex Staten and Husqvarna rider Gary Semics.
The year before, the Daytona race was a part of the AMA National Motocross Championship Series, and Pierre Karsmakers won the 500cc class over Suzuki-mounted Mike Runyard and defending 500cc AMA #1 Brad Lackey, who was on a Kawasaki. There was also a 250cc Daytona round, and the winner was Bob Grossi on a Husqvarna.
The 1972 Daytona race was more of exhibition than anything, as it was not part of the inaugural AMA National Motocross Championship Series or Edison Dye's then-important Inter-Am Series. And as you saw in the video up top, 1971 is when it all began here at the world's center of speed.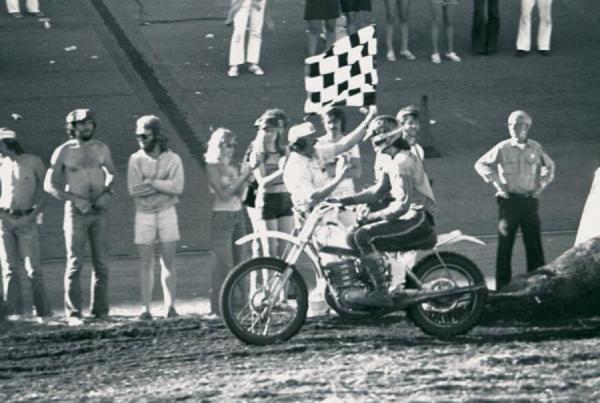 Steve Stackable takes the win at the 1975 Daytona 500cc Supercross on his Maico.
Racer X Archives photo
HEAD-SCRATCHING HEADLINE OF THE WEEK
"Michael Thompson, who finished last in his previous start, battled blustery conditions to win the Honda Classic by two strokes."
That headline came from the New York Times, discussing a golf tournament sponsored by Honda, and not a certain premixer.... The motocross tie-in is that Rickie Fowler was in the running, but then things didn't go well in the end and he tied for thirteenth.
HIGHLIGHTS OF THE WEEK (Chase Stallo)
Controversy in St. Louis: Ryan Villopoto's win in St. Louis last Saturday was saturated in controversy following a late pass on leader James Stewart, which took place right near a bunch of waving red cross and yellow flags. Jason Weigandt spoke with the AMA's Kevin Crowther on why the win was eventually upheld.
Resurgence: Points leader Davi Millsaps' career resurgence during the 2013 season has been unprecedented. Steve Matthes spoke with various members of the industry to get their take on how Millsaps has turned it all around.
Roczen Debuts: 250SX West Region points leader Ken Roczen will make his 2013 450SX debut in Daytona aboard a 350 SX-F. Our crew of editors gave their thoughts on the decision in Racer X Rapid ReaXtion.
IN THE MAG – TEAM OF RIVALS
An iconic racing brand slips into bankruptcy protection and is torn between supporting its own and helping others-all while juggling energy-drink sponsors. In today's hyper-competitive sport, we're seeing fewer traditional factory-supported racing programs than at any time since the early seventies. Today's cash-strapped teams are mostly mash-ups of limited factory and sponsor driven private racing programs. This is the story of American Suzuki in 2013. Read more about Suzuki's efforts in Supercross starting on page 148 in the April issue of Racer X Illustrated.
HEY, WATCH IT!
Daytona Animated Track Map
James Stewart GoPro from St. Louis
Beyond the Finish Line: The Magic Continues
1997 World Championships at Chateu D'Oex in Switzerland (Go to 6:00 and it's John Tomac winning the 1997 World Downhill Mountain Bike Championships)
RANDOM NOTES (Staff)
Here's wishing our longtime friend Peggy Plummer-Menapace best wishes and a speedy recovery after surgery on her back. Peggy has been on the comeback trail for a while after a road bike crash, and hopefully she just got through her toughest challenge yet. Good luck, Peggy!
MXPTV is going live for the first time from the infield of Daytona International Speedway for this weekend's Ricky Carmichael Daytona Amateur Supercross Championship. MXPTV is producing a special live race show including interviews with Ricky Carmichael and the top amateur riders at the event as well as highlights from the first day of racing action from Daytona. The live race show will air on MXPTV.com through YouTube this Sunday night at 8pm ET. Check out the preview video to see what's coming up for this weekend's event at Daytona!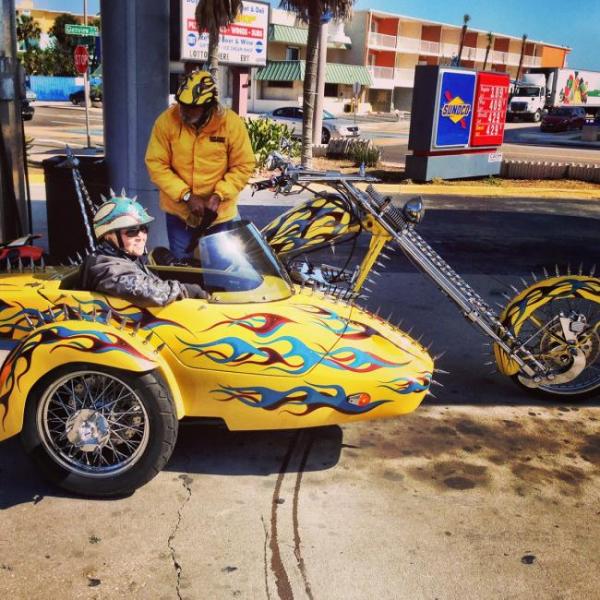 Only at Bike Week!
DC photo
After the amateurs are done with SX, it's time to head over to Westgate River Ranch to kick off round one of the 2013 Amsoil Grand National Cross Country series. Reigning champ Paul Whibley looks to defend his title, and if you remember River Ranch last year, it went down to the final corner of the three-hour race with Whibley inching out Charlie Mullins for the win. The XC1 and XC2 bike classes begin at 1 p.m. Eastern on Tuesday March 12, and you can catch it all streaming live on RacerTV.com.
Great stroll through the old school here, guided by Steve Matthes and his ball TBlazier over on Pulpmx.
That's it for now—see you at either the Cabbage Patch Coleslaw Wrestling Match or the annual Blessing of the Bikes. Daytona has something for everyone!
Thanks for reading Racerhead, see you at the races.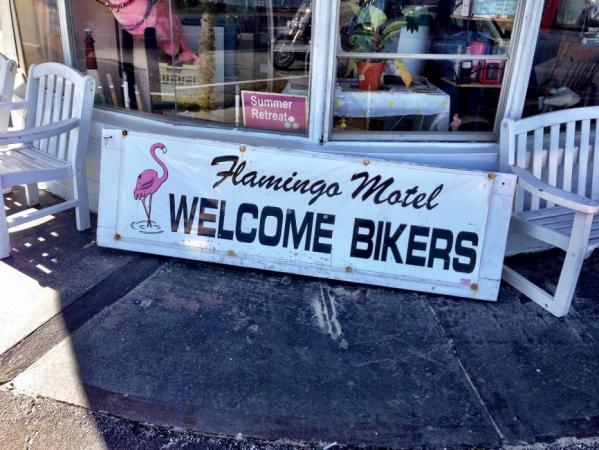 DC photo