St. Louis, MO
St. Louis
Monster Energy AMA Supercross Championship
BTO Sports is your number one source for all of your motocross parts, gear, accessories and apparel. BTOSports.com is a motocross company that is truly dedicated to the sport and to the customer. Proud sponsor of your Racer X Podcasts and the BTO Sports race team.
The 2013 Monster Energy Supercross Championship is heating up folks! You know it's getting down to the wire when the teams are all complaining about each other, the entourages are starting to whisper things to the media about other riders and in general, people are on edge. It's nothing new. I've been in this series, either as a mechanic on a team going for the title or as a media guy covering it, for a long time and this is as predictable as the sun coming up tomorrow. People are incredibly biased and slanted toward "their" guy and now that the series is half over, expect more and more nuttiness as we move toward the final round Las Vegas.
Last week I spent about 2000 words ranting and raving about the tracks this year so I'll spare you readers the same ranting and raving. Just know this, there isn't really anyone happy in the pits about them, including the winners. This week in St Louis the track had potential, and it also had what St Louis always has, which is sweet, sweet dirt. The whoops were pretty long and challenging until the crew rolled them basically flat for the night show. That effectively took them out of the running for any kind of challenge whatsoever. So yeah, good job on that one guys. The sand was divided into two sections and although everyone was just taking the one smoother line in practice, it might have been useful to see how it turned out. But nope, in between the second and third practices, the whoops were taken out of the sand and the section was made completely one lined so yeah, another epic failure there.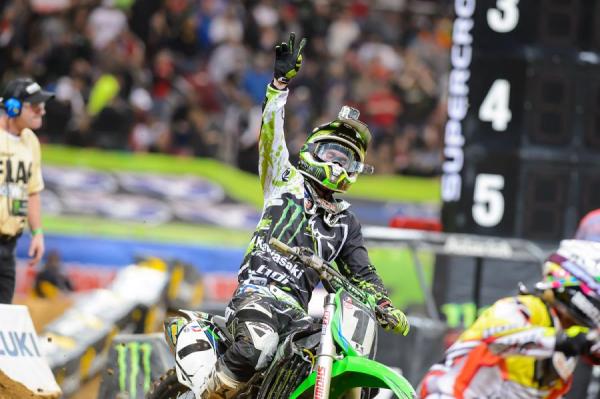 Villopoto's win had it all, and then some.
Cudby photo
And by the way, the modifications to the sand section made the second practice (the first timed one) completely irrelevant so heaven help you if you had some bike problems or a crash in the third practice, because your second practice time was not going to hold up. I don't know how many times I've stated that you shouldn't make major track mods between practices. It's not fair but they continue to do it. It's amazing really that the competitive aspect of the sport is just washed away by the need to make a track change. I simply don't get it.
Anyway, the race itself was saved by the quality of the dirt. The racers could stop inside and cut down on a rider, they could rail turns wide open and they could place the bike where they wanted. All because of the incredible dirt that St Louis has always offered. The racing was great despite the track design and the modifications that hurt it, but the dirt overcame all to give us some great racing and for that, we thank the dirt gods.
After criticizing the tracks the past few weeks, Ryan Villopoto mentioned that he couldn't wait until St Louis because he knew that there, the dirt would be primo, enabling him to let it loose. And that's basically exactly what happened. Villopoto's throttle-happy right hand was able to move and the dirt held up to his throttle being pinned. The traction was there for RV and he showed that when it is, he's the best guy out there. His ride in St Louis was epic as he went from around sixth in the opening laps to third, got docked three spots when there was another single-file restart, then came from sixth after that restart to the lead and a resounding victory. You could see from the very first practice that Villopoto was happy as his Kawasaki just exploded berms left and right. That's his series' leading fourth win of the year and combined with Davi Millsaps' worst night of the series, pulls him to within 12 points of the lead.
Villopoto was quick to credit a triple clamp offset change he made during the week in Florida as a reason why his bike worked better for him. It's weird, back in the day it was almost always the rake that was changed with offset races (this is where the front wheel is tucked in closer to the frame) but since four strokes have come onto the scene it's almost always a change in the offset of where the stem is located in the triple clamps which keeps the rake the same but changes the trail- the footprint of the front tire. It's a small change (I couldn't find out if Villopoto went in or out with the offset but I'm guessing he went in), but one that RV liked. He credited the change in a few interviews as a big reason why he won but if you ask me, it was the simple fact that the dirt was perfect for him.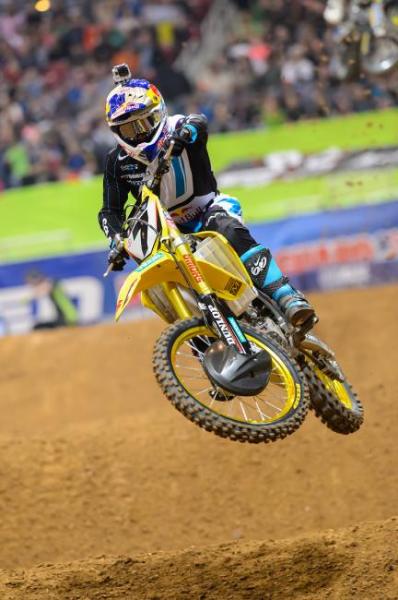 Stewart didn't win this time, but once again, he looked strong. The hobbled Stewart from the first few rounds has left the building.
Cudby photo
The controversy I spoke of up top was in the form of Villopoto passing James Stewart for the lead where Bobby Kiniry was down. The riders were forced to roll the triple (red light was on) and then there was a series of rollers after the triple. Villopoto gained some ground on Stewart in the area where the red light was, then continued when they got to the red cross flag was and then passed him under yellow as Stewart got a bit too much air while trying to go slow. Villopoto scrubbed it a bit and made the pass under yellow flags, not the red cross flag. There are a few different thoughts on this. First, the red cross flag shouldn't have been out in the first place as Kiniry was up on his bike and getting ready to get back into the race. Yes there were some Asterisk guys out there but they were done with Kiniry. To be honest, I'm not even sure why the red cross flag was out in the first place.
After reviewing the tape, the AMA decided that Villopoto passed after the red cross danger area and that it was all legal. The cries of protest were coming from people who thought that RV made up a little too much ground in the red cross area (he did but why would you penalize him just because he was faster at going slower than Stewart?) and that he had already been docked before the restart for doubling a triple and getting past Mike Alessi. He was moved back three spots for that move, but people weren't happy with this, they wanted a pound of flesh from Villopoto for his "dangerous" moves. I think the AMA handled it perfectly both times, but had the race not been restarted, it would have been interesting to see what the AMA would have done with Villopoto's move past Alessi but we'll never know. Do I think he would've been docked three spots? Nope, not one bit because know this about the AMA/FIM/Feld and whomever else is running this sport: they DO NOT want to affect the outcome of this series in any manner whatsoever. Like it or hate it, that's a fact right there. And oh yeah, there's one more thing that I know: red cross flags, yellow flags, restarts and whatever else you want to bring up, there's no doubt that Villopoto was the fastest man in St Louis last Saturday night. He was on it!
James Stewart is back! After his win last weekend Stewart grabbed the lead early and led for half the race. He looked good in doing this and although RV caught and passed him, it wasn't a case of Stewart not riding well, it was just a case of Villopoto riding great. I really don't think there was any stopping Villopoto on Saturday night, yellow flags or not, but I do know that the next time Stewart has to ride through an area where the flags are going, he'll pick it up a little quicker and focus a little more on going faster while trying to go slower, if you know what I mean. A win and a second in the last two weeks indicates that he's clearly feeling much better these days.
This weekend in Daytona is going to be epic. Stewart, Chad Reed and Villopoto all have two wins apiece at the Speedway. Villopoto will be stoked on the ability to once again let it hang out a bit more, Stewart will be his usual excellent self at Daytona, where he can let his improvisational skills shine through by making jumps out of the braking bumps, and Reed's always been great there too. This weekend should be an excellent race, no doubt about it.
Chad Reed went back to his fork from last year for this race (and last race at Atlanta also, from what my sources say) and it paid off with a third place. I don't think it was the fork switch so much as it was the dirt switch but hey, whatever works for the two-two. Reed was very good at St Louis as he held off Ryan Dungey for the last spot on the podium and even tried to stick it in on Stewart in a couple of spots. The Aussie hero hasn't been a happy camper for most of the year and I'm sure this podium helps out. If there's anyone out there screaming for St Louis and Daytona, it's been Reed. At least he backed up that his riding would get better when the tracks allowed it.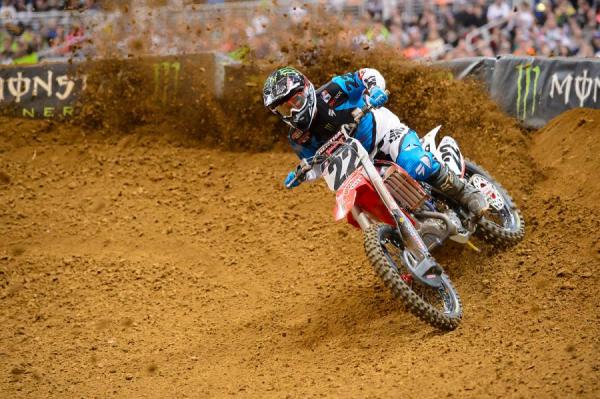 Reed has been saying he'd like his old forks and some better dirt and he'd be more like his old self. And look! A podium!
Cudby photo
I wrote last week that I thought St Louis was a must-win for Dean Wilson and was chastised for it because it was only the third round of a nine-race series. Was it really a must win? Well, yeah it kind of was because Dean Wilson is supposed to be the man in this series and when you're the man, you can lose once, but if you lose twice, your competition starts to think they have a chance, which is exactly what is happening as Wil Hahn rode a great race to win his second main in a row and take the points lead away from Wilson. Wilson's starts were terrible and it cost him the win in St Louis as he was faster than Hahn in ten out of the fifteen laps. When you're buried off the start, you're done. Dean admitted after the race that he was a bit winded from all the work to catch up to Hahn, but either way, he caught Hahn, made a pass for the lead and then saw Hahn pull away a tad for the win.
If you're Wil Hahn you're waking up on Sunday morning saying, "Eff that dude, I can beat him!" Confidence is a very dangerous thing. Wilson would have been better to have run out of time in St Louis because then he can tell himself that he was on the way to passing Hahn before the checkers flew. The fact that he caught Hahn and couldn't make the pass hurts him and helps out Hahn. I'm telling you guys, this sport is so mental at this level it's not even funny.
It should be noted that Hahn's fitness level was very good; he recorded his fastest lap on the fourteenth lap when Wilson got on him. It's pretty hard to ride one pace for thirteen laps and then pick it up like that when you have to go faster late in a race. Good job by Wilbur who dedicated his win to Ridgeline owners everywhere. What? He actually didn't and I just made that up? Oh.
Let's take a look at the results shall we?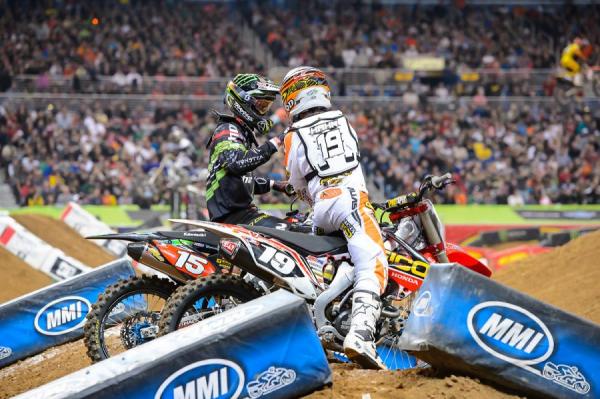 We've got a real title fight on our hands here, but Dean-O and Wilbur are good dudes, so they're keeping it respectful.
Cudby photo
250SX Main
1. William Hahn Decatur, TX Honda CRF 250
2. Dean Wilson Wesley Chapel, FL Kawasaki KX 250F
3. Blake Wharton Pilot Point, TX Suzuki RM-Z250- Wharton was pretty good this weekend. He won his heat and stayed ahead of everyone else but didn't have anything for the top two guys. Still, a third is a third. Nice ride for the former St. Louis winner.
4. Marvin Musquin Corona, CA KTM 250 SX-F- Uh, hey Marvin- you might want to start getting into this series and start making your mark. Those front two dudes are getting away here.
5. Jeremy Martin Millville, MN Yamaha YZ250F- Martin was great this weekend as he came from outside the top ten to a fifth. I said it before and I'll say it again: I can't believe he didn't make the main the first week with his speed. If there's anyone capable of breaking up the Wilson/Hahn/Wharton/Musquin podium potential, it's Martin.
6. Vince Friese Cape Girardeau, MO Honda CRF 250
7. James Decotis Peabody, MA Honda CRF 250- Decotis had a quiet race. He's yet to really have that breakout ride and be out front but after a complete year off due to injury, this is pretty good for the rippah.
8. Cole Thompson Brigden, Canada Honda CRF 250- Thompson had an ugly over-the-bars crash in practice that got him carted off. I honestly didn't think we'd see him again, but there he was in the main, coming from way back to a career high eighth place. All things considered, this was a great race for the Canadian.
9. Zachary Bell Cairo, GA Honda CRF 250- Bell had to go to the LCQ after he stalled in his heat race. But he won the LCQ (although he crashed after the finish- I swear I didn't make that up) and rode a steady race in the main event. A steady race is what Bell and GEICO Honda should take  for now as he gets his feet wet in supercross.
10. Peter Larsen Menifee, CA Honda CRF250- This is actually PJ Larsen and he wasn't on a Honda, he was on an Eleven10 Mods Yamaha. But this is what the results say. And although he had bike problems and barely made it into the forty-man night show, in the main he rode well to this finish, all things considered. He'll get better as the series progresses.
11. Gavin Faith Fort Dodge, IA Honda CRF 250- Faith ran as high as sixth in the main before dropping back to eleventh. Weird deal, not sure what was wrong, if anything.
12. Zackery Freeberg Riverview, FL Honda CRF 250
13. A J Catanzaro Portland, CT Kawasaki KX 250F- Second main event of the year for Catanzaro, who looked great in practice. I was asked for a fantasy sleeper this week and I blurted out AJ's name. I was then informed that he's a fantasy killer and is not to be picked. Well, I'd say this finish makes him look pretty good.
14. Kyle Hussey Foristell, MO Kawasaki KX 250F
15. Mitchell Oldenburg Alvord, TX Honda CRF 250- I don't know much about this guy other than he's from Minnesota and that his parents own a track in Texas. What I do know is that he's made all three main events and is the first guy that most fans wouldn't know much about. He's doing well to be thirteenth in the points.
16.Justin Hill Yoncalla, OR Kawasaki KX 250F- Hill's race was ruined early on when he crashed in the main. From there it was an uphill battle the rest of the way, but he did show some speed in the heat race.
17. Levi Kilbarger Logan, OH Honda CRF 250
18. Daniel Herrlein Bethesda, OH Honda CRF 250
19. Lance Vincent Youngsville, LA KTM 250 SX-F- Lance Vincent is a starting machine, I'd like to see some sort of reality TV show where he, Zach Bell and Mike Alessi all do starts next to each other with the last place guy being voted off by Donnie "Holeshot" Hansen. Donnie's kid Josh can work craft services. I'm kidding people.
20. Shawn Rife Mechanicsburg, OH Honda CRF 250- Rife's fast, and there's no doubt that the kid has skills. But I'd love to see what his races started to DNF ratio is because it seems that time and time again, he cannot finish mains or motos.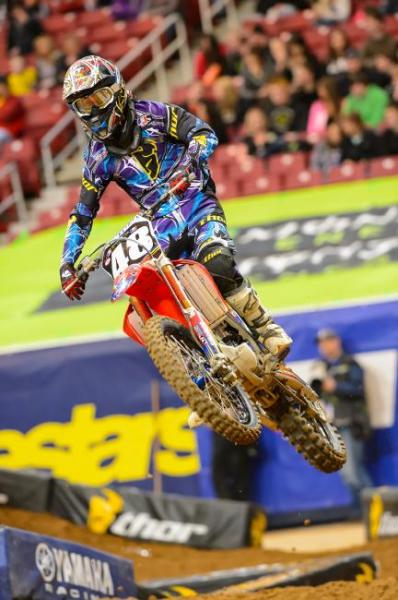 Cole Thompson is certainly showing some toughness.
Cudby photo
450SX Main Event
1. Ryan Villopoto Seattle, WA Kawasaki KX 450F
2. James Stewart Haines City, FL Suzuki RM-Z450
3. Chad Reed Dade City, FL Honda CRF 450- Reed started on the very inside gate and I was not a fan. Luckily for him, it worked out, but you're playing with fire when you do that, people!
4. Ryan Dungey Belle Plaine, MN KTM 450 SX-F- Dungey had a quiet race as he got passed by a couple of guys and passed a couple himself. Ryan's also fortunate that the whoops got steamrolled for the night show as I didn't think his bike looked very good through them in practice. He had a couple of moments in them,bBut as it is, The Dunge is third in the points and is his usual consistent self.
5. Justin Barcia Pinetta, FL Honda CRF 450- Just one mistake is all it takes in this class and you go from second to fifth. That's what happened to Bam Bam out there, who looked very fast all day. You could actually make a case for Justin being the second best rider in St Louis last Saturday night. He kept Villopoto honest the entire heat race (they were a country mile ahead of third) and in the main he was right there until that one mistake.
6. David Millsaps Murrieta, CA Suzuki RM-Z450- Davi's worst race of the year and his starts let him down this week. Millsaps was fast but he wasn't able to rip through the pack and that cost him. Still, he's the points leader and I'd say that one bad race (based on how consistent he's been this year) is nothing to panic about.
7. Mike Alessi Hilliard, FL Suzuki RM-Z450- Mike had a great race. He holeshot, later repassed Justin Barcia for second, ran up front and led a lap. Alessi's been busy digging himself out of two DNF's to start the year but he's getting closer to the top ten in points. Early on Mike led and Stewart was second, which meant that the American amateur motocross system was working fine as those two accounted for 70 percent of all amateur titles won in the decade of 1990-2000.
8. Trey Canard Shawnee, OK Honda CRF 450- Canard is sort of in a slump but hey, he's fourth in the points and I bet he'd take that if we offered it to him at the beginning of the year. That's ok, he'll snap out of it. If you ask me (and no one did), I think his starts have gone bye bye because I haven't seen him fade to the back, I just haven't seen him up there in the first place. Paging Tim Ferry, paging Tim Ferry!
9. Justin Brayton Cornelius, NC Yamaha YZ450F- Did you know that a while ago Brayton switched from a ONE Industries helmet to a Bell helmet? Yeah, maybe you did but I just noticed it a few weeks ago. I'm such an eagle eye aren't I? JB did it for a potential energy drink sponsor that requires the side of the helmet to have the logo.
10. Andrew Short Smithville, TX KTM 450 SX-F- Short was just there all day. I didn't notice him one way or another much because the race up front was so great. He wasn't happy with this finish but eh, what are you going to do?
11. Broc Tickle Holly, MI Suzuki RM-Z450- Another weekend and another ninth to twelfth-place finish for Tickle. He's tenth in the points which is ok on paper, but off paper and at the races, he's sort of just there. I thought he'd step it up a bit this year but he's kind of been the same as he was.
12. Jake Weimer Rupert, ID Kawasaki KX 450F- Weimer started off the year really well but then got sick, busted up some ribs and is now two races into his comeback from that. It's a slippery slope to get back on that edge when you miss time and Weimer's finding that out. He'll get better as he gets better (you like that?). He was half a lap away from going to the LCQ this weekend until Chris Blose threw it away for no apparent reason.
13. Eli Tomac Cortez, CO Honda CRF 450- Again Tomac was fast in practice and looked to be a potential podium spoiler. But again, he couldn't make it happen as he had to go to the LCQ and then, predictably, the bad start followed. Tomac's finding out that life in the 450 class is rough. Still, he'll be all right if he can get a start in a heat and in a main because the kidz got skillz (see what I did there to appeal to the younger demographic?)
14. Jimmy Albertson Shawnee, OK Honda CRF 450- Albertson is a buddy of mine but for reals, he's been riding very well lately. He crashed early in the heat but ripped through from the back to be right there outside the top nine. In the LCQ he used "going slower faster" through the yellow flags to make time up on Chris Blose and then make a sweet pass on to take the last spot into the main. He looks so much better than last year it's not even funny.
15. Matthew Goerke Lake Helen, FL KTM 450 SX-F- Rough main event for Goerke as he went down with Chisholm, started last on the re-start and then I think he went down again at some point. St Louis isn't going to be on his greatest races career DVD, no doubt about that.
16. Kyle Partridge Lake Elsinore, CA Honda CRF 450- Partridge made it back into the main after a week off and I'm not sure what happened to him. Every time I noticed him he was just riding around out there.
17. Robert Kiniry Holland Patent, NY Yamaha YZ450F- Kiniry was not happy with Goerke after the main, as he felt that Matt took him out. Kiniry was third at one point (!), later on went down in that turn where the RV/Stew thing happened, pulled into the mechanic's area for repairs and then went back out there.
18. Weston Peick Wildomar, CA Suzuki RM-Z450- Peick crashed out. And he probably didn't even care about that.
19. Phillip Nicoletti Bethel, NY Yamaha YZ450F- After getting informed by a fan on Friday night that I said he was a "triple" (you have to listen to the Pulpmx Show to know what this means), Nicoletti made his first main of the year with a great heat race. Nicoletti's got skills, there's no debate about that, but he's got to keep it together for an entire race. Unfortunately for Phil, he wasn't able to keep it together in the main event but this was a step in the right direction.
20. Kyle Chisholm Valrico, FL Yamaha YZ450F- Chisholm went down hard when Matt Georke collided with him when he was trying to avoid Jake Weimer. A broken ankle and maybe some knee damage will keep Kyle on the sidelines for a while, which is a huge bummer for him as he had just gotten the JGR Yamaha fill-in ride.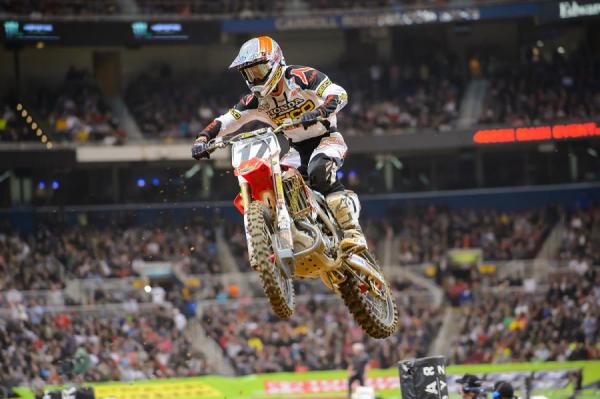 Hey, kidz, Tomac'z got skillz.
Cudby photos
Some news and notes and as always, dedicated to Tom McGovern at Kawasaki
- As stated, Chris Blose of the N-Fab Yamaha team was a half a lap away from making the main event when he drifted wide into some Tuff blocks. That meant that N-Fab almost had all three of its riders in the main. But Blose was still in a qualifying spot in the LCQ when Albertson caught him and made a beautiful pass on him to take the last spot away. Chris Blose came as humanly possible as one could to making the main without actually making the main.
- Lots of talk amongst the riders that the section after the finish could be quaded out. As it was the guys were going onto a tabletop, then off, a triple and single out. Justin Barcia practically did a three and three-quarters in practice one time. I spoke to both Reed and Tomac who thought that they might pull the trigger on it but in the end, no one did. It was close to being doable though.
- (Warning-football talk) Coach Joe Gibbs was at the race supporting son Coy's efforts to play team owner and I got to have a ten minute conversation with him about how he was one of the first to move the tight end around to get around from being smashed by linebackers with Kellen Winslow of the San Diego Chargers. He was also telling me about how he went to a single running back in the backfield because he had two backs in Washington who wouldn't block for the other so they had to put him up on the line. It was a fascinating conversation between one Madden PS3 champion (myself) and one Super Bowl champion (Joe). It was also better than any conversation I'd had with Coy Gibbs in his five years of having a team.
Thanks for reading, send me an email at matthes@racerxonline.com and we can chat about this race or really, any race.