Edward Jones Dome
St. Louis

,

MO
St. Louis
Monster Energy AMA Supercross Championship
Lots of talk and controversy over what went down in St. Louis, with Ryan Villopoto taking on a mid race penalty (of three positions) for an illegal pass on Mike Alessi, but then later also avoiding a second penalty when he passed James Stewart for the lead under yellow flags. [For an explanation of why he wasn't penalized the second time, and Villopoto's take on the situation, check out The Moment from yesterday].
What isn't controversial is RV's speed. He was simply on it in St. Louis, and he made passes, rode strong, and won. To hear how RV felt about his race, here's an interview with him from straight off of the podium, as soon as the race was over.
Racer X: Take us through this one, from the start.
Ryan Villopoto: First turn, [Justin] Barcia did a powerslide and then I did one, James was unable to get underneath me. I was third and then 4th, got around a guy and made a costly mistake and jumped on a red cross. I thought I was past it but it's obviously the full straightaway. It was on Mike [Alessi], and obviously we know Mike's kind of hard to pass. I wanted to try to get it done right away and just jumped the gun. And then obviously [the] red flag and they re-lined us up and I was 5th. They originally told me, we're going to dock you after the race. And I'm like, whoa, well you're restarting so start me now… so then they said okay, yeah, yeah, they must have mis-said what they were originally going to do, and ended up changing it. That was good because whatever happened during the race it's not like I was stuck with winning and then getting docked. So that was good.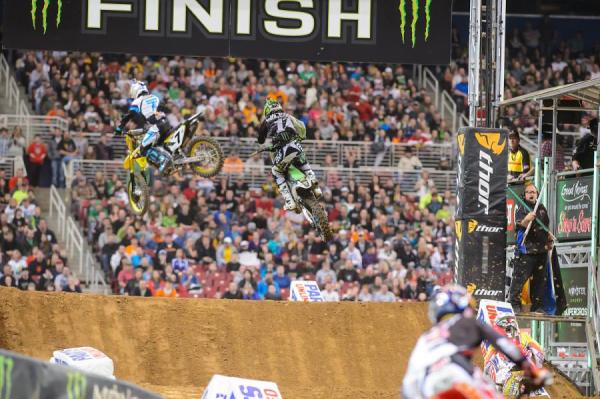 Villopoto and Stewart had a heated, controversial battle in St. Louis.
Simon Cudby photo
Talk about that sand section [the sand before the finish] over here because it looked like you were gaining time throughout the day right there.
Yeah, I was good there. James was good there. Once the restart, we took off and I was able to make up some passes and get into third. I think Barcia was second. Once I knew I was in third and James didn't gap I knew it was going to be a race. So I was able to get around him, get into second, and just put pressure on James. Then there was another red cross and we had a roll a couple sections. Actually Barcia, I seen him get right on me. So we all tightened up there and then I was able to get him here before the whoops and he squared it up, went underneath me. Got me back and I was able to get him here going into the sand.
You guys passed each other probably four or five times. It looked like a chess game out there.
It was one of the more intense races. Being that this dirt's pretty good, I was just eating roost big time. I tend to ride with my mouth open so I get it all in my mouth and stuck in my throat, so was trying to cough that up a few of the laps. But it was a crazy race.
Were you worried about being able to make passes because the last couple tracks there haven't been a lot of areas to make passes? Or do you have it figured out?
I think this dirt promoted passes just because you're able to ride harder and then stick it in here, stick it in there, and square up. The whoops obviously were the downfall on this track this weekend, just because it was pretty much a straightaway so that made it easy for everybody to go through there. But I think it was one of the better tracks. I think the dirt was a lot of that.
That's a double-edged sword, too. If it's easier for you to get by, that means you've got to be more careful with guys behind you.
Same thing for everyone. When I passed James the first time he was able to go right underneath me. I don't think he would have been able to do that if it was a harder packed track. He just doesn't have the grip to do that.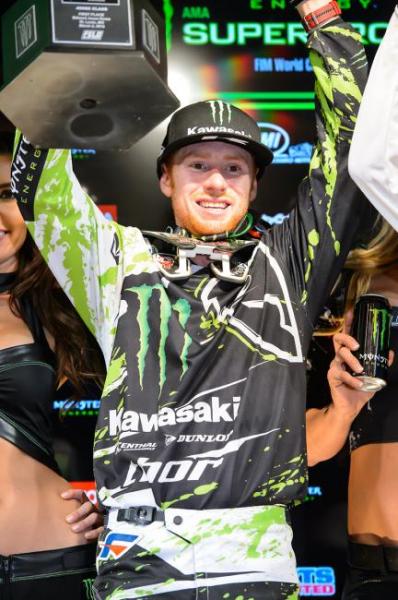 Check out The Moment to see why the AMA upheld the win.
Simon Cudby photo
You talked about making some big changes this week. I noticed some different clamps on your bike.
As a team we were working on making the bike better and we were able to come up with some things and obviously try them. It's called testing and sometimes they don't work, sometimes they work. We were able to, I feel, make some pretty huge gains this last week. When I went out in untimed practice for the first time I felt like it was so much easier to do that than it has been up until this point. So I was happy with what we've all come up.
Did you keep track on Davi [Millsaps] at all during the race?
Yeah, I knew once obviously the restart, he was behind me and then I knew that was in my benefit. But then double-edged sword, I went from 3rd to 5th and knew I had to make something happen.
Leading the race were you peeking on the board to see if he popped up there at all?
I wasn't because when I would go actually before the first triple into that right-hander, I could see him coming through the sand. So I knew it was James, [then] the few guys I had just passed and then him. I knew he wasn't third. Even if you get 3rd and I win that's a fair amount of point difference. So I was good with that but 6th is even better.