Edward Jones Dome
St. Louis

,

MO
St. Louis
Monster Energy AMA Supercross Championship
In 2009, Blake Wharton won the Lites race in St. Louis, putting his name in the record books as a rookie winner. Such a win should have vaulted Wharton into instant title status the next year, but it hasn't worked out yet. His 2010 season on the West was sub par, and his 2011 season on the east was plagued by chronic shoulder problems. Last year, with a fresh start with Rockstar Energy Racing, he finally got back to the top spot on the podium. Is now the time when Wharton finally delivers on that title promise?
"It's good to be back in St. Louis," said Wharton this morning while he was gearing up. "Almost ends up feeling like a home race. You know you've done well here before. And I've tried to give myself that same feeling at other tracks, but it's just not the same."
The St. Louis track is known for hosting perhaps the best dirt in the series, but a lot of the tracks, even those with good dirt, has gotten drier and harder through the years. Wharton, though says, last year's STL dirt felt just like the stuff he won on years earlier, and he likes what he sees so far today.
Wharton could use a little mojo here. His second place at the East 250 opener in Dallas was okay, but he was fourth last week in Atlanta, and not quite on pace with the lead trio of Wil Hahn, Dean Wilson and Marvin Musquin. "Last week could have been better," he said. "You just try to learn from it. Maybe you were a little bit flat or whatever? You go home and you work on it."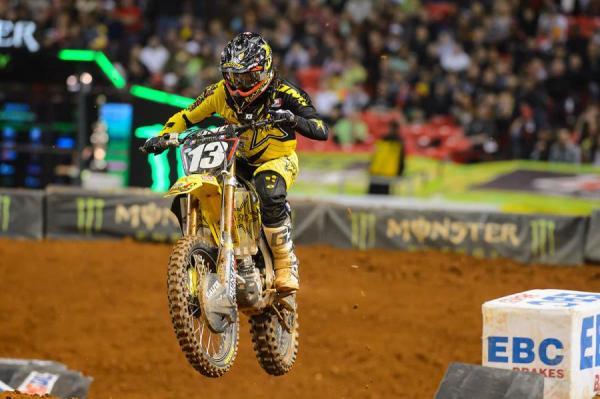 Like fellow 250 class veteran Wil Hahn, Wharton knows the time is now. Hahn stepped up with a win last weekend. Can Wharton do it in a place where he's had success before?
Cudby photo
Wharton has also made it clear he'd rather play the consistency card this year. "On the nights when you don't have it, you don't want to start pushing it, because then you can go down and make it even worse," he says. "It's a decently long season, you've got to keep consistency in your mind."
Consistency is a start, but now Wharton needs to find some early speed to ratchet himself forward. His qualifying laps at the first two rounds were not so good. Today, he looked like he was on a mission to change that, immediately shadowing Wil Hahn through the first timed practice lap to put his #13 on top of the board. Hahn later stole the best time, then Wharton got it back. But by the time the session was over, Wharton was fourth, four tenths of a second off the fastest rider, Star Yamaha's Jeremy Martin.
Rockstar Energy Racing team owner Bobby Hewitt says there are two parts of the track where Wharton is losing time, and one part where he's gaining some back. But they have a fix for the two slower sections, and they believe he can put it together and go as fast as anyone. There's one practice session to go here, so there's time to apply it. As always, it's a search for constant improvement.
"Doesn't really matter where we race," says Wharton. "You're always working on the same things during the week—starts, speed and endurance. Doesn't matter where I finished last week, I'm just trying to get better."