Edward Jones Dome
St. Louis

,

MO
St. Louis
Monster Energy AMA Supercross Championship
Something very rare happened on Saturday night in Atlanta. When GEICO Honda's Wil Hahn won the 250 SX main event, leading all 15 laps, it marked his first-ever win as a professional on the AMA circuit. It also meant that his name would go in the record books as a winner alongside his older brother Tommy, who won the 2009 Steel City 450 National. Add it all up and the Hahns were just the third set of brothers in the past 42 years to each have a win in SX/MX. Here's a List of other very fast brothers, including a few that have come close to both winning, yet still haven't...
Bill and Bob Grossi: The Grossi boys from Santa Cruz were both factory riders at one point, and both have outdoor national wins. Bob won the '73 Daytona race on a Husqvarna, which actually counted as the opening round of the '73 AMA Motocross Championships, and Billy, otherwise known as "Sugar Bear," won the '74 opener at Hangtown on a Honda.
Gary and Dwayne Jones: Before there was even an AMA circuit, the Jones boys were very, very fast. Gary was a three-time 250cc National MX Champion (four if you count the '71 Inter-Am Series' top American). He and Dwayne were both Honda factory riders in 1973, and then Can-Am factory riders, and then even partners on the Mexico-made Amex. The best race of their lives, and the best a pair of finishes brothers ever had in U.S. motocross, came on June 17, 1973, at Lake Whitney Cycle Ranch, when Gary and Dwayne went 1-2 in the 250 National.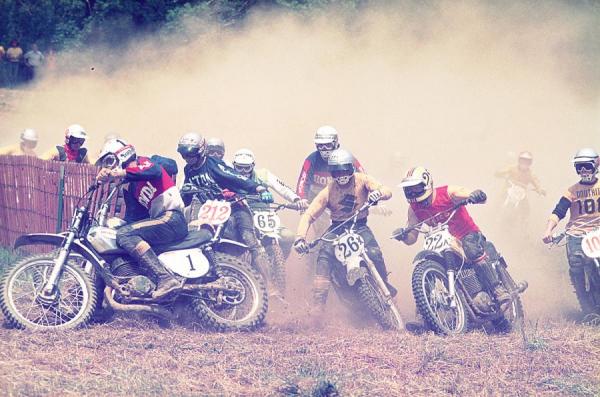 Gary Jones (1) and his brother Dwayne once finished first and second in a 250 National at Lake Whitney, Texas.
Racer X Archives photo
Jim and Ron Pomeroy: Both factory Bultaco riders in the seventies, Jim would become the first American to win an FIM World Motocross Championship and became a Hall of Famer. Ron reached the podium outdoors twice, once at RedBud and once at Delta, Ohio, both in 1974.
Chuck and Ron Sun: Hailing from Oregon, Chuck Sun become the 1980 500cc National Motocross Champion while riding for Team Honda. He also was a part of the famous 1981 Team USA, which won the Motocross and Trophee des Nations for the first time. And like Chuck, Ron made it to the factory level for both Husqvarna and Honda, but he never quite cracked the top five.
The Bigelow brothers: Okay, there were four of these boys, charter members of the Michigan Mafia, and all four were very fast! Kirk was the oldest, Kris was a Yamaha and Husqvarna factory rider who finished fourth on a 250 in 1981, Kreg was the 125 Amateur National Champ in 1979 in the pre-Loretta Lynn days, and Kip was a national minicycle champion, rode pro for Team Dynamic, and is the current Motocross Manager for the America Motorcyclists Association.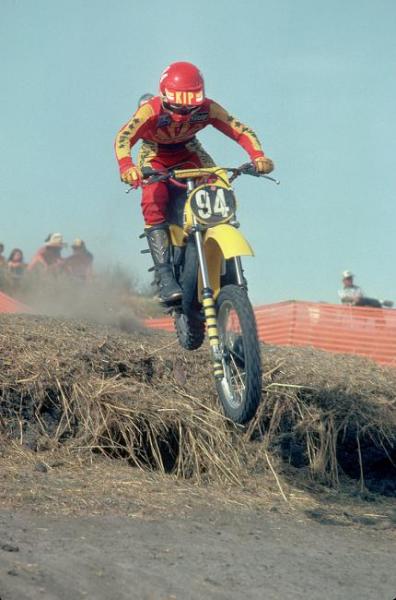 That's Kip Bigelow, longtime fast man and current AMA Amateur Motocross Manager.
Racer X Archives photo
Tyson and Tallon Vohland: The best supercross day in history for brothers probably came back in 1991 when Tallon and Tyson Vohland finished first and third, respectively, in the 125 class at the Houston Astrodome. Splitting the Vohland brothers on the box was second-place Jeremy McGrath. Both Vohlands won titles at Loretta Lynn's as amateurs and then raced the Grand Prix circuit in Europe. Tallon also won 125 Nationals and GP races.
Blake and Tyler Wharton:
The Wharton boys certainly had some good weeks down at Loretta Lynn Ranch as amateurs, as both won a few titles there (the Stewart, Hahn, and Alessi boys came close but were not quite able to double up within the family). As a pro, Blake has two Lites SX wins in his career. Tyler raced professionally from 2008 through 2010 before stepping away from the pro scene as a racer, but you'll still see him at some races nowadays hanging out with his bro.
Mike and Jeff Alessi: Current fans are very familiar with the Alessi boys, as Mike has won multiple outdoor nationals over the years and has been a title contender since 2005. Younger brother Jeff has had trouble staying healthy and was never quite able to reach the great expectations many had for both brothers.
James and Malcolm Stewart: James had won plenty of races—as recently as the 450 SX class last weekend in Atlanta. His younger (but not littler) brother Malcolm has shown flashes of brilliance during his three seasons as a pro, but hasn't delivered a win or podium finish yet. He's cracked the top five indoors and out, though.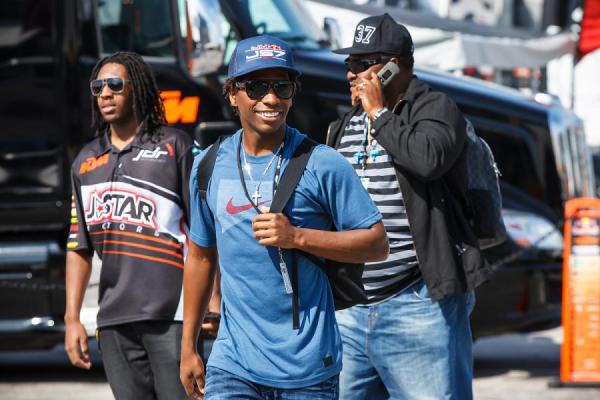 James (near) has garnered multiple wins and titles in his career, while Malcolm (far) is still searching for his first win.
Simon Cudby photo
Tommy and Wil Hahn: The whole idea for this List came on Saturday night when our buddy Wil rode to a solid win at the Atlanta SX over Dean Wilson and Marvin Musquin. That moves him into the wins column with older brother Tommy, who has an outdoor national win from 2009. They are only the third set of brothers that each have an AMA MX or SX win. (Here's a nod to Europe, where the Geboers brothers—Sylvain and Eric—were superstars in the seventies and eighties—and the Pourcel brothers, Christophe and Sebastien, who are the only brothers in MX history to sweep both classes on the same day of a GP, National or Supercross. They did it in Italy on July 15, 2007, Christophe winning the MX2 class, Seb MX1, and then they did it again in Belgium).
Josh and Justin Hill: Josh is in the record books for winning the Minneapolis SX a few years back, and Justin is just breaking into the pro ranks with the Monster Energy/Pro Circuit Kawasaki team. The Hills, like the Whartons, each have titles at Loretta's under their belt. They may very well be the next team of brothers who each have a win in the pro records books.
That's our List for this week. Who else you got in a battle of brotherly love?