Atlanta, GA
Atlanta
Monster Energy AMA Supercross Championship
Round 8 of the 17-round Monster Energy Supercross season is in the books (where has the time gone?) and things aren't really any clearer now than they were at the start of the year. Yeah, Davi Millsaps has a nice lead in the series but he's yet to have a bad race. Most think he will have that at some point (actually his competitors are banking on it). But right now, we're waiting. And waiting. We might all be at the SX awards banquet in May still waiting for Davi to have a bad race as he picks up the championship trophy. Just saying.
What's going on with these tracks and the races? Do we need to have some sort of intervention here? I was thinking that this was going to happen, and as usual with everything else in the world we live in, the overcorrection was too much. What am I talking about? The rash of injuries last season has caused Dirt Wurx and Feld (the series promoters) to take a look at the track designs and scale them back to keep these guys on the track. It isn't a bad idea, except for the fact that our injuries last season were a fluke deal. Last year I went back and looked at the 1998 season, which was another year where barely any of the top riders made it through to Vegas, proving that it's not a track or cc or four-stroke/two-stroke thing. It's just a fluke. The year before last, 2011, was awesome. The best year in SX history I believe. I even read it on the flags at Las Vegas.
This season, almost without fail, the leader after one lap is the winner of the race. You get the start and you have a better-than-you-should-have-chance at winning. The dirt's been pretty crappy, the obstacles small, the corners aren't built properly and as a result, the world's best racers can't show their skills. As Ryan Villopoto told me after Atlanta, "I'm going as fast as the track is letting me," which means there's no traction and there's no obstacle on the track that lets him show his skill. There aren't passing opportunities out there, there are no inside bumps on the insides of turns for riders to try, there isn't a long treacherous whoop section to really separate the skills of the men setting up the bikes (never mind the rider himself), there's nothing! All the riders in the eighty-man night show (both classes) are all doing the exact same things. And that folks, is how you create some boring racing. Oh how I long for last year's San Diego SX whoop section, the creativity of the rider designed courses or the over/under bridges to add some variety. I'll even take a mud pit at this point.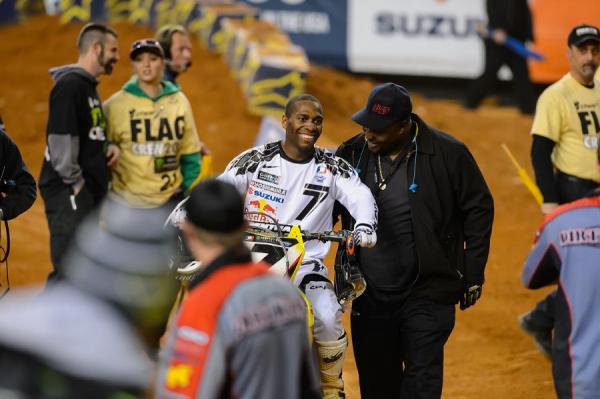 James Stewart was all smiles after his first win of the season in Atlanta.
Simon Cudby photo
I take a lot of flak from my friends on other teams about my enthusiasm for James Stewart and my refusal to doubt his skills. Stewart hasn't won an SX title in three seasons and he has only won a handful of races in the last few years, as he's been hurt and dealing with a bike he didn't like, but none of this matters to me. I've been at this game a long time and I don't care what the record books show - James Stewart is the best supercross rider (notice I didn't say "racer") who has ever lived. Yeah, he's only third on the career win list and yeah, he's only got two titles but his technique, innovation and ability to make you come out of your seat to watch him has never been matched. Jeremy McGrath was awesome, a lot like JS today, but Stewart has taken MC's skills and has raised them up. One day, someone will take Stewart's skills and raise the game. As Eddie Vedder once sung, that's evolution baby.
He's been the fastest qualifier plenty of times this year but as we all know, he's battling an ACL tear in his knee and hasn't been the same guy that we've seen in the past. In fact, I fully expected him to pack it in and get the thing fixed. The old James Stewart would rather retire than ride around (injury or not) outside the top three. The now, just older James Stewart, realizes he's on a new team, with a new gear line to promote, has limited results from last year and is toughing it out. But it's got to be humbling to him. The man with the highest win percentage in supercross of all-time (50 percent before the start of the year, but now getting closer to McGrath's 42 percent) hadn't even made a podium this year. Yes, you read that right.
Well cue the Jaws music because the number seven is back. Stewart won Atlanta with twenty strong laps, and it was nice to see. I have to admit, I thought Ryan Villopoto would wear him down with superior fitness, but I guess the knee is better to the point where James has started to get his base levels back to where they need to be. The championship is gone at this point but what Stewart needs to do now is let it be known that there's no throwing dirt on him. He's as good as ever and the role of spoiler is his to embrace.
We had Stewart on the Pulpmx Show on Monday and he had some interesting things to say. One of them is that his plan is to be on the line for the Lucas Oil Pro Motocross season opener at Hangtown unless "something goes seriously wrong." He also thinks the tracks "have pretty much sucked" this season. I don't want there to be injuries to the half the field either but this overreaction to an anomaly year is a little much in my, and apparently Stewart's, opinion.
The only thing on the Atlanta track that was at least a bit challenging was the dragon-back jump-off section that Stewart was nailing every lap while the second place Villopoto was not. It wasn't an easy thing to do; the section was made with differing heights to allow for those not brave enough and on 250s to not leap off the top jump, but for someone like RV, well it's not that hard. Not jumping it killed his chances of catching Stewart, as in the other two segments, (well laid out by our own Chase Stallo HERE) Villopoto was faster. But when it came to jumping off the dragon back, well RV wasn't having it.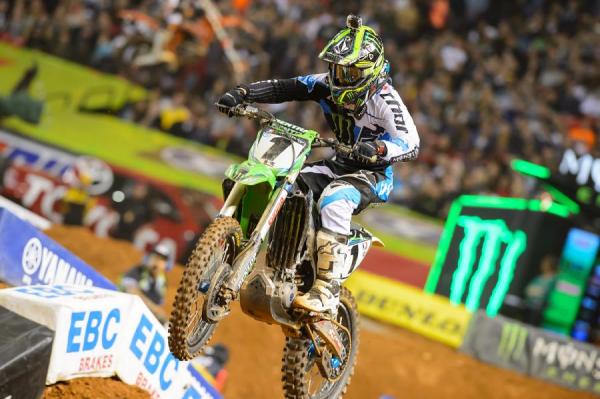 Ryan Villopoto finished second to Stewart, but was able to pick up two points on leader Davi Millsaps.
Simon Cudby photo
Afterward he told me that it wasn't the jump that was the problem, it was the following triple into the turn that sketched him out. He wasn't comfortable coming in there with that speed and making the turn on the flat ground (remember we don't have bowl turns anymore on the outsides of the stadium) for whatever reason. After the race Villopoto met with his team in the back of the truck and I assume there was talk of what RV was doing, and why it made him feel as though he wasn't able to match Stewart out there. A second place and two points made up on series leader Davi Millsaps is the bright spot for Villopoto and his team. The dark spot? Wondering what if…
And hey, I know I just said the tracks don't offer obstacles to separate the top riders, and then explained how that dragon back section did. But this was a strange deal, Weston Peick was even jumping the same rhythm Stewart was. Villopoto didn't. Had he, and it would have been follow the leader for just about everyone.
Lot's of hype for Eli Tomac this weekend. I tried to get a spot on the bandwagon but it was totally full. Booked to capacity man. Hell, walking around the pits it seemed that everyone and anyone was in there. The 250SX rider moved up to a 450 for four races starting in Atlanta (on a full factory Honda, by the way) and showed some speed, as well as an ability to do some damage in this class. But he also showed that his crappy starts followed him to the bigger bike (if he keeps getting poor starts, we're going to have to not believe that he's too big for a 250 and just start thinking he's a crappy starter like his manager, Mike LaRocco, used to be), and that's what doomed him in both the heat and the main event. Qualifying second fastest was great but as I've laid out in the above paragraphs with a whole lot of words, if you're not starting at the front, you're not finishing at the front.
Still, Tomac looked aggressive. He was one of the only guys to move up during the main (twelfth to seventh) and looks right at home on the bigger bike. It was surprising to hear him (HERE) comment afterward that the bigger bike and five more laps caught him a bit off guard. Kudos to Tomac for admitting that. I'm sure he'll figure this out.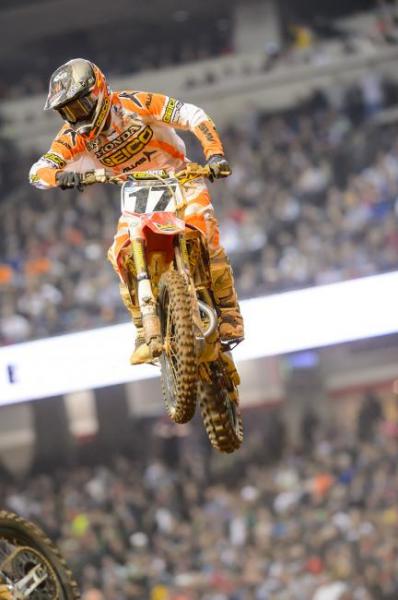 After a bad start, Eli Tomac charged back to finish seventh in his 450SX debut.
Simon Cudby photo
The Eastern Regional 250SX series kicked off in Dallas, and we saw exactly what we thought we were going to see - a nice and tidy win by Dean Wilson. This week however we saw "Moving" Marvin "Marv Attack" Musquin set the fastest time in both timed practices, Wil Hahn move from third to first in a heat to win it and then Hahn dominate the main event to take his first career win. In short, we're seeing what I alluded to last week, which is a series that isn't that deep creating opportunities for guys to be heroes. Not that it mattered one way or another who was in the class because Hahn rode awesome and was going to be "a guy" no matter the coast, but you get what I mean. Hahn's got a real chance to win this thing, but I'd still put money on Wilson to capture this title. Still, Hahn's got confidence now and I'd watch out.
Hahn smashed his toe pretty good when he passed his teammate Zach Bell in the heat race. He went right from the Asterisk medical truck to the main event as they were fixing him up. I saw a photo of the toe - it's nasty. Almost worst than Bunny's toe in The Big Lebowski. Props to Hahn for his ride. It was really, really good.
By all accounts, Wilson had a pretty scary crash this week while practicing so I don't think he was 100 percent set for the weekend because of this. And going down in the first practice on Saturday probably wasn't a great way to start off the day. Still, following Hahn around for the main event and ending up second is a good finish, but you can't let your competition get too much confidence. I know it's early but St Louis is a must win for Wilson.
Let's take a look at the results shall we?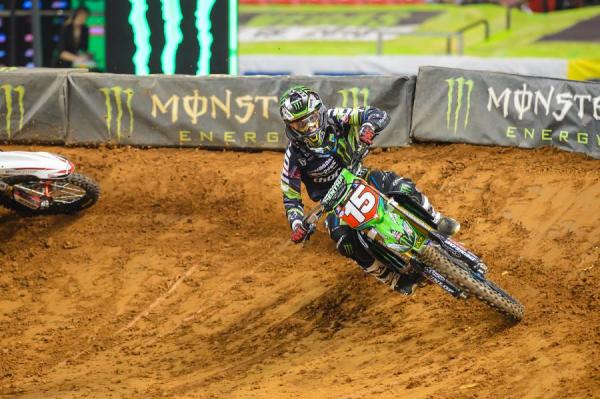 Dean Wilson finished second to Wil Hahn in Atlanta, but still has the points lead.
Simon Cudby photo
250
1. William Hahn Decatur, TX Honda CRF 250- Weirdest thing ever was seeing Mike LaRocco get himself "ready" for a kiss from Wil after the race. Bizarre team over there.
2. Dean Wilson Wesley Chapel, FL Kawasaki KX 250F – When I read "Wesley Chapel, FL" for Wilson's residence, I immediately think of the fastest man to ever come out of there. And that's none other than former AMA Rookie of the Year Paul Currie. Wilson's got a long way to go to match that guy.
3. Marvin Musquin Corona, CA KTM 250 SX-F- The Frenchman was pretty good. He kept the top two guys close and had either of them made a mistake, Musquin was right there. Marvin's moving up on my list of favorite Frenchmen who have raced in America. He's always in a good mood, a nice guy and gives great, honest interviews. He's no Tortelli or Vuillemin but he's moving on up.
4. Blake Wharton Pilot Point, TX Suzuki RM-Z250- It's got to be a bit of a bummer for Wharton, who was second last week, to get yarded by the top three guys, but I'm sure he'll be better this weekend in a town where he's won before (St. Louis). The real question I have is, can any rider who isn't named Wilson, Hahn, Musquin or Wharton make the podium this year?
5. Jeremy Martin Millville, MN Yamaha YZ250F- A week after not qualifying, Martin rebounds with a very nice ride to show that he has the speed to be a factor in this series. Perhaps even get a podium at some point.
6. Justin Hill Yoncalla, OR Kawasaki KX 250F- Some shaky opening laps by Hill but he rebounded to get Faith near the end for a good finish. Yeah I know, he's a rookie, but like any PC or GEICO rider, the standards are a tad higher than say, a Mitchell Oldenburg.
7. Gavin Faith Fort Dodge, IA Honda CRF 250- Faith wasn't as spectacular as he was last week but he was still pretty good on the MCR 250. I know that Tony Alessi at MotoConcepts was kicking around hiring Faith or Cole Thompson for the East Coast and it looks like either way, he would have had a good choice on his hands.
8. Kyle Peters Greensboro, NC Honda CRF 250- Last week's surprise didn't repeat what he did in Dallas (fourth place), but an eighth is nothing to sneeze at for Peters.
9. Vince Friese Cape Girardeau, MO Honda CRF 250- I didn't notice Vince that much and that's a good thing.
10. Zachary Bell Cairo, GA Honda CRF 250- Bell crashed in the heat but made it fifteen laps in the main without major incident for a decent finish, considering he didn't ride all week after his superman impression last week. This is where we're at with Bell, he's just got to circulate the track with no problems.
11. Mitchell Oldenburg Alvord, TX Honda CRF 250- I don't know a thing about this guy but he's eleventh in the points after two main events. He's the first guy that you look at and go, "Who's he?" so that's something.
12. Lance Vincent Youngsville, LA KTM 250 SX-F- Vincent's got to make more out of these good starts that he's been getting.
13. Cole Thompson Brigden, Canada Honda CRF 250- Thompson had an off night as he had to go to the LCQ to make the main, but it says something for his speed in the fact he was dead last in the heat but still almost made it in. Then dominated the LCQ. That's what top riders do, they come through all the time. Did I mention he's Canadian?
14. James Decotis Peabody, MA Honda CRF 250- Didn't watch Jimmy D all that much, I hope that Widget and the rest of the Ewoks are okay with this ride.
15. Steven Clarke Cairo, GA KTM 250 SX-F
16. Gareth Swanepoel Murrieta, CA Kawasaki KX 250F
17. Adam Gulley Jonesburg, MO Kawasaki KX 250F
18. A J Catanzaro Portland, CT Kawasaki KX 250F
19. Kurtis McCabe Marion, IA Honda CRF 250- McCabe got a gift in the heat when, in eleventh with one turn to go, he rode around the outside of Thompson and Wentland as Cole went for the kill with very, very little chance to make the pass stick. Both riders went down and Kurtis rode right on into the main event.
20. Jackson Richardson Cairns, Australia- It's weird man, Aussie's are some of the most passionate moto fans out there and my email inbox and Twitter usually blows up informing me of Matt and Jake Moss's latest moves or this Cachia dude or Simmonds or whomever is over here racing in American. But with this Aussie, there's nothing. Hello? You guys understand he's from Down Under right?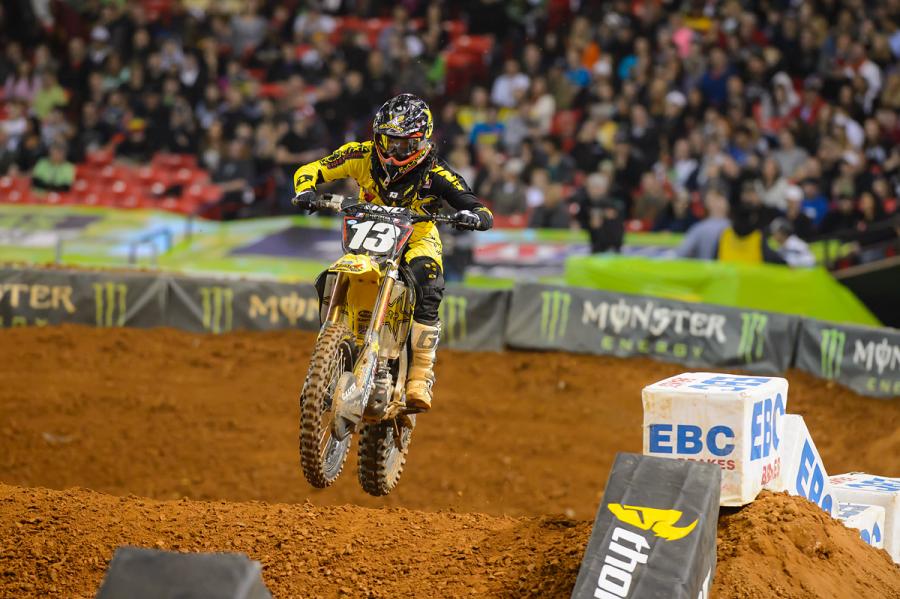 Blake Wharton was a tick off the leaders in Atlanta.
Simon Cudby photo
450
1. James Stewart Haines City, FL Suzuki RM-Z450
2. Ryan Villopoto Seattle, WA Kawasaki KX 450F
3. David Millsaps Murrieta, CA Suzuki RM-Z450- The Big Treat is becoming the Big Consistent. Millsaps rode a strong race and closed in a bit on Villopoto near the end of the race. He's just got to keep on going the way he's been going. I know some of his competition have been waiting for a misstep by Millsaps but hey guys, it's round eight already and he looks pretty good.
4. Justin Barcia Pinetta, FL Honda CRF 450- Barcia had a decent race, he might even have won had he grabbed the holeshot. One thing I think his bosses at Honda are going to do is give him a bit of a talking to in terms of racing a teammate that hard in a heat race when both guys are in qualifying positions. His aggressive nature sent Canard to the LCQ with broken spokes. Now that I think about it, Barcia was weirdly aggressive all day with other riders; Brayton, whipping it in RV's face, getting into it with Stewart in practice and the track as well, judging by his roost. Not sure what his deal was. An angry Bam Bam!
5. Trey Canard Shawnee, OK Honda CRF 450- LCQ to fifth? I bet he'll take that all day long. In talking to some of the GEICO guys, they feel like Tomac's inclusion into the class has caused a little bit of urgency amongst Canard and Barcia, as they do not want to be beat by the kid. And I don't doubt that's right, I've seen it before. No one wants to be the last place guy on the factory team.
6. Ryan Dungey Belle Plaine, MN KTM 450 SX-F- Ryan didn't get the start he needed and it was hard to make up time out there. He could've won had he grabbed the holeshot.
7. Eli Tomac Cortez, CO Honda CRF 450
8. Jake Weimer Rupert, ID Kawasaki KX 450F- Weimer's first race back after three missed races and he got a bit tired. He'll get better from here, and an eighth is a nice return for The Snake.
9. Chad Reed Dade City, FL Honda CRF 450- Not good at all. On this track, with him not happy with a new setup that was working good at his house, Reed wasn't going to move forward much. That's two poo-poo weeks in a row for Reedy.
10. Mike Alessi Hilliard, FL Suzuki RM-Z450- Mike had an okay race. He looked to be riding pretty well, but he did end up going backward in the main event. I liked the SPEED TV section on the telecast where they followed him around for the day. Great idea and I'd love to see it done with other riders, but unfortunately other teams and riders are probably too secretive to let that happen. That's a real shame.
11. Matthew Goerke Lake Helen, FL KTM 450 SX-F
12. Broc Tickle Holly, MI Suzuki RM-Z450- I was talking to the Pro Circuit guys about Tickle and made mention that his bike last year was basically a factory bike and those whispers about Broc not performing as well as he should on a factory Suzuki aren't justified because, well, last year he had a factory Kawasaki. They told me that they were pretty confident that the 450 they built for Broc was as good as any bike out there. Anyway, Tickle is doing about the same this year as he did last year. Maybe a tad worse, but then again, the field is deeper and I'm sure RCH is hoping Tickle's outdoor success from last year repeats itself.
13. Justin Brayton Cornelius, NC Yamaha YZ450F- Brayton was not happy about Barcia's takeout of his front wheel after the race and I didn't see it until I watched the TV show. I have to admit, I thought Brayton was almost at fault as much as Barcia was due to Brayton losing some traction in the turn which caused him to come out of the turn early. I checked in with master of all things Brayton, the Weege, and he says Brayton, too, realized he put himself in a bad position once he watched it.
14. Andrew Short Smithville, TX KTM 450 SX-F- Well Short's debut ride on the BTOSports KTM team went okay in the fact that he got a strong second in the heat and was up there in the main until he fell. His streak of being one of four riders with top tens at every race came crashing to a halt. I spoke with Andrew after practice and he made a comment about the bike being a bit different from the one he rode in California for three days. I said something about the frame being new and that's why he has that feeling but he quickly shot me down. I remember when I was a mechanic and had answers to all these questions.
15. Peter Larsen Menifee, CA Honda CRF 450- This "Peter" is actually PJ Larsen. I had no clue his name was Peter, and I don't think anyone outside of his family knew that either. Anyway, he made the main again with a good ride but that's it for Larsen, he's moving to the Eleven10 Mods Yamaha team and the 250SX class for the rest of the eastern rounds.
16. Joshua Hill Yoncalla, OR Suzuki RM-Z450
17. Chris Blose Phoenix, AZ Yamaha YZ450F- Next time you're watching the race, pay attention to Blose. He's had crappy luck in the mains but he's riding better than he was at the beginning of the year. He's a scrapper.
18. Les Smith York, SC KTM 450 SX-F Factory- With Short's arrival, Smith got bumped to the back of the BTOSports KTM semi as per the original terms of his agreement (Smith had been filling in for Michael Byrne). There's not much difference between Smith's "new" bike and the old factory bike so that's good. And he still gets to eat all the Bubba Burgers he wants, he just has to eat them out back now.
19. Jimmy Albertson Shawnee, OK Honda CRF 450- Albertson crashed while he was up to thirteenth and that's a shame. His bike was all bent up from the fall. He rode well in the heat though.
20. Robert Kiniry Holland Patent, NY Yamaha YZ450F- Kiniry got himself a flat tire in the main event after surviving an LCQ with Weston "The Nihilist" Peick. And despite the poor finish, Kiniry got some good news afterward when it was confirmed that the switch to N-Fab Yamaha was indeed going to happen. More on that below.
Some random notes that are NOT dedicated to Tom McGovern at Kawasaki:
-Supercross racers are gnarly. "Filthy" Phil Nicoletti had a dirty crash (see what I did there?) in practice and earned himself a trip to the hospital to get checked out for neck/spine damage. He checked out fine, took a cab back to the race (still in his gear) pulled up to the building and ran in for the third practice with the doctor's papers in hand to clear him. It was so tight that he wasn't allowed to join his group until the Asterisk doctors did a small strength test on him while he was on the bike waiting to join practice! And his papers were handed over, right there on the track and he was free to join practice. Nuts right?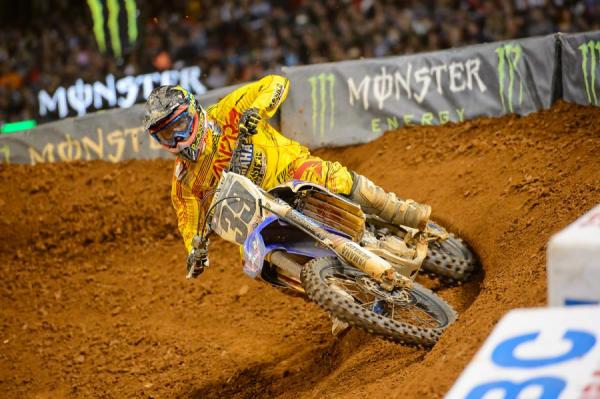 Bobby Kiniry will be on the N-Fab/TiLube Yamaha team in St. Louis.
Simon Cudby photo
- Nicoletti is going to have himself a new teammate in Bobby Kiniry as I mentioned above. The Velocity 3 team started the year with high hopes. They got Yamaha support right off the bat, signed Kiniry and Kyle Chisholm, and with ex-factory mechanics Brian Berry and Kenny Germain in charge, things seemed like they would be run well and the results would be there. But from the start it was a disaster with bounced checks, people not getting paid and Berry and Germain having to explain to sponsors and riders why the funding wasn't there. It seems that things were just never lined up and locked in properly, which is a real shame. Yamaha has been pretty proactive in trying to help out their riders and in making sure the bikes and parts go somewhere where they can be put to use, and the N-Fab/TiLube team stepped up to bring a guy like Kiniry on board. Chizz now has a fill-in ride for Josh Grant at JGR for the rest of supercross and maybe beyond. Chisholm's bike broke in a first turn crash and then a bad start in the LCQ caused him to not qualify. All in all, everyone lost out on this deal and like Chaparral Honda and JDR J-Star KTM after supercross, Velocity 3 is kaput.
- It was pretty nice to see Evan Ferry (son of supercross legend Tim Ferry. What? You don't think he's a legend? Well I do and it's my column. Suck it.) go out there and dominate the KJSC race during intermission. My word doc auto-fill just automatically filled out "Ferry domination" for me. It was nice to see Evan on top of the podium and seeing as how I held him and wrestled with him when he was growing up, I'd say I groomed him just like I did dad.
Got something to say? Shoot me an email at matthes@racerxonloine.com and we can chat. Thanks for reading.