Georgia Dome
Atlanta

,

GA
Atlanta
Monster Energy AMA Supercross Championship
The Moment generally tries to analyze the key turning point in every weekend's result. Many times it is hard to decide which of the many events are more telling than others. For Atlanta, it was one rhythm section that would tell the tale between winning and losing.
During track walk, most of the riders congregated in this one section of the track. There were a few rollers coming out of the first turn, followed by a triple into a 180-degree berm. Consider this the second section after the start. Coming out of the berm you had two basic choices, right or left. Both sides featured a dragon back, but the left and right sides of the obstacle were built significantly differently. The left side (outside) had a larger first bump, followed by smaller bumps up the dragon back but with one less bump at the top, making it much lower. The right side had a smaller first bump but with one more bump at the top, it was clearly designed to help riders blitz off the top bump and jump over the next single. Basically it came down to this, if you stayed left, you had to slow down drastically to downside the dragon back and then 2-3-2 through the rest of the section. This was the overwhelmingly more popular line simply because it was easier. If you went to the right, you had to blitz off the top bump to the next single. According to many riders, that wasn't too difficult, but the next 3-3 was the problem. Watching those who went right, they had to seat bounce very hard to make the first 3, and as soon as they landed that, they had to triple again right into a tight right hand 90 degree turn.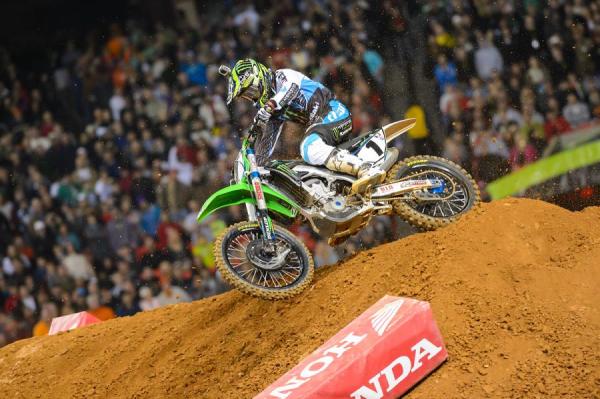 "I was doing the rhythm section a little bit different than James and it was slower." - Ryan Villopoto
Simon Cudby photo
To me, the first triple looked really tough to do. The seat bounce was up to a higher landing, and I saw Ryan Dungey, RV and most of the elite guys case it at one point or another during the day. As with most sections, the more difficult line to the right was also the faster of the two. During practice, almost everyone would go to the right for their qualifying lap. Being able to nail that line lap after lap is a different story, though. It was interesting to see who would gamble by going to the right and who would go left and try to be consistent.
When it comes down to why James Stewart was able to keep RV2 at bay during the main event, I feel this section made the difference. James went to the faster right side every lap and had it absolutely dialed. Villopoto chose to stay left and try to wait James out. I think he felt James would either tire or make a big mistake and he wouldn't have to force it. Ryan was visually faster in the turns and would creep up to James all the way around the track, but then, like clockwork, James would go right and Ryan left and voila, the gap was back. If you are a member of Monster Energy Kawasaki or Ryan's fan club, this had to be maddening. I felt that Ryan was very capable of going to the tougher line and closing the gap but clearly he didn't feel comfortable with it. When asked about this very topic after the race, this is what he had to say.
"I was doing the rhythm section a little bit different than James and it was slower. I struggled in the turn after the rhythm section all day. I just felt doing that the way I was doing it was going to be consistent for 20 laps. It wasn't the dragon's back, it was that next turn after tripling in there. I just struggled in that turn all day, so.
Was there a point where you tried to turn it up, and then got sketchy?
"I rode consistent through the whole time. I think on paper that was four tenths lower doing it that way [the dragon back rhythm]. I was decent, pretty good or the best on that other part of the track, or a little bit quicker on the rest of the part of the track. So I would just give it up there and catch back up, give it up there… and just play cat and mouse type of deal. You know, when you gives James a lead like that you've got to pressure him into a mistake, especially on a track like this."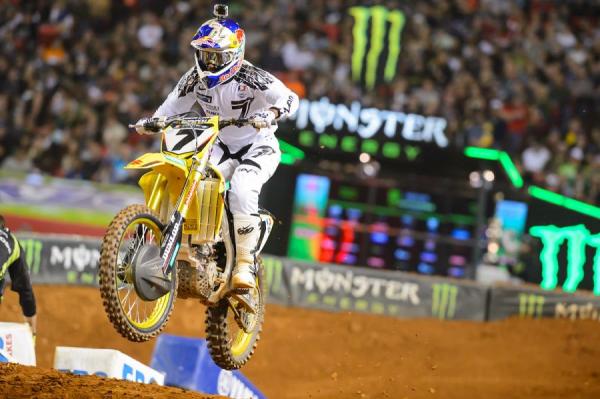 "It was tough. I was holding my breath every time. I think it was maybe worth a tenth of a second if I got it right, but if I didn't get it right it was way slower." - James Stewart
Simon Cudby photo
It's interesting to me that Ryan knew that his line was slower but didn't change it up even toward the end of the race in an attempt to close the gap. I expected him to change his approach by lap 12-15 if things weren't going to plan. A rider of his caliber has no problem jumping a section even if they aren't comfortable doing it. I know he has had more than his share of his crashes this year so maybe that played a role in this thinking. If he crashed this weekend and gave even more points to Davi, the title hopes would look bleak. The championship is always in the thought process so this could have very well been the case. As for James, he has nothing to lose at this point. His only goal now is to run up front and win races. I felt that he has improved steadily over the last few weeks and this was the next natural step in that progress. I think he may have won Dallas also had he been in the race. As for that key section, he weighed in after the race with this.
"It was tough. I was holding my breath every time. I think it was maybe worth a tenth of a second if I got it right, but if I didn't get it right it was way slower. That was the only part of the track that I felt like I didn't really feel like I could do that every lap, easily. It was hard."
When it's all said and done, there are dozens of decisions during a race that can determine the outcome. But with the field so tight this year, choices like this rhythm section can really stand out as difference makers. The three point difference between first and second may not seem like much now but if RV2 loses the title by three or less, he might look back to Atlanta and wish he had gone with the road less traveled.