Georgia Dome
Atlanta

,

GA
Atlanta
Monster Energy AMA Supercross Championship
GEICO Honda's Wil Hahn just put two years of injury woes behind him with a wire-to-wire victory in the 250 Class at the Georgia Dome. It's the first win of his career—and we snuck into the pits to grab an interview with him while he was being mobbed by folks offering congratulations. This one felt good!
Racer X: You did it! You got the win. Were you nervous? Because I can tell you a lot of people watching were nervous for you, just hoping you would hold on. I was nervous!
Wil Hahn: Yeah and I felt your nerves the whole time. I literally felt you thinking, "Oh man, I'm so nervous for Wil Hahn right now."
[Laughs] Were you nervous?
It's a hard thing to explain. I felt so calm and collected for like thirteen laps. Those last two, man, I was a wreck. I was almost hitting lappers… I just started making little mistakes. But man my fitness paid off tonight. At the half way mark I felt like I really turned it up and was able to pull out a little bit and get comfortable. The first eight laps Dean [Wilson] was right there. I didn't have much room to work with. I just concentrated on my breathing and moved forward.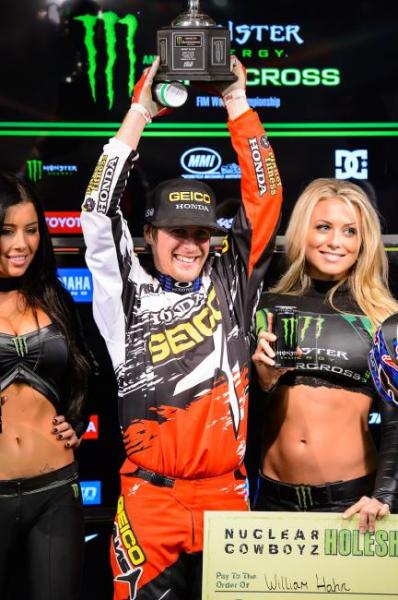 Hahn held off Dean Wilson to capture his first career win in Atlanta.
Simon Cudby photo
Did you feel like you had a win in you all day? Like if you got a holeshot, you could just make it happen?
I did. I felt like I've had this in me all year. Riding with Eli [Tomac] and just the team behind me. I felt like I had it coming into the season. But you don't know when you've never won one. It's that burden that's always there. And I've been in this class a while. It's always there and you're like, "I just need to check that off." For me to finally do it, now you really know.
So you were fast in your heat race, and then you get the holeshot in the main. So when you had that early lead, did you think, "Okay, this could be the night?"
Honestly the first five laps not one thought went through my mind. I was just breathing and riding and riding, hitting my lines. It came together. The night couldn't have come together much better than it did.
Is it weird how this sport works? For two years, you couldn't get anything right know matter how hard you tried. Then tonight it just works.
It's picture perfect. Everyone always talked about that. When you win you feel like you're not even trying and it's exactly right. You're obviously trying hard out there but it feels surreal. I felt like I was on a cloud that whole main event. Without this GEICO Honda team… those two years, I raced like three times. I missed so many races, and then they re-signed me. And it's like they shouldn't have.
Wow.
Really. In my eyes, it's a business move. And I wouldn't have taken it to heart. I would have said thank you for the great two years. They kept believing in me. Mike LaRocco believes in me, Jeff Majkrzak believes in me and I know Ziggy [Rick Zielfelder] believes in me. I have a great team from my trainer, to everyone around me, my family. Without these guys this couldn't have happened.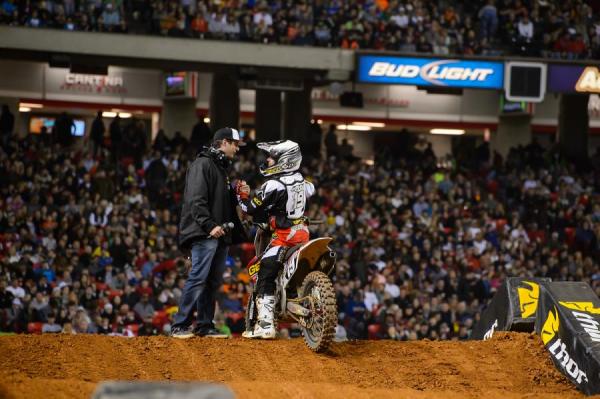 Kevin Windham (left) congratulates Hahn (right) on his win.
Simon Cudby photo
[Kevin Windham shows up to offer some advice]
Kevin Windham: Hahn, you did two things wrong on the podium. First, you didn't thank me, and second, you cried.
Will Hahn [laughs]: I didn't cry!
Racer X: It sure seemed close, then! But that's okay, we want the drama. This is a big deal.
Windham: It's okay, man. If you cry, you've got to own it. Just go with it, man.
Racer X: Okay, Wilbur, you have a win under your belt. What does this mean, championship-wise?
I think no different than what I took tonight. You take it one night at a time. I think it's going to be a battle until the end.