Georgia Dome
Atlanta

,

GA
Atlanta
Monster Energy AMA Supercross Championship
Eli Tomac has now been riding his 450 at the test track for two weeks—but it only took one lap to see how excited he is about his new machine. As soon as he got on the thing, he started overjumping his way around the Honda track, and he even had a little fall. The Honda folks say they watched Trey Canard "OJ" a bunch when he first jumped on a 450 a few years ago. Those 250 riders are used to having to push much harder to clear stuff. On a 450, you ride that hard and you overjump.
Since those first laps two weeks ago, Tomac has settled down, and this morning he said, "I'm actually feeling pretty calm….for now." No doubt, he's been waiting a long time for this day. He was actually scheduled to ride the 450 here last year until a crash on his 250 in San Diego left him with a broken elbow. Then he jumped back on at last year's Monster Energy Cup. Remember how that went? He won the final race there, and he did it against a loaded field, outdueling overall winner Justin Barcia and perennial favorite Ryan Dungey.
"Now it looks like I have to get back on the pee wee bike," he said after that race, not pumped about taking a few more months on a 250.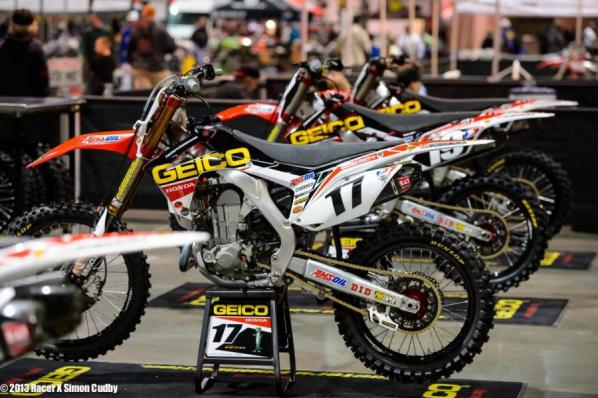 Underneath the GEICO graphics, Tomac has the same bike as Trey Canard and Justin Barcia.
Cudby photo
Well, happy face, now, because Eli finally gets his wish to race a 450 SX in the U.S. tonight. How can he do? "Well, me and Kenny's [Roczen] lap times have been right there on our 250s," he says. "And at the test track, I'm definitely faster on the 450."
But maybe it's key to get fired up, but not too fired up. Take another story from the Monster Energy Cup: When practice started that day, Tomac was crushing it early, consistently right near the top of the lap time board. Then he crashed, and was knocked down a peg for most of the day. After the race, he admitted the crash had made him gun shy in the first two MEC mains. Only by the third and final one did he get all of his speed back.
So here, as it is for any newcomer to the class, managing emotions will play a big factor. Joked Eli's dad, John, "There are some races where he'll drink half a cup of coffee to get himself fired up, but I don't think we'll need that tonight."
One other factor: Although Eli showed the speed to match the best at the Monster Energy Cup, how much faster have all these riders gotten since then? They've been pushing each other on these bikes every week. Maybe they've pulled away? Practice today showed what Tomac can do. He ran fourth fastest overall, but his #17 was on top of the board for a bit. He was at the top again for a bit in the second timed session, and ended up third. Clearly, he's in the hunt.
By throwing another contender into the mix, we might be looking at the deepest field ever lined up for a supercross, ever. And if Tomac were to get a holeshot tonight—could he win it?