Qualcomm Stadium
San Diego

,

CA
San Diego
Monster Energy AMA Supercross Championship
Chad Reed turned into public enemy number one in the SX pits after igniting crashes early in both the Oakland and Anaheim 3 main events, but the San Diego race showed the type of plan he was trying to execute at those races. It's no secret that Reed has been struggling to find the perfect setup this year, but the veteran knows full well that in a field so closely matched, if he can get an advantage early in the race, he can win.
Reed has always been a master of turning bad starts into good ones and good ones into great ones via some slick maneuvering through the first few corners. While the first laps of the previous two rounds ended up in disaster, he executed perfectly in San Diego and found himself in second behind race leader Davi Millsaps.
Then he let the San Diego magic kick in. Reed was nowhere near the front in practice, and he didn't light the world on fire in his heat race. But in the main, he stepped up when needed and found himself closing on Millsaps. Once again, Reed looked capable of winning in San Diego…until he crashed.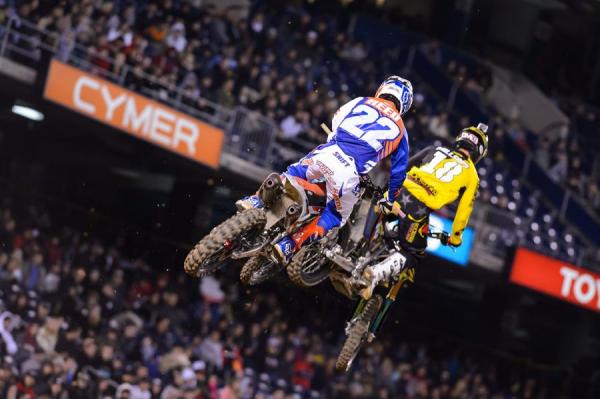 Reed was tracking leader Davi Millsaps before washing out.
Simon Cudby photo
"Yeah, frustrating, if there's ever one that got away, this would be it," said Reed. "But you know, we're working, man. We'll get one. We just keep fighting. I need front end feel, and when I push it, that's what happens."
Lots of talk about air forks this year, and that talk returns when both Reed and Ryan Villopoto wash out on slick soil. But it's also very much possible that Reed will figure it out. A year ago, he also suffered a series of front-end washouts, and he traced the solution back to a tire change. Here's a clip from a Monday Conversation with Chad after last year's third round, which he won:
You fell in a right hand turn at Anaheim 1, you fell in a right hand turn in your heat race last week, and a right hand turn in your heat race tonight. Is this in any way related? Were you having a problem washing the front?
I've been struggling with front-end feel. When you're pushing on the front and everything seems good, and then all of a sudden you're lying on the ground, that's not good. For the main event, we went back to a tire we rode the majority of last season on. And I hadn't used that tire since, man, I want to say Salt Lake City last year, when I started riding the factory bike. I kind of went to a different tire that was good on the factory bike, and I hadn't really questioned it. But we were struggling with front-end feel, so I decided to open up that can of worms and use something we used last year. It gave me that feeling.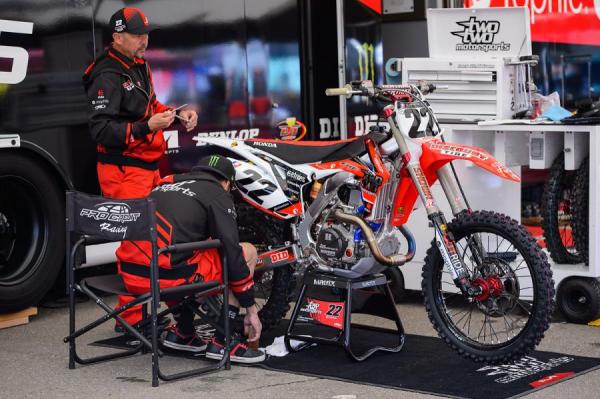 "But you know, we're working, man. We'll get one. We just keep fighting. I need front end feel, and when I push it, that's what happens." - Chad Reed
Simon Cudby photo
Once Reed changed tires, he instantly picked up his game, winning round three, then running up front each weekend before a frightening crash in Dallas (where he was battling for the lead). Clearly, last year, once he got that front-end feel, his season changed for the better.
Now he's chasing it again. Different bike, different parts, but the bottom line is the man knows what he wants. If he can get it, he can still get after it.